(One Rider Encouraging One Rider Equals a Revolution)
Earlier this year Arkansas Outside was proud to host one of the 163 Cyclofemme rides that took place in 14 countries across the globe, celebrating women in cycling. The mission of Cyclofemme is:
TO HONOR THE PAST and the emancipation of our grandmothers and great-grandmothers, for the freedom to choose and the chance to wear pants. TO CELEBRATE THE PRESENT and the riders who keep it rolling, bringing women's racing to the forefront, pushing the limits, breaking down barriers and sharing the love of the bike with everyone along the way. TO EMPOWER THE FUTURE of women in cycling and the opportunity for positive social change. Teach women to ride and they will change the world. ~Sarai Snyder

The 2013 Cyclofemme Ride will be rolling  on May 12th, the details are yet to be determined. Arkansas Outside will again be sponsoring the ride and we hope that many of you will join us as riders, supporters and as sponsors. We want you to ride with us. But even if you can't ride with us, you can do your part by signing and acting on the Cyclofemme Pledge.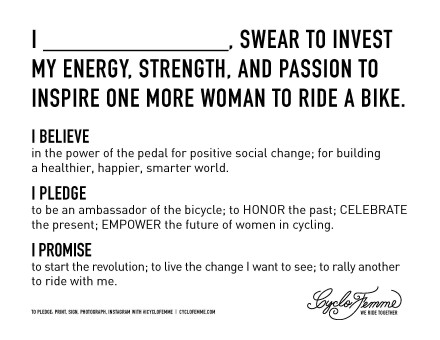 We will have copies of the pledge for you to sign at the Cyclocross State Championships this weekend at Burns Park and during the Foot Down contest happening after the CX races, please come by and sign one. You don't have to be woman to sign the pledge, you just have to have one in your life that you want to inspire, be it your wife, your girlfriend, your daughters, nieces  goddaughters, anyone you want to see get on a bike and ride! We'll be giving Cyclofemme some social media love all day long.
How to learn more and get in on the action now:
The Cyclofemme Website where you can share your own Why I Ride story. The homepage also has links for the awesome tattoos, badges for blogs and other social media, and the t-shirts from Twin Six. Get one.
You can follow Cyclofemme on Facebook, Twitter @Cyclofemme ,  and Instagram @cylcofemme and @girlbikelove #icylcofemme
And more cool bike centered loving at Sarai's Facebook GirlBikeLove