I laugh at Fatty's instructions. For those of you who don't know who Fatty is congrats on having more important stuff to do than to cruise the internet reading odd blogs like Fatcyclist.com. (You're also not fooling anyone since I can see you're reading this one.) Anyway learn about Fatty here, he's a pretty cool guy despite his need for rules and instructions.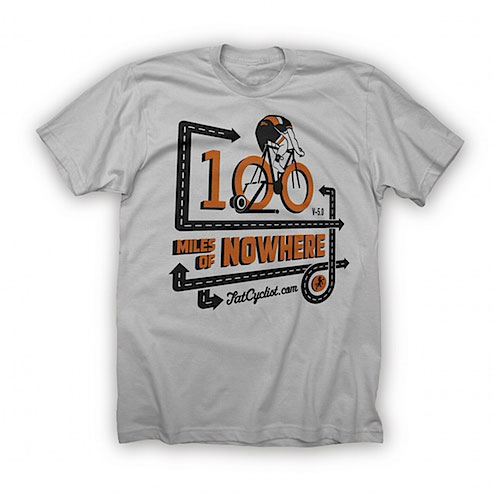 If you haven't figured it out yet, I'm not much of an instructions kind of guy. I don't like asking for directions or admitting that I have no idea what I'm doing. I don't really make plans, I don't train for sporting events, I don't read instructions. My life is an adventure.
So Fatty has this non-event that he does every year called 100 Miles of Nowhere. I went back and read some of the instructions this morning just to figure out what he was thinking.
The idea of the 100 Miles of Nowhere is to ride an infuriatingly small course for 100 miles (or 50, or 25, but ideally 100), to raise money for the fight against cancer. And also to demonstrate that you have no sense at all. – Fatty
So I did it wrong, sue me. First, we weren't able to do it on the day that Fatty had set (June 2) since I had already registered for a mountain bike race. Second, my first idea of having a bunch of trainers set up in a local park with a bunch of my bike friends riding together with banners and local bike shop sponsorship didn't pan out.
After spending too much time on Saturday out in the hot Arkansas sun, Lisa and I decided to turn Fatty's idea on its head and make our ride, 100 Miles of Everywhere. We would ride all over central Arkansas with $40 dollars and a credit card. We'd stop and take our picture at many wonderful places. Slowly making our way over 100 miles. We had no set course just a few places we wanted to make sure we visited or at least ride by. The list was long.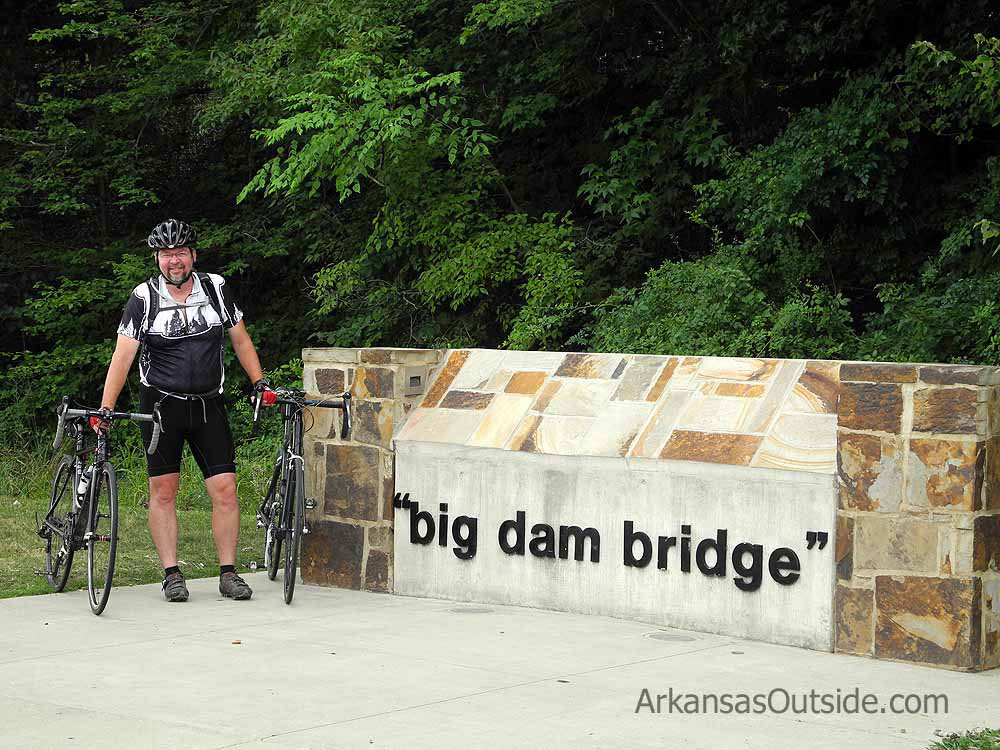 We slept in Sunday morning, heck we had all day. So a little after 9 we started our ride at the Big Dam Bridge. I lost count of how many times we went across this bridge that day. As is our style, we forgot half of what we needed. We had water, but no tripod for the camera, no food, no sunscreen or sunglasses (for me). But we'd figure it out.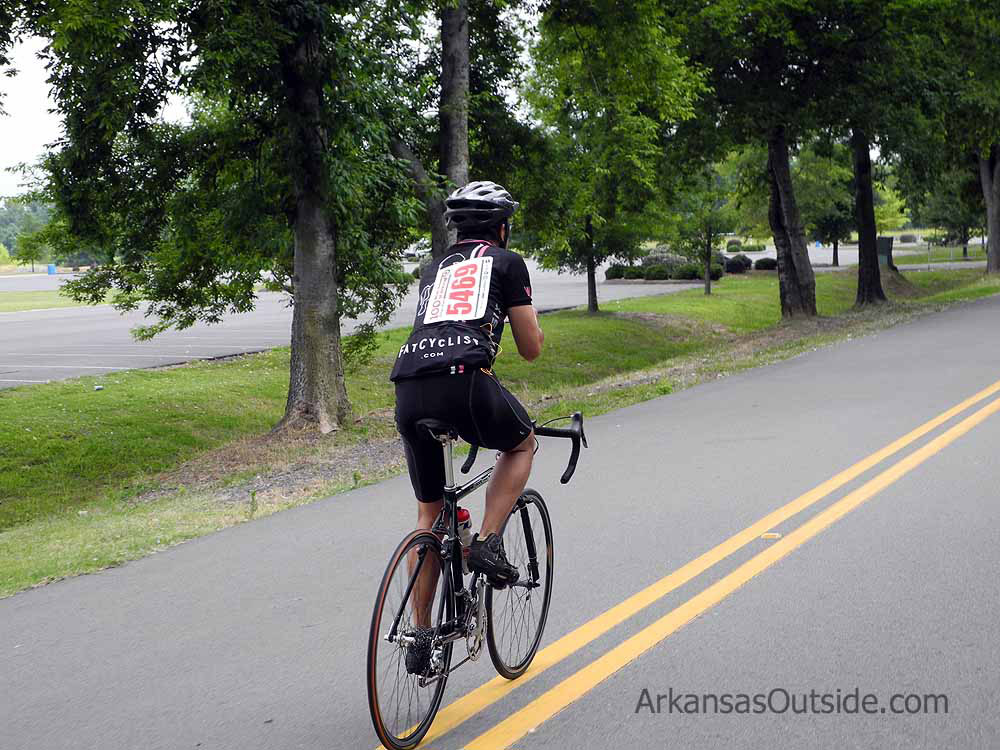 The first destination would be Burns Park in North Little Rock to see our friend Cliff. Cliff was also doing the 100 Miles of Nowhere. He had picked a 1.1 mile loop in the park to ride. Cliff is some sort of engineer. He follows instructions. Since Cliff was staying in one spot,  friends showed up throughout the day and rode with him. After doing a few laps with Cliff and his wife Jennifer, we decided to head back across the river so Lisa could go take care of some family responsibilities while I continued to ride. It is probably lucky for me that I have friends and family who are both responsible and follow instructions.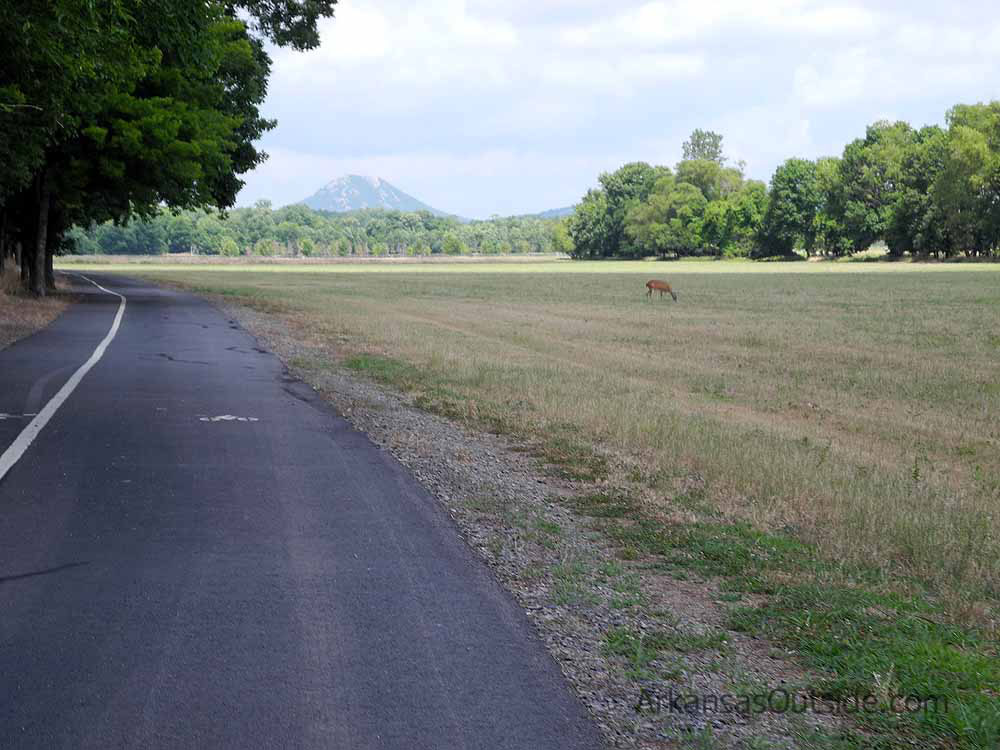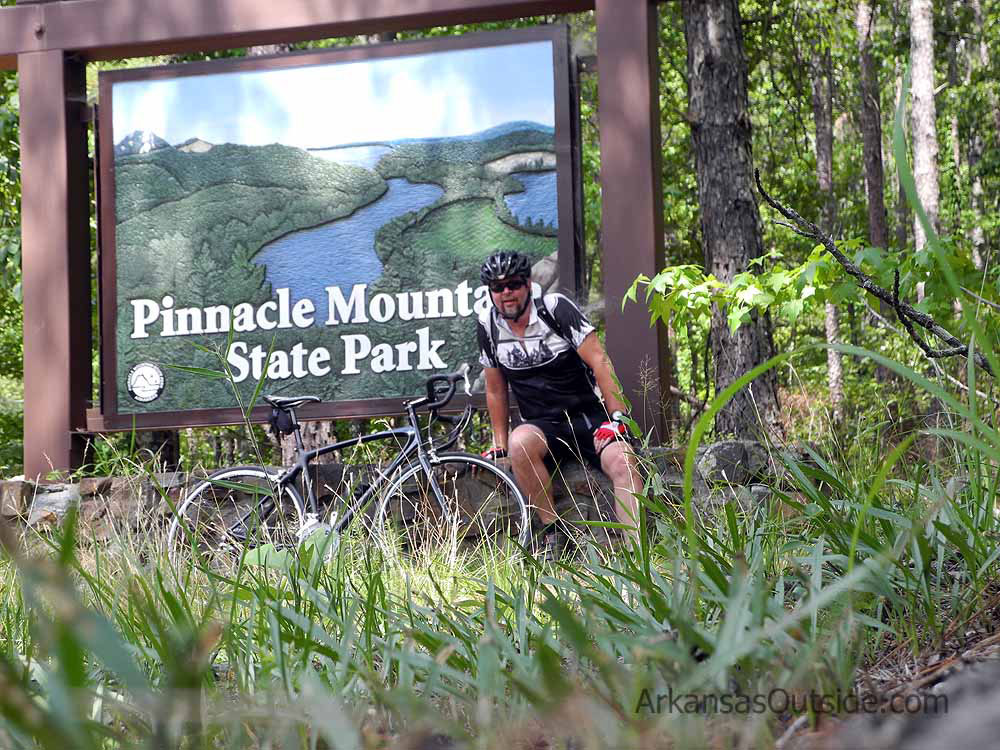 Now on my own for a while I headed out towards Pinnacle Mountain State Park. On the way I passed through Two Rivers Park where I saw a deer in a field with Pinnacle Mountain in the background. The deer knew I had other places to be but posed for me while I took the time to snap her photo. The place I had to be was on my way to a trail near that mountain in the picture.  I decided to take some pink tape with me and mark out a new section for the Jackfork Mountain Bike Trail that we have been working on. I headed up to the visitor center to get some Fig Newtons and a drink from one of the coldest water fountains in the state. Really, people do comment about how cold this water fountain is.  A lot of people were out enjoying the trails and the quarry pond.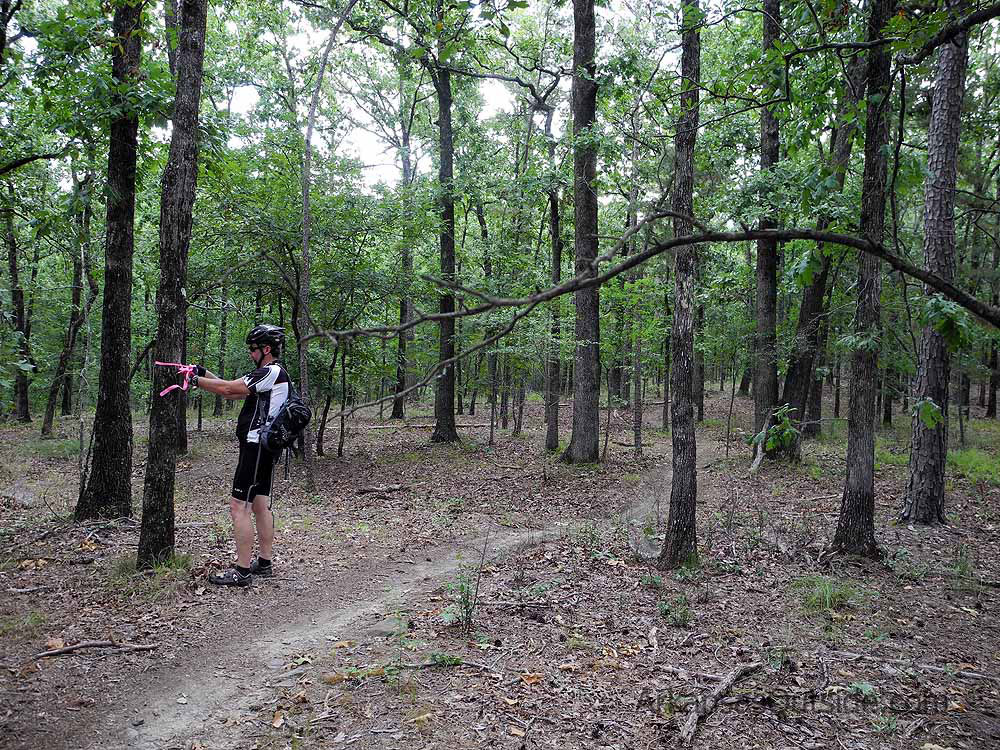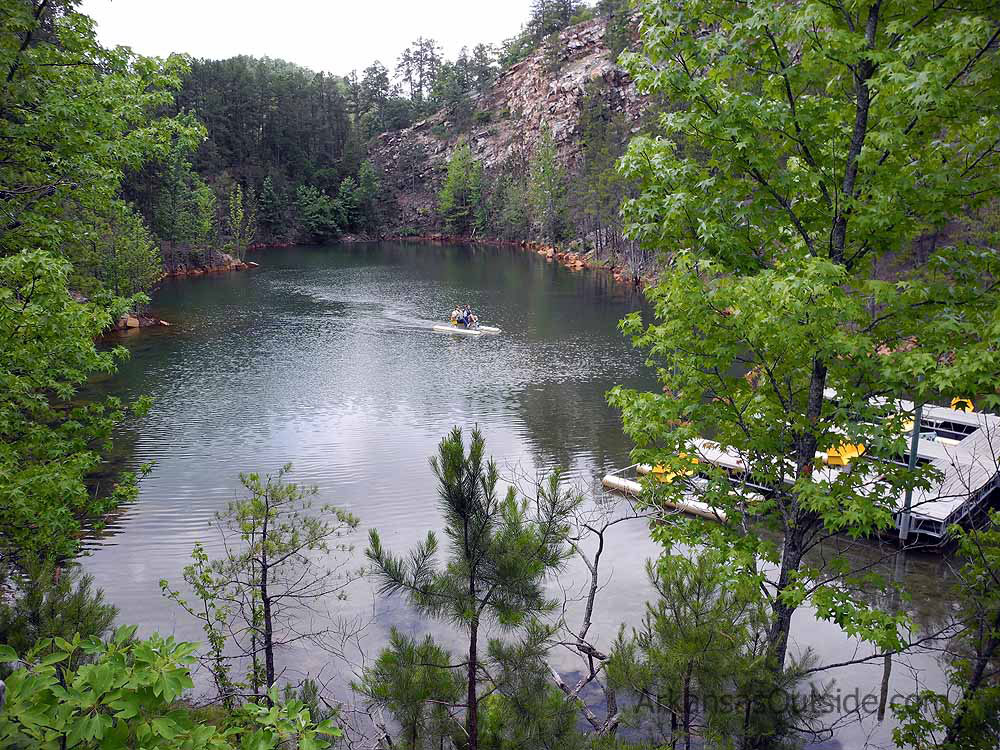 Before leaving the park I called Lisa to see where she was with family duties. She was ready to get back on the bike so I told her I would meet her back at the Big Dam Bridge. She met me with a peanut butter sandwich, some sunscreen and a mini tripod. I also picked up my sunglasses and we got our numbers attached. We were ready to roll. We headed back to Burns Park again to ride a few more laps with Cliff. He was at mile 80 by now and would be done in just over an hour. We were only at around 30 miles.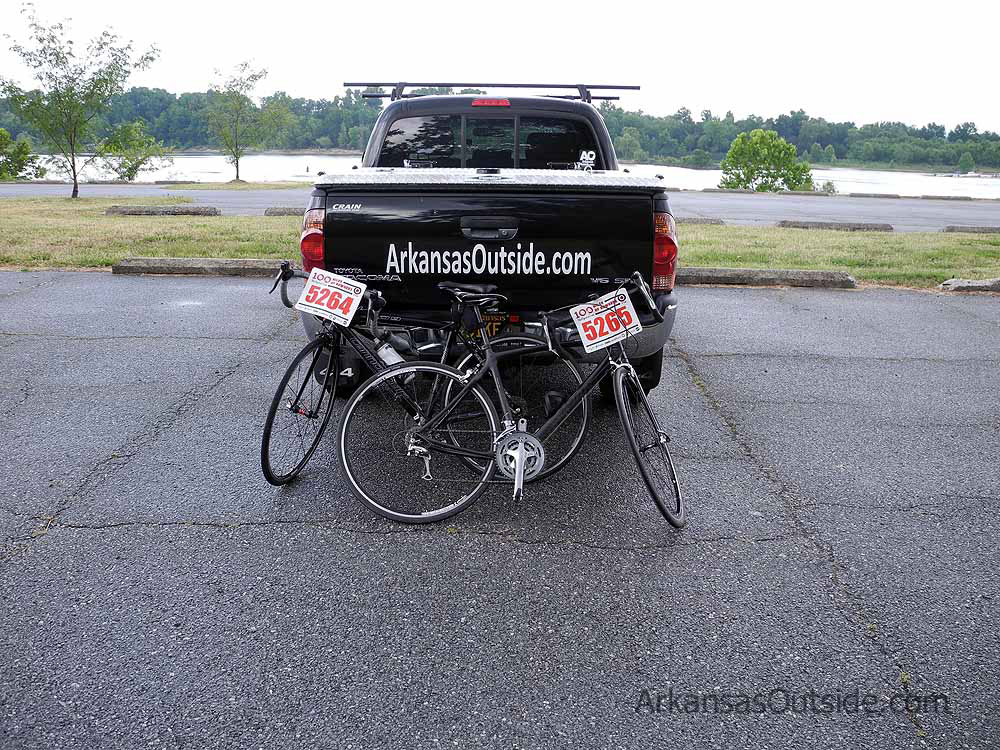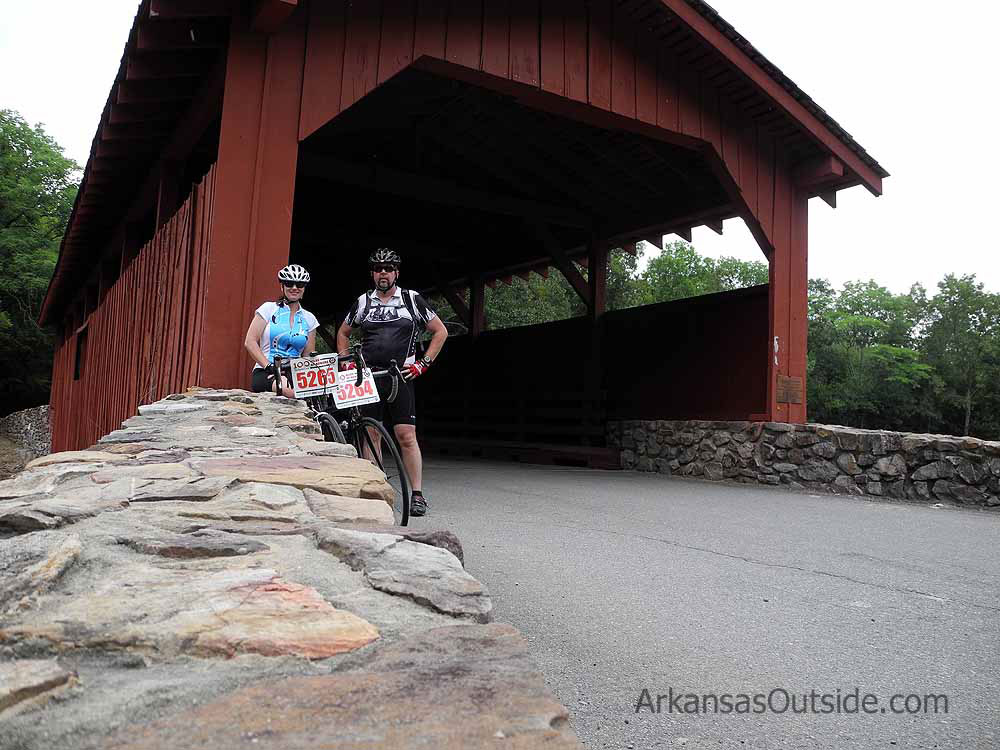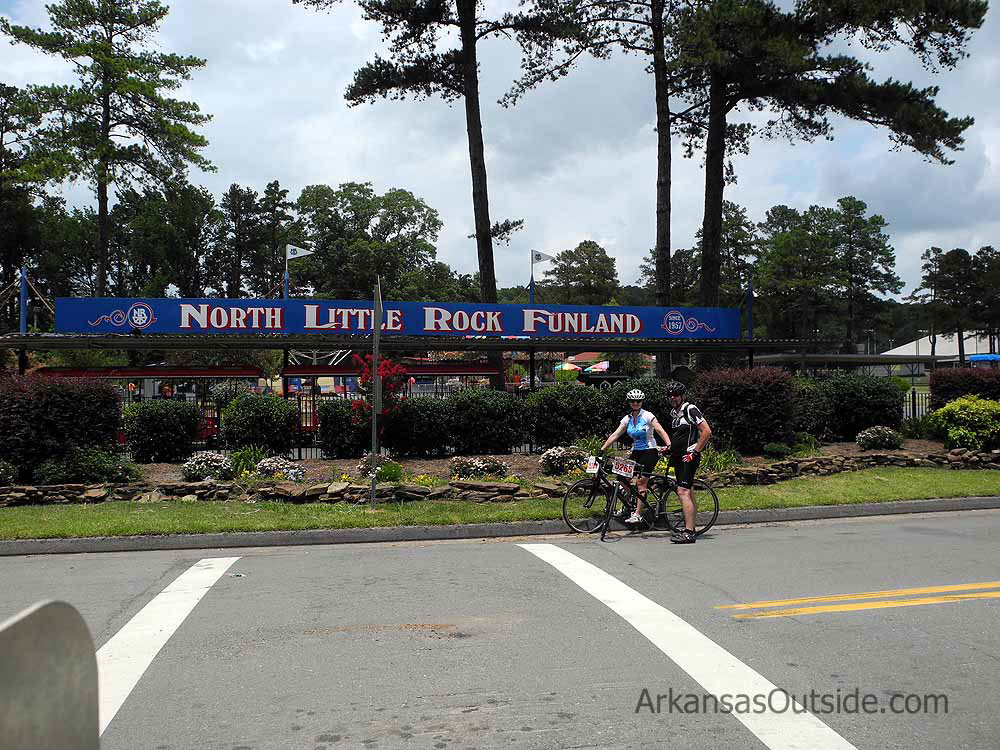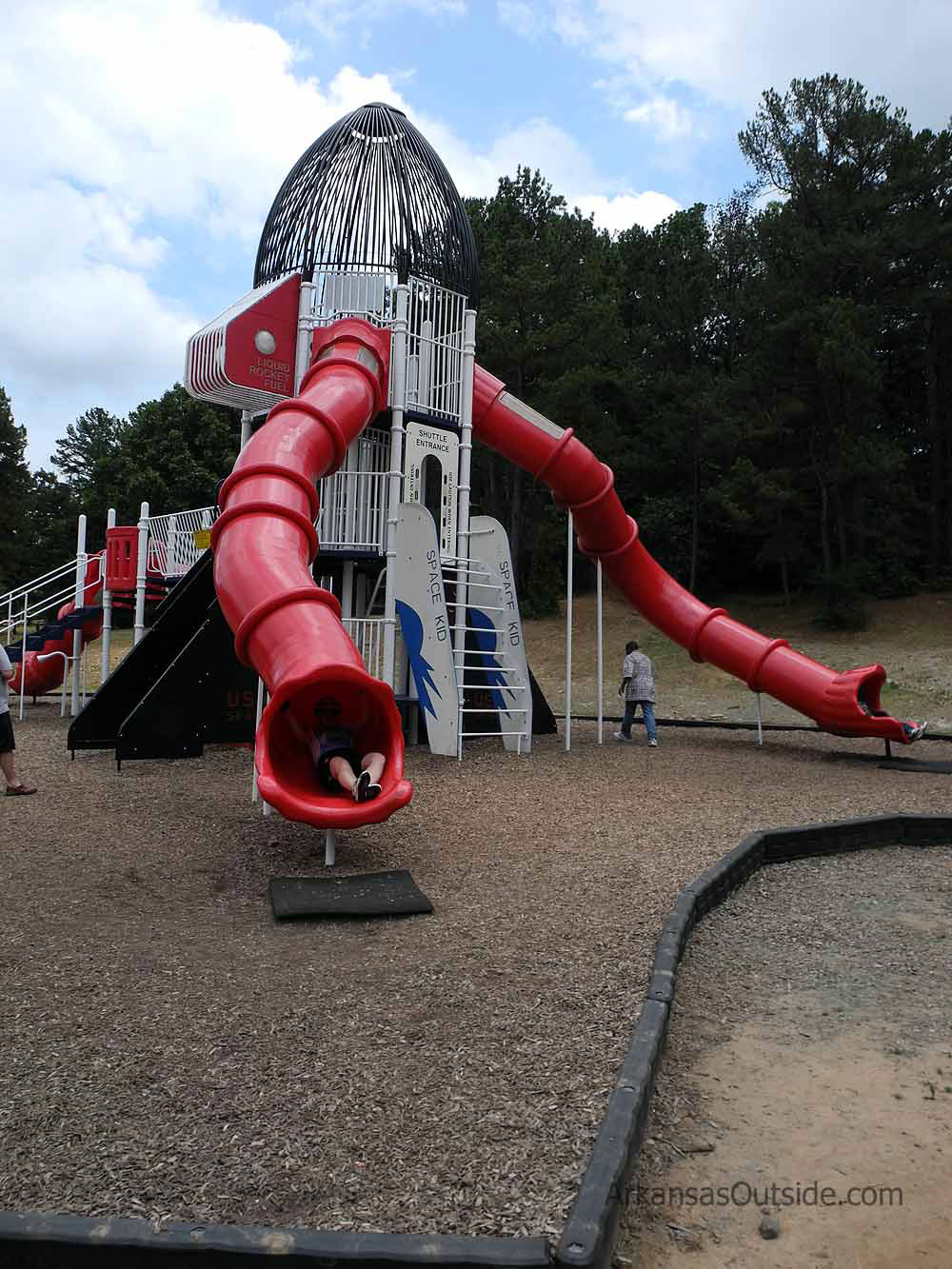 After leaving Cliff, we rode through the park to the only covered bridge in the area and then to Funland Amusement Park where Lisa took a turn at the Rocket Slide. We were hungry so we headed down the river trail and into the Argenta Market area looking for food after stopping at Dickey-Stephens Ballpark, but couldn't decide on anything in particular. If only there had been a ballgame we could have gotten ballpark dogs. I guess we weren't hungry enough. We took our picture at the Argenta Drug Company. Built in 1887 it's the oldest continuously operating pharmacy west of the Mississippi.  Just as we were about to mount our bikes again, one of the River Trail Trolleys pulled up so Lisa posed for one more photo in Argenta.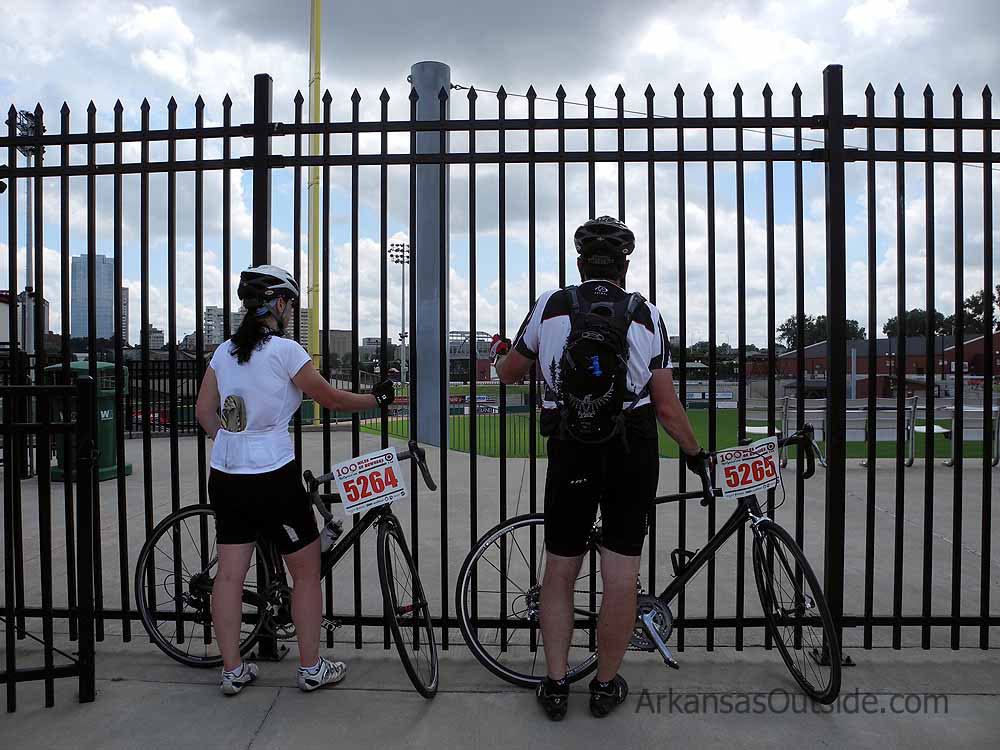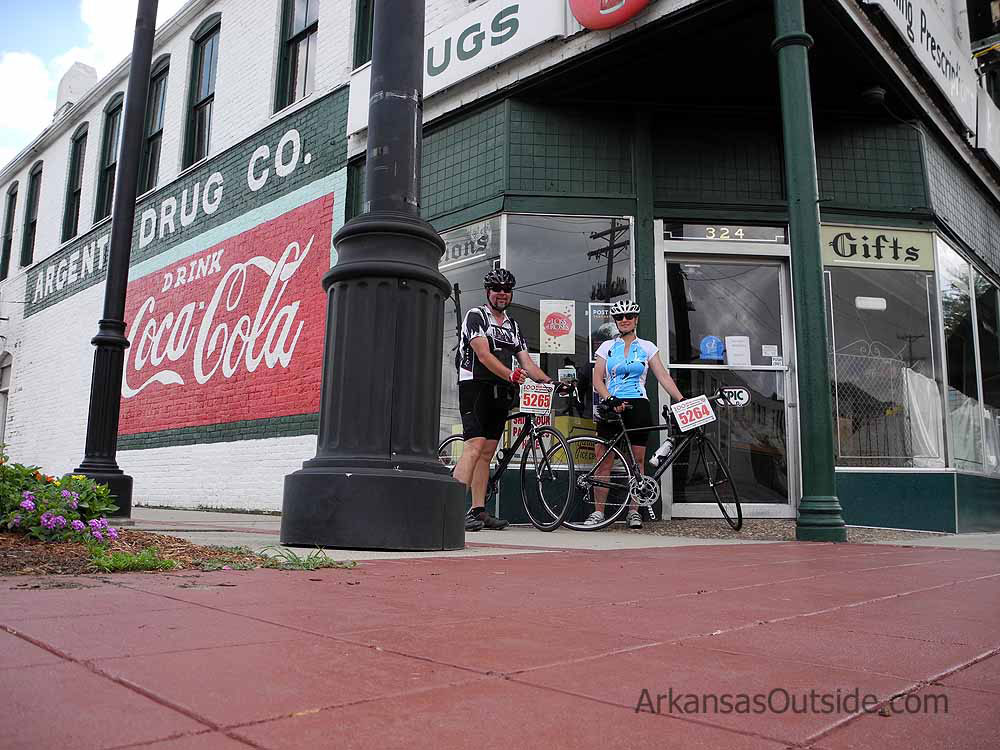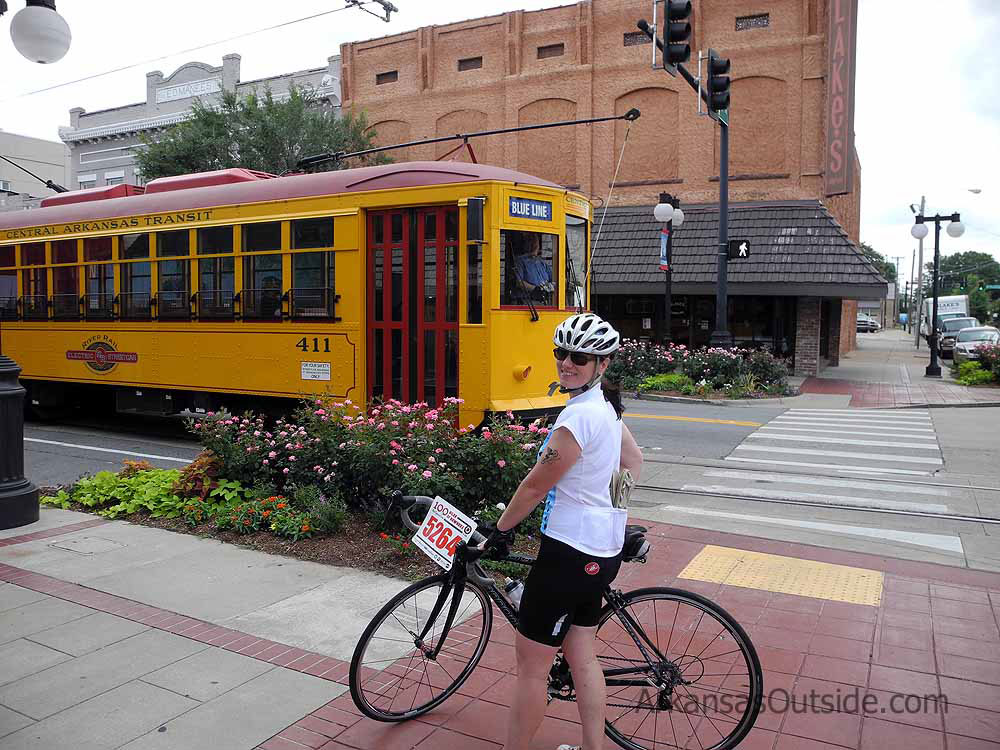 We headed across the Junction Bridge which is the only pedestrian bridge in the US to include a lift span. From the top  we looked down on our submarine, the USS Razorback at the Arkansas Inland Maritime Museum and the river cruising paddlewheel  The Arkansas Queen, and were soon back on the Little Rock side, playing in Peabody Park. It was getting hot and folks were really enjoying the splash fountain.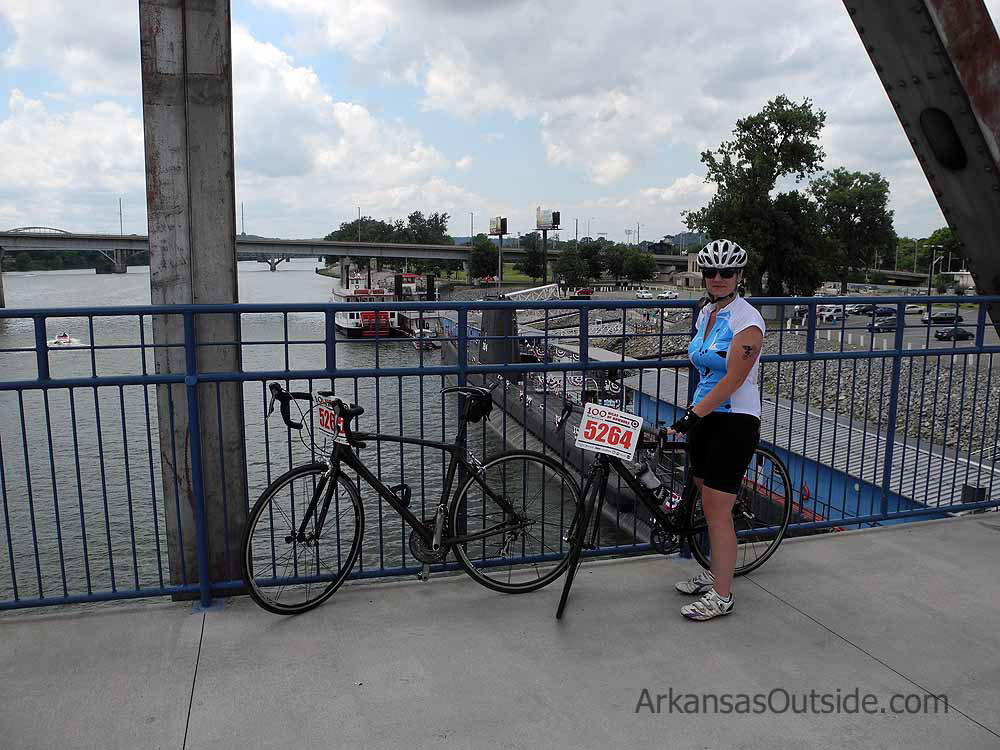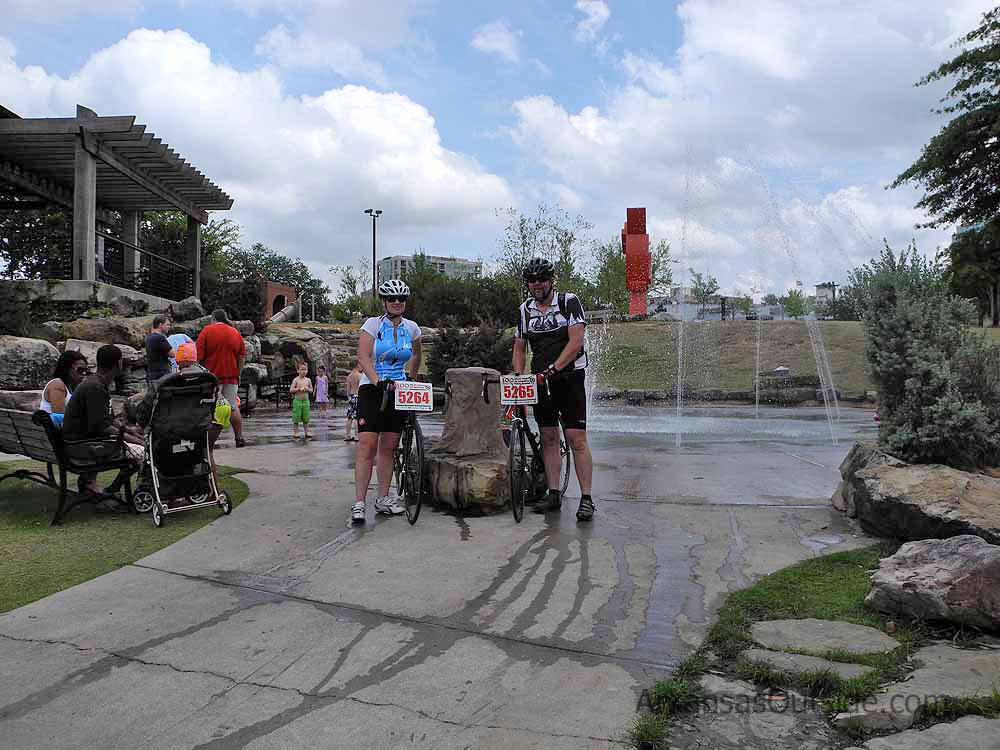 Back to foraging for food, we were nearing 50 miles and were struggling to find needed nourishment until we found the Rhumba Revolution Restaurant where they were still serving the Beatles Brunch. So we sat on the deck, listening to the Beatles and eating  Blackbird Waffles, or chicken and waffles if it isn't a Beatles Brunch. See, this could not have been planned.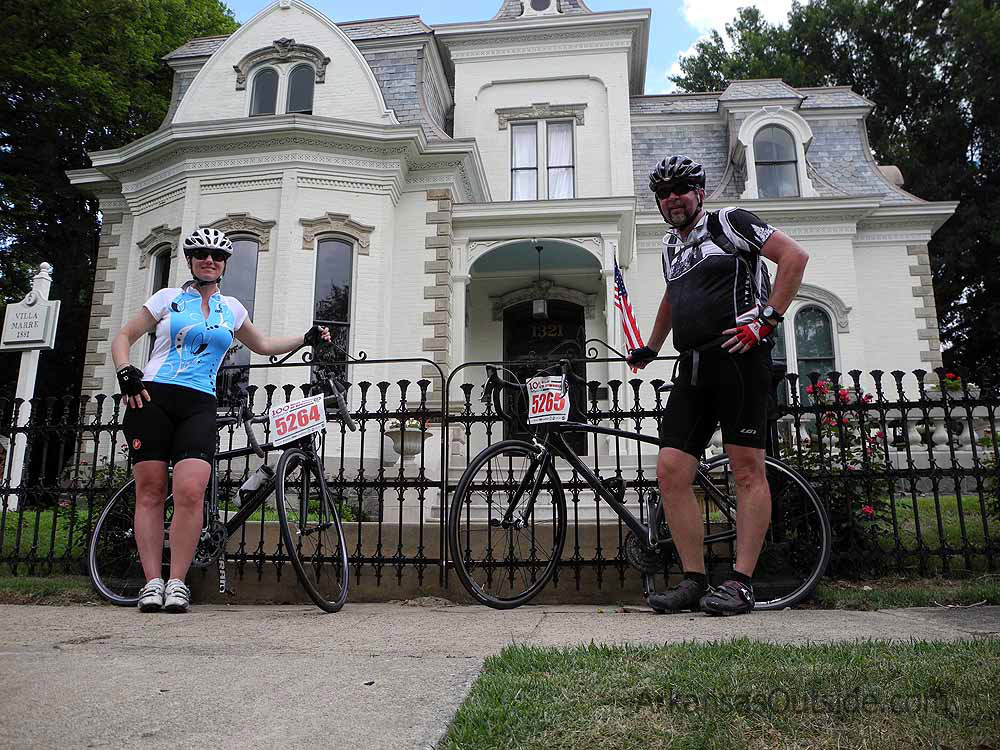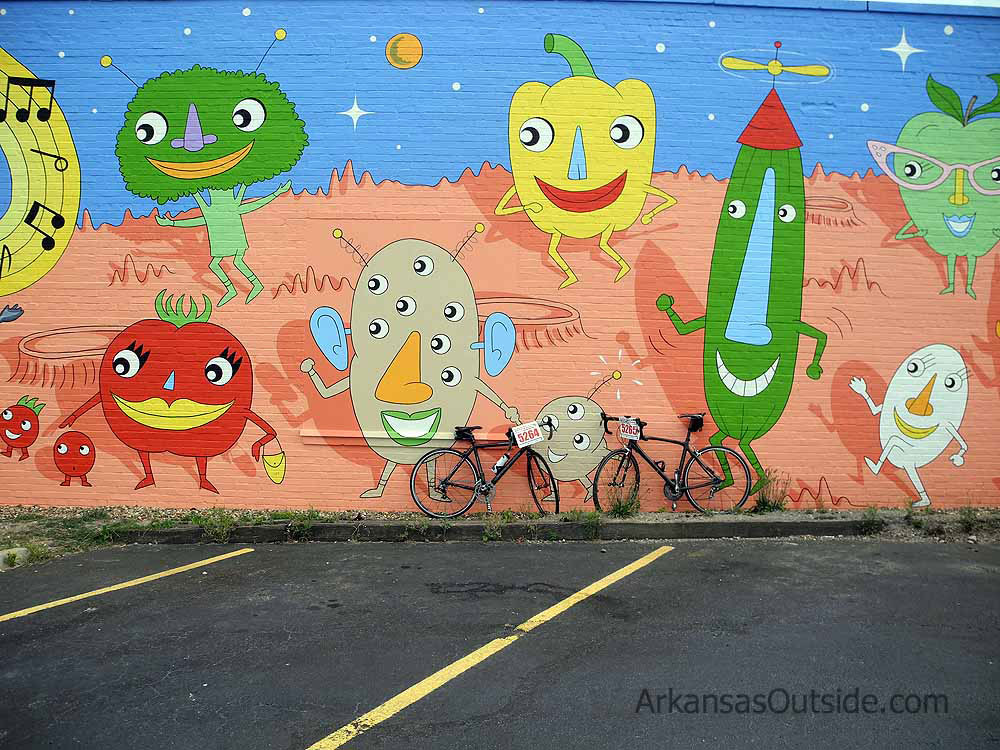 Our ride was partially inspired by the Rocktown Trackdown Scavenger Race we participated in a few weeks ago. After stopping at the Sugarbaker place, we rode over to south main to see if anything was going on and get a picture of our bikes enjoying the mural next to The Root. Lisa was desperately hoping that the Green Corner Store would be open so she could get locally sourced and made Loblolly ice cream, alas it is closed on Sunday and Lisa did not get her ice cream fix. Next we rode on to the Governor's Mansion. The streets in this part of town are pretty empty on Sundays and the riding was easy.
The photos going forward get a little weird…fatigue sets in.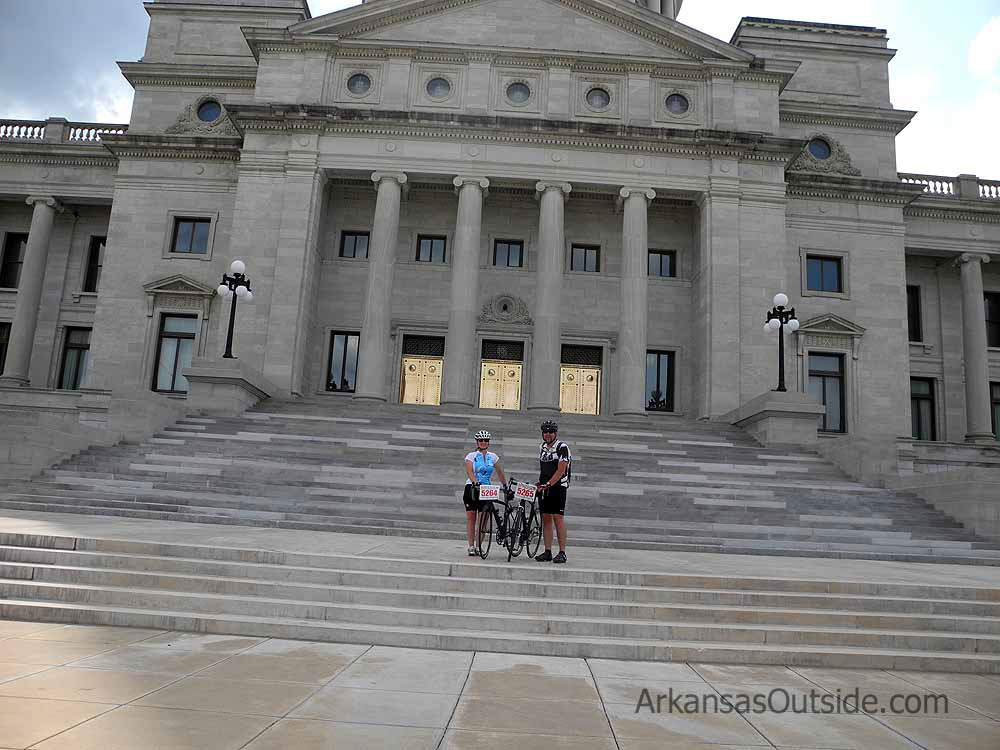 It wouldn't be a ride through town without a stop at the Capitol Building. Riding around in town was not getting us a lot of mileage. It was after 3 pm and we only had a little over 60 miles in. It was time to get back on the river trail and crank out some miles.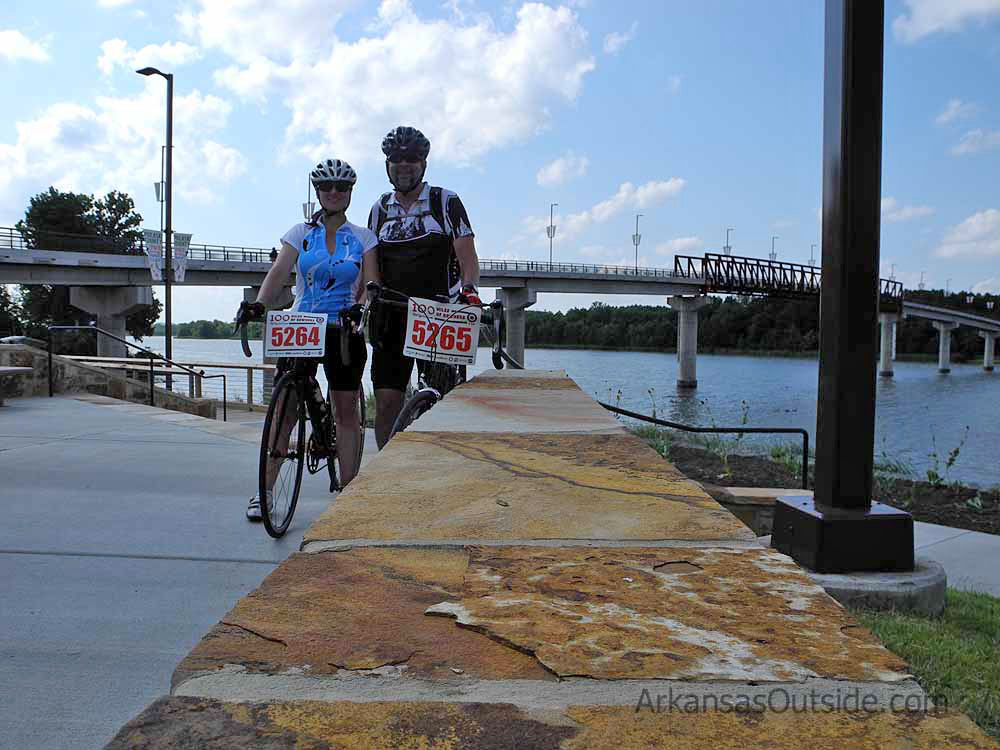 We headed west past the gap in the loop (locals know what that means) and past the Big Dam Bridge to Two Rivers Park. Lisa had missed this section earlier so we went in and rode the 3 mile loop inside the park. This is where we used to take our daughter when she was learning to ride. It was a nice quiet ride along the Little Maumelle River. We then headed back toward town en route for another trip across the BDB. We took some of the pathways through Burns Park around the soccer fields. We were getting tired and hungry again. Not a good combo. We figured if we could get back to the Argenta area we could find a convenience store and pick up some chocolate milk or something. We were delusional. We rode by the skatepark and realized that one of our goals was to get a photo from the top of Fort Roots. We were at 77 miles and would now do the biggest climb of the day. Not a really tough climb most of the time but at this point it was Everest.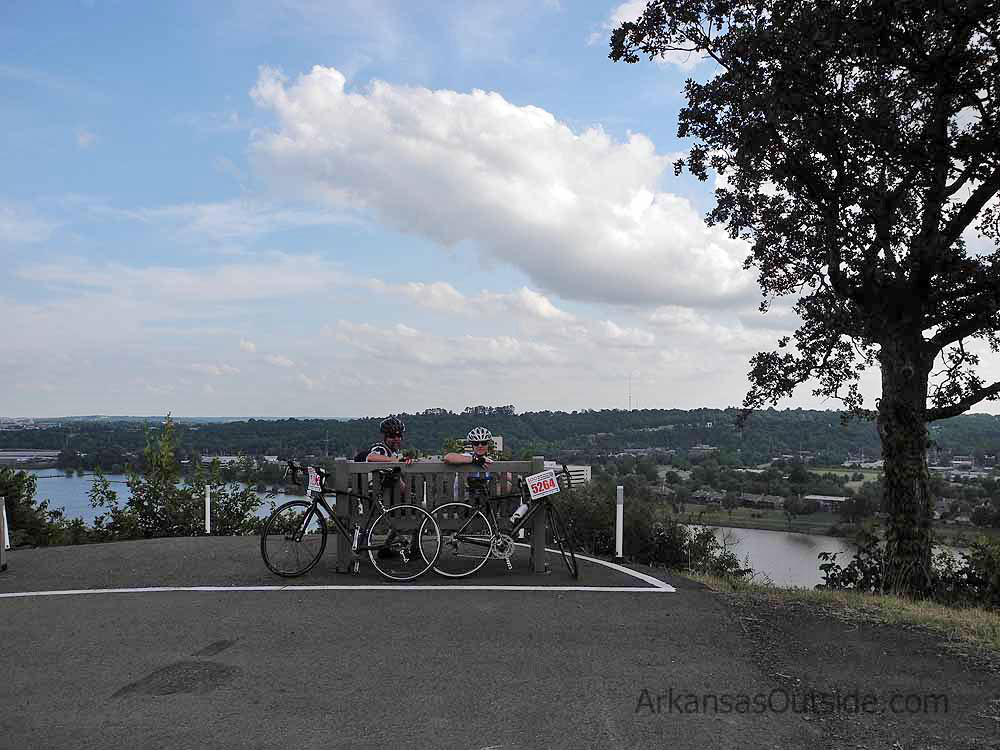 We promised each other that it wouldn't be a race and we would just spin our way up. Yeah, right. We pushed it and soon found ourselves out on the overlook where Lisa pulled out a honey stinger waffle that she relunctantly shared. While up there we decided to get some miles in by doing a loop on top before heading down.
As we got back into the riverfront area of North Little Rock the chocolate milk idea was gone. Lisa remembered that we had seen a Taco Bell near the Clinton Library Bridge one day when we were over there. We had a goal and were on our way. A soft taco and two giant cups of lemonade and my stomach was beginning to complain. We had 15 miles to go.
We crossed the Clinton Presidential Library Bridge and went by the Library to take a photo. They had a big shindig going on. Seems Chelsea, Bill and Hilary were in town to kickoff the upcoming temporary exhibit about Bill and Hilary's mothers. You'll see that as I tired the photography got worse. We also headed over to the Heifer Project World Village but didn't stop. The sun was dropping, it was after 7 pm and we still needed mileage. Back across the Clinton Bridge and then we started riding pretty hard down the North Little Rock side of the Arkansas River Trail. It's a ride that I know like the back of my hand and I was taking every long way around I knew of. The lower extension near the skateboard park, the crit course (backwards) at Burns Park and then a ride through the Northshore Business Park before one last trip across the Big Dam Bridge.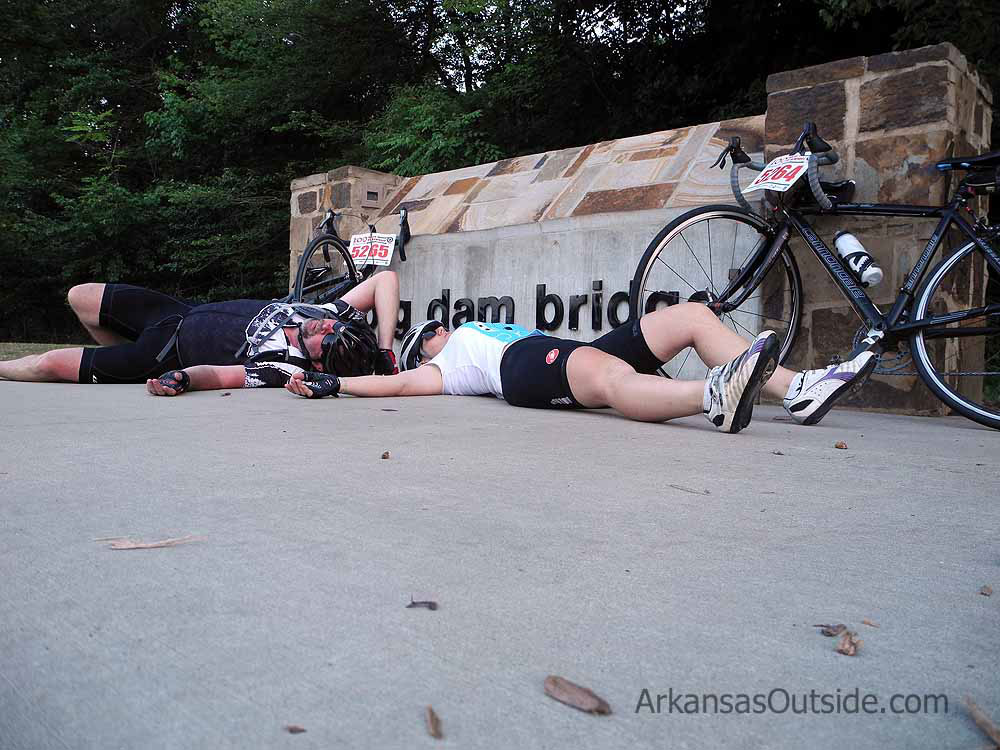 We arrived on the Little Rock side of the BDB with just over 2 miles left. I decided to ride down past our truck go a mile and turn around to head back to finish at the truck. I tucked down, Lisa grabbed my wheel and we went for it. Murray Park was emptying out from the picnic folks so the road was a little busy, we got to Rebseman Golf Course and turned back to ride the river trail to the truck. We hit the 100 mark just shy of the truck.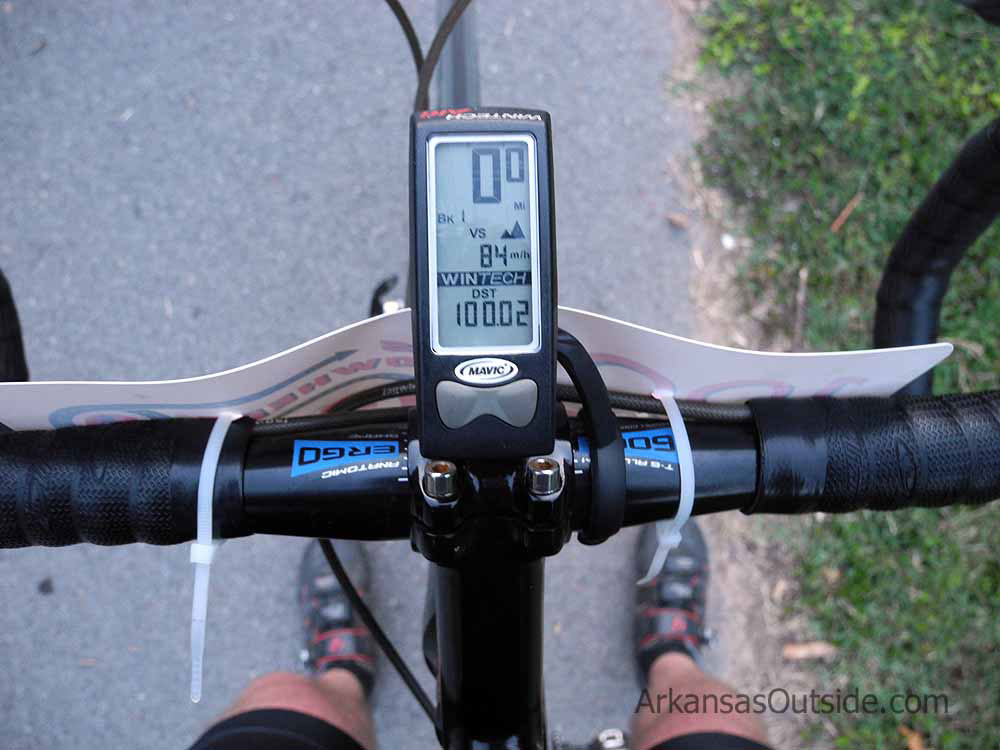 The 100 mile rides I've done in the past were over in a matter of half a day. They were supported and I was pushed to get it done quickly. Those who rode in circles or on trainers or rollers got it done and out of the way in a few hours (4-6). We had been in the saddles for over 10 hours. We started with no idea of exactly how we would get anywhere. We changed course and destination throughout the day. We rode and rode. We went everywhere. We went nowhere.
Thanks to Fatty for setting this up. Lisa kept saying during the ride that Fatty says it wasn't suppose to be fun and I'm not sure that it was but we did have periods of fun with it. We didn't go to all the places we had on our list. We missed Central High, now a National Park while continuing to operate as a High School. We didn't stop at any of the local breweries or distillers (that may be a good thing). We didn't get into Hillcrest or the Heights. The Capital Hotel was on the list just so we could have our bikes valet parked while we ate. So many things to do and see. I guess we could try again next year. Or we could follow the instructions instead.
Check out Camp Kesem to see where the funds we donated went to. Good folks.