(Special Thanks to Arkansas Outside friend, Nicholas Norfolk for reporting on the Sylamore 25K & 50K this year.)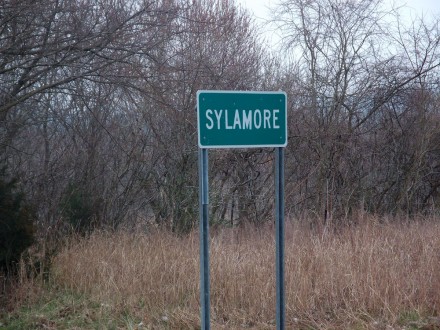 Early Saturday morning, fog provided cover as I made my descent into town. Sylamore is held in Allison, AR about 6 miles north of Mountain View. Both races started from Anglers Restaurant, which is conveniently located at the confluence of the White River and Sylamore Creek. It's a single-track, out and back race with a notorious creek crossing.
I looked to the sky as the forecast threatened to provide an extra element to the race. With the temperature hovering in the 40s, veterans chatted about this being a warm day for Sylamore. Known for its picturesque trails, challenging climbs, and refreshing views one was sure to be knee deep or depending on your height, thigh deep in a great experience. Why was I not running this race again?
The pre-race jitters were evident. Runners adorned their pride via running club apparel and their endless supply of race paraphernalia. I could feel the anxiety and excitement in the air. It is amazing how the atmosphere speaks to your mind, body, and soul before a race.
Although not running, I was there to support friends and soon-to-be friends. For some, it was their first 50k. For others it was their first experience at Sylamore. In addition to Arkansas, twelve states were represented. Not only had Tennessee been responsible for a large number of registrations, but they announced their migration to Sylamore on Twitter. They must have decided they were going to "Breakaway" from Tennessee and come "Running" in Arkansas. We are all one big family, right?!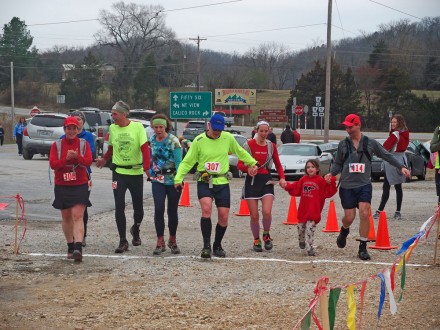 Last year's winner, Charley Hogue was among those in the 25k. Having finished in 2:06 last year, the anticipation started to build as the 2 hour mark approached. Matt Pruitt of Memphis, TN, finished in 2:00:35. That was almost 11 minutes better than his time last year when he placed third.
Charley Hogue of Williow Springs, MO and James Slaba of Germantown, TN, were the second and third place finishers, respectively. Rumor has it Eric Tripp and Charley were running around like idiots on the trail. No, I'm not being a jerk and that is not an insult. In fact, it's a compliment. Both are members of the Idiots Running Club and they wear the badge of honor proudly.
Ashley O'Reilly, Springfield, MO was the first female finisher, continuing the trend of the female winner being from Springfield, MO. She made it the third year in a row. She was followed by Whitney Kerth and Barbara Mariani, both of Little Rock, AR.
Surely, I thought the rain may play a role for those doing the 50k, but it didn't. The overcast kept the temperature cool and the sun was hidden for most of the day. I figure the weather is the reason the participants receive nice sweatshirts and finisher beanies.
With a time of 3:31:44, two-time winner, David Riddle of Cincinnati, OH, holds the current 50k course record. This year the record would remain intact. Clay Hickman of Memphis, TN, came in first in 4:02:46. Ted Herget of Jonesboro, AR, came in second. Nick Lewis of Memphis, TN, was not far behind him to finish third.
Tennessee provided a clean sweep of the top three female finishers. Mary-Ellen Kelly of Memphis, TN, came in at 4:54:50 claiming the best finish for a female. Shelly Price of Oakland, TN was second and Nancyanne Hickman of Memphis, TN was third.
Being there to see all of the runners finish was a first for me. Relief, pain, triumph, accomplishment, and hunger, among many others, were a few of the feelings and emotions many conveyed as they crossed the finish line. It's difficult to attempt to explain the mystique of Sylamore that keeps people coming back? Regardless of the reason, next year many will return. I'll be there, too, as a supporter and runner.
Final results can be found at the Sylamore 25K/50K Website.
Here is a little video of the 25K winners coming in:
Thanks again to  Nicholas Norfolk for keeping us up to date on this classic race.
A little about Nicholas:
I'm a fanatical, running fiend!  I decided to take up running in my battle to lose weight.  I started running June 1, 2010.  I was instantly hooked.  I decided to run 50 races in 2011 mainly to prove to myself it could be done.  
Running helped me lose 100 lbs.  I'm forever grateful for what it has done for my mind, body, and spirit.  Now, I want to inspire as many people as possible.  I love running, but I enjoy inspiring others more.  If I'm not running, I'm out there paying it forward.  We all need support!  Simply put, I'm a running ambassador!