I brought a bike to a run…and for good reason. The Big Rock Mystery Run was somewhere between 10 and 12 miles long, not a huge distance when you look at some of the other runs in the Arkansas Ultra Trail Series, but what it lacks in mileage it more than makes up for in elevation changes.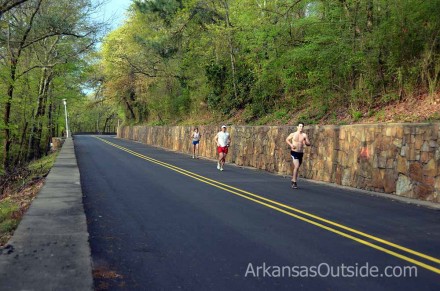 The race started at the Riverview Skateboard Park along the river trail, just under Fort Roots. The run started at 8 am and headed east down in river trail and then turned back west on River Road to 17th street and eventually Fort Roots Drive which would take them almost to the gate. Runners then turned around and headed back down the hill to the bottom where they turned to the right onto a gravel access road which switch back up the hill. Once they got near the top again they negotiated a steep hill following a path laid out with flour arrows. To keep runners honesty, Race Organizer Chrissy Ferguson had placed playing cards at strategic spots. Runners would use these to prove they had gotten through each section.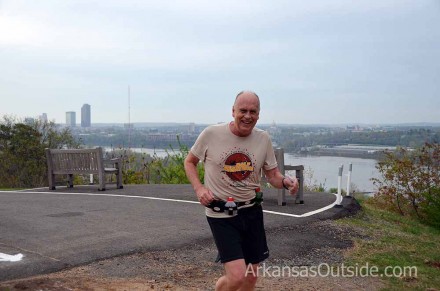 The rest of the race route I'll leave to your imagination. Racers did make a couple more runs to the top of Fort Roots with some very steep trail sections, getting all the way back into the quarry area and a tunnel with wet rocks that had to be negotiated with tired legs. Then they went back up the hill. The weather was warmer than expected for this time of year and a bit humid but runners seem to be enjoying all the obstacles. Back at the finish, hot dogs were being prepared along with other food. As the racers finished they were greeted by the previous runners.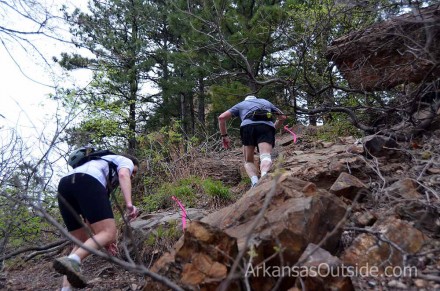 The race is a free race with little in the way of sponsorship, no t-shirts, a few awards and the food. Since no clock was set up with race time most finish line photos include folks checking their watches. It was a wonderfully casual atmosphere. Although they don't have any major sponsors for the race, Chrissy wanted me to mention Robert with North Little Rock Parks and Recreation for coming out very early on a Saturday morning and cleaning the bathrooms and pavilion area in the park. Thanks to all those who support these great events.
So now you think you know this race…think again, next year's race will be another mystery. Results available here.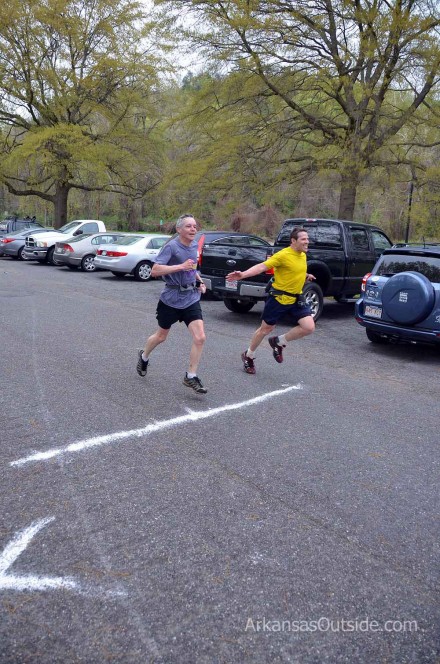 Next run in the Arkansas Ultra Running Series is the Ouachita 50K and 50 miler. More free photos available at our Flickr Page. Enjoy!