I think I would have put my arms out and made airplane noises.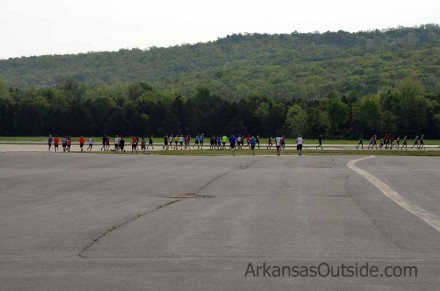 The Iron Pig Festival takes place along side Drake Field, the small airport in Fayetteville, AR. Consisting of several events including a 5K, a 1 mile fun run, duathlon, and bike time trial the location was appropriate considering all the aerodynamic cycling equipment I saw. In festival tradition, event organizer, Bruce Dunn had the parking lot full of music, food, local business supporters and even a moonwalk/bounce house for the kids.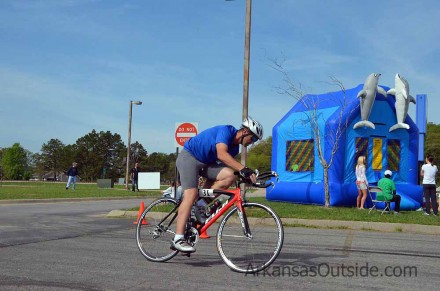 One of the really cool things was that they actually close down the runway for the start of all the races (except the time trial) and everyone gets a chance to run on the runway. You know it, you'd be out there making propeller noises too.
From the event area, spectators could watch the runners start and finish plus the cycling events and some parts of the runs took place on closed lanes along highway 71. The transition for the duathlon was right in the middle of everything. Plenty of shaded seating was available next to the food tent situated between the duathlon transition area and the start/finish line.  To pull off closing the airfield for the start, all the runs started within a few minutes of each other. The men's then women's duathlon followed by the 5K folks and then the fun run.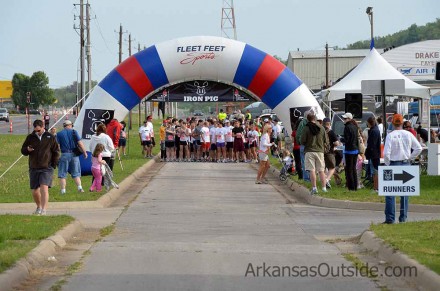 The duathlon was a 3 mile run followed by 18 miles of road cycling and then another 3 miles of running. The two runs were over different courses. The event had a lot of volunteers and good support from the local community. If I can get my running legs under me again I might just give it a try next year.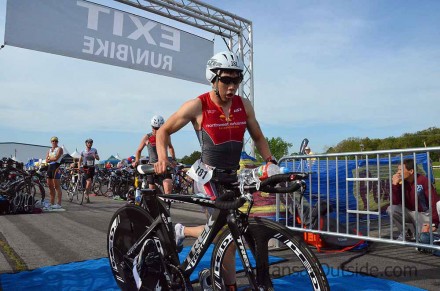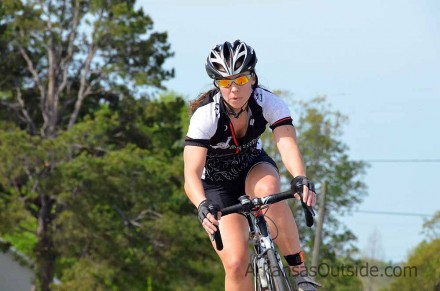 And we have over 600 more photos from the event on our Flickr Page. Free to download, share, turn into your profile photo and enjoy. Also, race results are available for all the races.