Smaller runs can be the most fun. In the case of this years MLK 5K, it was 117 people and a lot of smiles. The bigger races are often crowded and unless you are a top performer you can't  start running until at least 5 minutes into the race. I really like these races where there is a dominant feature for the run, in this case  the Big Dam Bridge. Crossing the bridge to start and to finish makes the bridge two-thirds of the race route. Another thing I liked about this run was that from the start at the base of the Big Dam Bridge on the North Little Rock side, spectators could watch most of the race with binoculars or a telephoto lens. For runners, you know exactly how far you have left since you can see the finish line for the entire last mile.

Bill Torrey , the race director had everything well organized even with a field that had doubled in size from the previous year. This was the fifth consecutive year of the race and although it was a bit chilly out there I overheard many participants describing much colder, wetter and in the case of last year, snowier conditions. Runners were dressed in everything from shorts and t-shirts to jackets, hats and gloves. Everyone seemed to have a good time and I also heard several people mention they had run a personal best at the run. So think about this one for next year to get you out in the middle of winter.
Proceeds from the race benefit Sober Living of Little Rock.
Below are a few photos from the run and more can be found on our Flickr Page.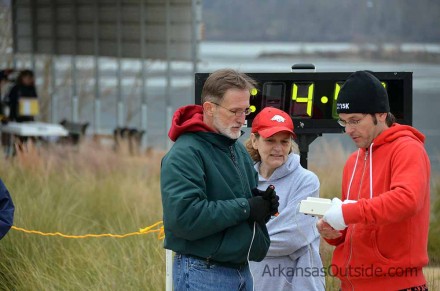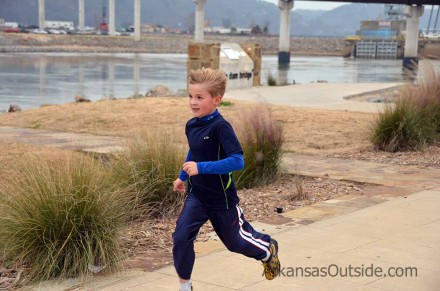 We weren't able to stay for all the finishers but we do have photos of just about everyone at the start of the race so go get them, download them and share them. Congratulations to all participants. see you again next year.