Sunday found us right back at Lake DeGray after having enjoyed Saturday morning at the Three Legged Dawg mountain bike race. The Dawg Dayz/Spillway Multisport weekend went into high gear on Sunday with multiple events including an XTERRA, the final race of the Arkansas Trail Running Series and of course a triathlon and duathlon.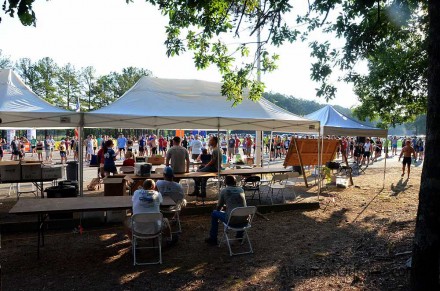 We were spread pretty thin as all events happened simultaneously, so please excuse the multiple photo sets as I try to create some order out of the chaos of shooting everything at once. With limited resources and having shot lots of cycling photos the day before I opted to stick to the swimming, some transition shots and lots of running. An article on the trail running event will appear here tomorrow.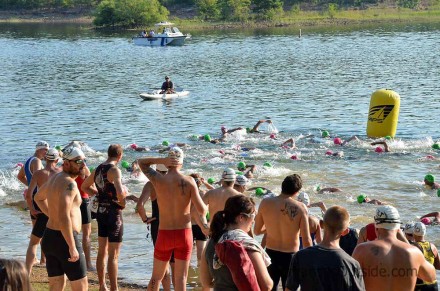 The race started for the triathletes with a 450 yard swim on a clockwise course with a deep water start. Plenty of support was on hand supplied by the Arkansas Canoe Club and local safety officials. The first wave of swimmers came in just before the last was leaving but that didn't seem to cause any problems. Wet suits weren't necessary although some racers wore them anyway. Upon exiting, athletes ran up a strip of carpeting to the bike transition area and were soon out on the bike course.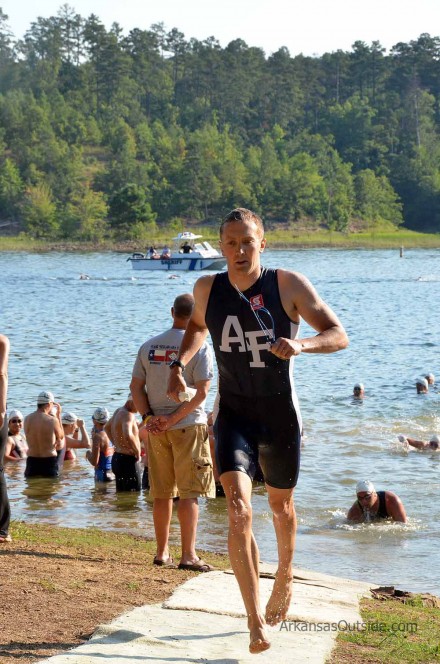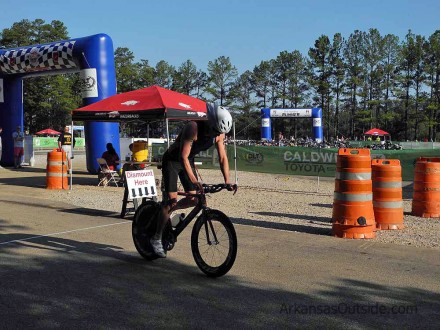 The bike course was a straight out and back for a total of 13.5 miles. Temperatures were rising and the course is not shaded. As soon as they left the transition area, riders start up a steep climb to get over the Lake DeGray dam and then a longer gradual climb to the turnaround. For the ride back, riders enjoy a nice long downhill and quick braking to make the u-turn into the spillway parking lot and transition area.
Out of the transition again and on the run, athletes run up another hill in the opposite direction from the bike course. Another out and back with some shade at the beginning and end for a total run of 3 miles. A short but tough course in the over 90 degree heat.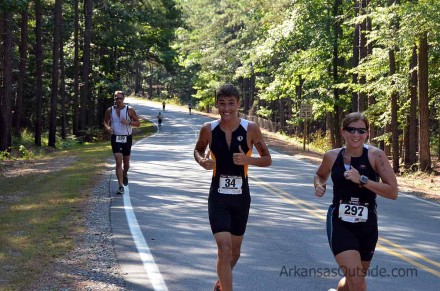 The Duathlon was similar except that shortly after the swimmers started duathletes did their first run which was on the same course as the tri-run so they were finishing their first run and getting on the bikes along with the triathletes for the same 13.5 mile ride and then finishing with a second run.
Race organizers, DLT Multisport, had plenty of drinks and food waiting plus a welcome spray hose to cool down the finishers. This is race #2 of the Arkansas Tri Series. Check out the first race of the series, Tri-The-Village on our website. Next up in the series will be the Shark Triathlon in Bentonville.
Also stay tuned for articles and photos on the trail run and XTERRA tomorrow.
Check out the photos from the swim, run and other photos on our Flickr site.