The legend of Bill Torrey grows with each race he successfully directs.  Little Rock Roadrunners (LRRC) have well placed faith in Bill's experience and leadership.  It's no wonder the Arkansas Grand Prix Race Director of the Year Award was recently renamed in his honor.  I'm convinced he can do this in his sleep.  He's that good!
If you're familiar with where the race is held, Two Rivers Park, you know there is one way in and one way out.  That may not present any serious problems for the run itself, but parking is not optimal.  Arriving early can help alleviate the stress of parking too far from the start.  If you end up parking far away, a trolley will gladly transport you before or after the race.  Is that not convenient?  Good thinking, Bill!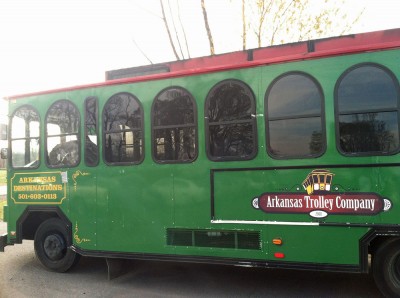 Other than being a little windy, the temperature was pleasant.  Clear skies made it easy to see Pinnacle Mountain in the distance.  The hum of machinery added to the overall ambiance.  I'm not sure what they're building, but hopefully it will be finished before next year's race.
Marvin took his place at the start of the race displaying the flag.  The Spider-Man suit he wore at the Little Rock Marathon must be in the cleaners.  Other special guests included a pair of Jacks.  Jack Fussell is running from Georgia to California to raise awareness about Alzheimer's.  He was there to cheer people on as he had recently surpassed 1,000 miles.  Wouldn't you want to conserve your energy for the next 2,500 miles?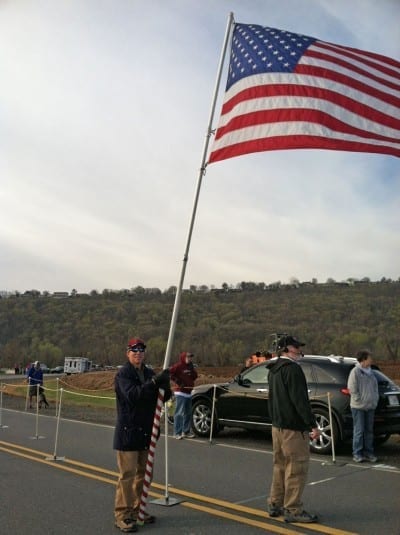 Jack Mayberry was celebrating his 80th birthday by running in the race.  He had no idea there was an entourage of runners who were going to run with him the entire time.  He probably figured that out, but the party at the end complete with cupcakes, brownies, cookies, etc. had to be a shock.  The runners later sang "Happy Birthday" to him adding the icing on the cupcake. 
Everyone got lined up and Bill made the final announcements.  On your mark, get set, Rumpelstiltskin!  In reality, he said, "Go!"  The herd of runners came at me full speed ahead.  The first mile is inside Two Rivers Park.  Then, runners head out for a flat and fast course.
While Wojciech Kopec was away preparing to win the Covenant Health Knoxville Marathon the next day, the LRRC men defended their home turf by finishing 1-2-3-4.  Timothy Richard (32:47.3) sped to the finish followed by Jake Johnson (33:02.4), Imari Dellimore (35:18.4), and Greg Targosz (35:31.8).  Aimee Larkin (37:12.1) and Tracy Tungac (37:19.9) battled for the top female spot until the end.  Tia Stone (39:26.9) was the next female finisher. 
After the race, were in search of food to demolish.  The Capital City Classic usually has pizza.  Hesitating to get a slice will prove to leave you pizza-less and in the hunt for alternative.  You could always cozy up with your recovery drink and a koozie.  It's a recovery drink for a reason. 
Many of the Grand Prix'ers will be back in action at the Hogeye Marathon.  Some will warm up with the Peace, Love, & 5k while others will Hoof It For Heifer at Petit Jean State Park the day before.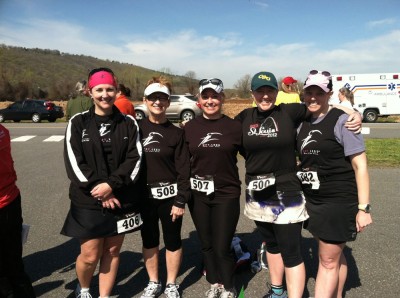 Overall Results
Age Group Results
Arkansas Grand Prix Team Results
Arkansas Grand Prix Overall Male Results
Arkansas Grand Prix Overall Female Results
Arkansas Grand Prix Male Age Group Results
Arkansas Grand Prix Female Age Group Results
When I'm not running, volunteering, or writing, you can usually find me lurking on Twitter, blogging at ICEdot Athletes, or on #Runchat.