There is something really special that happens on the morning of the ALS Bike and Hike. Most days, as cyclists, we air up our tires, ice down our water bottles, and fill up our jersey pockets with "fuel." But on this odd morning, we also pack up some tennis shoes and a ball cap for a mid-ride hike up Pinnacle Mountain. Let me tell you, it is a challenging event, but the sweet view from the top will make you forget about your shaking "non-climber" legs.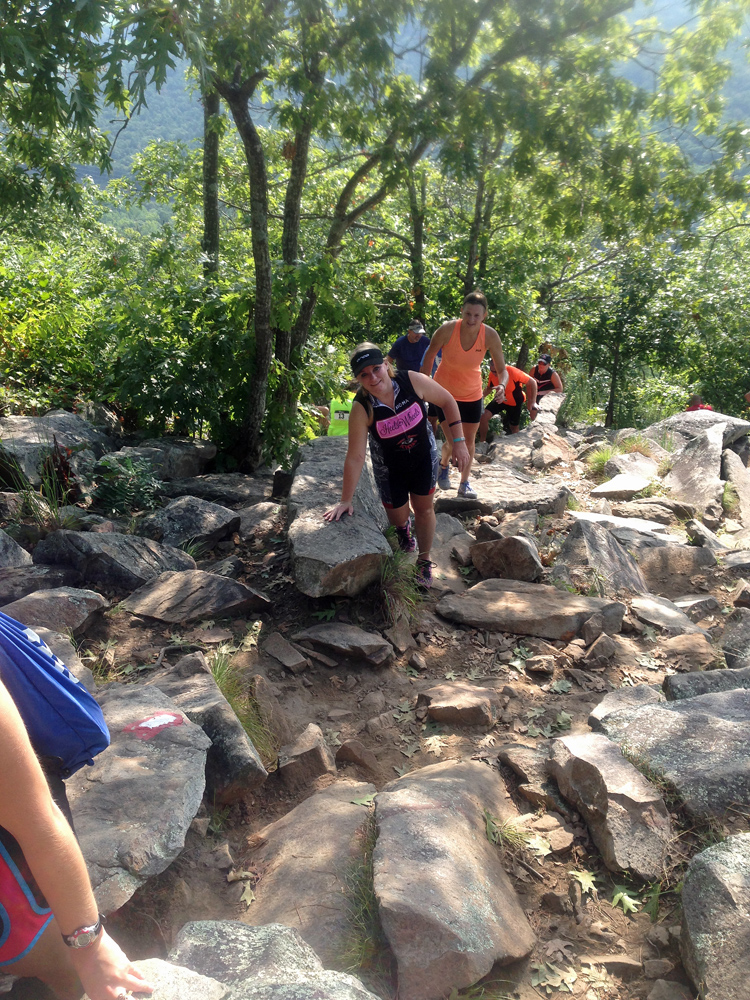 The ALS Bike and Hike is the once a year event that raises funds and awareness for the Arkansas ALS foundation. This past weekend was the 3rd year for the event and it was as successful as ever. I took personal interest in this disease last year when I met a patient who was recently diagnosed with ALS. In the few short months after being diagnosed, he went from a 38 year old father of 5 kids and working every day, to a man who had to be helped with most daily activities. When he looked at me and told me that he would never see his 2 year old daughter graduate high school, I caught a glimpse of his wife pretending to be strong and fighting back tears. I promised myself at that moment to be actively involved with the ALS foundation. A couple weeks later, the Bike and Hike was announced and I did not hesitate to sign up. Two years have passed and that man was still in my mind during my Bike and Hike journey this past weekend.
As a cyclist, the ride to Pinnacle Mountain Sunday morning was business as usual. The sounds of cleats clipping in signaled the start and we were off down the trail to enjoy the 7 am morning light. I had encouraged several of the women I ride with to sign up for the event and enjoyed sharing the wind with 7 of my cycling buddies. We easily made it to Pinnacle, laughing at the "hills" on Pinnacle Valley as we conquered them. We got some Gatorade and pickles and laced up our tennis shoes. I must admit, it was a little odd to take off the helmet and riding shoes while still in my best riding kit. I was excited to get on Pinnacle Mountain, as I had not been "hiking" in years but really most of the acsent up the mountain is climbing, especially for these short legs. The climb was quite the exiting challenge as we maneuvered the rocks and crevices, but it felt good to work some other muscles and get the blood flowing, anticipating the reward of the view from top.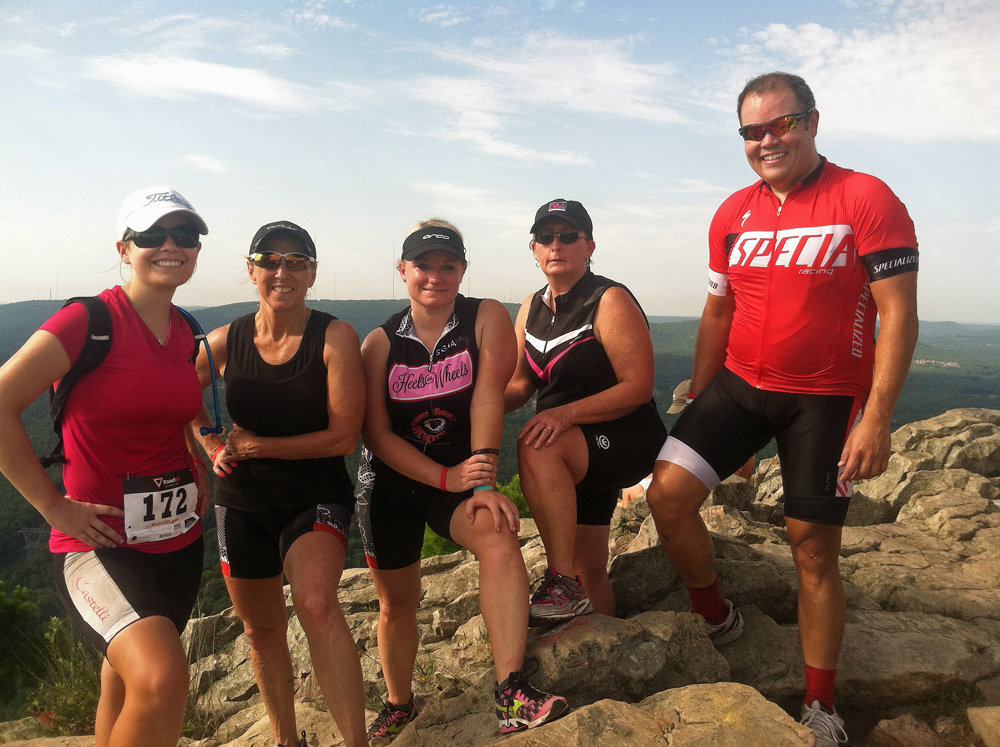 As we made our descent, I realized quickly these legs had not done work like that in a while and maybe I should get off the bike a little more. PS…don't tell that to my cycling group. With legs a shaking, I wondered out loud several times if this was really only 3.5 miles. I think we walked for days or maybe I just really wanted to get back to the aide station to get some goodies. Fortunately, my good company kept my spirits up and I later got them to admit it was more challenging than they were letting on "in the field." Finally making it back to the transition area, I refueled my body and restocked my bottles. Huge shout out to the Arkansas ALS Foundation for putting together an awesome set up and goodies at Pinnacle Mountain. I have never consumed so much Gatorade at one time, but it was blazing hot by the time we got back on our bikes. The ride back to the sub was not as joyous as the ride out, thanks to mountain exhaustion and heat, but we made it back and enjoyed pizza and sodas (I swear these people read my post ride must haves list). I will spare you the details of the amount I consumed to avoid any knowing glances next time you see me in spandex, but the replenishing food resources were available in large, satisfying amounts. We also got to participate in the ALS Ice bucket challenge and I think that was a much needed end to the hot ride.
Tim Vahsholtz, ALS Bike and Hike Founder, stated that there was a record breaking number of riders this year and with the recent media storm of the Ice Bucket Challenge, I dare predict a bigger turn out next year. Maybe I will take my talents to the Bike and Hike Cruise that is also offered during the event. Tim did tell me that he wants to offer the cruise at another point in the year and I can promise I am looking forward to that event. Mimosas with other spectators and no sweating sure seems like a sweet option. I highly encourage you do a little good in your community and join us next year for Bike and Hike… and Bicycle Advocacy of Central Arkansas better be back with the awesome doughnuts that kick started the morning off right!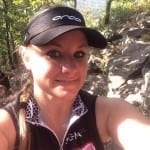 Stacy Tierney is a active cyclist, triathlete, and advocate in Little Rock. She currently serves on the Bicycle Advocacy Board of Central Arkansas as the Events Coordinator, one of the leaders for Arkansas Heels on Wheels, and sometimes event writer- anything to share her love for all things Arkansas outside. She recently experienced her mid life crisis and left her medical field job of 8 years to work in her passion of triathlon at Orca/Orbea.  You can find her most days on the river trail.