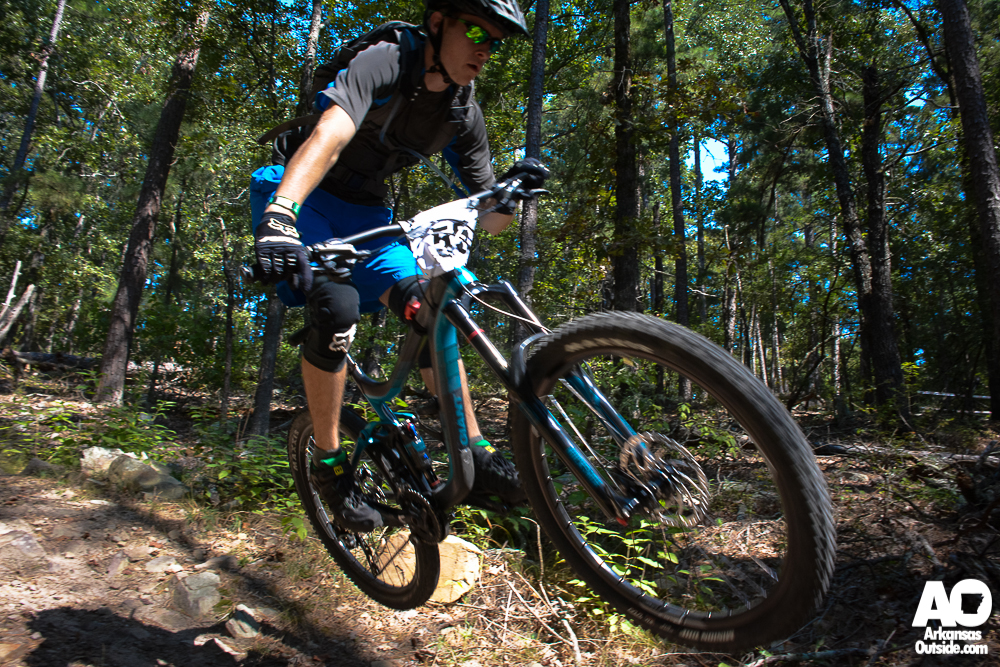 For years it seemed the world of enduro mountain bike racing was passing Arkansas by. Sure we had some nice tries with some enduros at Iron Mountain and the recent race at Coler last year. This year there are plans to have an entire series of Enduro Mountain Bike Races in Arkansas. The Arkansas Enduro Series is billed as "A statewide, best 4 of 5 stop enduro series on the best trails Arkansas has to offer!" The current line up is as follows:
May – Upper Buffalo 
June – Big Brushy 
July – Bella Vista 
August – Eureka Springs 
September – Coler
While details aren't available just yet (organizers have committed to getting us more information soon), we do know that the first event at the Upper Buffalo trails is slated for May 19, 2018. The big news is that the event will also be a qualifier for the Enduro World Series managed by the Enduro Mountain Bike Association (EMBA).
"The association is comprised of four hugely experienced mountain bikers; Fred Glo, Enrico Guala, Chris Ball and Darren Kinnaird. Together, the group unite the collective experiences garnered from founding the sport of Enduro in France and Italy, building Cranxworx Whistler into the largest mountain bike festival in the world and racing and working within World Cup downhill racing. By joining together seven existing large events across four countries and two sides of the Atlantic Ocean, the EMBA group created the flagship Enduro World Series, starting in 2013." – Enduro Mountain Bike Association website.
2018 EWS Qualifier Calendar announced
(from media release)

The Enduro World Series (EWS) is coming to a race near you as the list of official Qualifier events grows to 50 spread across 25 countries and four continents.

The expanded lists of races sees the EWS moving into new territories including Bulgaria, Romania, Croatia, Poland, Switzerland, Colombia, and Slovakia. There will also be a race in Lesotho, marking the first time the EWS will hold an event in Africa.

Taking place across four continents in 2018, the 50 events will allow the fastest riders a way to secure entry to their chosen EWS races. Enduro Mountain Bike Association (EMBA) members can gain points based on their results at these local races, with their best three results of the year totaled to generate their global qualifying ranking for the following year. More details about how the global ranking will be calculated will be released next week – along with some more big news.

The Qualifier events were introduced in 2016, with 40 events taking place in 18 countries, and so far roughly 300 athletes have gained direct entry to this season's races as a result of the system.

Chris Ball, Managing Director of the Enduro World Series, said: "The Qualifier events have been a real success when they were introduced in 2016 and it's great to see them expanding this season. Demand for EWS entries grows year on year and the Qualifier events are a great way for riders, especially amateurs, to have a clear and fair pathway into the World Series.

"We've been overwhelmed by the number of applications we've had to host Qualifiers this year, and it's great to see so many countries involved – with 43 nationalities already entered in this season's EWS races it's amazing to see how truly global the sport has become. It's great to offer so many riders the chance to participate in the series and we look forward to seeing who rises through the Qualifier ranks to qualify for the main EWS races in 2019."   

The full calendar of Qualifier events can be found HERE.