I have always wondered what kind of person runs this race.  Do they do it for the challenge?  Are they determined to accomplish this feat regardless of the circumstances and obstacles?  Do they enjoy pushing their bodies to the edge?  Are they so stubborn that being sick or injured doesn't matter?  Have they completely lost their mind?  I've found they are all of the above and some.  It takes a certain amount of gumption to entertain the thought of 3 Days of Syllamo.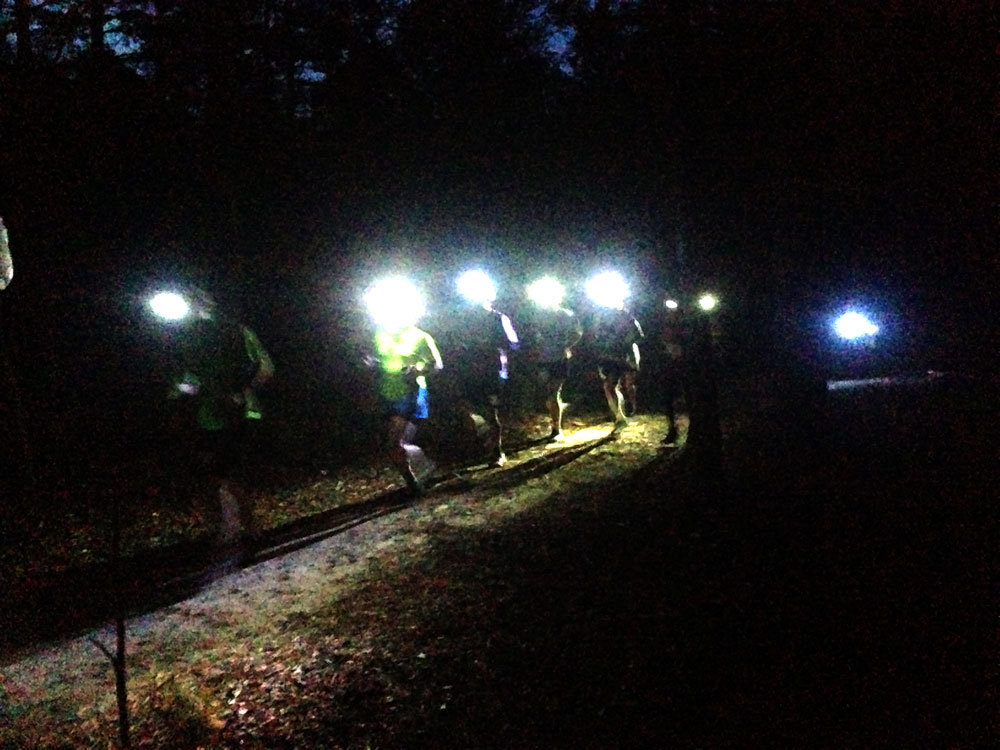 There were 75 people that started the weekend of stage running.  In the end, 43 completed the stage.  Runners dealt with a drastic temperature rise, which added to the difficulty of the first two days.  With temperatures in the high 70s, hydration was a serious factor.  Reports of runners getting lost on the first day didn't help.  Which runners would overcome these issues and slap adversity in the face?
Men
Matt Pruitt (Breakaway Running) was recently in the area, winning the Sylamore 50k.  You would have thought he was at home on the trails.  He won the 50k and came in second in both the 50-miler and 20k.  Not bad for someone running their first 50-miler.  His performance was enough for him to bring the overall title back to Memphis where it has been for the last two years in the hands of Nick Lewis.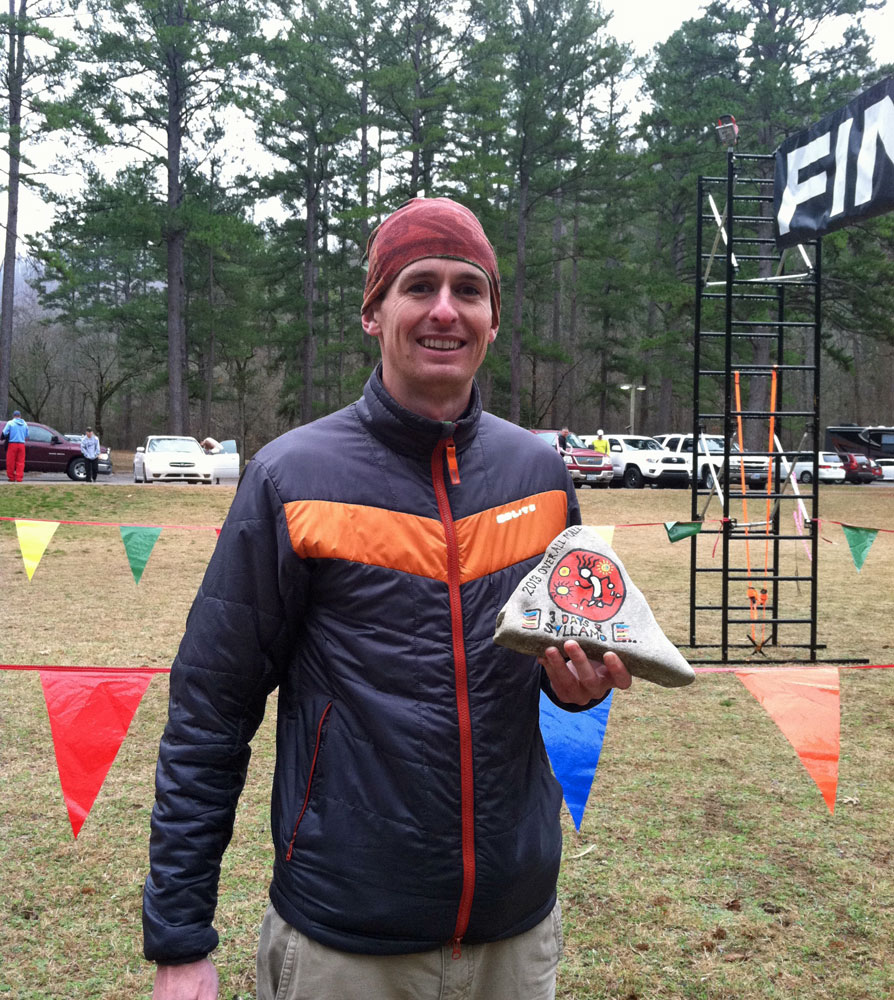 Ben Creehan and Robert Wehner didn't make it easy for him.  I felt both gentlemen would do well.  I picked them as favorites in my 3 Days of Syllamo Preview.  Ben was Matt's fiercest competitor winning the 50-miler.  The win took him into the last day three minutes behind Matt.  Matt told me that Ben didn't let up or hold back.  He ran hard the entire time.  They crossed the finish line together on the last day.  This has to be the closest this race has ever been.  There was no cruising on the last day for either of them.  Robert Wehner was third overall.  The Wisconsinite won the male masters award.
Paul "PT" Turner ditched the watch to run a very strong race each day.  Even when he looked like he was near death, he rose the next day to prove he wasn't.  Paul Schoenlaub and Stuart Johnson added another 3 Days of Syllamo finish to their resumes.  Next year, they'll go for ten in a row.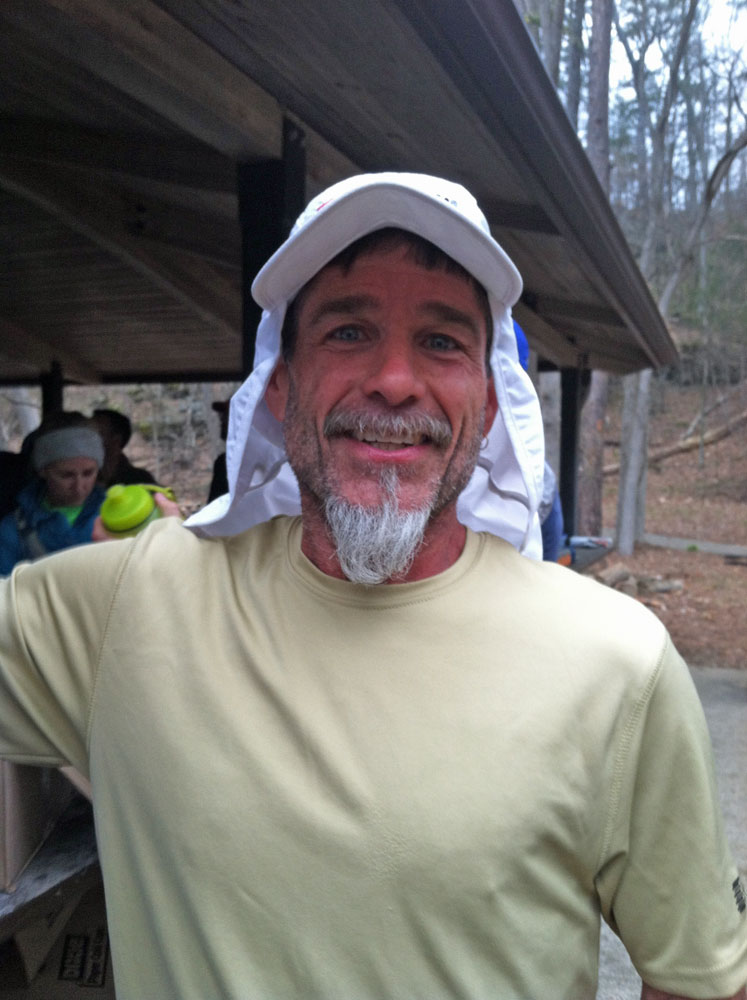 Jonathan Young, Titanium level Marathon Maniac, completed his first stage race.  Along with Nate Smith, they represented the Saline County Striders well.  What's more impressive than the finish is what he used to do it.  A plastic water bottle is all Jonathan needed.  He totally deserved the large pizza and Guinness to celebrate his finish and St. Patrick's Day.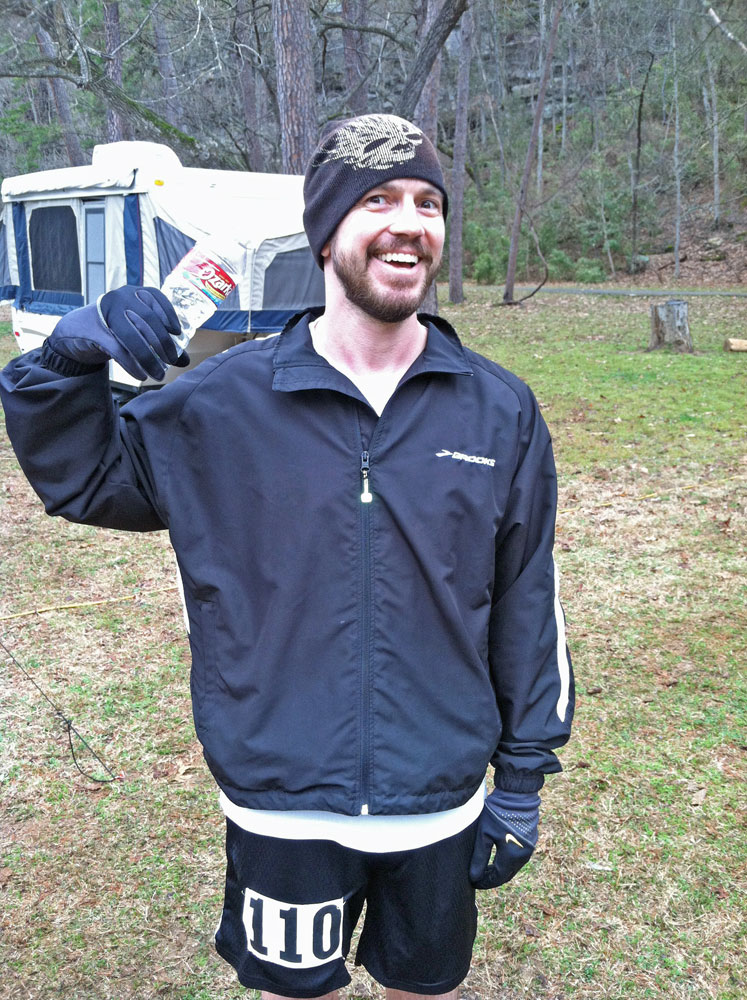 Women
With Ashley Nordell and Liza Howard not making the trip, my projections for the women's race were not looking good.  Katie DeSplinter made the call to run although she was not feeling well.  Her race suffered because of being under the weather, but the Ozark Trail 100 female winner will bounce back.  Meghan Hicks was using the race as training for Marathon des Sables.  Although she carried around a pack to simulate what her body would have to endure in the Sahara, it wasn't enough to hinder her from being the women's winner.
Memphian Carol O'Hear was a little over twenty minutes behind her to finish in second.  Teddi Schneider, who I found out didn't enter until about a week before the race, returned to defend her female masters award.  Placing third in the women's category secured her back-to-back titles.
Running with strep throat, flu, and piriformis issues, Stacey Shaver-Matson finished as the fifth female and second female masters.  She's a solider beyond measure.  She says her stubborn attitude overpowers her mental stability at times.  Hobbling across the finish line on the last day made the moment surreal for me.  People say do what you must to finish, but had Stacey fallen to the ground, I believe she would've crawled to the finish.  No one can tell me that is not shear determination and willpower.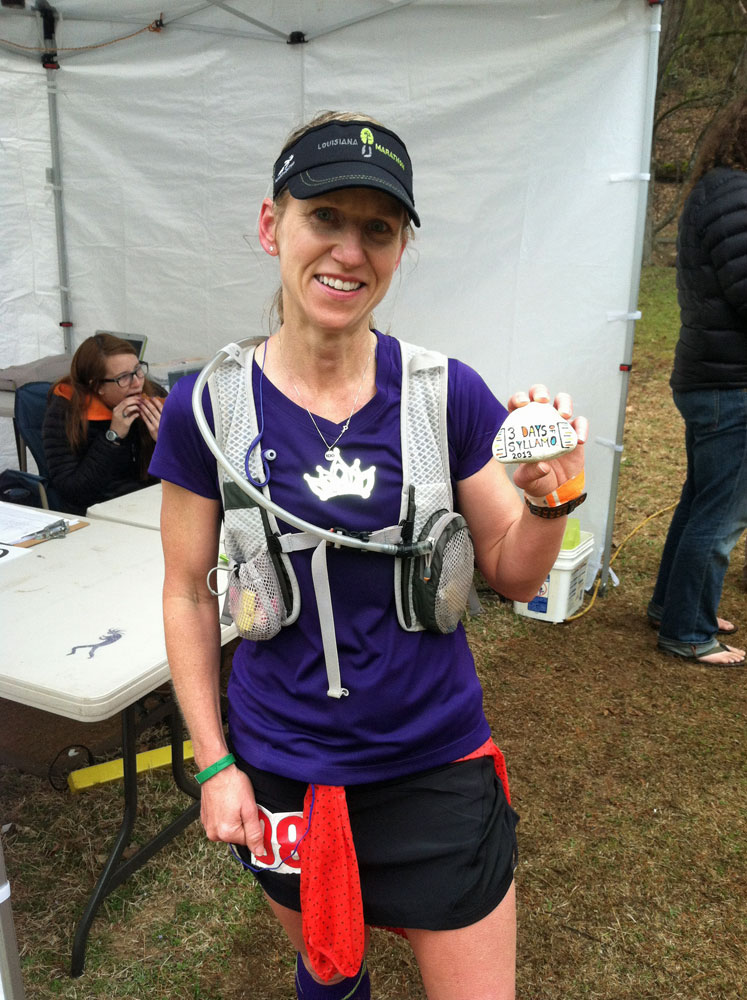 Non-stage runners
Three Days of Syllamo is not a requisite stage race.  Running one or two races is allowed.  Some have intentions to do all three days, but compromise by doing two.  Others focus on the 50-miler, which is one of two you can do in Arkansas.  The Ouachita Trail 50 is the other one.
Chris Ho wanted to test the waters with a 50-miler and notched an eighth overall finish in 10:29:81.  He remarked he wasn't excited afterwards about the distance.  He prefers to run marathons and run them fast.  Grayson Greer completed his first 50-miler.  He said, "I left it all out there and some I probably didn't have."
Pete Tanguay is training for Ironman 70.3 Texas.  He rode his bike around 90 miles from Conway to race headquarters.  The next day he ran the 20k.  I have no comment for that madness.  Another maddening fact is how Nick Lewis broke the 20k course record set by Craig Zediker in 2006.  He did it in 1:42:14.  That's ninety seconds better than Craig.  The more than 20 degree temperature drop could've helped Nick.  Other runners enjoyed to the temperature change, but wished it had been the case for the entire weekend.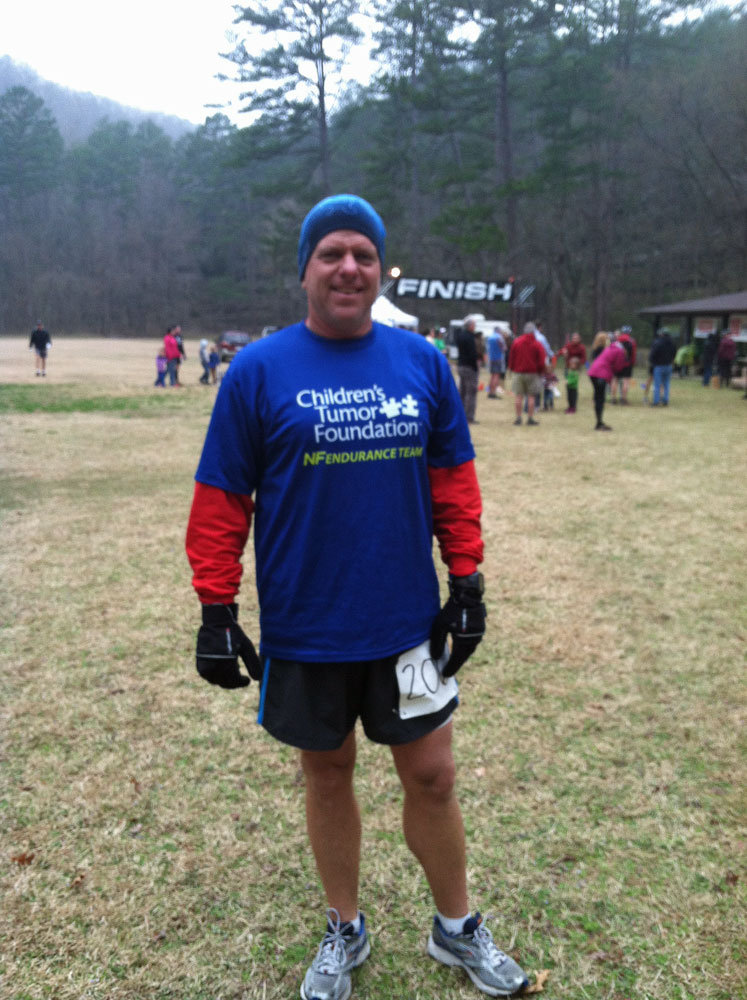 When I asked what was next, a few replied with the Chattanooga Mountains Stage Race in June.  It's part of the Rock/Creek Trail Series.  I'd be interested to hear the comparisons between the two races.  The heat at 3 Days of Syllamo may fail in comparison to the heat in mid-June in Tennessee.
Congratulations to anyone that completed one day, two days, three days, or anything in between.  If you completed the stage, cherish that rock!  It symbolizes how hardcore you are.  ROCK ON!
Some of the interviews, finishes and awards from the last day…
When I'm not running, volunteering, or writing, you can usually find me lurking on Twitter  @absolut_zer0 or blogging at ICEdot Athletes. (all photos and video by Nicholas except where noted)