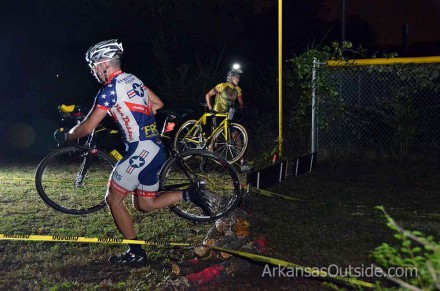 Cyclocross events usually involve mud, rain and cold but it's early still in Arkansas and although we do have some cold, wet  days this time of year they don't always happen on a weekend. Kicking off the Arkansas Super-Prestige Cyclocross Series this year was the Night Race at Kanis Park in Little Rock. The air was warm, the ground dry, the course flat and fast so besides a few barriers and sharp turns it didn't look like your normal cyclocross race. But what's normal in cyclocross?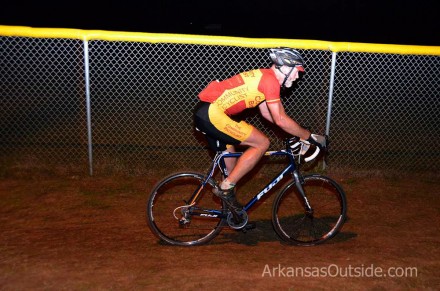 Race director Trevor Edwards said they had 60 plus participants and a really good sized crowd was on hand to watch the races. The race was sponsored by Team Carve.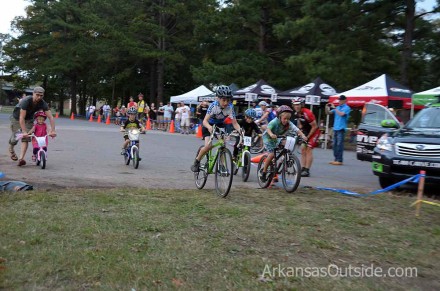 The kid's race went off without a hitch. Plenty of light for the young ones to get in a quick lap. By the time the B Race; Cat 4, Masters 40+, Women and Juniors 18 & Under got ready to start a new obstacle had presented itself. The city had agreed to turn on the softball field lights for the event and since most of the course wrapped around the field the night races should have had plenty of light. Unfortunately the lights never came on.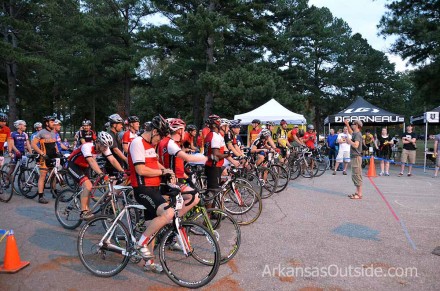 The start and finish lines were in a lit parking lot and had plenty of light which kept most of the spectators together during the races and created a very festive atmosphere. Arkansas Outside had given away a total of 30 cowbells just before the race start and things were noisy. We enjoyed having folks come up to our tent and almost whisper "Don't Fear the Reaper" to us. It was wonderful.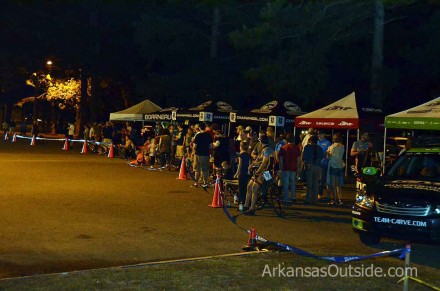 Many racers donned lights, a couple of bikes with lights were placed in dark turns to help light the way and the racing was on. The B race went for 40 minutes as racers took tight turns, jumped barriers and negotiated heavy equipment all under the cover of darkness.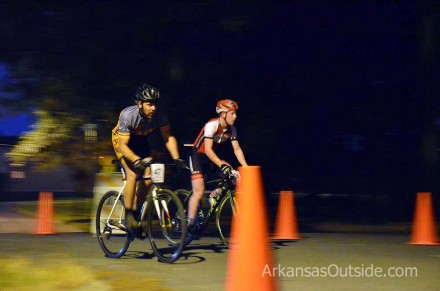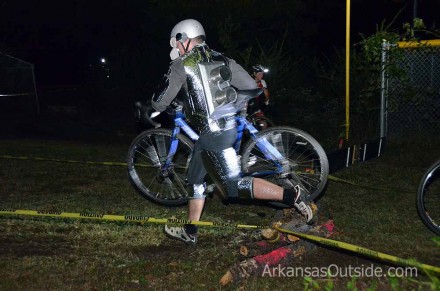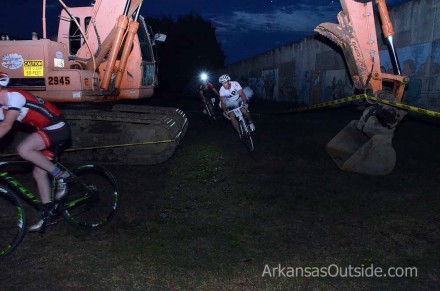 After a short break the A Race; Open (Cat 1-4) started. For 50 minutes racers went around and around, in and out of light with the crowd of spectators screaming and ringing bells. It was a tough, long sprint.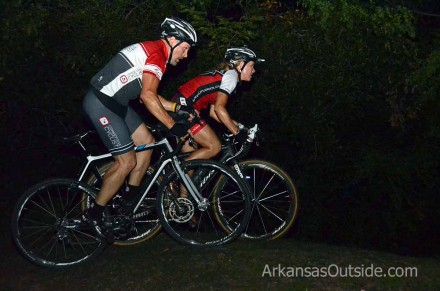 No mud this time out but just wait until tomorrow's race, things will be different, very different.
More photos in our Facebook Album so go ahead, tag yourself and your friends, download and share.