…for this season.
It was not a typical day for cyclocross. Temperatures reaching into the high 50's, no rain for several days and a bright sunny day greeted racers Sunday at Allsopp Park in Little Rock. A warm-up ride through the cyclocross course showed them quickly that course designer and race organizer, Trevor Edwards, had thrown in plenty of unique challenges. The start of the 2012 New Year Barrier Cyclocross Race began at the base of a paved hill and then went straight into a couple of tight, off-camber turns. Plenty of barriers along the way including the stone step climb, a huge mud hole to kill momentum before climbing a long slick hill and then a choice between a running zig-zag or dropping down into a tight turn into a climb kept racers on their toes.
Here is a short video from the race. I call it "What are you doing?"
Probably due to the unseasonably nice weather, the race had a lot of spectators. Cyclocross really lends itself to spectators since the courses tend to be tight and short. I highly recommend that when the series starts again next fall you come out and watch some amazing cycling with some great people.  I'll shut up now and leave you with a few of my favorite shots from Sunday's race. (The rest of the over 400 photos are on our Flickr Page)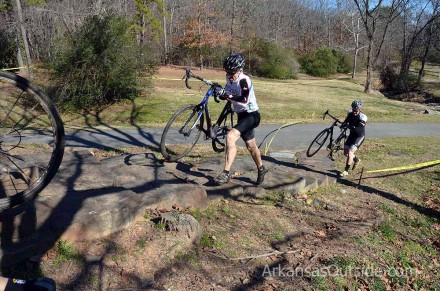 Congratulations to all the participants. Keep tabs with the Arkansas cyclocross scene here on ArkansasOutside.com and on Arkansas Cyclocross Blog. See you next year and bring your cowbells!
BTW – Previous stories on the 2011/2012 Cyclocross season here:
Jingle Bell