What comes to your mind when you hear the words good heart? Most would think of someone having a kindly generous disposition. I tend to think along the lines of normal blood pressure, sinus rhythm, and good cardiac output. Last Saturday (April 26th) was an event hosted by The Arkansas Heart Hospital called the Cardiac Classic. This event housed every definition of the word. It was about the health of the heart along with friends coming together riding bikes and encouraging each other to reach goals never before reached.
Being an intensive care nurse is not always the easiest job. I see some of the sickest people with the poorest health. My sadness in seeing this accompanied by my love for bikes resulted in me starting an organization for women's health called Arkansas Heels on Wheels (AHOW). I felt that instead of just being frustrated I should use my knowledge to make a difference in a positive way. When I saw a flyer hanging from our ICU bulletin board for the Cardiac Classic I knew it would be a great ride for the organization. I snapped a picture and posted it to Heels on Wheels and got a wonderful response. It was decided that we would have an advanced ride doing the Metric Century or 62 miles and a beginner ride doing the 20 mile ride.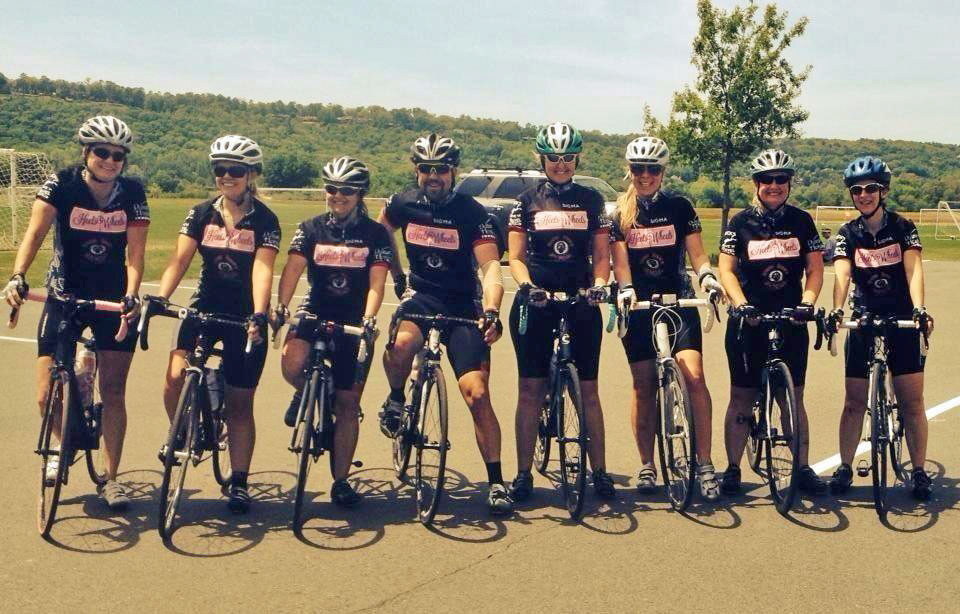 The morning of the race I arrived a little late in normal Victoria fashion. I immediately saw a Heels on Wheels jersey and had to really squint to recognize who it was. I greeted Lisa an advanced rider and wished her luck on the ride feeling proud to have people wearing the jersey that displays our AHOW logo containing the medical symbol. I walked over to the crowd at the starting line and was blown away by the sea of our jersey's! They were everywhere and I didn't even know some of the people who were wearing them besides seeing them on facebook.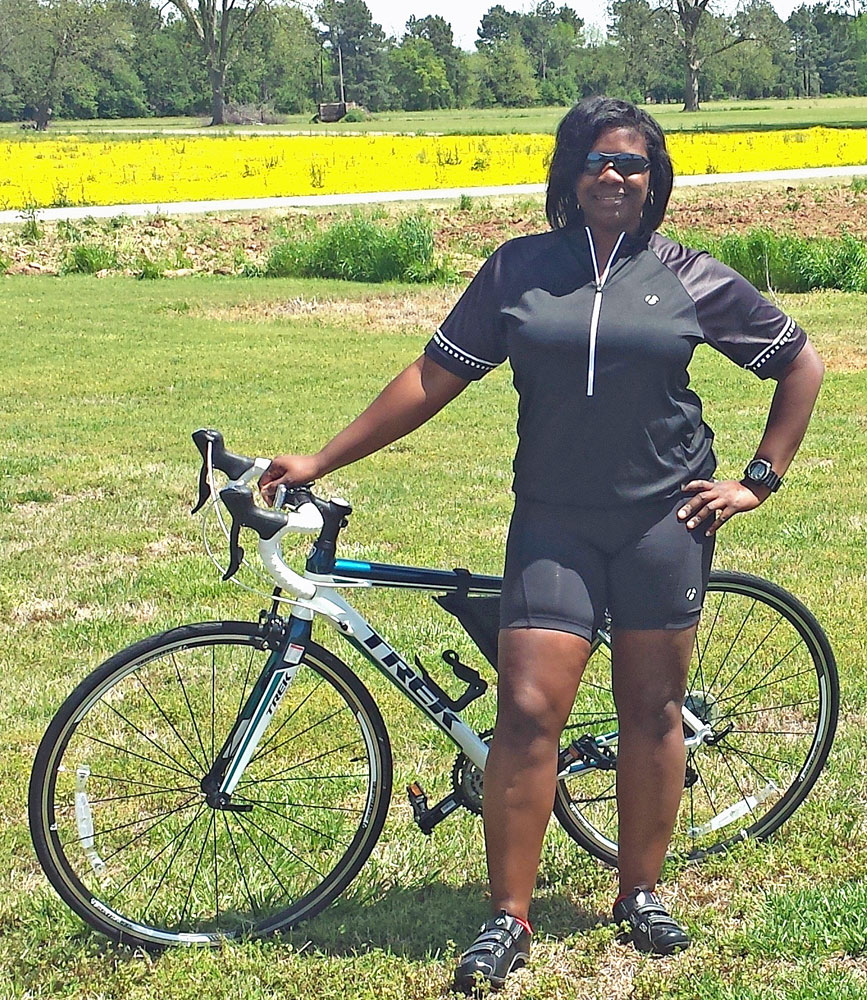 Lisa Piggee was there for the beginner ride. Lisa had messaged me a couple of times via facebook concerning the ride. She was a little nervous about riding her first group organized ride and her longest distance yet, 20 miles. Lisa began road cycling about 27 years ago, as a teen. She grew up in Chicago, and on her block you were not cool if you didn't "bike". She started riding again for health and exercise this spring. Upon her arrival to the Cardiac Classic Lisa described herself as a pessimist however she immediately saw two Heels on Wheels jersey and was also greeted by a Major Taylor lady rider who were all doing the 62-mile ride. After talking to them, she felt more relaxed and truly inspired. Lisa absolutely loved the Cardiac Classic from start to finish. She said she wished she would have brought her family along. There are several members of her family who have congenital heart defects (such as cardiomegaly and ASD), and others who've developed heart problems over the years. Many have passed away – most before age 50. Her goal is to encourage them to join me for this event annually and help raise awareness and support. Lisa felt achieving this distance, for this event with the Heels on Wheels team was very rewarding. During and after the ride, she felt that same feeling I did as a teen riding with my dearest friends. It was so nostalgic at times.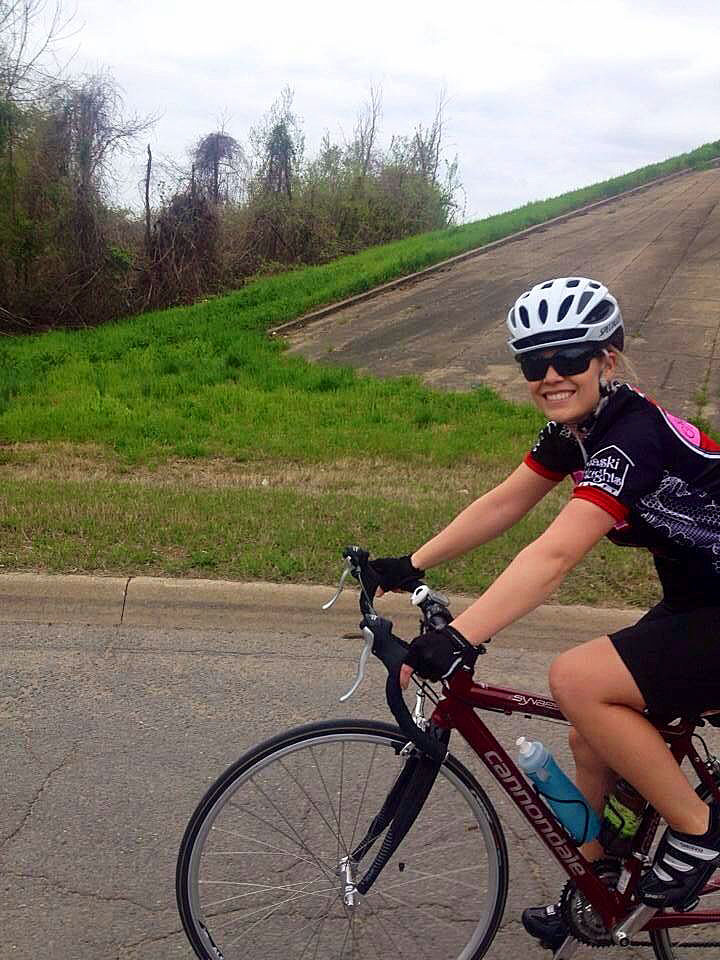 Kayla Applegate started cycling just this January after her husband bought her a bike for Christmas. Kayla like many others in our group started riding for health. She is an attorney and started her own practice in August of last year. Attorneys have a high rate of depression and alcoholism, and they rank 4th in suicides compared to other occupations. She really needed something in her life to take her away from the stress of practice, and riding does that for her. She looks forward to getting on her bike after a stressful day in court or just a stressful day at the office. Kayla rode her personal best of 62 miles with Heels on Wheels and said, "it was indescribable. I was so amazed not only that I had ridden 62 miles but that I had done it on a very challenging route in a very quick time of 4 hours and 25 minutes. I didn't know I had it in me. I definitely could not have done it without the support and encouragement of my fellow Heels on Wheels riders. They really helped push me to my absolute best."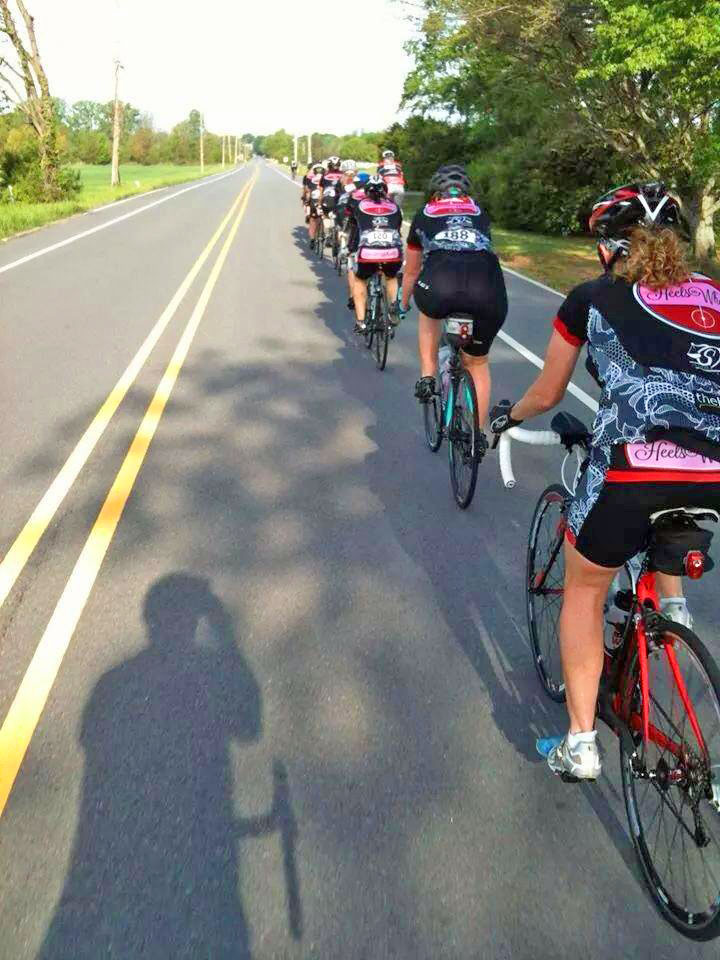 As the founder of Heels on Wheels, meeting these women and hearing the stories of their rides is one of the most rewarding things in my life. When we got to the end of the 20 mile ride I led there was a Cardiac Classic sign on the side of the trail that said, "Heart disease is the number one killer of women." That hit home and again reminded me HOW's purpose. #werideforhealth
Editor note: We have a couple of hundred photos from the ride on our Facebook Page for sharing, downloading, liking and commenting on.