Too many things to do, not enough weekend! This means I had to take a day off and I chose Friday.  This past weekend Lisa and I headed to Eastern Arkansas, the Crowley's Ridge area to be exact. for an adventure race at Village Creek State Park.  The race will be a separate topic But suffice it to say it took up most of our Saturday.
So here was the plan:
Take the young one on Friday to Memphis to put her on a plane to see her Grandparents in Birmingham.
Have a quick dinner and head for Lake Poinsett State Park near Harrisburg, AR (Just south of Jonesboro) to camp for the night.
Make the short drive to Village Creek State Park on Saturday morning to participate in an Ozark Extreme Sprint Race that the park was hosting.
Go back to Lake Poinsett for a second night of camping.
Sunday morning would be spent driving to have brunch with one of the State Tourism Departments Travel Writers in Marianna, AR and meet with the famous Delta Cat, Shelby Foote (named for the famed writer).
The afternoon would be spent dropping by a couple of Arkansas State Parks on the way home to Little Rock.
Rest!
So here we go!
The trip to Memphis was uneventful and we got to the airport with plenty of time to get the young one on her flight.  A little confusion with extra fees but by 3pm we were out of the airport.  We headed down to Beale Street for dinner and decided on Alfreds so we could enjoy the beautiful weather on the upstairs patio.  This also gave us the opportunity to enjoy some good people watching, a family favorite.  The ribs and pulled pork were awesome, a beer to wash it all down and we were ready to head on to our campsite which would be about 1.5 hours away.
Because we do this kind of thing, we stopped by the Dollar General Store in Marked Tree, AR for a few last minute supplies (we forgot our lighter!).  We were soon riding up onto Crowley's Ridge  These are what you call Delta Mountains and is a very beatiful area.  If you ever have a chance to drive Crowley's Ridge Scenic Byway, do it.  You can find out more about how the Ridge was formed here.
We got into the park after the visitor center had closed so we headed over to our tent site to get set up.  It was going to be a beautiful weekend and the campground was full.  Lake Poinsett State Park was closed for much of the late winter/early spring due to a freeze that took a lot of trees down and caused some damage in the park.  The park has rebounded wonderfully.  The trails will need a little more work but the campground and day use areas were beautiful.  We settled in for a nice night of sleep.  Up early I visited with the park staff.  They were getting ready for a big Boy Scout event where they would be helping them earn merit badges.  The Park superintendent had gotten back late after helping with PortFest at Jacksonport State Park.  There were also interpreters from other parks at Lake Poinsett to help out with the days activities.  It seems that everyone helps everyone in an Arkansas State Park.  We had to be at Village Creek State Park for our race check in by 10am so we got out of there.
[/caption]After the race we stopped in Wynne, AR for a quick dinner (we don't feel much like cooking after a race, just eating).  We then headed back to our campsite to enjoy another night in park. We had a single candle and sat around it with headlamps on and read until we were to tired to stay up any longer.
Sunday morning came and we had a very light breakfast in anticipation of our brunch in Marianna.  We took a walk down to the lake and took a couple of shots just after sunrise and then I wandered around the park getting a few more shots before going back to the campsite and packing up.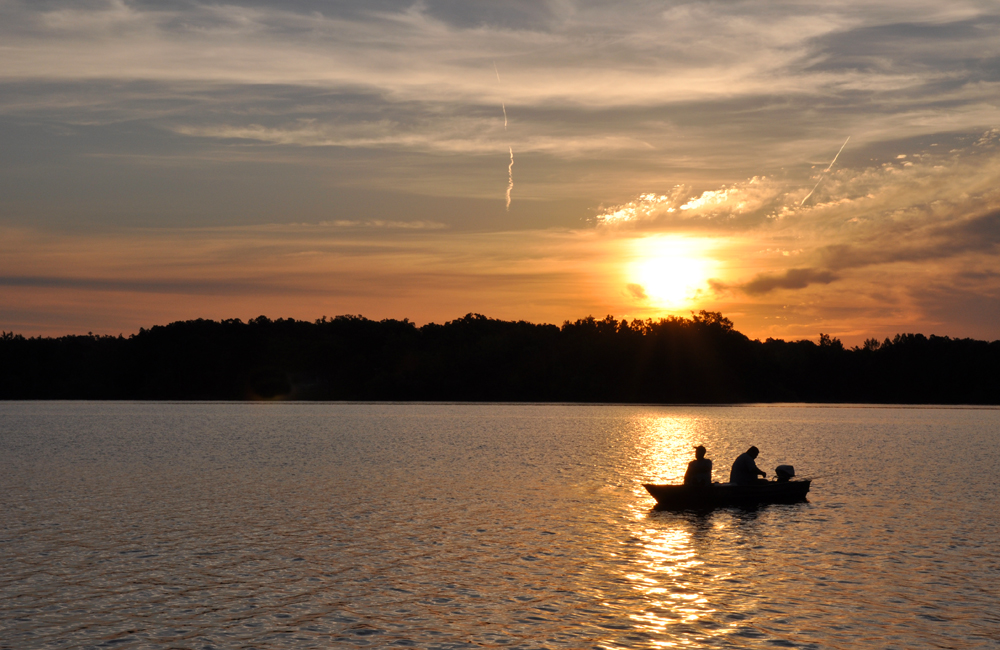 We took the quick way down to Marianna and arrived a little early but Kim was ready for us with handmade apple and peach fried pies, biscuits and sausage gravy and a rice and sausage casserole.  After an hour or so of visiting  we decided it was time to get back on the road. So off we went to Delta Heritage Trail State Park a rails to trails conversion that is currently 14 miles long and will eventually be 79 miles long.  It's a beautiful area.
Then on to Louisiana Purchase State Park.  This is the point where surveyors started measuring the American west.  From this point all property divisions would be measured.  It's a really cool place and a unique part of American history.  Finally a couple hour drive home, unpacking the car and rest.  What a great weekend!