The "in-crowd" has always eluded me. As a kid I moved around a lot and usually the best I could do was pick up a couple of friends that would last me until my next move. It wasn't until the advent of Facebook that I started having any contact with my old Navy buddies from 30 years ago. And then I landed in Little Rock. I never expected that I would stay here for more than a year. I'd never lived anywhere more than 5 years. Some 15 years later I can't see myself ever leaving.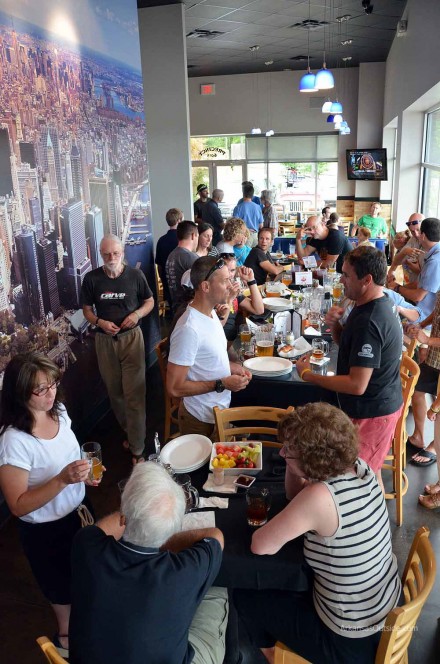 Shortly after moving to The Natural State, I bought my first mountain bike. I had done a lot of cycling as a kid riding 60 or so miles on weekends in the Washington D.C. area. Of course that was back in the days of no helmets, stopping at coke machines for drinks and my parents had no way of contacting me all day. The quarter in my pocket for a phone call usually got spent on something to drink along the way. The only friend from my youth in the early to mid 1970's, whom I still count as a close friend to this day, is the guy I shared those rides with.
The bicycle community has been important to me in adjusting to life in what seems to be my permanent home. For the past several years I've lived on the periphery of the community. I knew a few people at one of the bike shops, I had one or two people that I rode with but more often I rode alone. Recently I jumped headfirst into the community. I'm still trying to figure out the catalyst for that (part of it may be the creation of this website).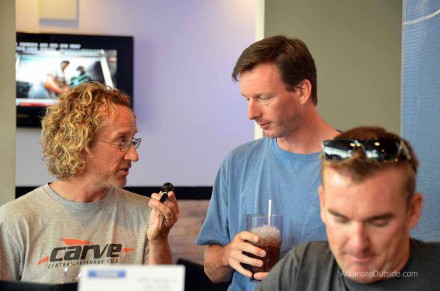 I'm now a committee chair for Bicycle Advocacy of Central Arkansas (BACA), I compete in the Arkansas Mountain Bike Championship Series, I've tried road races, alley cat races and bike polo this year, I've even built mountain bike trails. Many of these specialty groups are intertwined as evidenced by my experiences this past weekend.
Saturday, Lisa and I did a mini version of the 100 Miles of Everywhere ride. We stopped during the ride for lunch where Nathan, a friend I met through bike polo and the tweed ride showed up at the restaurant with his due-any-day wife, Julie. Afterwards we went across the street to get a quick ice cream where we talked with friends David and Susan who help maintain the Pfieffer Mountain Bike Trails and are also part of BACA leadership.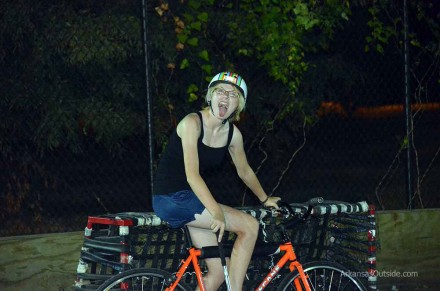 On Sunday, I spent the afternoon at the BACA board meeting where I count all attendees among my friends. I then rushed home to pick up Lisa to go to a Central Arkansas Velo (CARVE) party we had been invited to. I'm not a member of CARVE, a race-based club, but I take a lot of photos of them at various cycling events in the state and they have kind of adopted me. I couldn't say that I knew anyone in that room a year ago but today most are friends.
On the way home from the party Lisa got a message that night bike polo was on so although we weren't going to play we headed over to MacArthur Park to watch a couple of games. Pretty much everyone there is a friend and Bryan and Melissa who were at the BACA meeting earlier in the day showed up. They do a lot of work to maintain the Camp Robinson Trails, I also attended a trail building workshop with them (and David & Susan) last winter.  Charlie, also known as Master of Lights C-Berts, showed up after attending the CARVE party. Nathan and Julie showed up to hang out too. We laughed with our friends through a few games before heading home after a full day.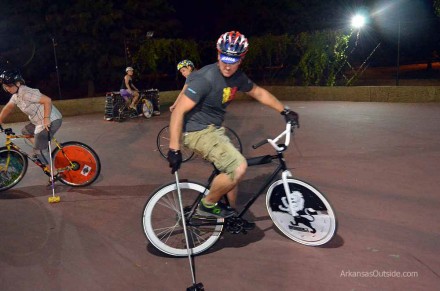 The bicycle community in Central Arkansas is a close one and seems to be getting closer and larger at the same time. When I'm on a bike I usually run into someone I know these days. Although I still go out for solo rides I now exchange greetings with friends on the road and trail. This doesn't happen when driving. If you ride a bike, get involved in your bike community, you won't regret it. If you don't ride a bike…..well, you just don't know what your missing. Thanks to all my cycling friends for including me in your community.
Also, a good way to get involved in the community is to join Bicycle Advocacy of Central Arkansas. Meetings are only once every three months, dues are low and the friendships are priceless. Attend the BACA meeting tonight, meet the Mayor and see what's going on in the bike world in Central Arkansas.