…sometimes it means so much more.
Every year the International Mountain Bicycling Association (IMBA)  looks over applications and makes site visits to trails and communities around the world; I refer to this as the best job in the world. They do this to highlight the best trail systems and places to ride mountain bikes. Most of the general public, even many mountain bikers, are not familiar with IMBA and the work they do or how their presence affects local trails here in Arkansas. From their website:
"Since 1988, IMBA has been bringing out the best in mountain biking by encouraging low-impact riding, volunteer trail work participation, cooperation among different trail user groups, grassroots advocacy, and innovative trail management solutions. IMBA's staff, chapters, clubs and members work to benefit the entire mountain bike community.
We create a powerful voice for trails, public lands and management policies that welcome bikes.
We advocate for mountain bike access and acceptance nationwide.
We build sustainable trails and bike facilities to make mountain biking more accessible.
We teach environmentally responsible trail building and trail etiquette practices.
We inspire more people to experience the outdoors on bicycles.
We educate bike groups on how to organize and make mountain biking better at the local level."
Here is a short video that shows some of their work:
Stand and be Recognized
Over the years, IMBA representatives have visited Arkansas, helping us with trail building and recognizing great trails in the state by naming the Womble Trail and the Syllamo Trail as IMBA Epic Rides. For many years, these were the only Epic trails in the Mid-South. These trails have been recognized for years as destination rides-remote, beautiful rides worth making a trip to enjoy if you are an avid mountain biker. Last year, the Upper Buffalo Trail System and the Lake Ouachita Vista Trail were added to the list of Epics. At the same time, the Syllamo was falling into disrepair but with the help of IMBA and local IMBA chapters, Ozark Off-Road Cyclists (OORC), Central Arkansas Trail Alliance (CATA), Friends of Arkansas SingleTrack (FAST) and Friends of Syllamo Trails (FOST), it has been brought back to it's former Epic status. Also, last past year, IMBA implemented the ride center program which represents IMBA's Model Trail recognition for large-scale mountain bike facilities which offer something for every level of rider. In the inaugural group of ride centers, Bentonville and Fayetteville were selected.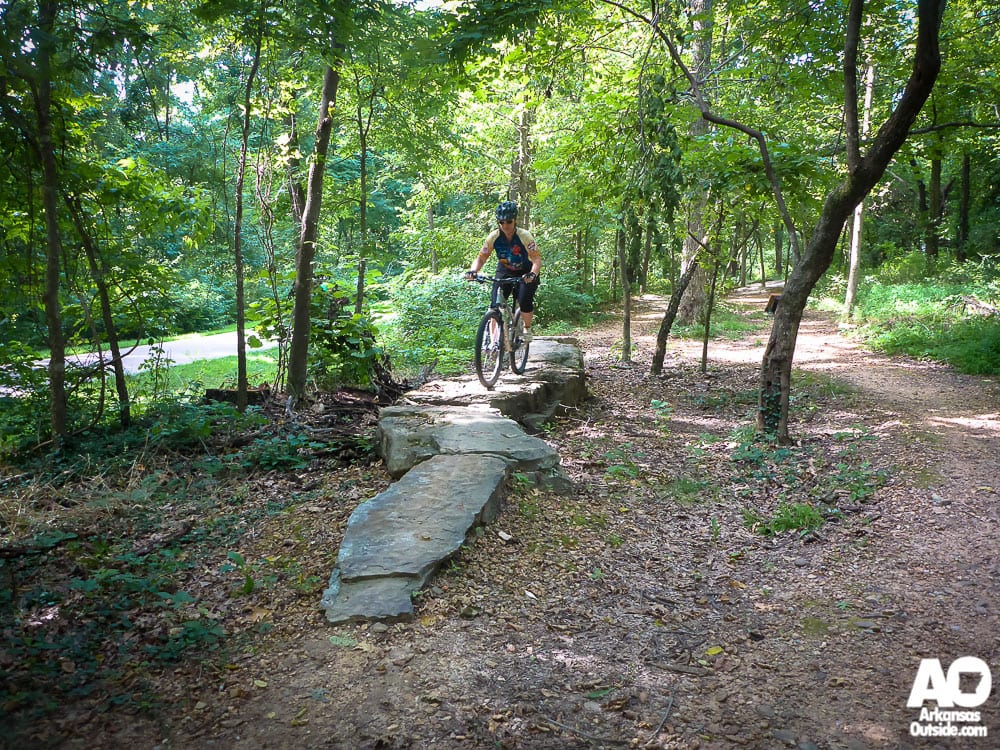 This brings us to last week. The new Ride Center and Epic designations were released with a bonus recognition; a new designation of  Regional Ride Center was created this year. Regional Ride Centers consist of multiple ride centers in close proximity to one another and recognizes a large area of diverse and plentiful bike trails, parks and the amenities to provide services for multi-day visits. The first area in the country to earn this designation is the Northwest Arkansas Regional Ride Center which encompasses Fayetteville and Bentonville and now includes all the surrounding cities and trails.
Also, Hot Springs was added as its own ride center due to the many trail systems surrounding the Spa City; places like Iron Mountain on DeGray Lake, Cedar Glades and, of course, the IMBA Epic, Lake Ouachita Vista Trail in Mountain Pine. This brings the total ride centers to three in the state and the only Regional Ride Center in the country.
The other big news is the naming of the Ouachita National Recreation Trail from Highway 88 near Mena to Highway 7 near Jessieville as our newest IMBA Epic. This 108-mile section, the only section of the Ouachita NRT that is open to mountain biking, is the longest trail added this year. It's also the longest mountain bike trail in Arkansas. This is rugged, adventurous mountain biking that is an exceptional bike packing route. Shelters dot the trail giving riders a chance for overnight excursions.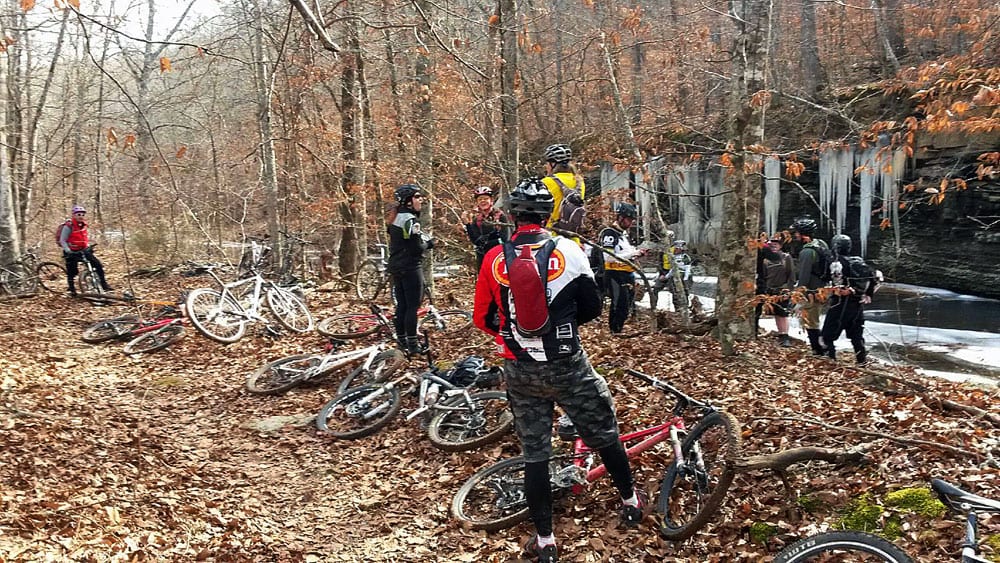 To sum up,
Arkansas is now home to the only mountain bike Regional Ride Center in existence, the Northwest Arkansas Regional Ride Center.
There is only one county in the country with multiple Epic Trails, Montgomery County, Arkansas home to the Womble, LOViT, and Ouachita.
Arkansas, with 5 IMBA Epic Trails is tied for 2nd in the  country with Colorado at 5, California is first with 7.
The Natural State now has 3 IMBA Ride Centers, Bentonville, Fayetteville and Hot Springs.
Additional stuff happening,
What's in it for Arkansas?
Mountain biking has been growing in Arkansas for over 30 years. Arkansas State Parks opened up trails to mountain biking and hosted the first festival back in the 1980's. Trail access was granted on some existing hiking, equestrian, motorcycling and atv trails. Throughout the years, mountain bikers stepped up to create mountain bike specific, natural surface trails. Groups like Central Arkansas Recreational Pedalers (now reformed as Central Arkansas Trail Alliance) and Ozark Off-Road Cyclists formed to create and get access to more trails with the groups eventually becoming chapters of IMBA. Companies like Walmart, through the Walton Foundation, recognized the importance of mountain biking and other recreational infrastructure  in contributing to a healthier community and in attracting the talented, educated employees they needed to continue to grow. All this brings us to last week's announcement. So what do we do with it now?
First, let's make sure we keep improving the amenities that support mountain biking culture. Bicycle friendly cities, hotels, restaurants, brewpubs, etc. that make not only our trails welcoming but our state. Let local businesses know that this is important to their bottom line as these trails bring money to the state. Talk to your city and state leaders to make sure they understand the importance of growing, protecting and supporting these trails to the state's economy.
Second, be a local advocate, invite more people to enjoy these trails, create new advocates. It's not just about mountain biking. All mountain bike trails on public land in Arkansas are open to hiking and trail running. Share the trails. If you're on the trail and passing someone, smile and say hello.
Third, join an advocacy group, even if it is only to support them financially. The easiest way is to join IMBA. By doing so, a large portion of your dues go to local IMBA chapters. Right now, when you join, you can choose your local IMBA Chapter, Central Arkansas Trail Alliance, Friends of Arkansas Singletrack (FAST) or Ozark Off-Road Cyclists. Talk to your place of employment about joining, your friends and family, your state and city leaders. We are all in this together. Watch the Facebook Pages for these trail groups (links above) for work days and go give back to the trails.
Tourism is one of the leading economic engines for the state and we have the opportunity to showcase one of the best reasons to visit Arkansas to the world. Let's get behind it. I'll see you on the trail.
Also, just in case you think that mountain bikers are just a bunch of dirtbag slackers, check out this study from SingleTracks.com.