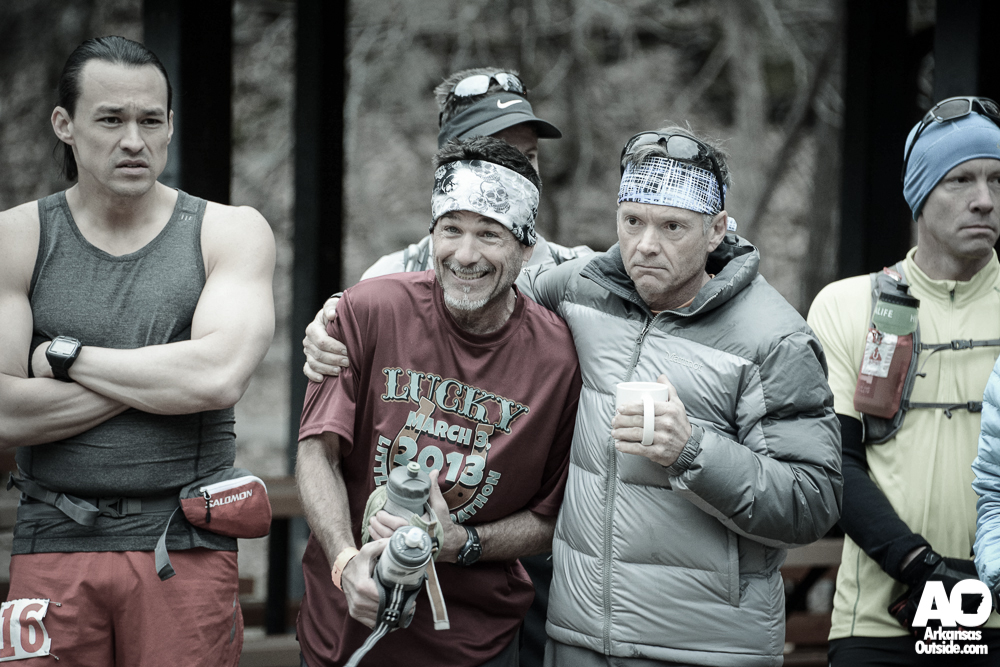 What does it feel like to hit a rocky trail, to climb and descend over and over again for 31 miles? What does it feel like to get up the very next day and do it again, for 50 miles? And what would it feel like after all that, to get up again and run for 12? I will probably never know but the strong, resilient, incredible endurance athletes who run the 3 Days of Syllamo stage race know.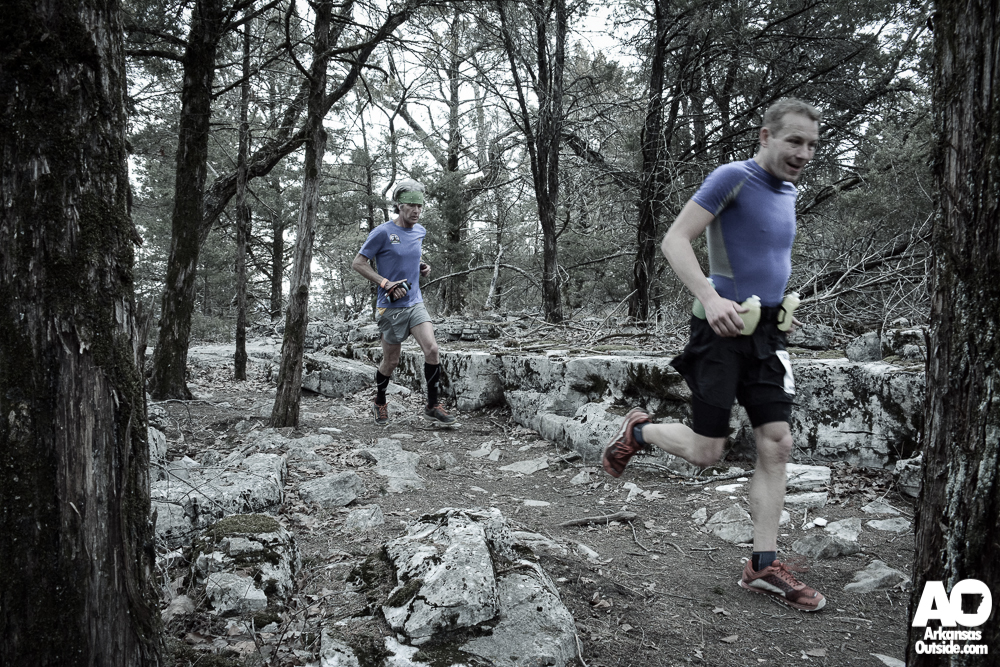 There is nothing easy about a race like 3 Days. Even the most fit athletes, the runners who have been training long hours on rough terrain, those who have been dialing in their nutrition, those who have tested packs and shoes and socks, may struggle. In the same vein, those athletes who have had injuries, or sporadic training, those who make choices like wearing new untested gear, they might have the best run of their lives. One thing they all have in common, everyone loves to see a familiar face out there.  Cheerleaders and support teams might be there all day waiting specifically for their runner, but because the running community often knows each other so well, the job doesn't end with one runner and they typically end up cheering for a train of runners. Aid station volunteers are on their feet for as many hours as the runners during these ultra events, scrambling to get racers anything and everything they might need, from oreos to gummy bears to electrolyte tablets. And very often the most needed thing is a smile and a hug. Volunteers are willing to go out of their way to make the runners happy. Some are willing to go farther than others.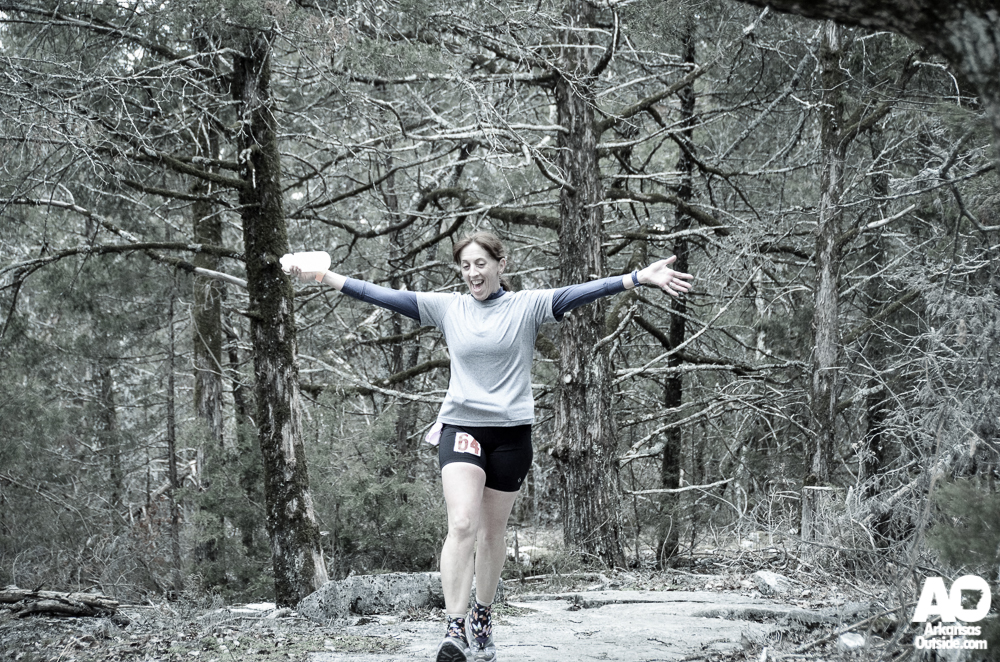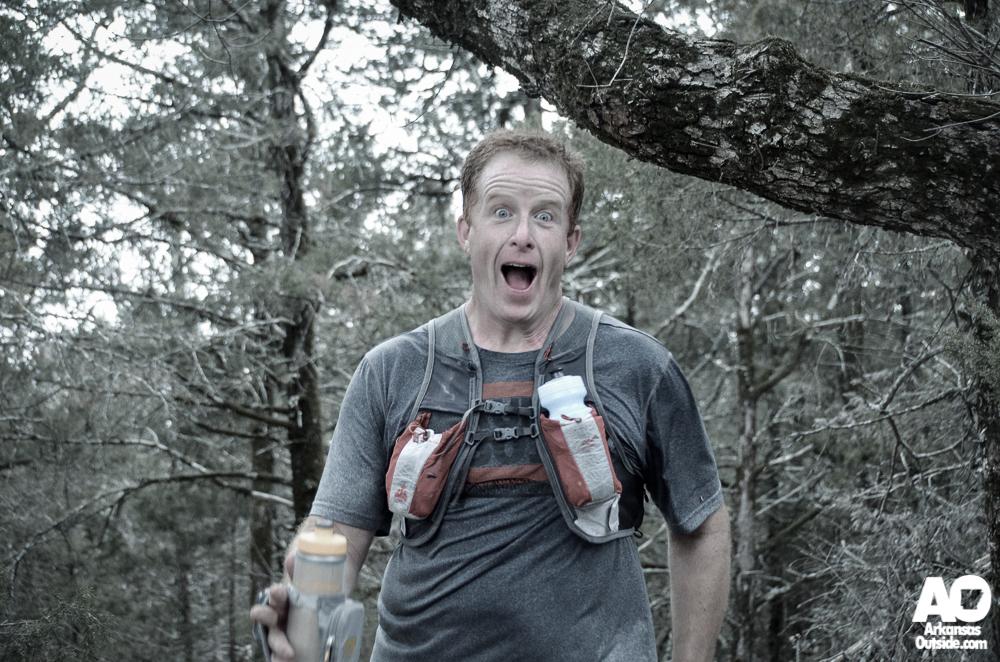 Christophe Block is more often seen in running shorts and shoes than in a speedo and boots, he's also usually seen at the front of the pack. Many of the runners coming to the aid table at mile 19 needed a pick me up. For some that pick me up came in the guise of a hug and a smile from Christophe, who was working his bikini clad bottom off refilling water bladders and slinging directions and pb&js like a short order cook at Waffle House slings hash browns.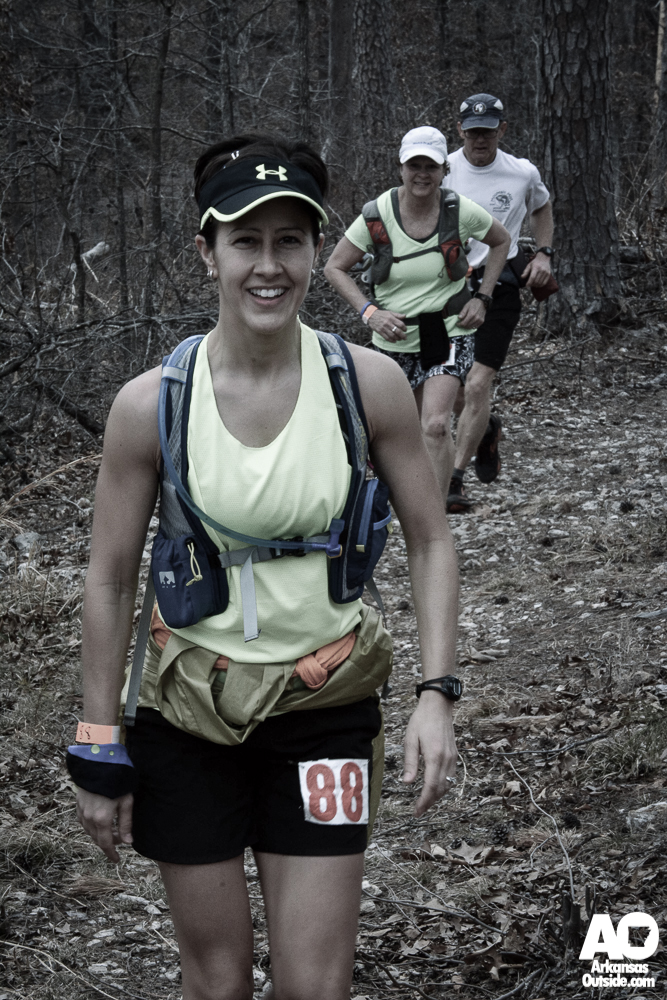 According to the 3 Days of Syllamo course description, the three days have a total of 97 mile with over 25,000 feet of climbing and descending on the Syllamo, Sylamore, and Ozark Highland trails. For many runners, the hours out on the trail result in a rolling tide of emotions and energy levels, feeling great one minute and feeling like sitting on a stump and having a good cry or a nap the next. What keeps runners going the distance are the little moments of joy, the favorite song coming up on their playlist, a sweet stretch of easy trail that lets the mind and feet relax from all the rock pounding, catching up to a friend and having some company for a while, or it might be a familiar face. The camera sometimes catches the downcast, empty, tired eyes as a runner comes up the trail and just as suddenly, the face brightens and the eyes light up, the hands go up and there is the moment, the moment of realization you are not out in the middle of nowhere because you have a piece of home with you. As runners came up the hill out of Slick Rock Hollow to the White Rock Bluff Trail Overlook, during the first of the three weekend races, I watched through my lens as one after another, runners looked up from the rugged terrain and the corners of their mouths lifted.  After the 50K on Friday, home was the description finisher Stacey Shaver and I came up with: a familiar face, even on the most remote section of trail, is a reminder of home. It's a big cup of hot cocoa for the soul.
Next time you have a chance to cheer on a distance runner out on the trail, keep the words of Johnny Reid in mind:
When I'm out on the road, tired and alone And I get the feeling I've been gone too long
That's when I know, I need a little taste of home.
When I'm running on empty and it's cold and dark, with wings on my wheels and a hunger in my heart
That's when I know, I need a little taste of home
The weather on the first day was perfect for running and by the time the 50K was over the field that hosts the start/finish line at Blanchard Springs Campground felt warm and friendly. We weren't there for days 2 (50 miler) and 3 (20K) but we understand that it got a little tougher as colder weather and rain moved in.
Over 700 photos from Day One are available for download, tagging, commenting on, liking and sharing on our Facebook Page.