Rain had been in the forecast all week and there was great concern about what could happen come Saturday morning. Seventy miles of road cycling is daunting enough on its own, but add pouring rain and it could become pure drudgery. Many conversations before the ride consisted of speculation on the weather's effect on the coming event. This isn't going to be your average charity ride; this is Arkansas's first Gran Fondo.  Promises of gourmet food, top notch aid stations, and a generous swag bag were enough to squelch some of the concerns. The course for the luxury ride, a ride that is meant to be enjoyed and not necessarily raced, winds through a part of Arkansas unfamiliar to many cyclists. It is a route less recognized than the many races utilizing the Harper Loop or Arkansas River Trail. Many riders were worried about how the local residents would react to so many cyclists on the road. Then on the Thursday before the ride we heard that Lance Armstrong would be in attendance. We announced it on our Facebook page because having the most famous cyclist in the world (or at least the United States) riding in Little Rock is big news. But he's not really the story, to paraphrase his book title, "It's not about the celebrity."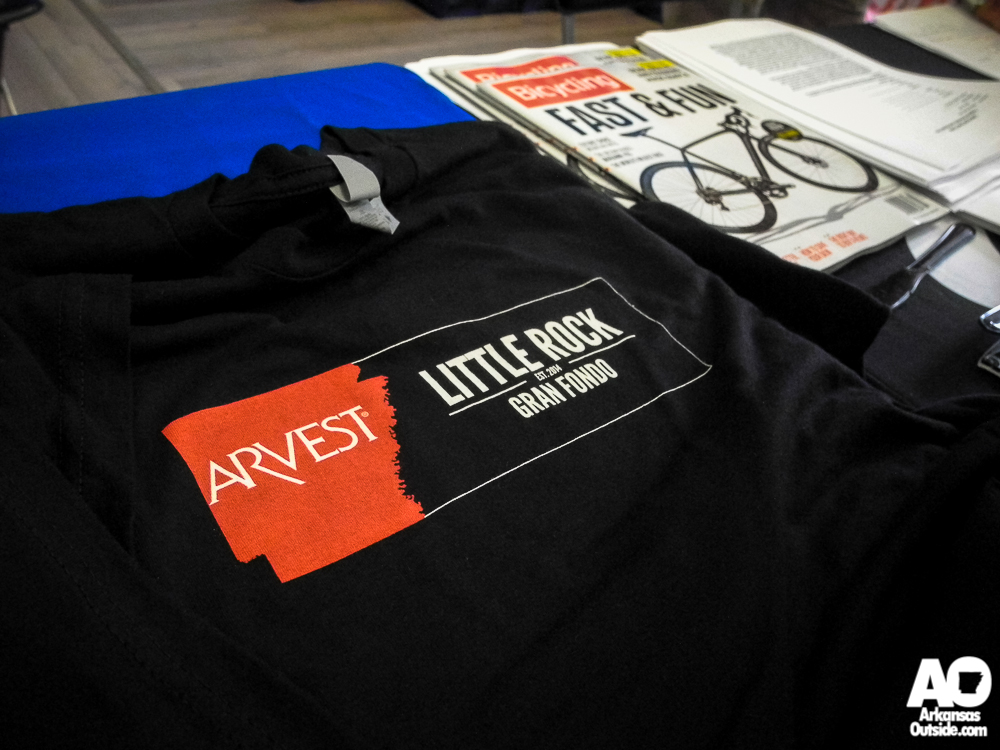 The Little Rock Gran Fondo was a test for Little Rock, a test for local cyclists as well as for non-cyclists. Could we take cycling events to a new level of hospitality and spectacle? Thanks to Tony Karklins at Orbea USA,  Michael Chaffin at the Capital Hotel and Jason Warren at Arvest Bank plus a legion of volunteers, sponsors and supporters, Little Rock was given the chance to try.
On Friday afternoon, Lisa and I went by the Orbea on Main/Spokes Shop for packet pick-up and to check out the treats in our swag bags. Most events give you a t-shirt or a water bottle, a packet of nutrition gel and some advertising fliers. The Little Rock Gran Fondo swag included a t-shirt, a really nice water bottle, a packet of custom roasted coffee, a custom espresso cup and saucer, custom handlebar tape, a wine and bottle opener and more. So far things were shaping up except maybe that one thing we couldn't control, the weather.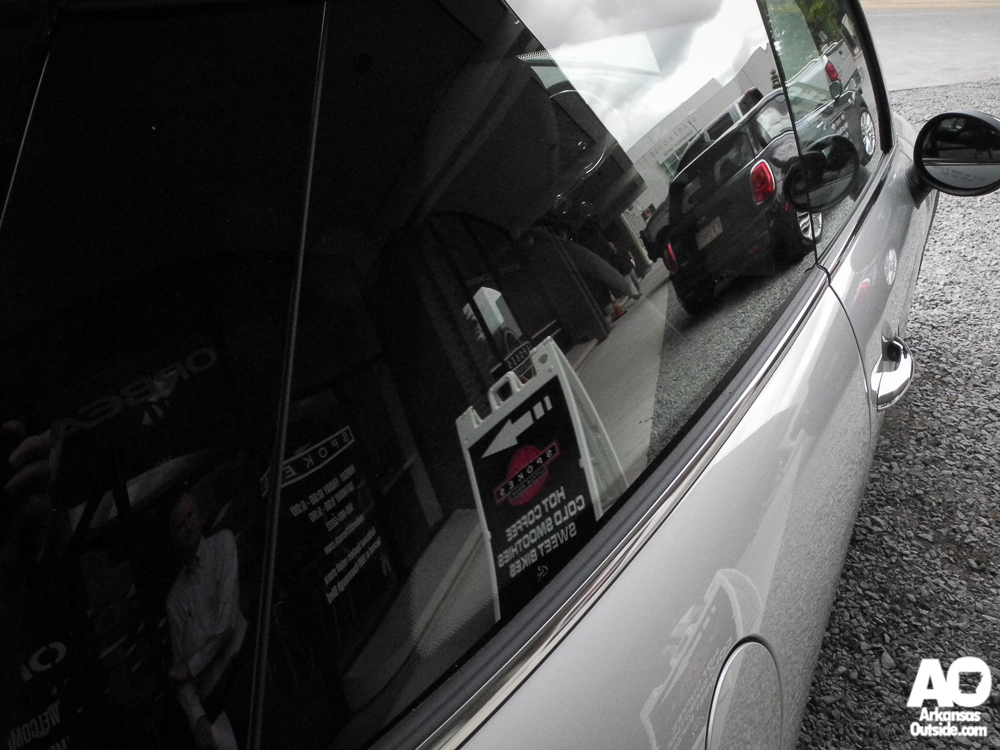 We woke up early Saturday morning to mist and the threat of isolated rain showers throughout the day. Undaunted, we loaded up the bikes, got our ride numbers pinned to our jerseys, ate a light breakfast and headed out the door. Parking was at a premium downtown and we couldn't use the parking decks since I astutely remembered the bikes on top of the truck, but we eventually found a spot just a couple of blocks from the start line. In a light drizzle we got the bikes off the truck, made final decisions on attire and headed for the party at the start/finish line.
We were greeted in the start area by many friends and several tables covered with hot coffee, breakfast sandwiches, and champagne glasses. Already, it was evident this would not be a typical ride. The drizzle came and went as we waited, straddling our bikes while television media stuff going on in front of the start held things up a bit as we waited past the advertised start time, local news wanted in on the Lance story. Finally we were off, about 250 soaking wet cyclists with a clear shot straight down Main Street. The rain fell gently as we made our way out of town, first down Main and then East on 21st Street to Barber Street. As we headed south down Springer Street, the whole group came to a halt as we waited patiently for a train crossing ahead of us. It was a chance to socialize some with those around us and soon enough we were on our way again. Thanks to the Little Rock Police Officer who held the railroad crossing gate as we passed.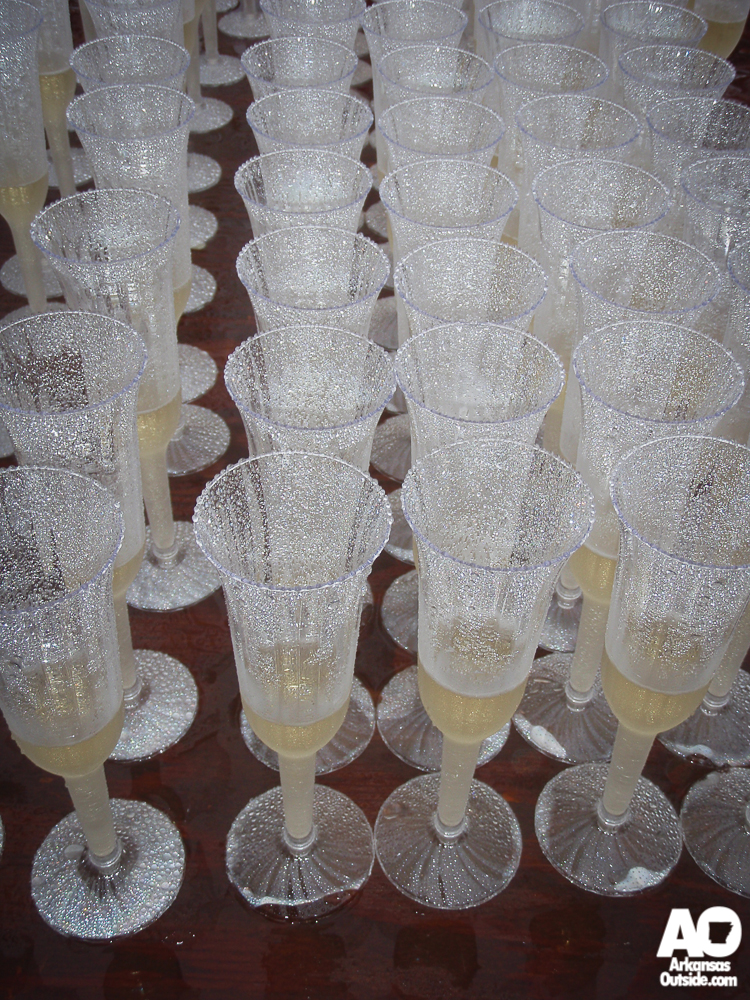 Gently rolling hills carried us south through Sweet Home turning west at Pratt Road, Arch Street, Atwood, to Kling Road where we turned south toward the community of Sardis and our first aid station at just around the 25 mile mark. Lisa and I had been riding with Diane Barton; none of us pushing the pace, just getting used to the roads. The rain became just an occasional thing, hardly noticed. The aid station was like no other I'd seen. Cold iced lattes from sponsor Leivas Coffee with dark chocolate syrup if desired, hot coffee if you'd rather, chicken curry salads and a watermelon/strawberry concoction from chef Donnie Ferneau that was extremely refreshing. Everyone was taking a nice long break, chatting, using real restrooms thanks to the church that allowed us to use their lot and facilities. It was all very relaxed.
The crowd started thinning out and I knew it was time to get moving again. We found Diane and headed back out on the road. A nice easy pedal as we all regrouped led to a 20+ mph paceline and once all the riders with us settled in, we pushed ourselves making good time on the straight away of Woodson Lateral Road before turning left again in Woodson heading north on 365. Around mile 46 we cruised into the second aid station. As we entered the parking lot, young Alison Gambill  and her mom Nancy were handing out ice cold wash cloths while cheering on Dad/Husband David as he rode. That was a great treat in the humidity and so nice of them to help take care of all the riders. Here we found delicious rice cakes from Ben E. Keith and a friendly volunteer pointed me to a private stash of beer where I picked out a nice Pale Ale to refresh me before the last section. Just before we left, Nick Bradley-Hole of the Capital Hotel let Lisa know there was smoked sausage to be had before we hit the road again. We were riding like kings.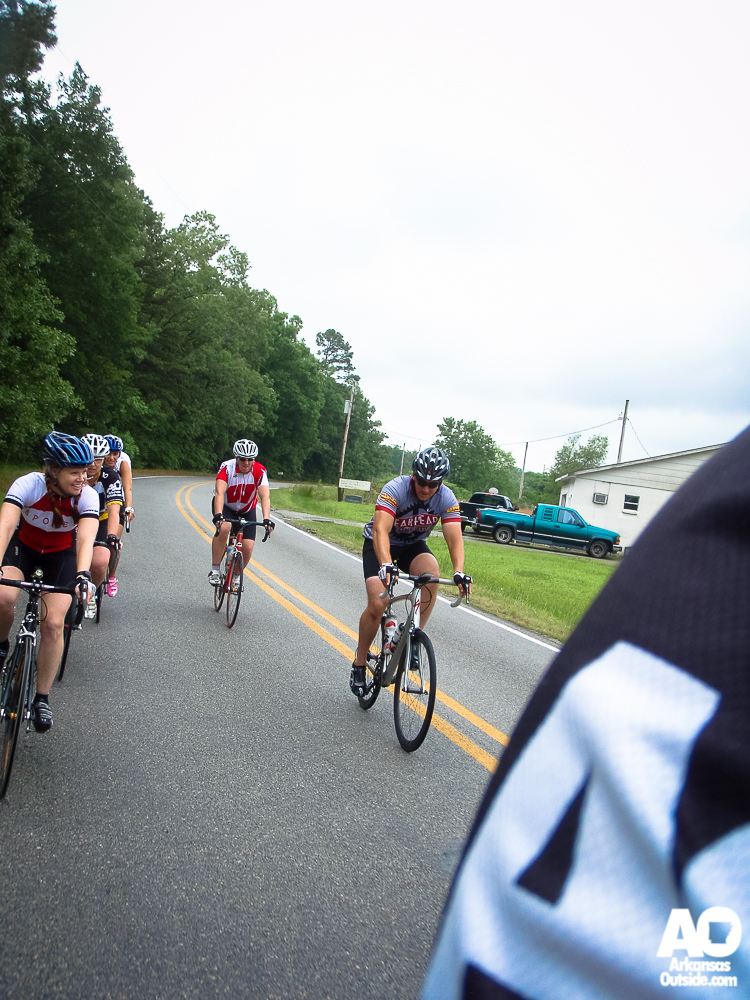 I had been pulling the group a lot, sharing the front with a guy in a BMC kit. He was pushing me but at this point I was still feeling strong and ready to pull our little group to the end. Shortly after the aid station the course takes a bit of a u-turn and heads south and east on Harper Road. This was the roughest section of pavement on the course and it was unshaded. By now we were seeing the sun a good bit more and it was getting warmer. We had some headwind in this section like I hadn't felt the rest of the day. I was bonking.
By the time we reached Frazier Pike I had lost sight of the guy in the BMC kit.  Myself, Lisa, Tina Mitchell and a guy we met on the way to the aid station named Travis were still in a group. Everyone was taking turns pulling, the road was smoother and we were getting our speed back.
As we moved along it became obvious that I wouldn't be pulling much anymore. This is about the time we blew our navigation. I was running my Garmin with the route preloaded. It would beep whenever we missed a turn, which hadn't happened yet, but with less than 10 miles to go I had slipped to the back of the group when the alarm went off. I looked ahead and saw lots of riders ahead of us and many more behind following us. I thought surely the beep was just a glitch with some satellite a few hundred miles above and it would soon signal we were back on track, but it didn't.
As we continued riding I knew something was wrong but I also knew we were headed toward the finish. I kept moving forward, turning the cranks and then we came around a turn just past College Station and saw a short but incredibly steep hill. A collective moan passed our lips as we saw it. For the first time that day I dropped out of my big ring and began to spin. The top put us back on Springer Blvd to retrace our route back into town. Riding the route coming down Main Street without the police escort was a pain as we caught every.single.light. All within view of the finish line. In the end we had missed about a mile of the route but it was close enough. Now, it's PARTY TIME!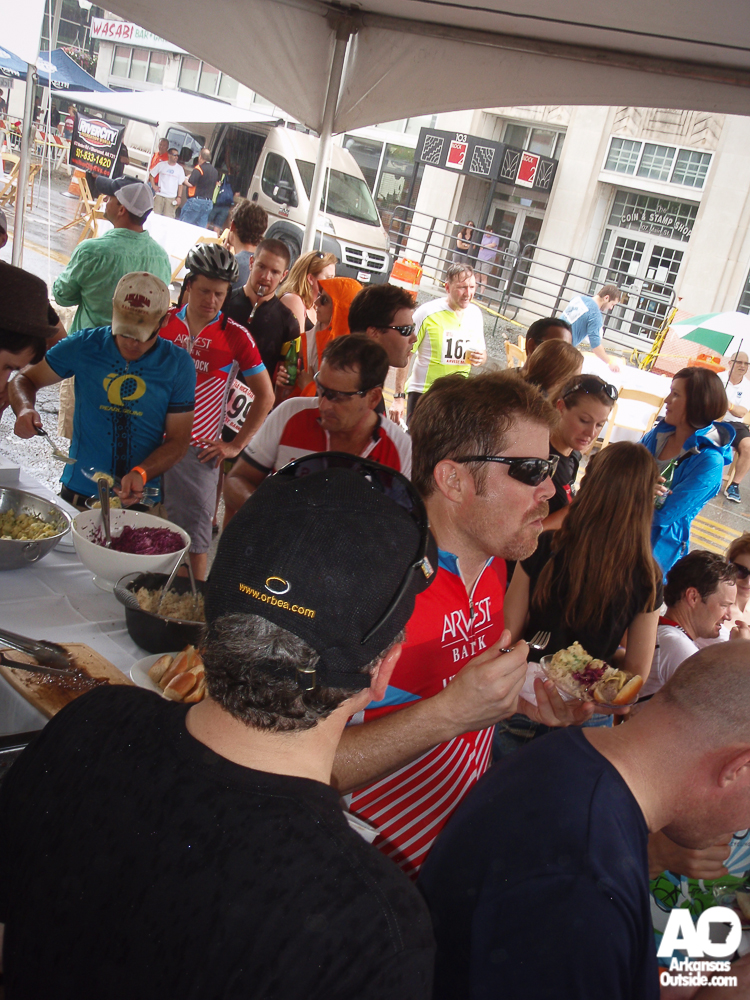 We were greeted by friends and race organizers. We quickly checked our bikes in at the free bike storage, got some beer and began enjoying the top notch food offered by the local chefs, Tomas Bohm, Donnie Ferneau, Travis McConnel, Matt Bell and Arturo Solis. The sun was in and out and it rained sporadically throughout the party but everyone seemed to take it in stride. The riders I talked to all seemed to agree that event was well organized and it was a great course. The traffic was remarkably light and the locals along the course seemed happy to see us. We never had any close encounters with vehicles (as a matter of fact the most dangerous things to happen to me out there involved some cyclists who were not really comfortable riding in groups or didn't have strong bike handling skills).
The only suggestions I have are smaller bib numbers (we like to show off our colorful kits) and larger directional signs (I'm getting old and don't see the little ones well). A little more food at the finish would have been nice, it was very good but I don't think the size of the appetites of the participants was planned for. Other than that, what a great ride. Oh and that famous guy out front? I heard from friends that rode with him that he was very nice and seemed to just want to go for a ride like the rest of us. I'm looking forward to riding again next year in the Second Annual Little Rock Gran Fondo.
We didn't take many photos at the event this year but the organizers had photographers out on the course and we'll provide a link once they are available.