UPDATE 2!! It's official, the city of Little Rock did NOT get the Tiger III grant that was the cornerstone to "closing the loop" on the Arkansas River Trail. The full list of grant winners is available here.

UPDATE! Looks like the Mayor (and all of us) will lose out on the grant that would have made this a reality. I got an "unofficial" update this morning from Transportation Issue Daily that shows only this project: "AR – $9,814,700 – Improve electronic traveler information systems on bridges spanning Mississippi River" for Arkansas. If anyone hears differently, please let me know. Time to find out what "Plan B" is that Mayor Stodola mentioned at the September BACA meeting.
Many of you know that the City of Little Rock applied for a Tiger III grant to help "close the loop" on the Arkansas River Trail. A key piece is missing. This is the vision the city has for closing this loop.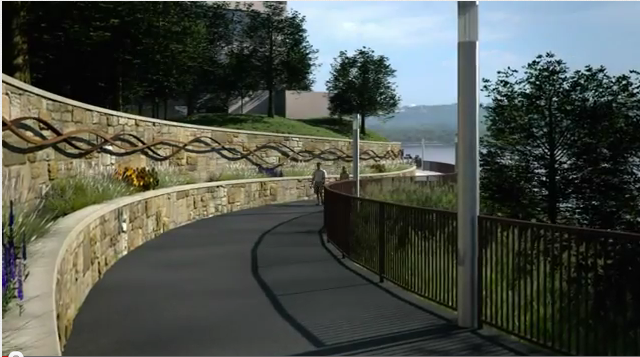 Well, it looks like information on the winners of the grants is starting to trickle out. Transportation Issue Daily has a list of leaked winners. The list is not complete which is good since no Arkansas projects are listed. Let's keep our fingers crossed that we just haven't been "leaked" yet.
Here is what they have:
Below are the awards leaked so far. I'll be updating this story on the website as more awards are revealed. If you know of an award please contact me and I'll add it.

$15m for Interstate 5 / Joint Base Lewis-McChord improvements, Washington State

$17.7m for the Sellwood Bridge replacement in Multnomah County, Oregon

$20m for Interstate 70 corridor roadway improvements in St. Louis

$10m for rail improvements at the Port of Jacksonville, Florida

$13.8m for a new multimodal transportation center in Alton, Illinois

$20m for CTA Blue Line & Chicago Bike Share program, Chicago, Illinois

$10.4m for Illinois Route 83 reconstruction of 2 mile span

$12.1m for the Interstate 95 access ramp in Orangeburg County, South Carolina

$10m for Connective Corridor, a pedestrian-and bike-friendly streetscape link, Syracuse, New York

$10.8m for replacing the Kennebec Bridge, Maine

$15m for a downtown Buffalo street improvement/community revitalization, New York

$18m for Charlotte's LYNX Blue Line Light Rail expansion, North Carolina

$15m for VIA's planned West Side Multimodal Center, San Antonio, Texas
Updates (now in order of last added):

$10m for Sound Transit South Link extension, Seattle,  Washington

$10.9m for Cincinnati Streetcar

$10m to upgrade over 100 traffic signals along three transit arteries covering nearly 16 miles, Philadelphia, Pennsylvania

$9.98m for Port of Northern Montana Multimodal Hub, Shelby, Montana

$2.5m for the Smith River Rancheria U.S. Highway 1  improvements, California