I sometimes claim to have ridden most of the mountain bike trails in the state. At one point or another, I've been on it with two wheels. For years I've heard about how bad the trails were at Cadron Settlement Park just north of Conway. Short, poorly designed for mountain biking, lots of roots and weak infrastructure (bridges and stuff) were some of the complaints I'd heard. Locals, of course, kept riding it since it was the only trail in the area that was close enough for an after work ride or just to get some miles in without driving to Little Rock.
And then, recently, I started hearing something different about the trails…
Central Arkansas Off-Road Group (formerly Conway Off-Road Group or COG) formed to support mountain biking trails in the Conway area and more specifically, work toward building mountain bike trails at the Blaney Hill Landfill north of Conway and improving the trails at Cadron Settlement Park.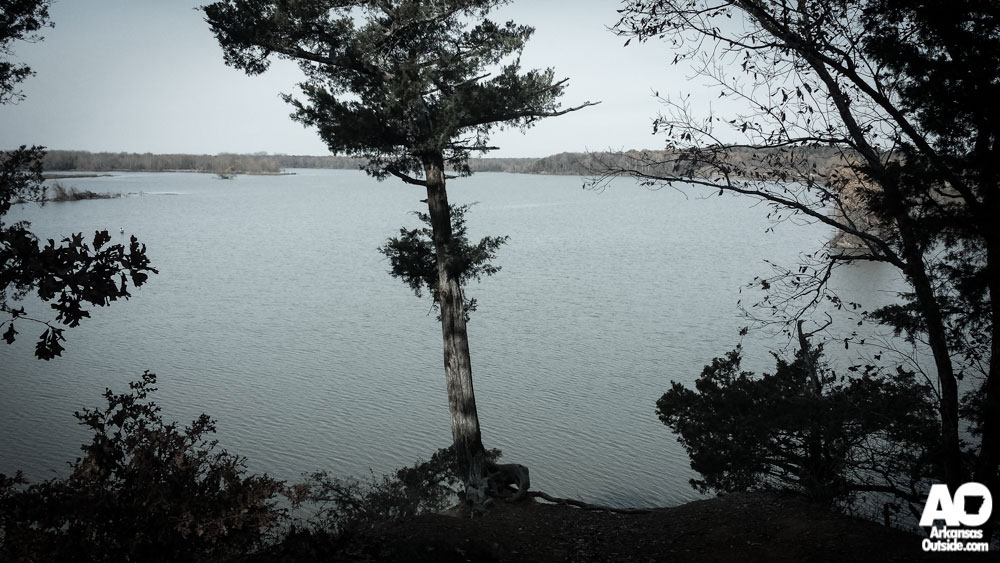 Blaney Hill is a retired landfill that was recently approved for limited use by the Arkansas Department of Environmental Quality. The city then approved a plan presented by COG in February to begin development of mountain bike trails on the property. The park, when completed, would be similar to Cedarglades Park in Hot Springs which is located around the Garland County Landfill. More information on COG's plan can be found in the presentation they made to the Conway City Council.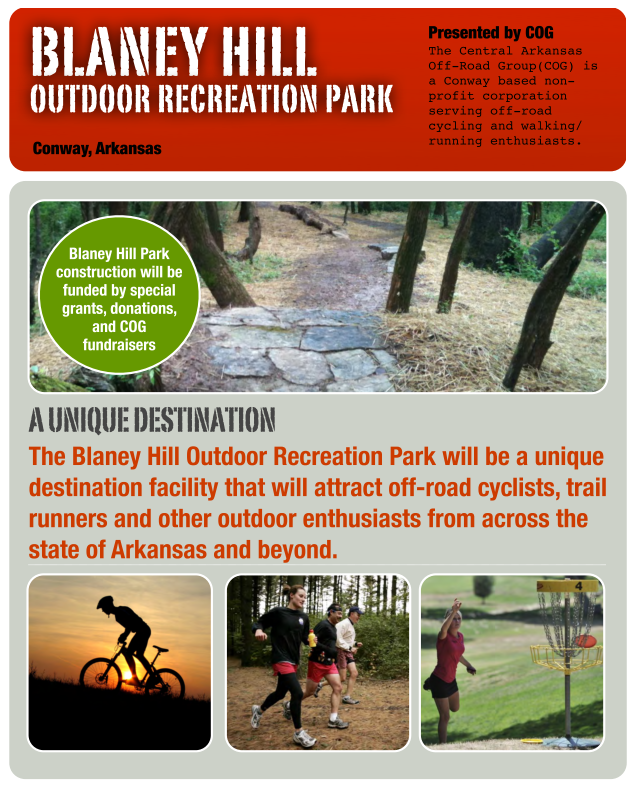 This past Saturday, Lisa and I were lucky enough to attend one of their fundraisers in the form of a Poker Run/Ride at Cadron Settlement Park. We've been there a few times to cover the run that DLT Events organizes as part of the Arkansas Trail Running Series but we've never put wheels to the trail.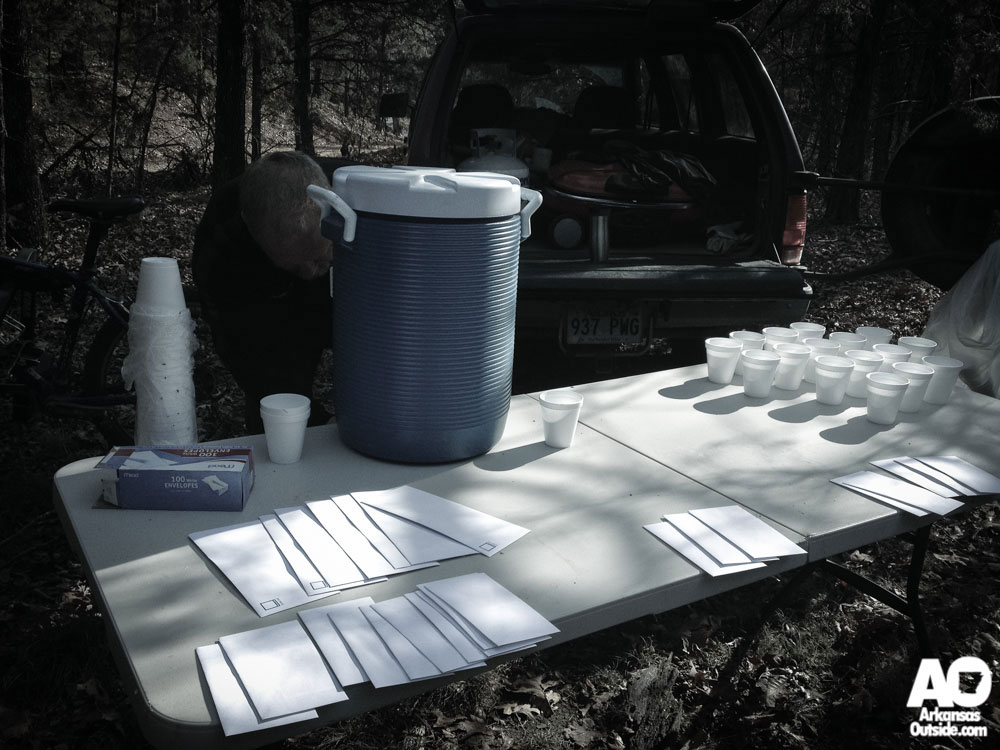 The event was set up with registrants paying $10 and being dealt  their first card. Those that anted up an extra $5 got an extra card at the start allowing them a sixth card to work with in this basic variant of 5 card poker. There were three card stations along the trail where riders and runners would pick up cards, plus a final pickup as we came off the trail giving each participant 5 cards (plus one if you paid to improve your luck). This was not billed as a race but you know, get two or more bikes get together and a race usually happens. To keep those who planned to run the course from getting caught up in any of those shenanigans, the organizers started the cyclists first. I headed out on the bike at just after 10 a.m. followed shortly by Lisa and the other runners.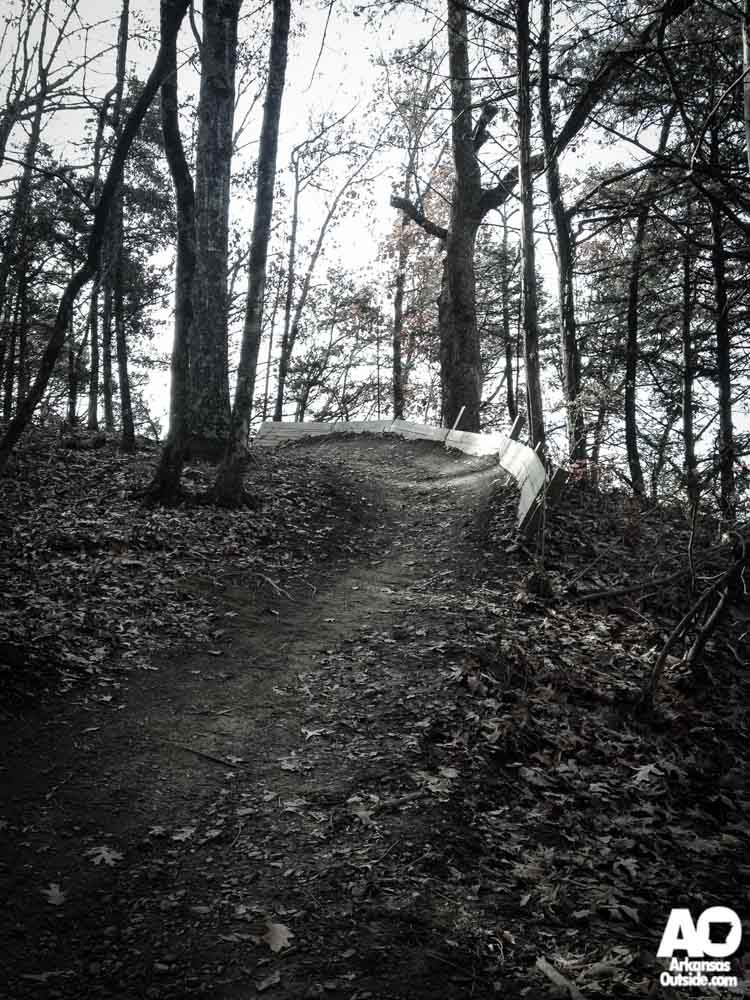 The trail was well groomed from the start but I had heard of steep drops and quick climbs and was a bit wary as I came around each corner. I found myself falling back a bit on the downhill sections due to unfamiliarity but would quickly catch riders and occasionally pass them on the climbs. There were several "gravity cavity" like dips throughout the course and the quick climbs and drops reminded me a little of the Jackfork Trail at Pinnacle Mountain State Park, without so many rocks of course. There were a lot of bridges and all seemed in good shape, particularly some new ones that were just plain fun to ride.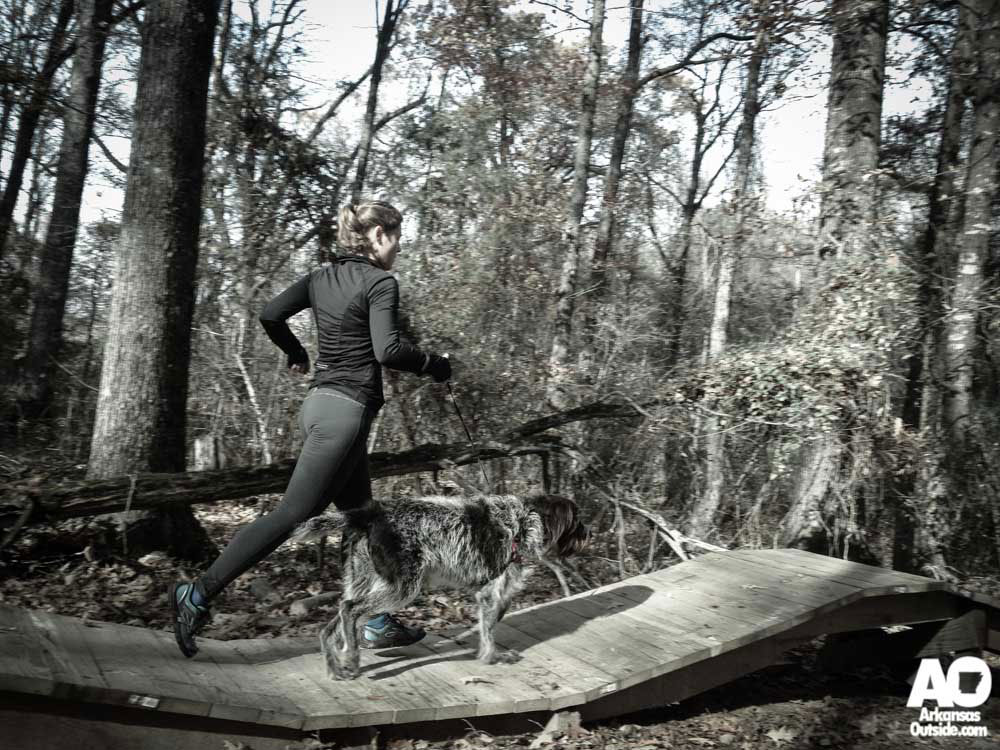 The rocks showed up in the last section of trail but any rock gardens on the trail were rideable and after just over 5 miles of riding, I was spit out on the road where I grabbed my 5th card.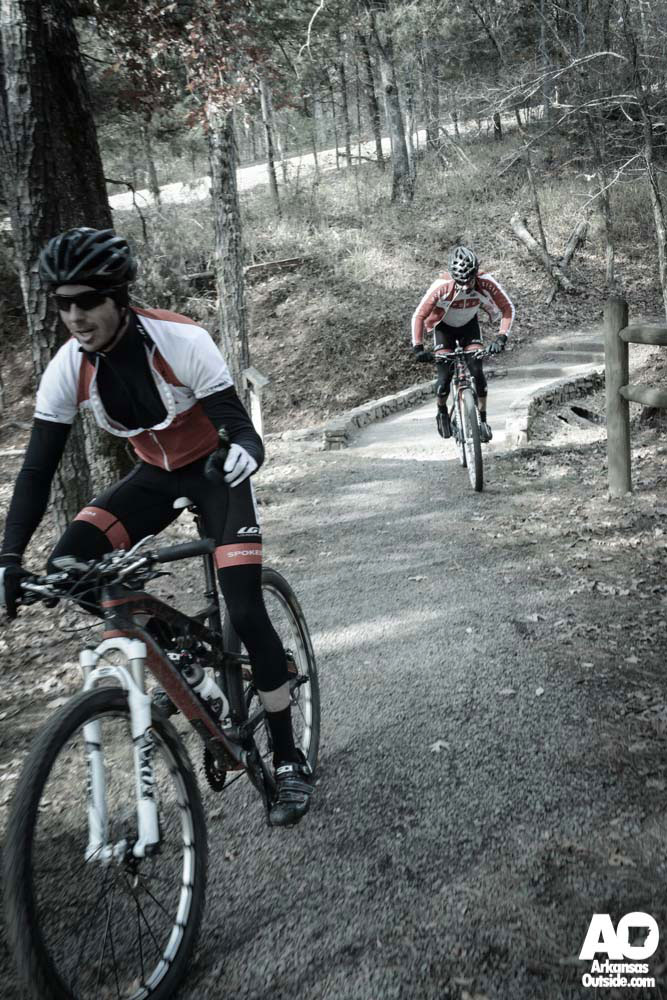 At the pavilion near the trailhead, hot water for cocoa was boiling and many finishers gathered around to enjoy a fire, partake in some snack food and ogle a display of the beautifully made awards. I noticed a book laid on one picnic table, something about poker rules. Once everyone was in from both the ride and run, the awards started. Time to show your hands. The day was won with flush spades and awards were handed out for the next highest hands amidst shouts of "Yahtzee!" and even a "Bingo!". It was all a great deal of fun for a good cause.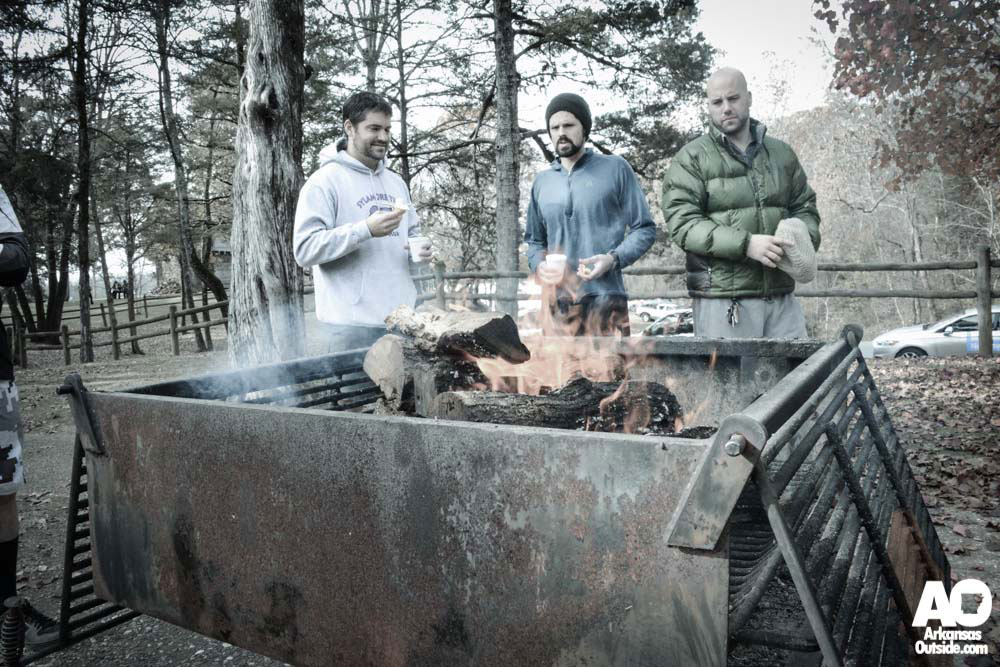 As for the trails at Cadron Settlement Park? I like them, good skill builders with enough elevation change to get the heart rate up. A couple of laps there is a good workout and a fun ride. Club President, Erik Leam0n (owner of  The Ride bike shop), and the folks at COG have done a great job of getting the trails in riding shape. I recommend you give them a try next time you're in the area.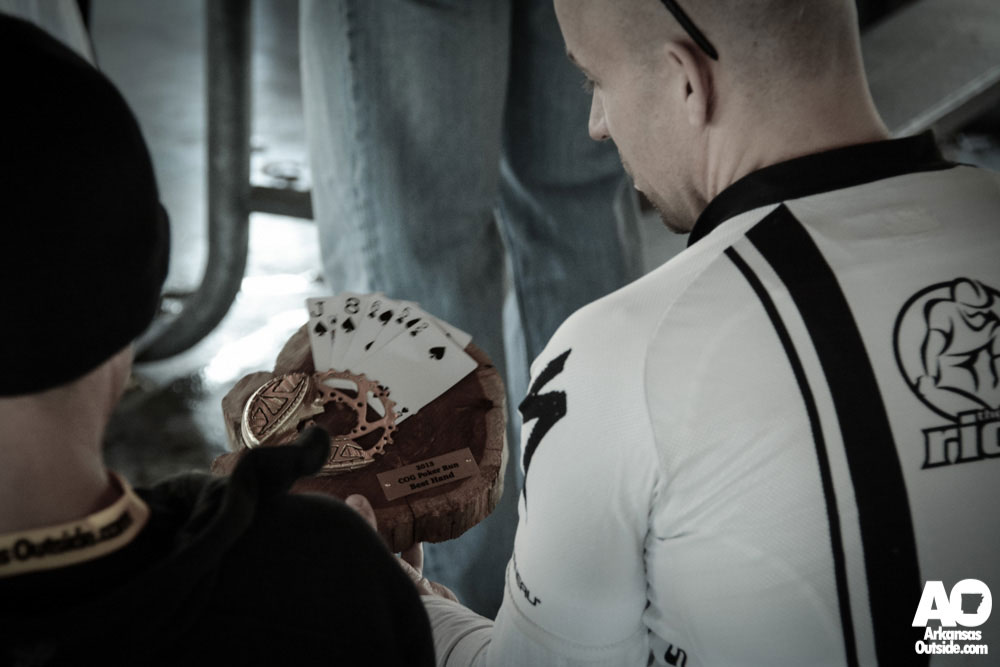 A few more photos are available on our Facebook page. Sorry there weren't more but Lisa and I were busy enjoying the ride and run. Now it's your turn to join the fun.  Also find out more about COG on the Blaney Hill Project page or join the Facebook Group Page.