Updated 4/17/19
Watch this space for updates by Brannon Pack (Executive Director of Ozark Off-Road Cyclists and all around cool guy) as he and a group of friends travel across the state West to East through the Ozarks, Delta and on to Memphis. We will be adding updates as he sends them. Here are the first four:
Pre-ride – April 3-10
Fun Fact: Crossing Arkansas takes about 16 pages of the Gazetteer.
Embarking on a self-supported gravel and backcountry bike packing trip across @arkansas this month. We'll spend the first 4 days ascending over 20,000 feet traversing the Ozarks before hitting the valley of the Mississippi River. Over 450 miles in 7 adventure-filled days lands us on Beale Street in Downtown Memphis.
Loaded down for a full week of self-supported bike packing across the Natural State. Look for daily updates of the groups' antics starting this Sunday.
Day One – April 14
Our bike packing of Arkansas began with a cold and rainy morning that eventually gave way to clearing skies as we traveled canopy covered gravel roads lined with blooming redbuds.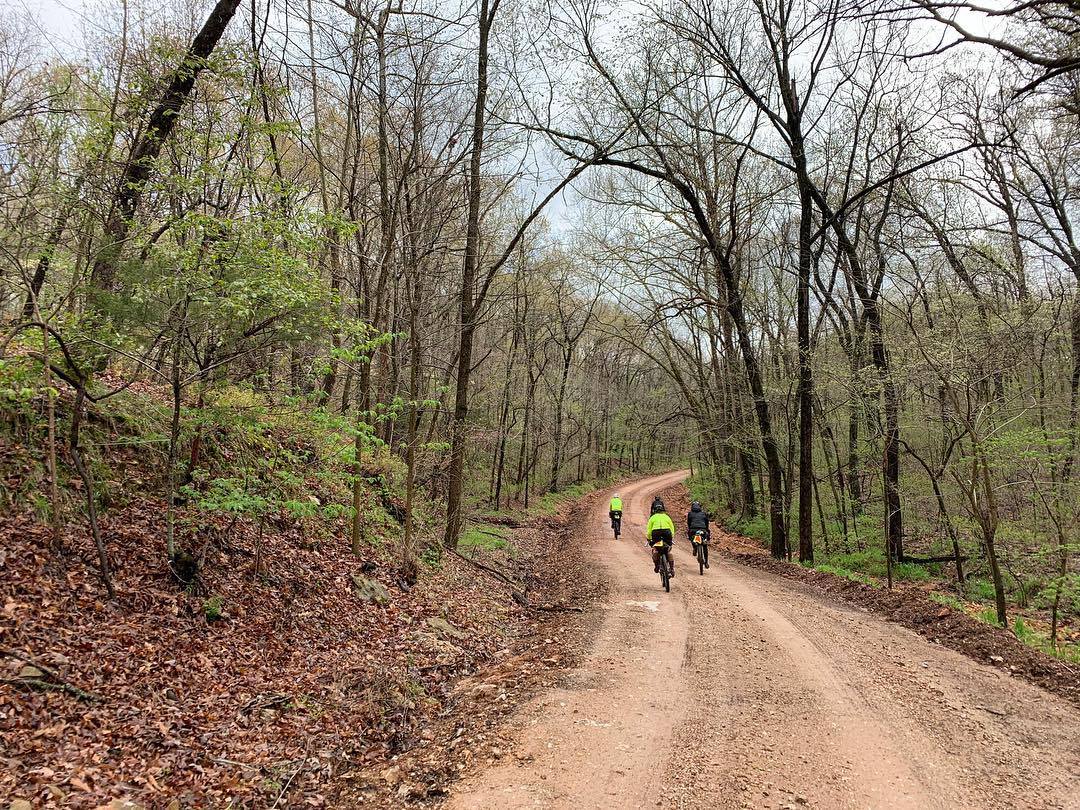 After a climb up and over Bohannan Mountain we dropped into Huntsville for chicken soup and Sunday beers at Garibaldi's. After a quick coffee stop, the group was treated with rolling ribbons of sandy brown gravel and fields the color of Spring.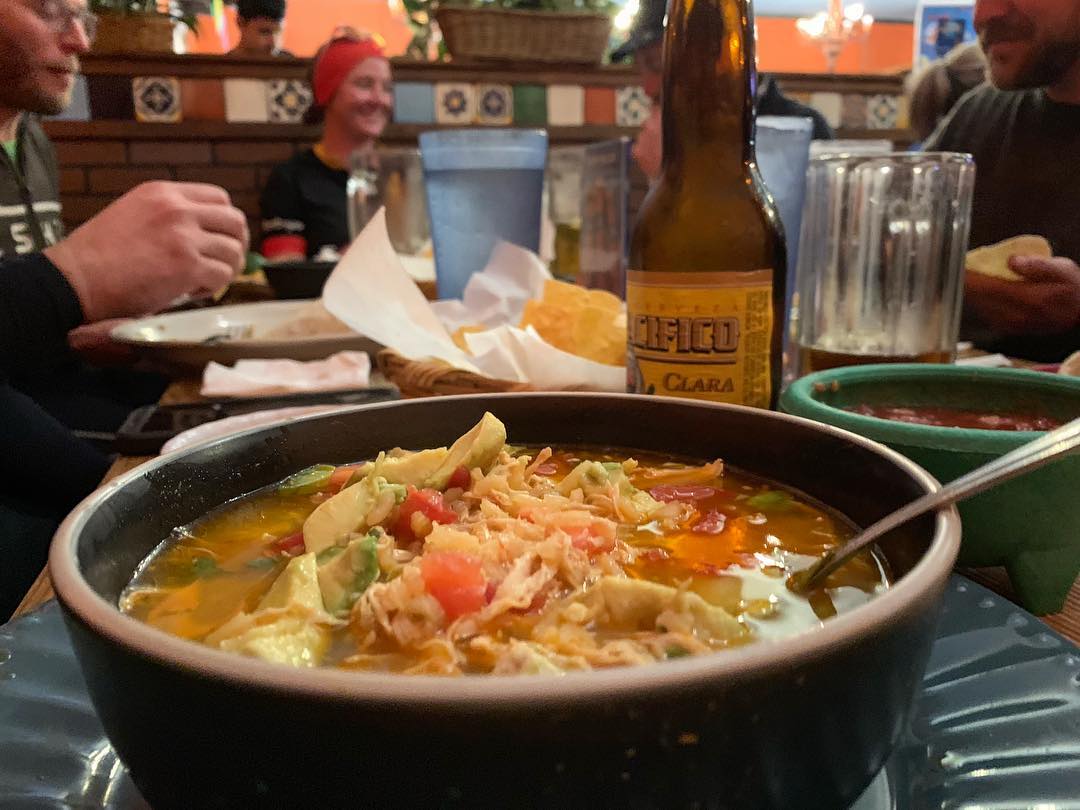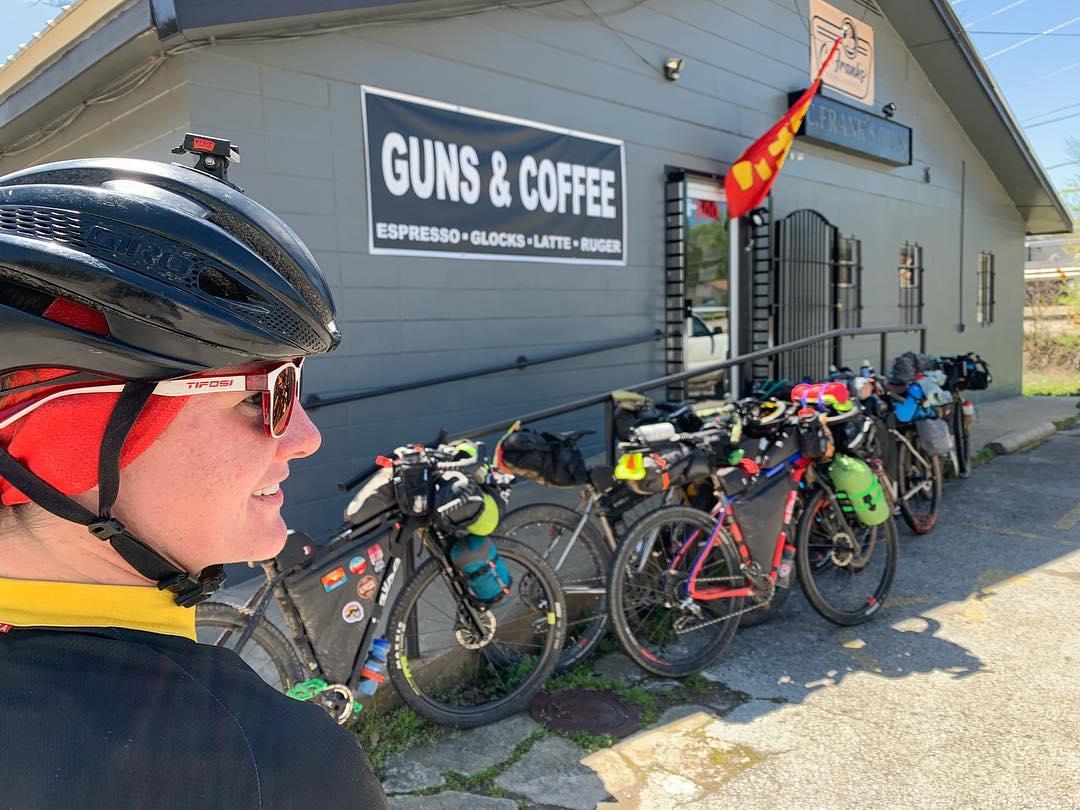 After rolling through Kingston we had one more larg

e ascent before dropping into the Boxley Valley on steep roads resembling mountain bike trails. Overnight accommodations included a stay at the Buffalo Outdoors Centers Cedar Creek Lodge.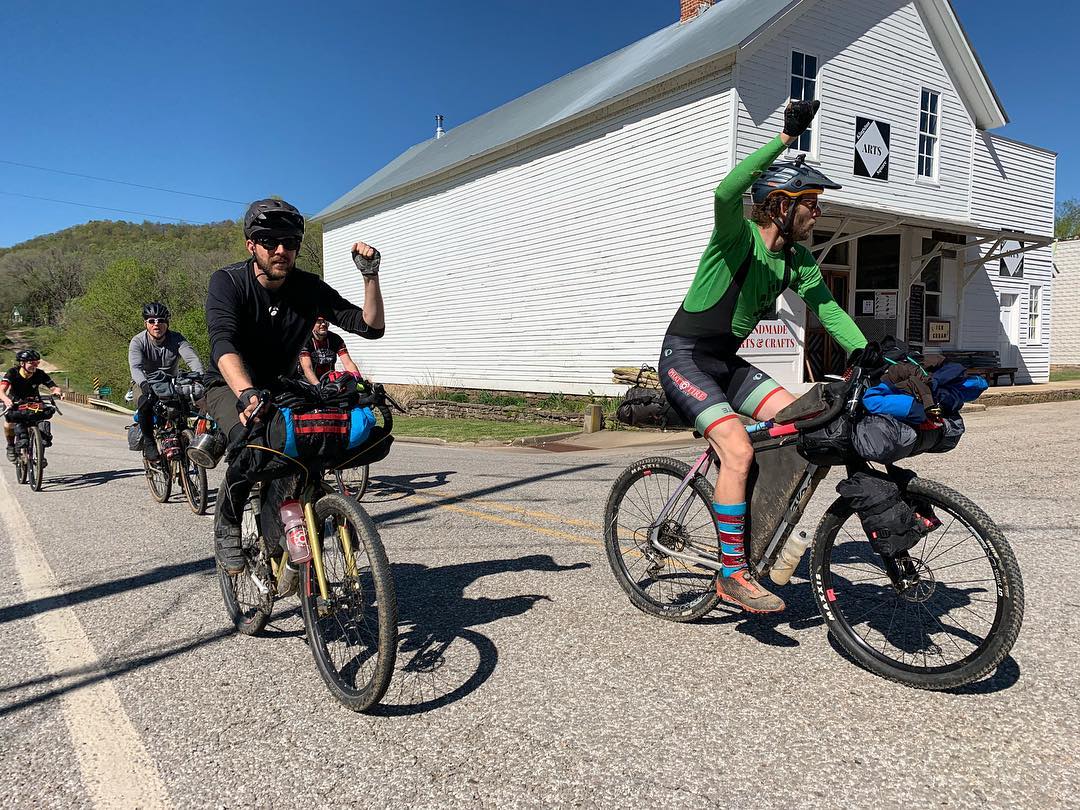 Day Two – April 15 (taxing day)
Crossing Arkansas Day 2 started with a roll to the Buffalo Outdoor Center for fresh-made breakfast burritos before ascending up scenic Hwy 74 for a 14-mile, +1500 foot climb into Jasper. Rolling into the square, we grubbed on an early lunch at the historic Ozark Cafe before grabbing travel snacks at the Blueberry Bakery.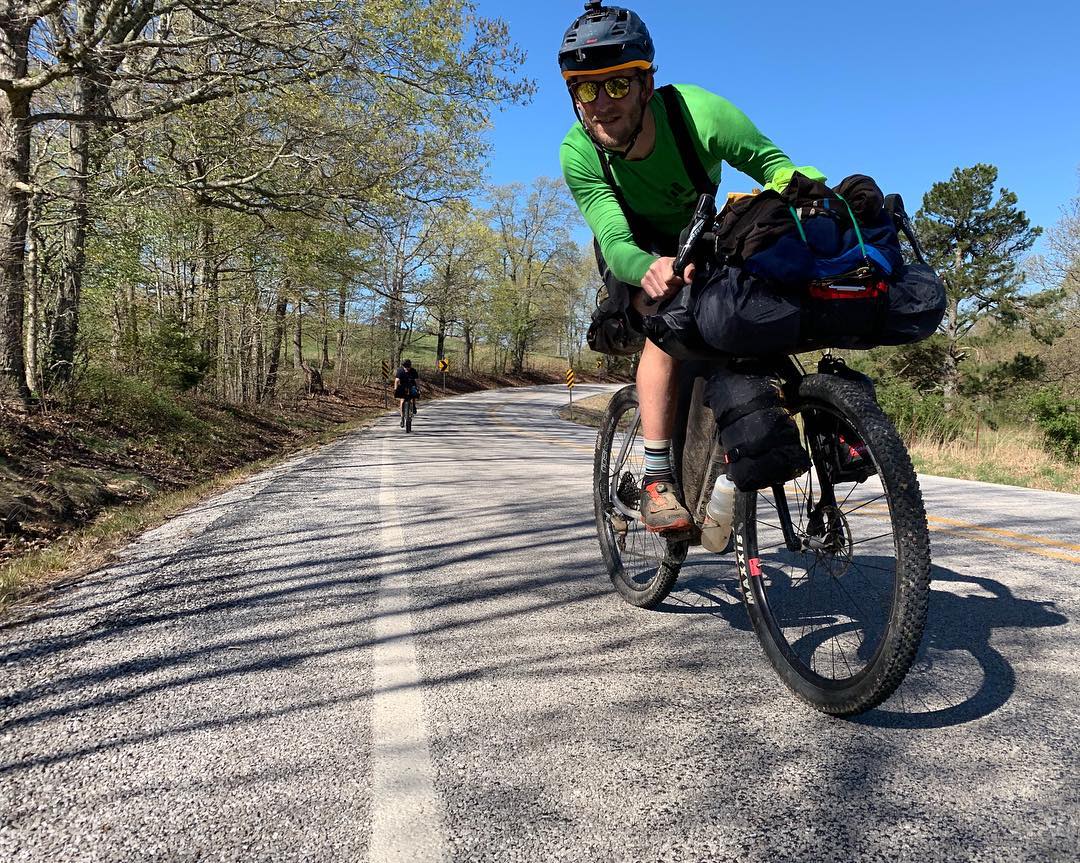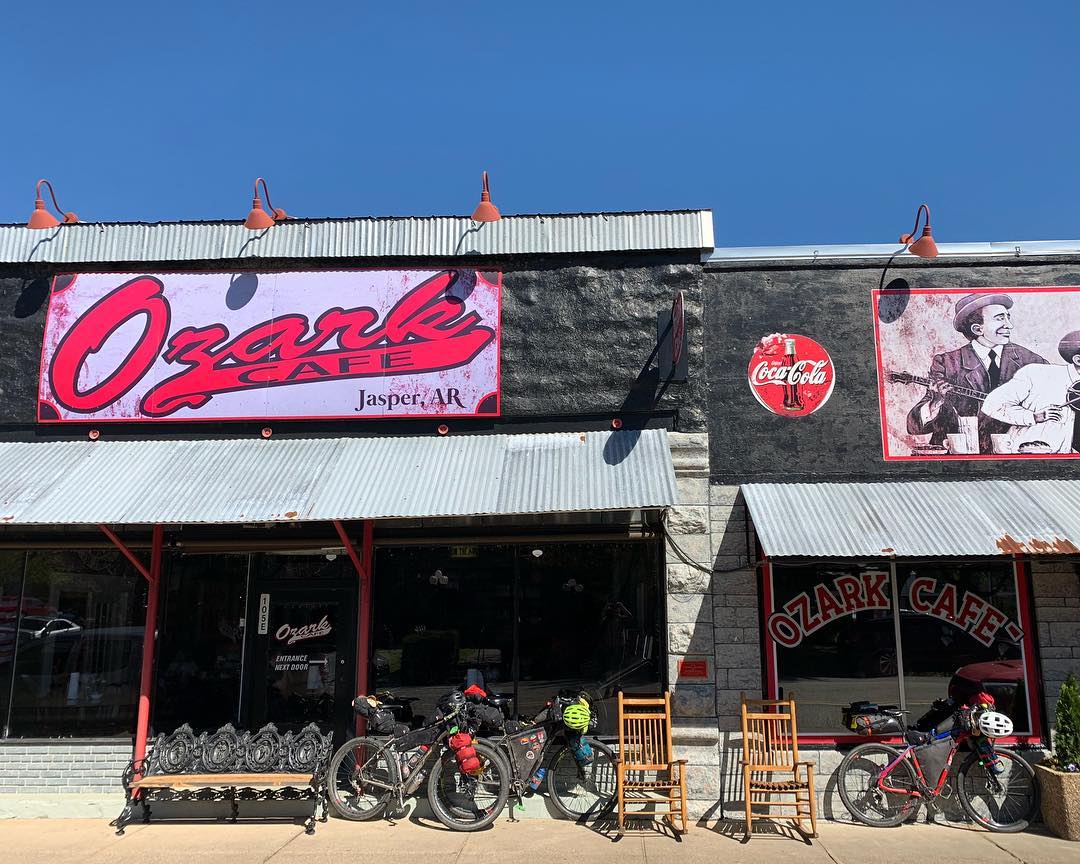 The climb out of Jasper was no less forgiving, but we soon caught the days first gravel and settled in for an afternoon of riding along the Ozark Grinder T

rail – featuring over 120-miles of marked gravel roads across Newton and Searcy County and the Ozark National Forest.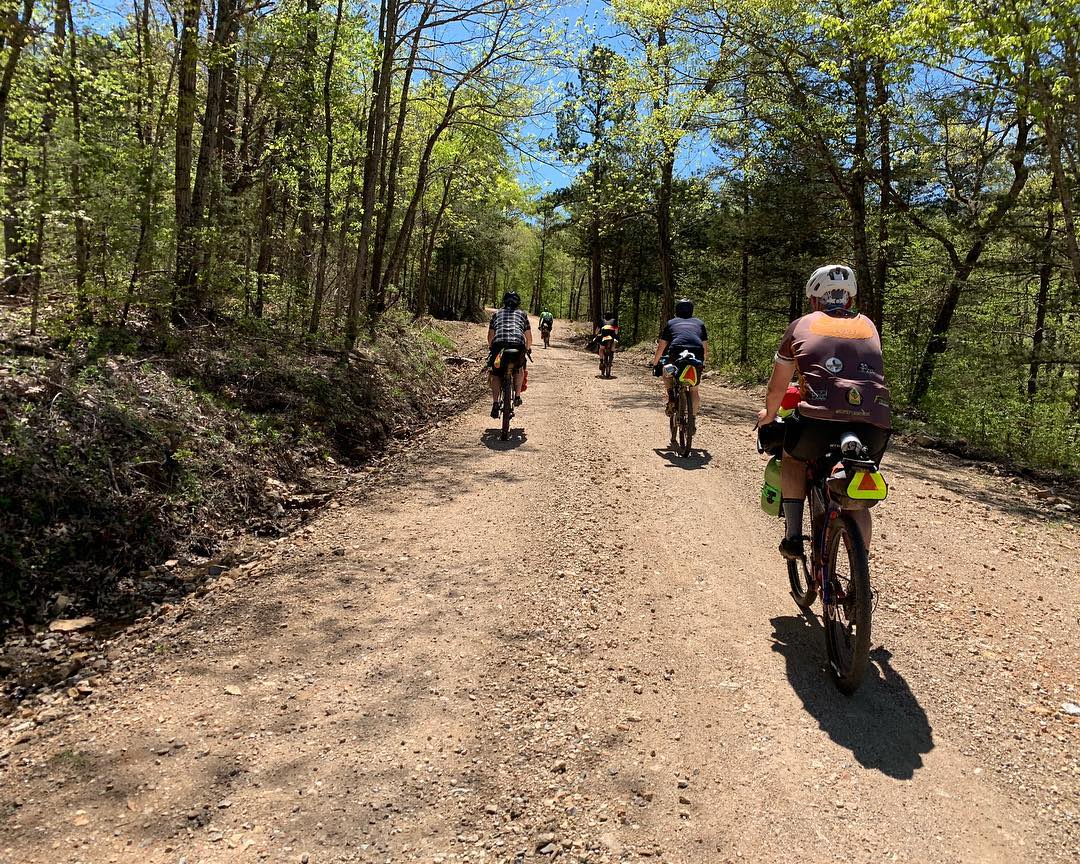 With both Redbuds and Dog Woods in bloom, looming bluff lines, and roaring waters from this weekends rain, Spring was in full effect for the descent into and ascent out of the Richland Creek area. The group would agree, it was possibly the most scenic gravel in the State.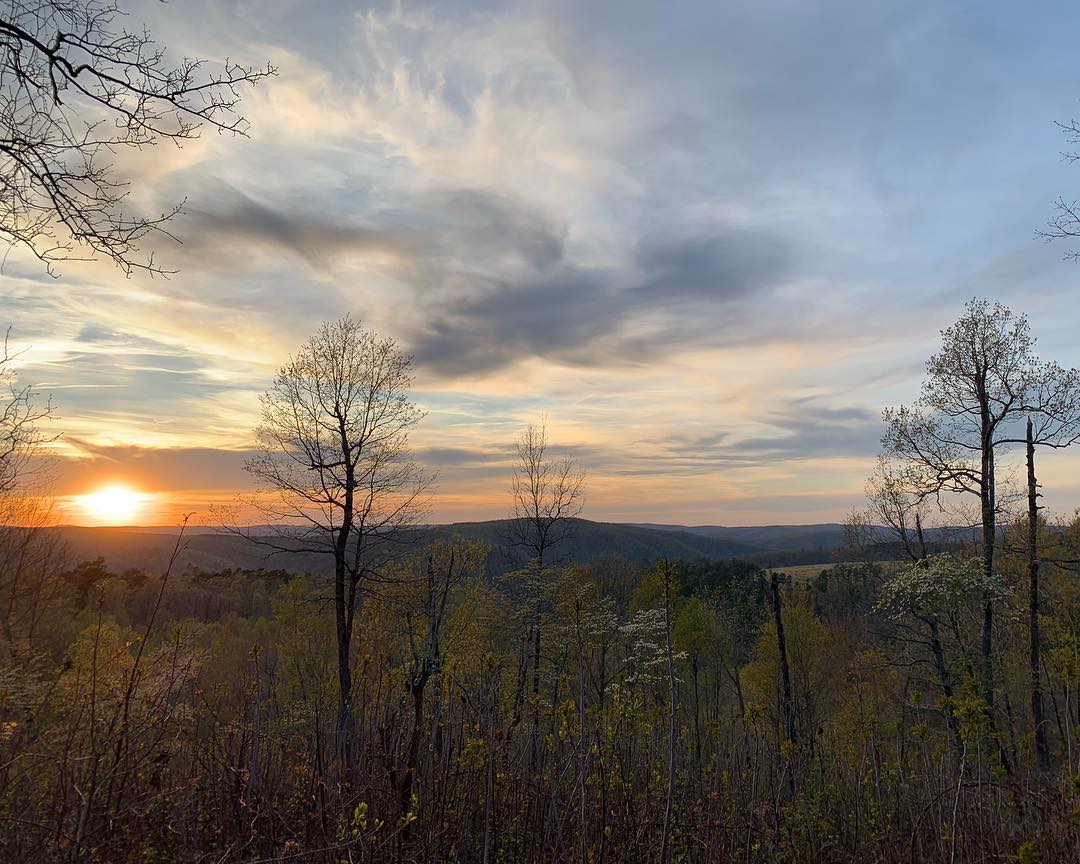 As the sun set on the Ozarks we rolled into Witts Springs, Arkansas, where we were greeted by locals offering a fresh deli-sandwich dinner and an overnight stay in their community center complete with showers and cots on the gymnasium floor.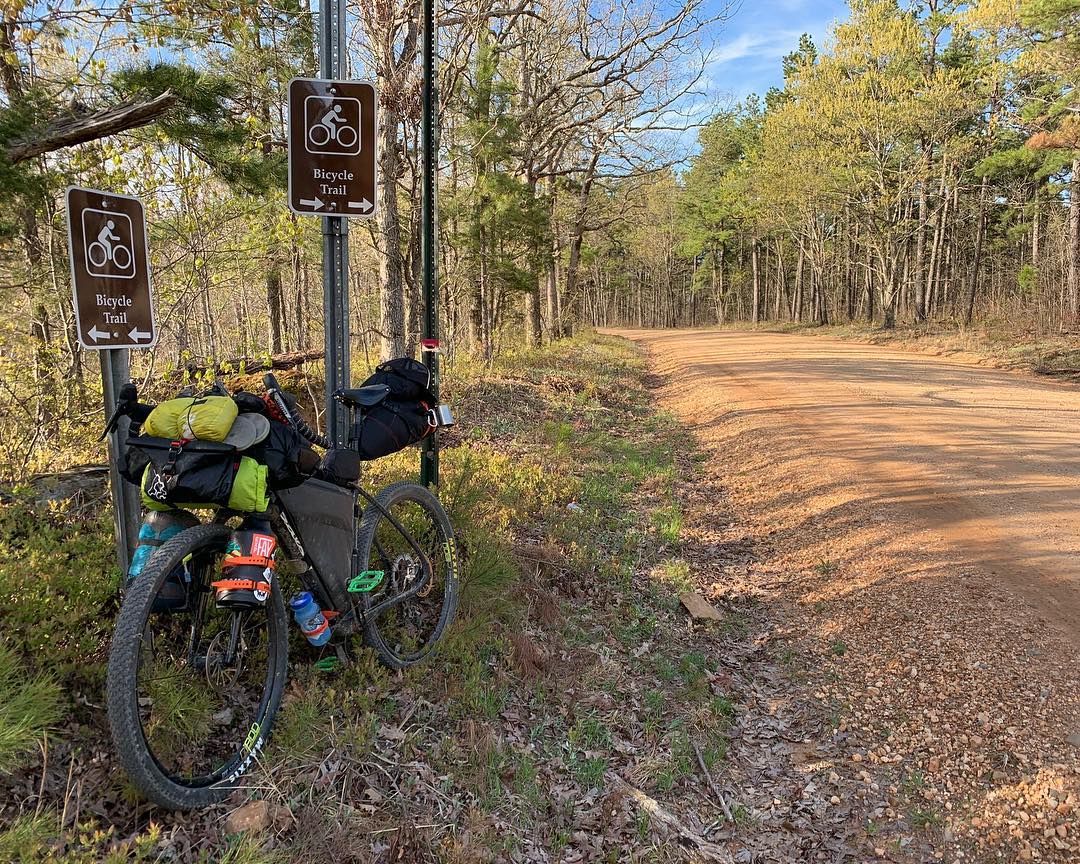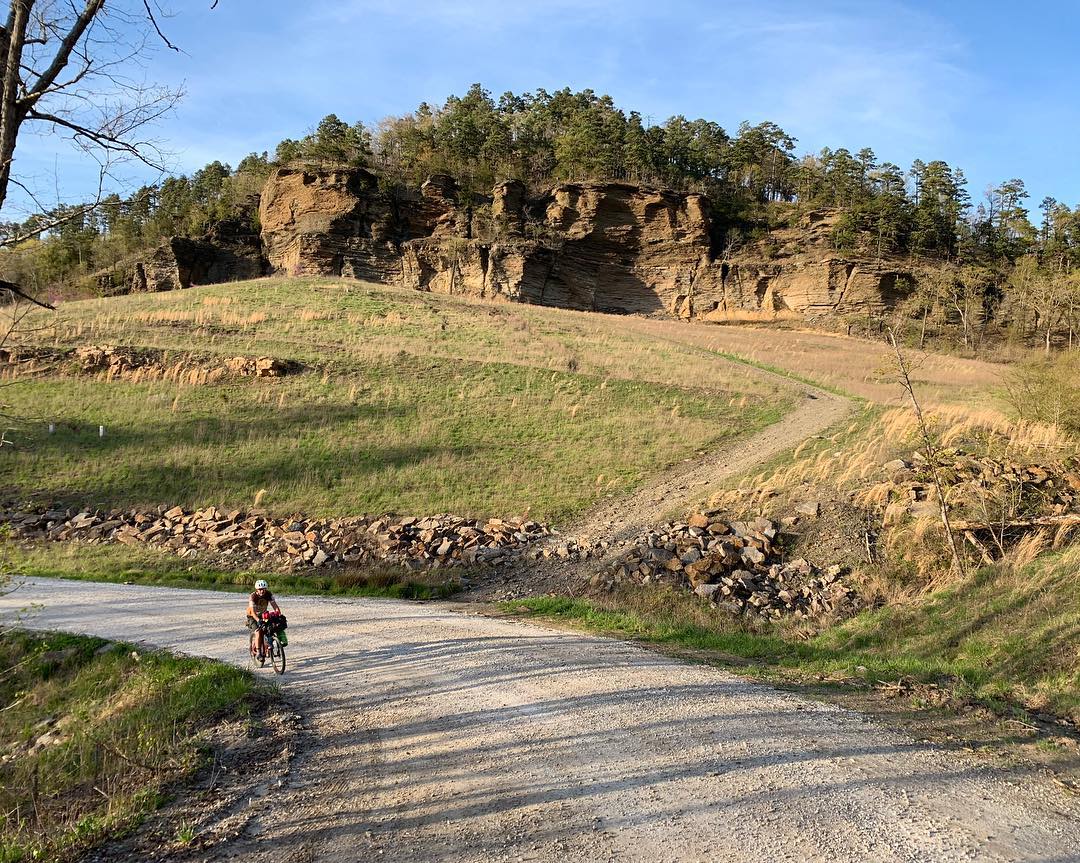 With the hardest day behind us (+7500 feet of climbing), we continue east.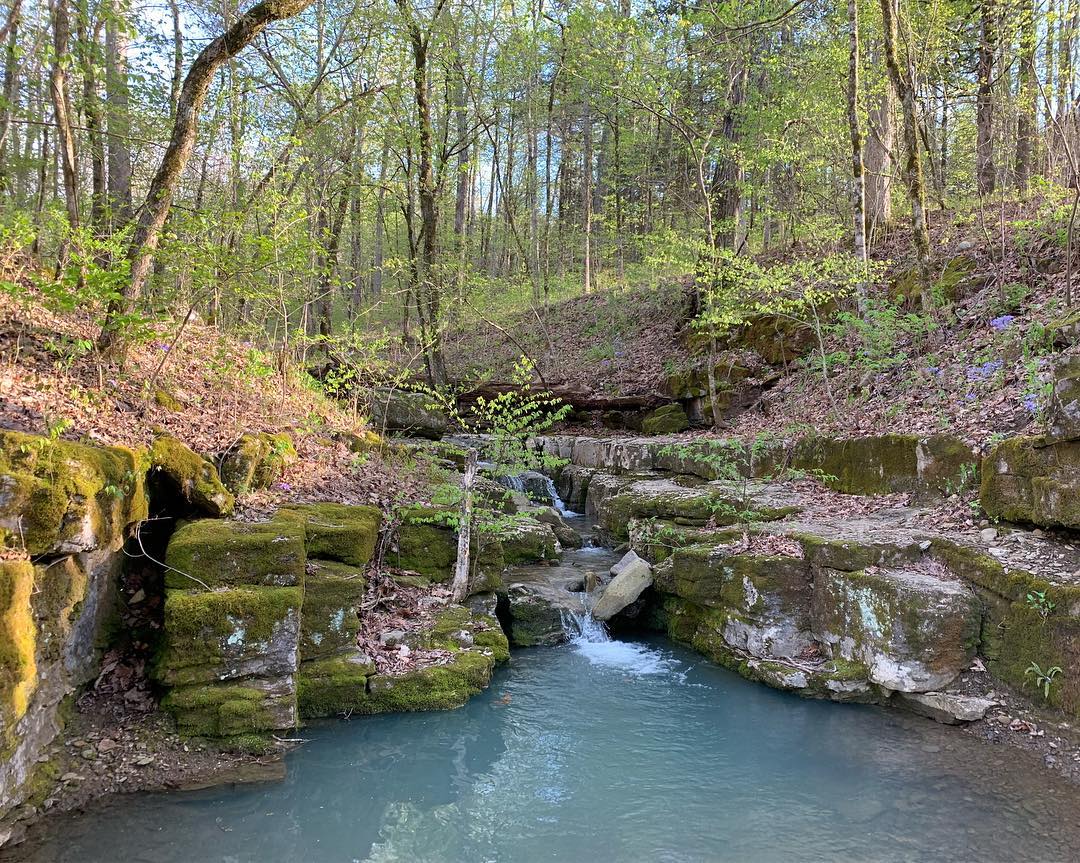 Day Three – April 16
Day 3 of bike packing across Arkansas included over 60-miles of mostly gravel and another 4400 feet of climbing through the Ozarks.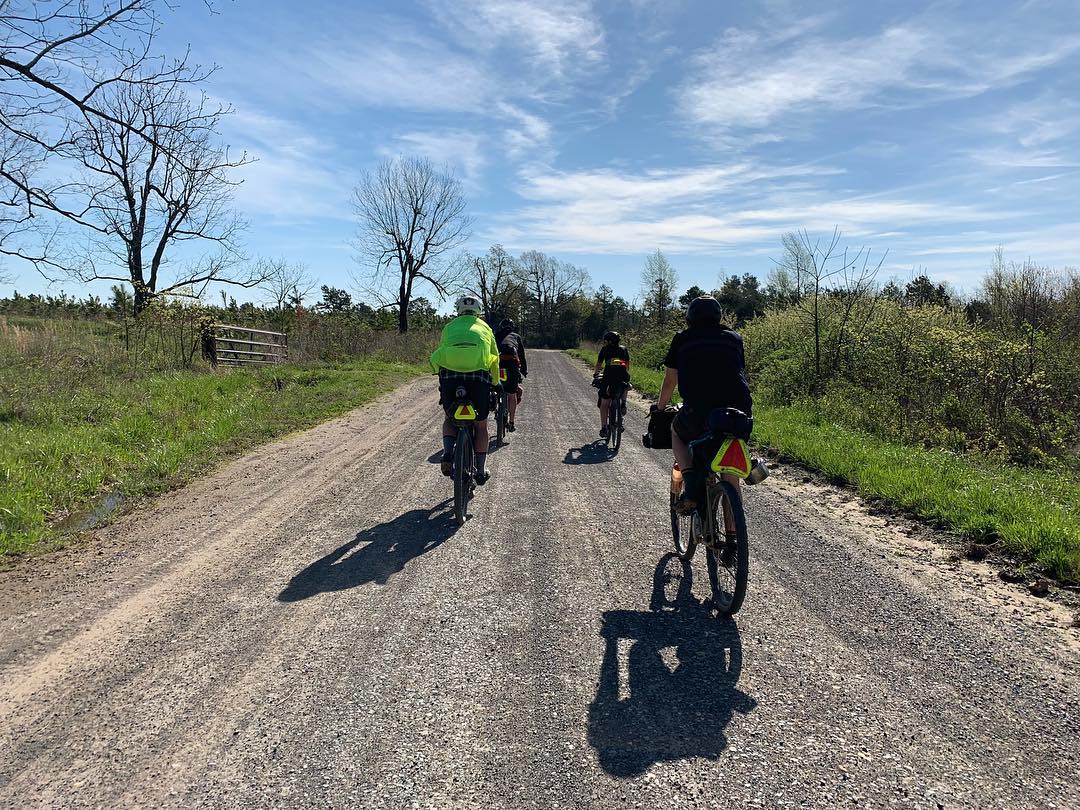 After a nights rest in the Witts Springs community center (cycling-friendly, with showers), we met the townsfolk for a hearty breakfast of biscuits & gravy at the local eatery (also the gas station, and grocery store). I can't begin to express how friendly and supportive the Witts Springs Community is for touring cyclists. They will open their homes and hearts to you. The fact that an annual cycling event helps keep the lights on year-round in the community center says a lot.


Witts Springs felt like the top of the world as we dropped down Lick Fork Road on a gravel descent through a canopy cover. A morning of gravel led to scenic 65 with green fields and red barns. As we climbed into Marshal we were met by the Director of Chamber of Commerce for Searcy County who informed us the Mayor of Marshal would like to buy the groups lunch.


We rolled into Daisy Queen, a famous burger and shake place that's been around 50+ years, for handfuls of burgers, fries, and chocolate banana shakes. After a quick stop at the town square, we headed east towards the community of Baker where we found steady gravel with stacked ascents. There was no shortage of water thanks to the numerous backcountry creek crossings, perfect for filtering water and cooling off the soul.



The afternoon turned to evening as road conditions deteriorated first with ribbons of grass, to double-track, to fire road, until at one point we were riding up a bluff-lined creek bed. The day ended with a large descent into Blanchard Springs campgrounds for dehydrated dinners and late night tire sidewall surgery.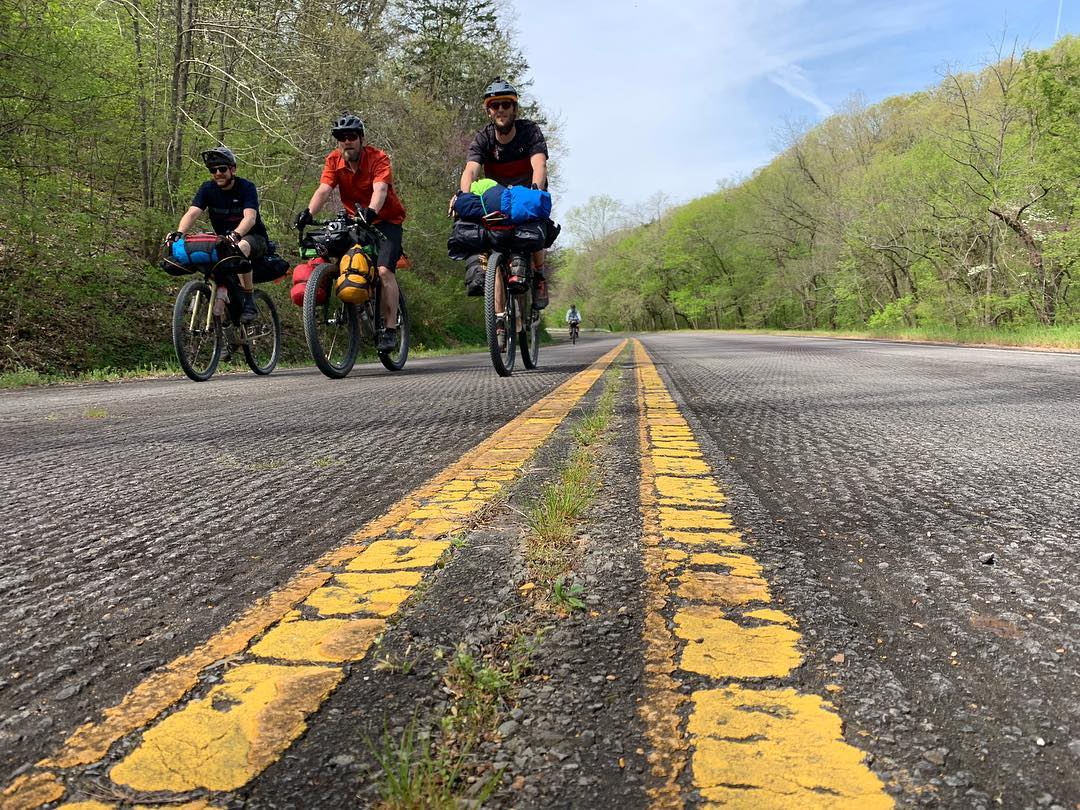 Day Four – April 17
Day 4 of self-supported bike packing across Arkansas totaled over 65-miles with our last dose of healthy climbing.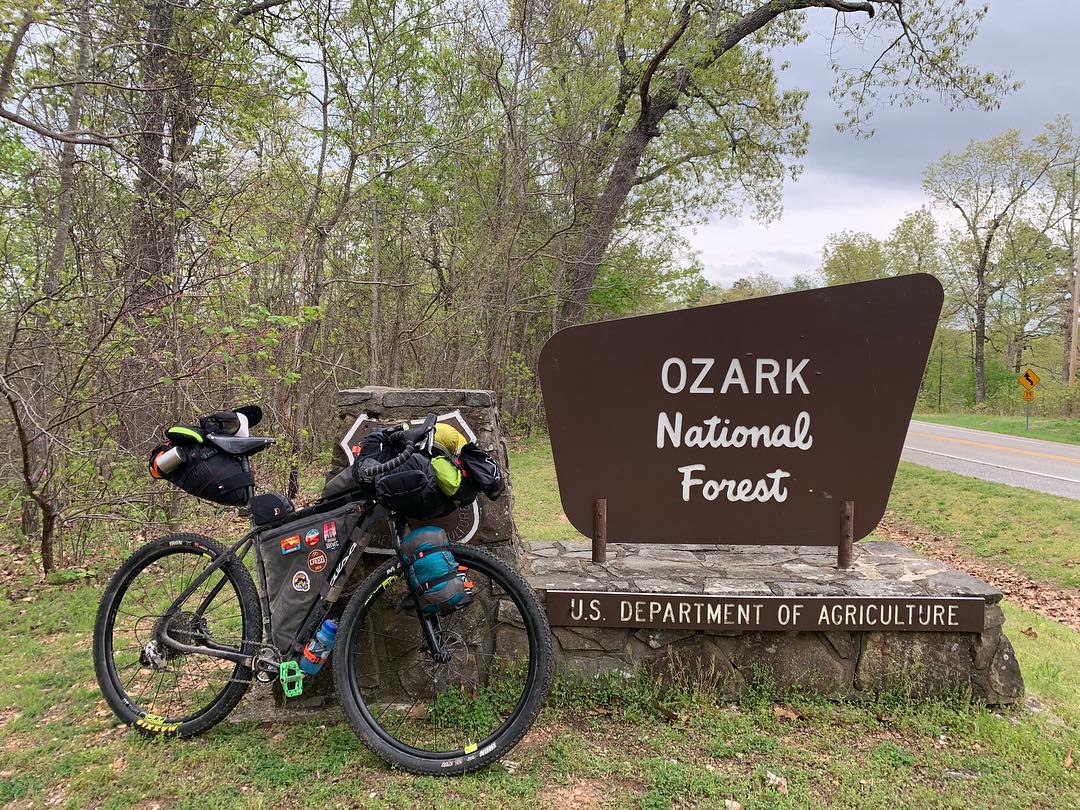 After a sunrise pedal out of Blanchard Springs (the price paid for camping below the bluffs), we enjoyed miles of rolling descents on the Sylamore Scenic Byway before crossing over Sylamore Creek on a century-old swinging bridge.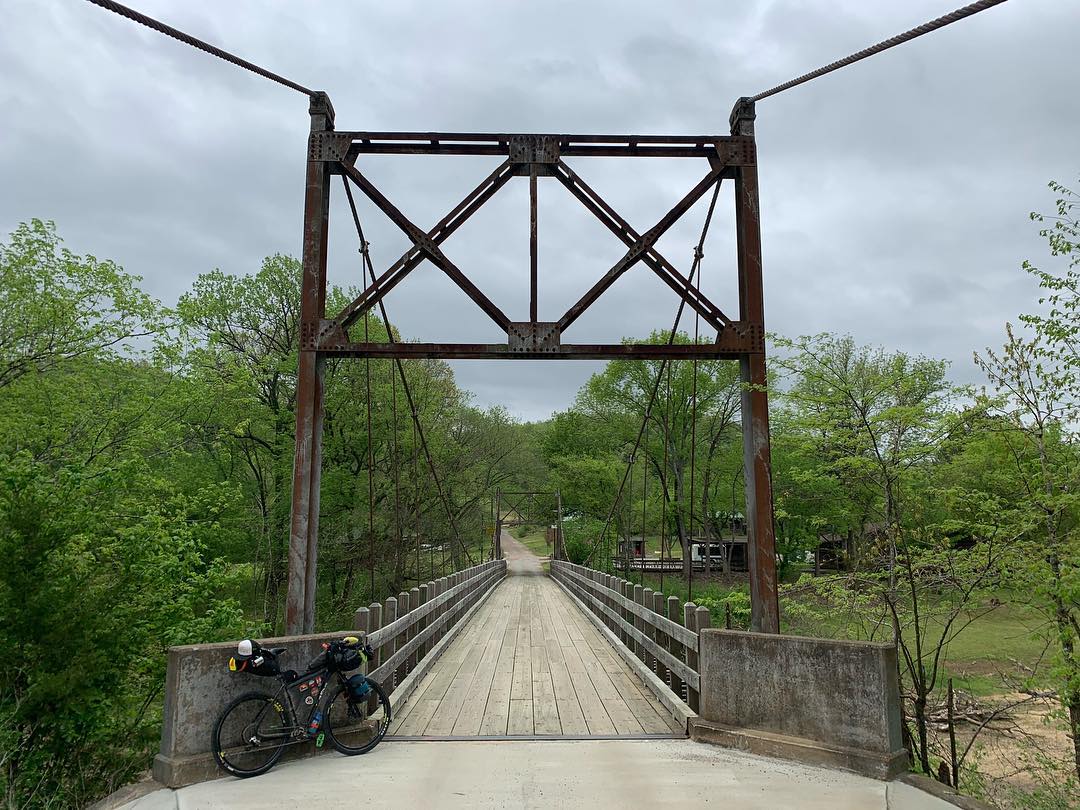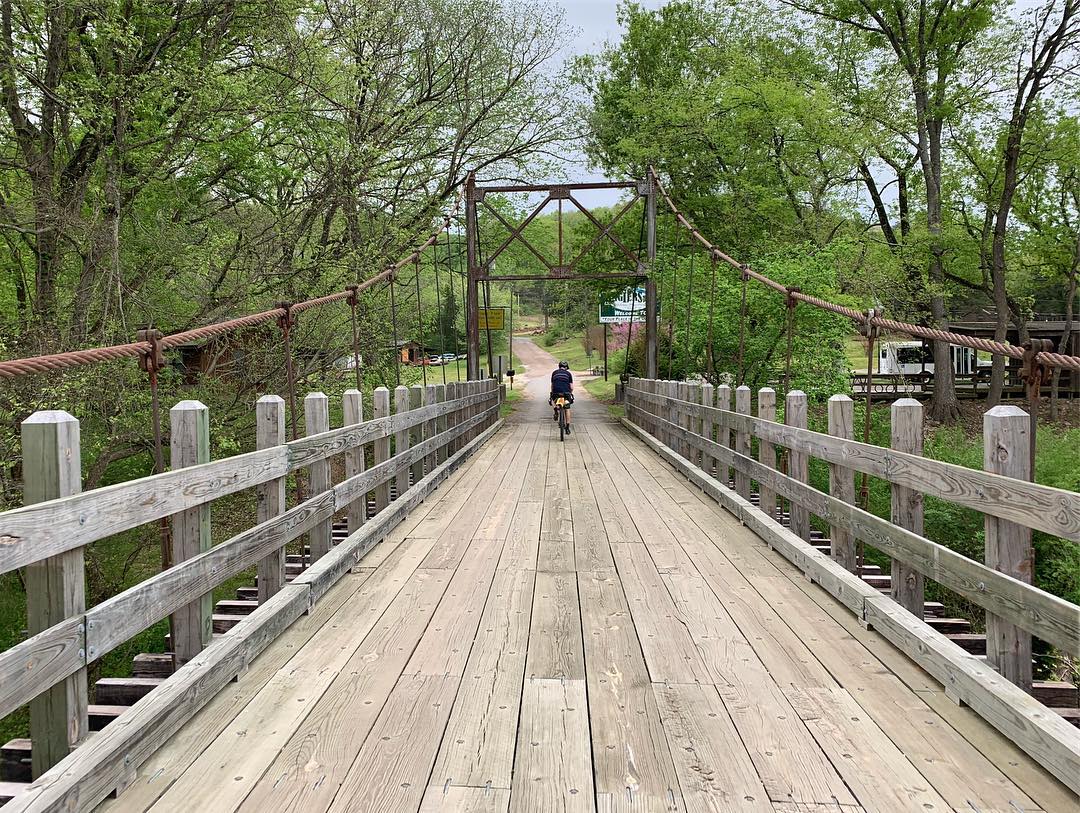 We hadn't even made Mountain View before pulling into Mikey's Smoked Meats for a smoked bologna sandwich and opossum pie. After a roll through the Ozark Folk Center State Park (and climb out of Mountain View), we hit Hanover Road and one of the most rewarding gravel experiences of the trip.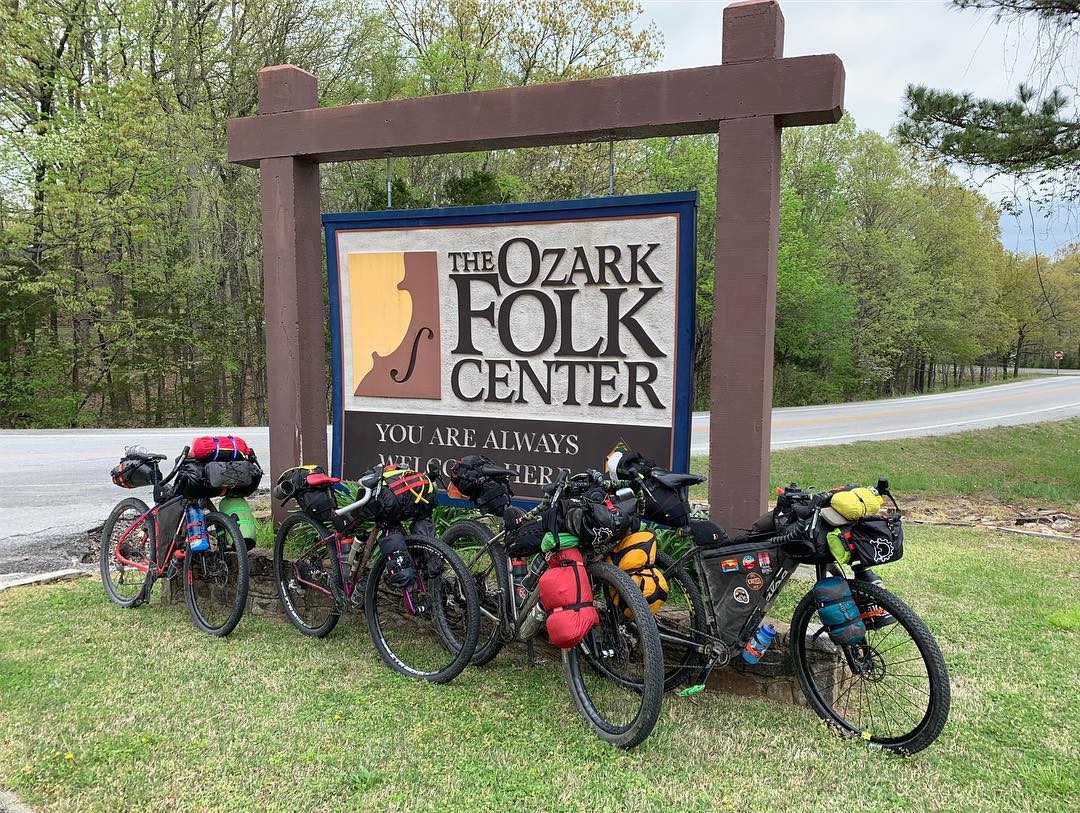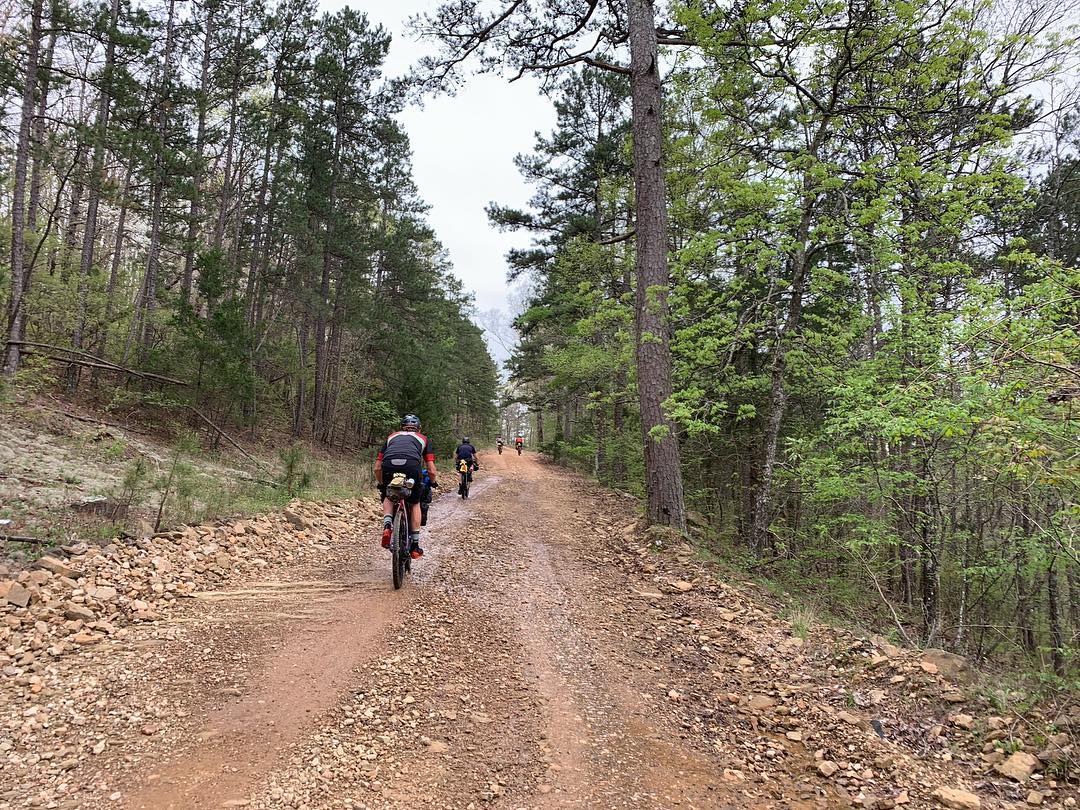 With ominous skies and late in the day, we crossed the Greers Ferry Dam (KOM is 32 seconds… we didn't have a chance) where we met Frank Wimberly, owner of Sulfer Creek Outfitters in Heber Springs, Arkansas. Frank heard of our travels and offered to put the motley crew up… opening up his store floor as a safe refuge for the night.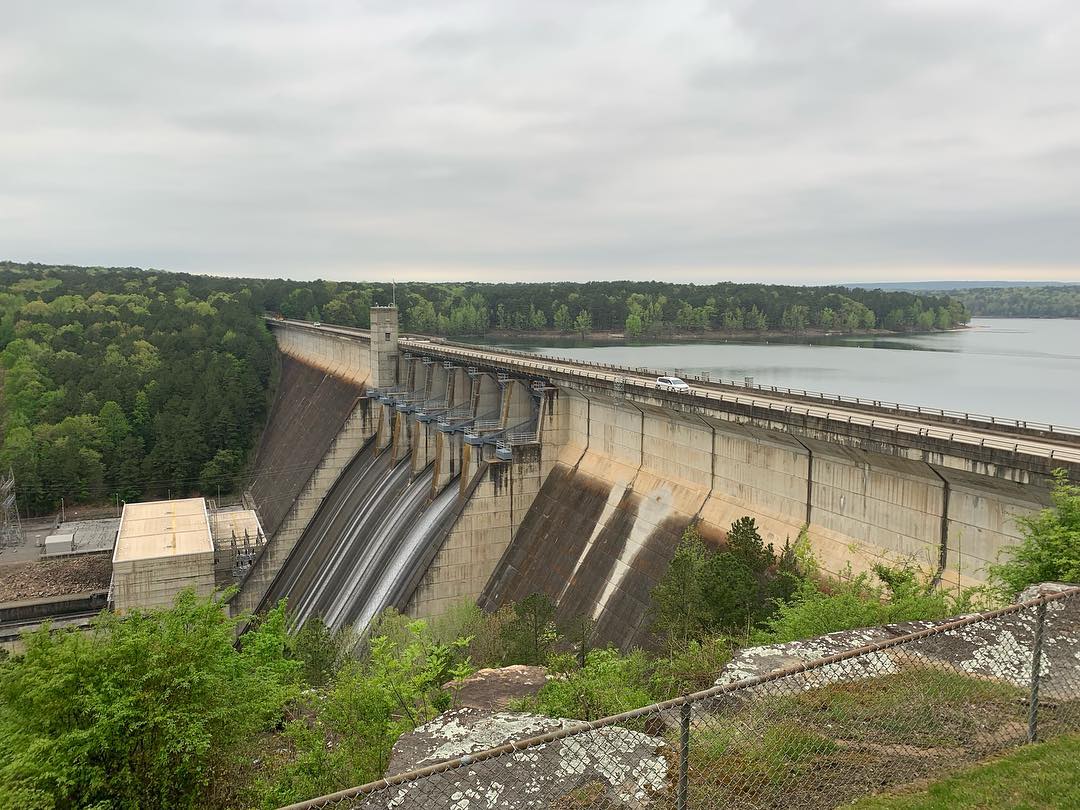 Hospitality is alive and well in small towns across the State and we have continued to be welcomed in our travels.
Tomorrow… it rains.
Day Five – April 18
After a night spent sleeping on a bike shop floor, our group awoke to 3" of overnight rains and a less than favorable forecast. While the rivers and creeks may have swelled the groups' tenacity has yet to waiver. With a bellyful of breakfast and drizzle in the air, we set out for day 5.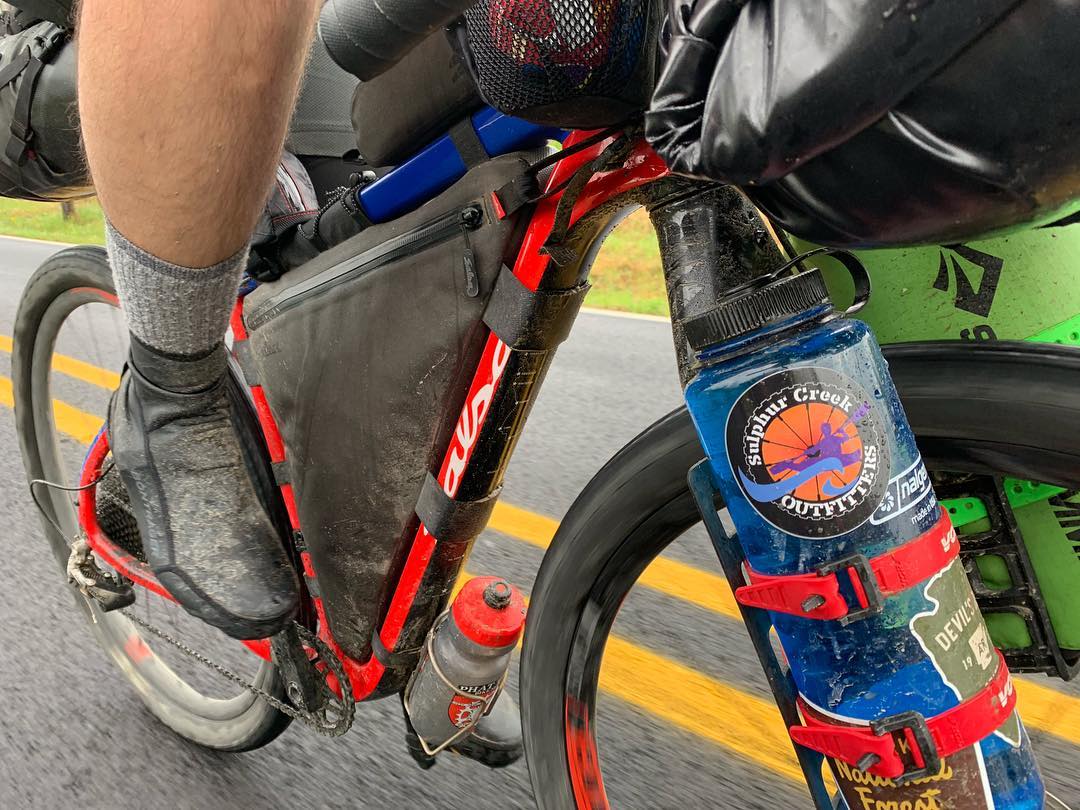 As we rolled out of Heber Springs on the first two miles of a future 10-mile multi-use bike trail, we couldn't help but reflect on the hospitality we had received from Frank and the team at Sulfur Creek Outfitters. Business owners like Frank recognize the impact soft-surface and multi-use trails can make for his community and are tireless advocates.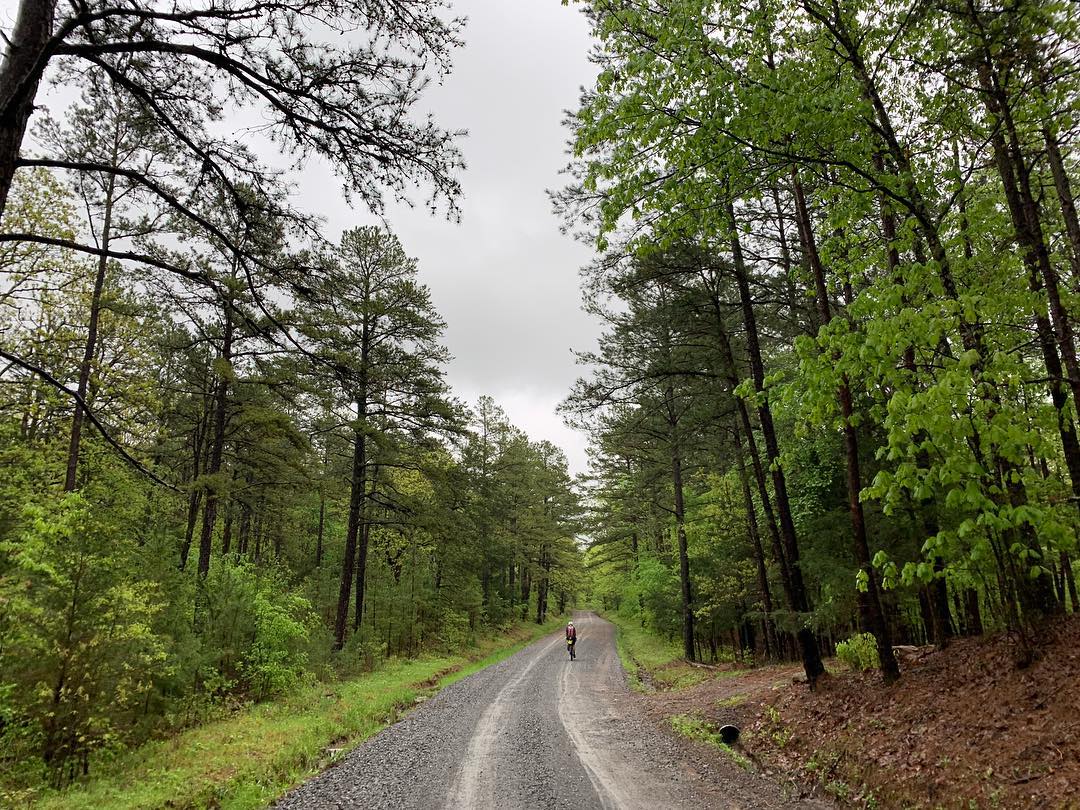 The mountains turned to foothills as the group pushed east along scenic blacktop towards the delta. If "as green as spring" isn't a saying… it should be. We picked up grayish gravel on Old River Road and rolled past barns and farms into the afternoon. With a nip in the air, sips of whiskey kept us warm.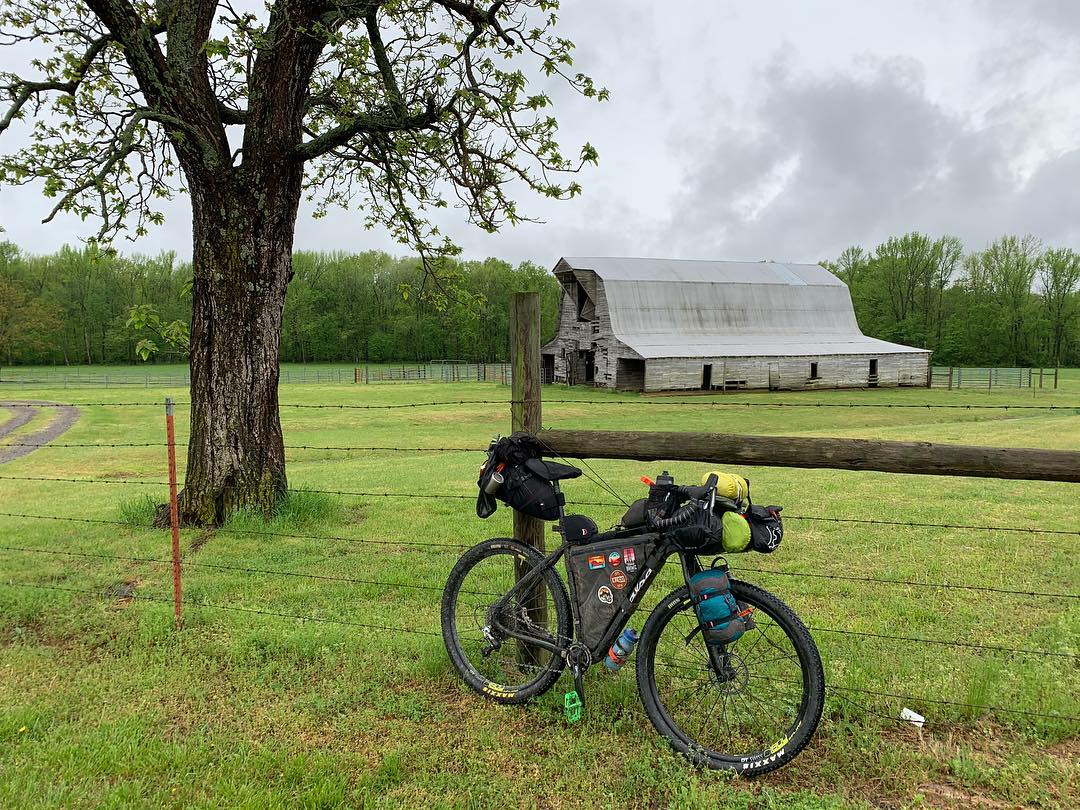 Day Six – April 19
Day 6 bike packing Arkansas totaled 80+ miles of pedaling into the delta with welcomed flatlands.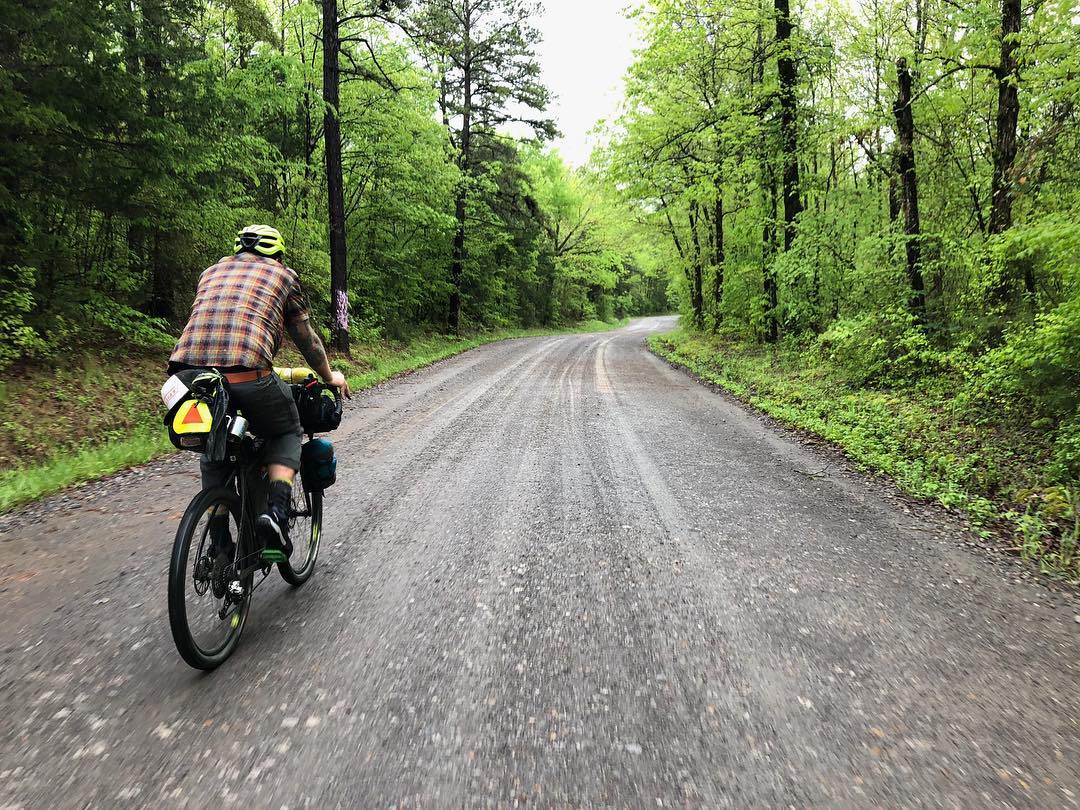 As we rolled out for the weeks largest mileage it was clear that the Ozark Mountains were behind us. The day featured fast rolling roads lined with rice fields and swollen rivers full of cypress trees rooted in water.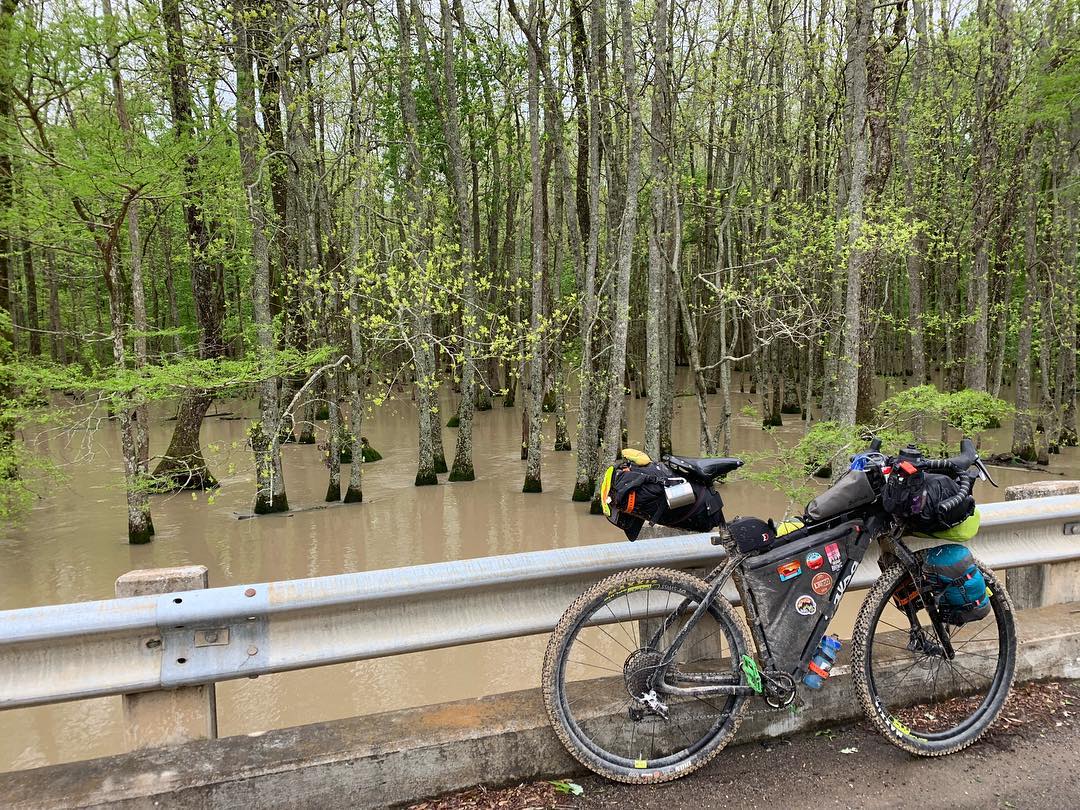 As we pulled into Wynne, Arkansas cold and wet the smell of BBQ filled the air. After finding the source at Fannie Mae's BBQ shack, we celebrated the day with pork steaks and caramel cake.
A few more miles of gravel dropped us into Village Creek State Park for camp, which spans some 7000 acres nestled along Crowley's Ridge and the last elevation in eastern Arkansas.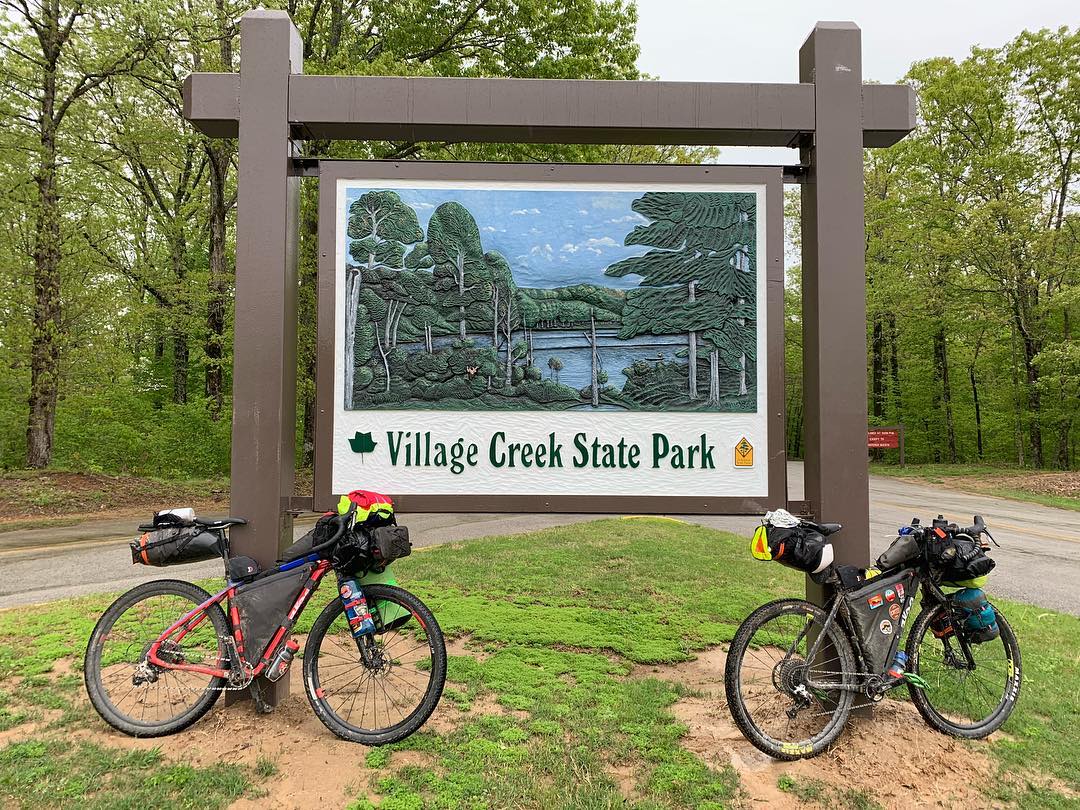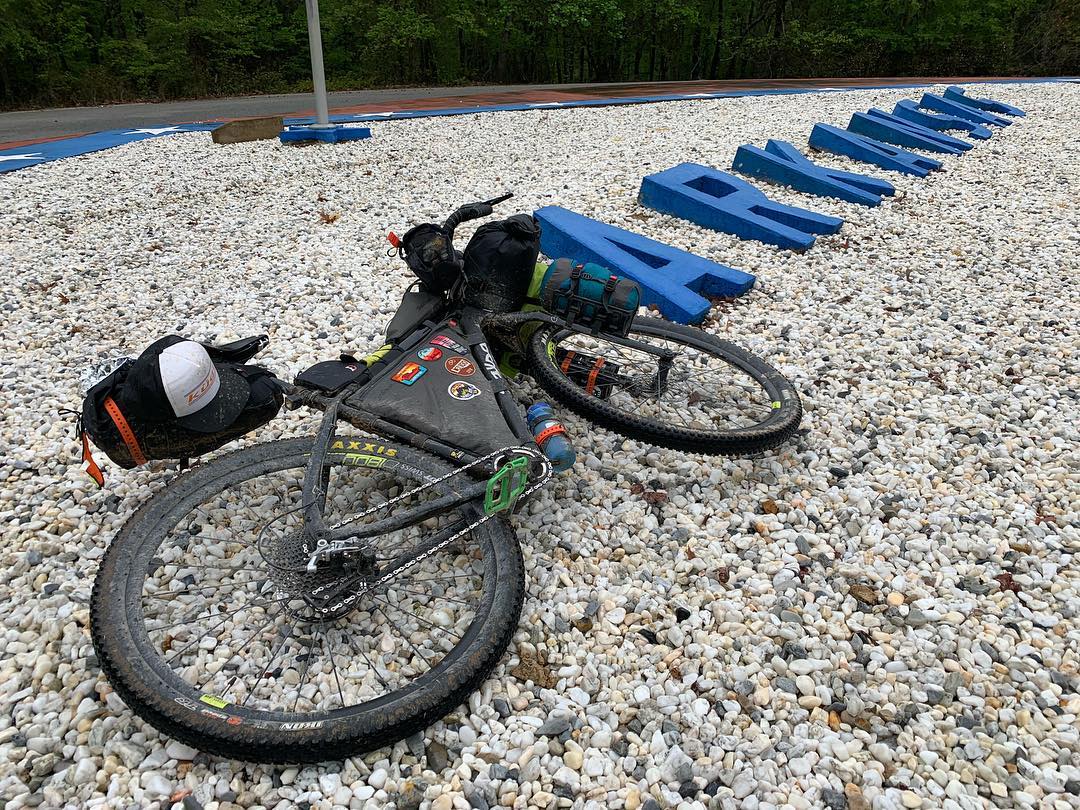 With our feet by the fire, we spent the evening reminiscing, knowing only a day of riding stood between us and the mighty Mississippi.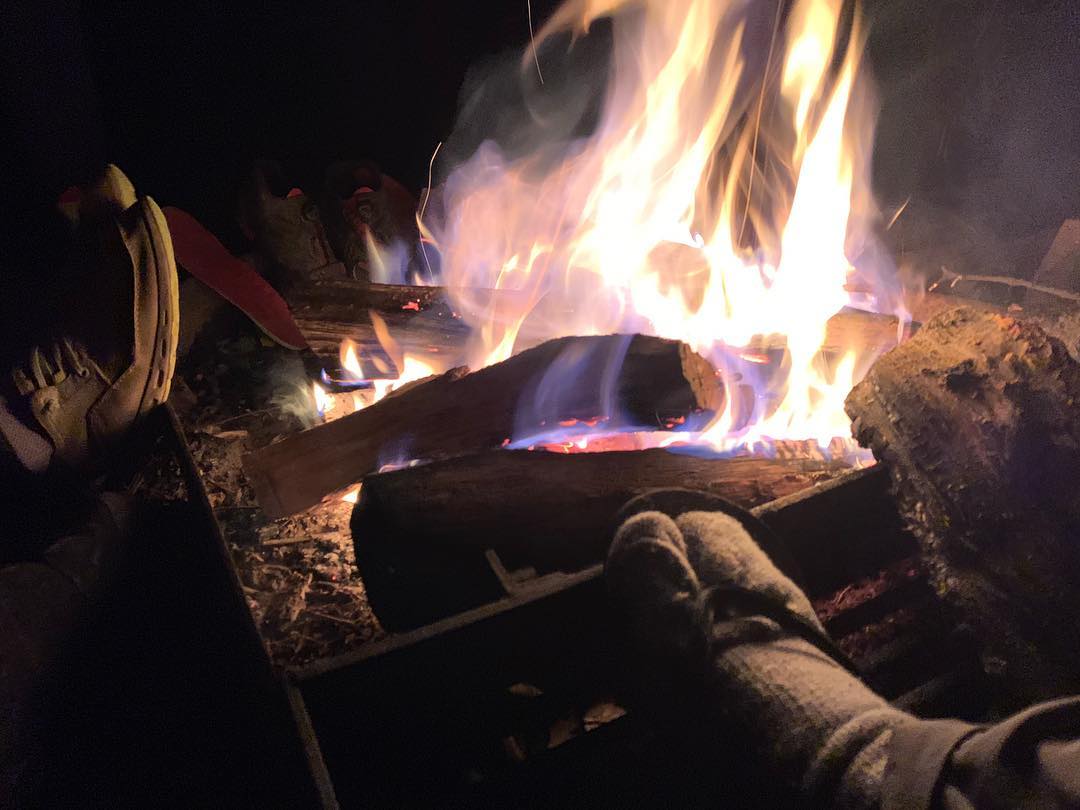 Day Seven – April 20
Our 7th and last day of bike packing across Arkansas looked to offer little relief through more remote areas of the State. Rallying from an 80-mile day with reports of the Mississippi flooding, the crew dropped off Crowley's Ridge onto farmland levees and soft gravel roads intertwined with railroads.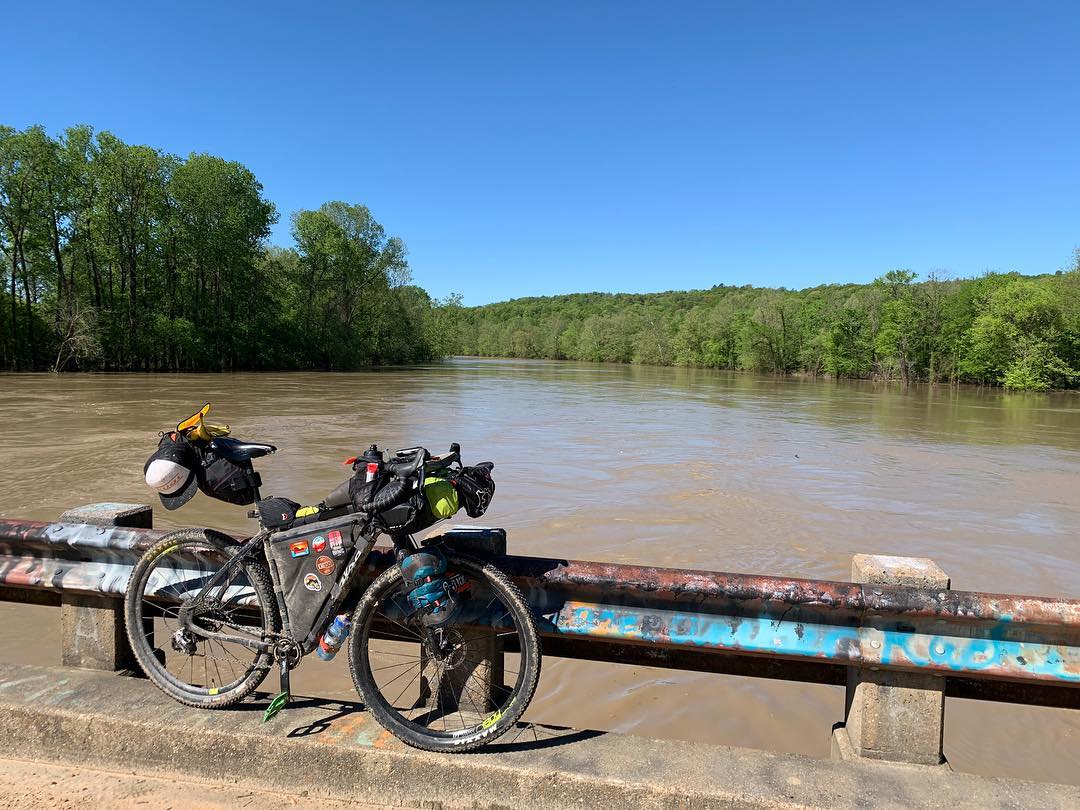 To cover the 60+ miles planned, we packed the bikes with day-old sandwiches, donuts, and hopefully enough water. Battling strong headwinds along scenic Hwy 50 and some of the days only pavement, we caught the end of the Chatfield communities annual Easter Egg Hunt and were invited for lunch, a welcomed unplanned rest stop for the day.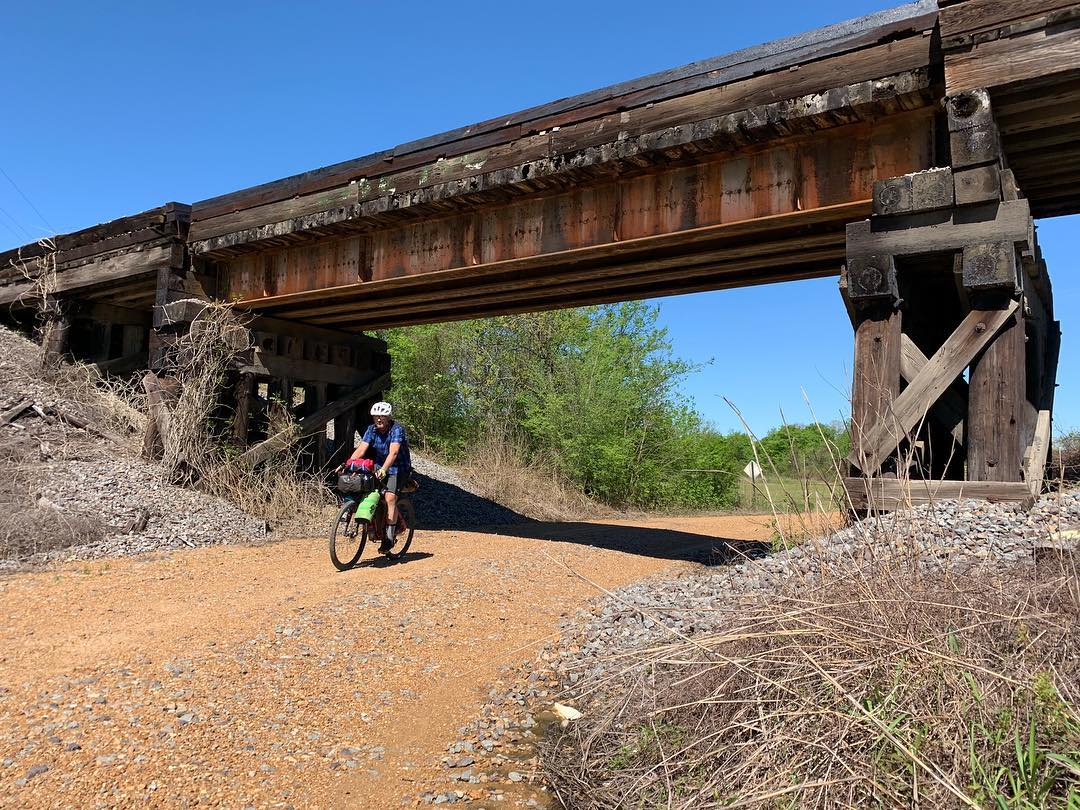 A few miles later we found the Big River Trail and the States eastern border. The Big River Trail utilizes the rivers levee system, featuring miles of a cycling-friendly gravel path that twists through farmlands along the river's bank. Our original plan had been to connect the trail with the Big River Crossing, but the river had hit flood stage earlier in the day and passage would not happen.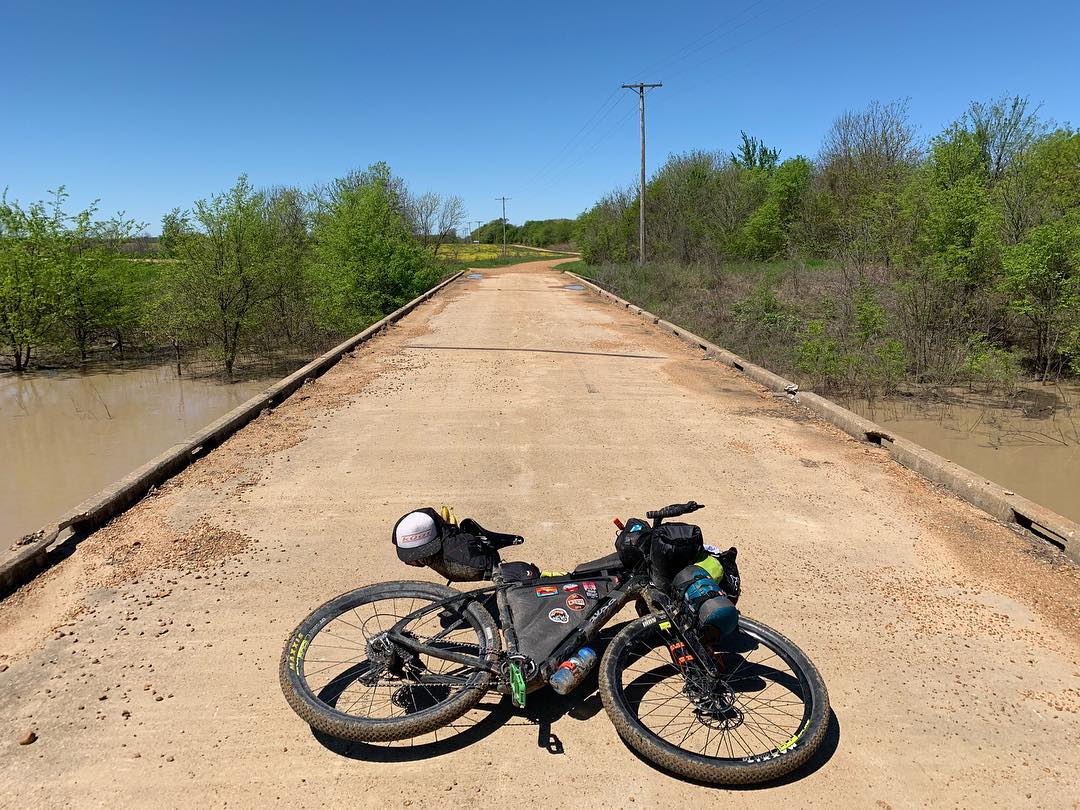 Undeterred, Tom Sawyer Park in West Memphis would prove the perfect end to the trip. Built on the water's edge, we rolled through the campground and dipped a tire in the river. Our unobstructed view of the Mississippi stretched miles as barges churning up the river.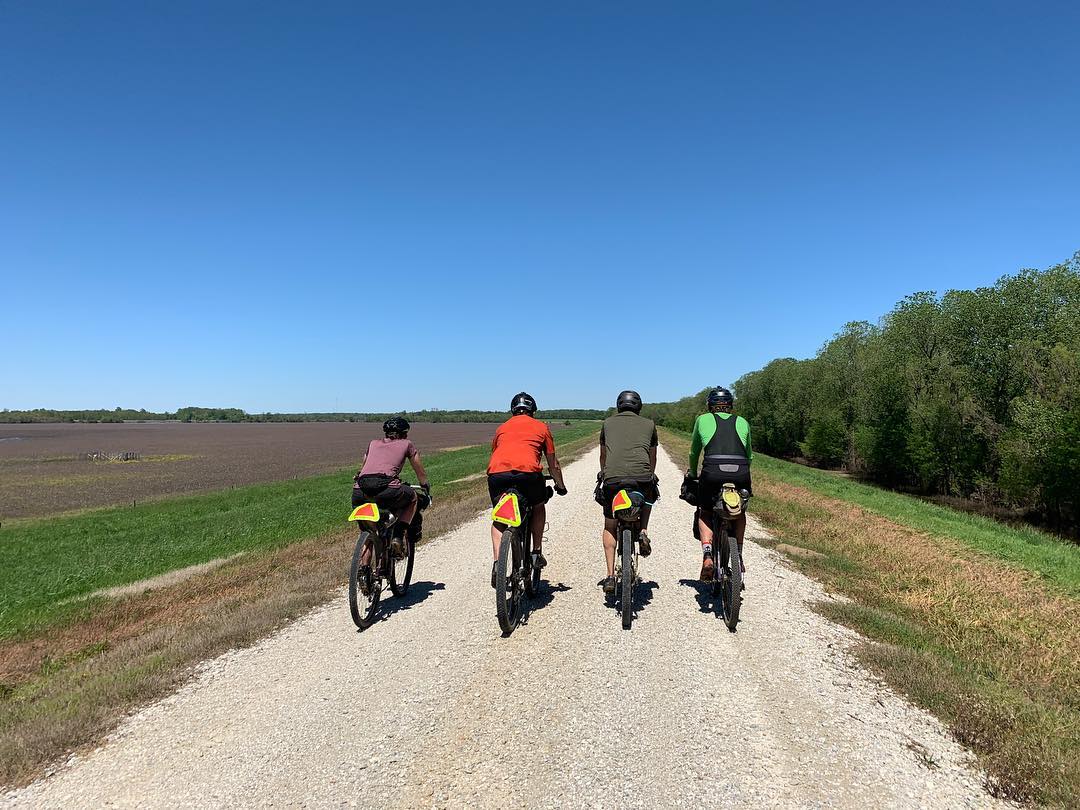 Self-supported bike packing across Arkansas was nothing short of an adventure. For over 430-miles and 25,000 feet of climbing, we experienced a vast and ever-changing landscape. From the mountains to the delta, the group was welcomed into communities across the State. If looking for faith in humanity, you'll find it restored bike packing in Arkansas.