(From ADEQ News Release)
The Arkansas Department of Environmental Quality (ADEQ) today launched a mobile app that will allow users anywhere in the state to report environmental hazards directly from some smart phones.
"Our inspectors do a great job, but they can't be everywhere," said Interim Director Ryan Benefield. "Enabling Arkansans to report environmental hazards in real time will allow our inspectors to respond to potential environmental hazards that much faster. We always say that Arkansans are our eyes and ears and this app will provide citizens another tool to reach out to us."
The mobile app is available in the Google Play Store. Simply search for ADEQ and hit install when the app, which features ADEQ's seal, comes up. The app is currently only available for users of Android smart phones. The department is developing the app for iPhone users.
The ADEQ Android app allows Arkansans to report environmental hazards in real time. To file a complaint, you must provide a Complaint Type (Air, Hazardous Waste, Water, unknown, etc.), and a description of the potential violation. Users also need to provide the county, and the location or driving directions. Users will also be able to add photos of the potential hazard. Photos taken within the ADEQ android app will be geotagged with GPS coordinates if GPS location services are enabled on the Android device. Contact information may be provided, but it is not required. Users will be able to review all complaint information prior to submission.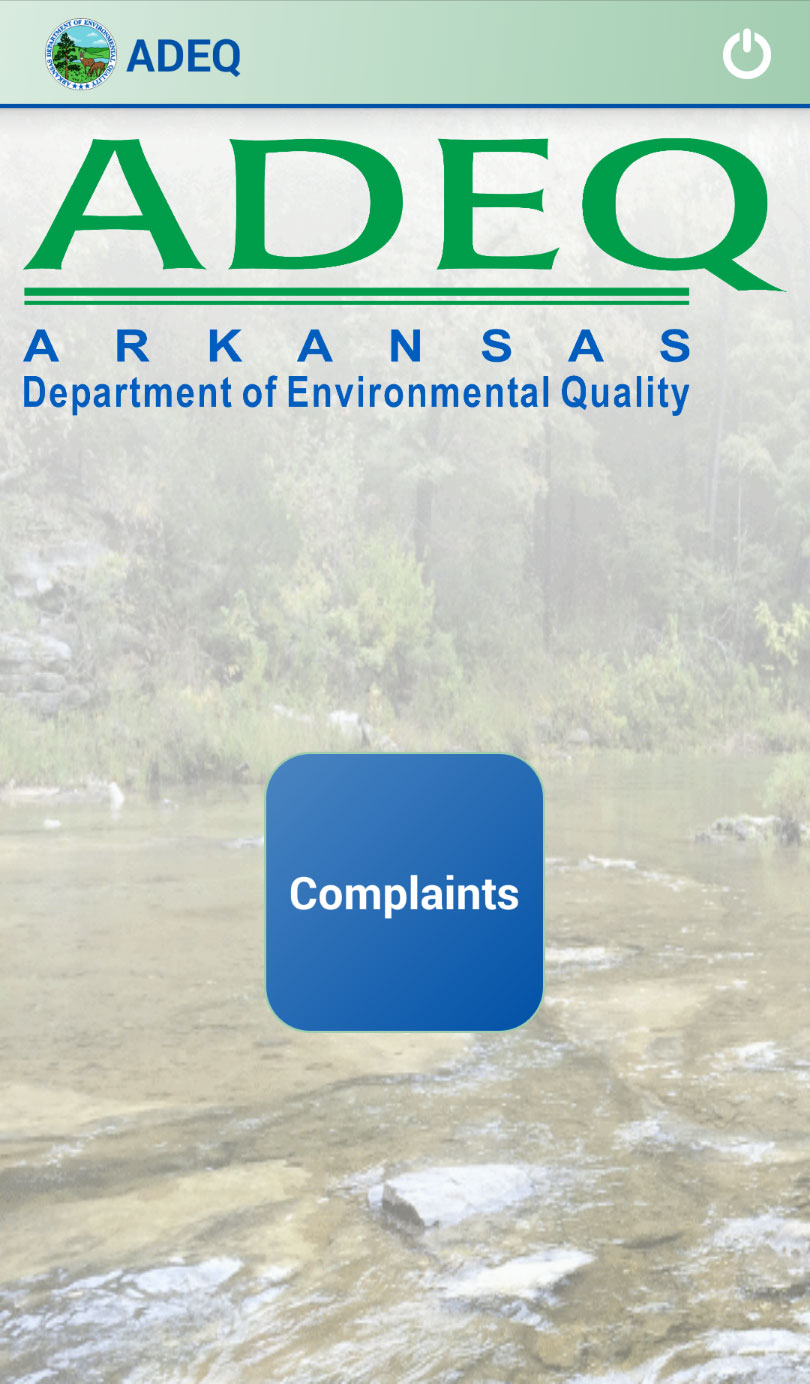 Those in areas without cell service can save a complaint and submit it when they regain cell service.
"The photos and GPS coordinates will really help our inspectors," Benefield said. "It can sometimes be hard for an inspector to pinpoint the exact location of a complaint if information is vague or incomplete. We know that Arkansans who submit complaints to us do their best to provide accurate information and this app will make it that much easier for them to do so."
An ADEQ inspector will follow up with anyone who submits a complaint and provides contact information. Complaints can also be submitted anonymously.
ADEQ inspectors follow up on all complaints, which can also be submitted online, in person, or by calling ADEQ at (501) 682-0744. Each year ADEQ receives around 400 complaints online.
Complaints and inspections can be viewed online by selecting the databases menu on ADEQ's homepage at www.adeq.state.ar.us and scrolling down to "ADEQ Complaints and Inspections." Those wishing to file a complaint online can do so on the agency website.