Way back in the mid-nineteen nineties when I lived in another place and was between love affairs with the outdoors. I started watching this craziness on the Discovery Channel. They were broadcasting an event called the Eco-Challenge Adventure Race. Athletes would go to really beautiful, remote parts of the world and compete in canoeing, trail running, mountain biking, orienteering by map and compass, climbing and sometimes other sports. At the time I had competed in one triathlon many years earlier and had spent a lot of time on bikes as a kid but I was far from what you might consider active. I had gained weight and was pretty much a couch potato when I wasn't at work. I've been told that I looked older than I do now.
Then I moved to Arkansas. I had the same job but I was enticed to go outdoors by the beauty of the Natural State. I fell in love with Pinnacle Mountain, hiking and soon running up the mountain and around the base. I bought my first mountain bike and a couple of canoes. I entered a local Adventure Race.
The Ozark Challenge held near Cass, AR had a long and short course race. I put together a four-person team and got some friends to act as a support crew. We finished, not doing particularly well but for an event that over two days included us flipping a canoe in freezing water, orienteering, hiking, climbing and mountain biking it sure felt like a success to finish. In fact it was empowering. I could persevere, I could finish.
It's been almost 15 years since that race. I've done races that lasted as long as 36 hours, I've been on numerous teams and even raced solo. I've lost count of how many I've done. I even got Lisa into them, she wasn't going to be able to stand by watching and doing support for long. And now my son David has joined us.
I thought my adventure racing days were pretty much behind me. They can be a little equipment and preparation intensive and the number of races has dwindled over the last few years. Raid the Rock Adventure Race in Little Rock, a race I have done several times over the years, was the only one scheduled in Arkansas this year. I had promised my son years ago that I would do one with him and the short course of this race seemed to be my opportunity to fulfill that promise.
This year the short course would consist of running, orienteering, mountain biking and a rappel section. No paddling for us but the long course teams did get to spend some time on the Arkansas River.
Raid the Rock was originally conceived 11 years ago as an Urban Adventure Race, one which takes place primarily in the city utilizing local parks for some of the pure map and compass work and mountain biking. Things are spiced up by giving the racers chances to explore parts of the city they may not know about or have had access to before the race.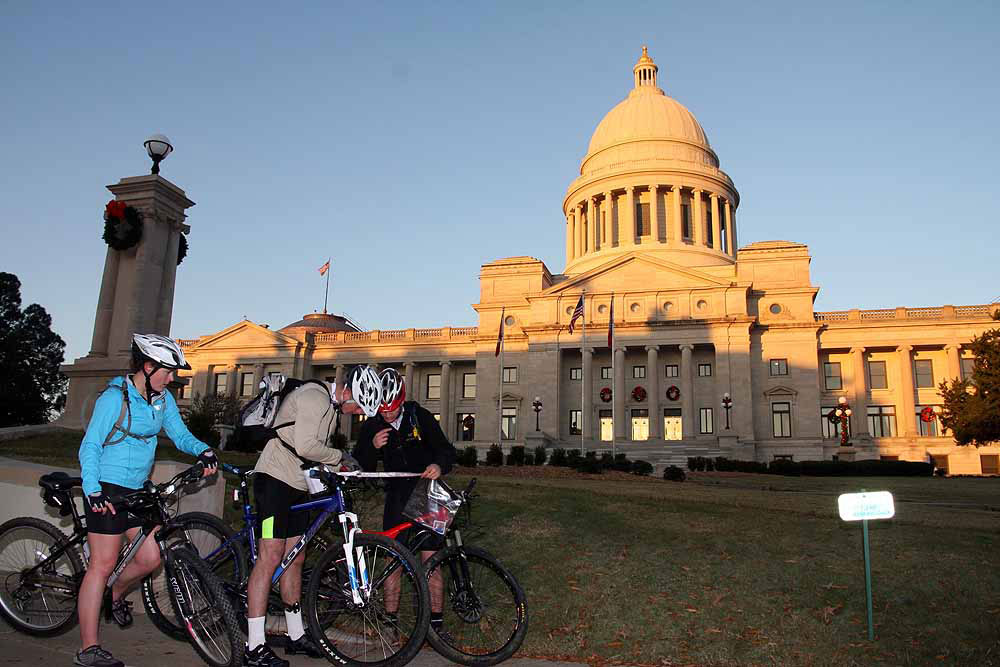 The Race
The long course was billed as a 8-12 hour race and the short course, our race, was to be just 2-4 hours long. The race directors were pretty close to the time prediction for the long course but the short course turned into a much longer affair. Long course racers started at 6 am but we got lucky and didn't have to be ready to go until 8 am. After the pre-race skills tests, equipment check and meeting the night before we headed for dinner at a local Irish Pub before going home to pack the gear and get a good nights sleep.
The race started with a 1.3 mile run from the Arkansas Rowing Club boathouse under the I-30 bridge in North Little Rock and over the Clinton Presidential Bridge to the Clinton Library where we would find our packets filled with maps and instructions. Back at the boathouse we started plotting points. Some teams plot on the go but I prefer to plot all the points I have at once. I feel like it goes faster when I get in the groove. I also like to think ahead once I know where we are going. The majority of the checkpoints were in places that are well known to us so it was just a matter of grabbing them in order and moving on. Several of them were in the woods in Burns Park, those would take actual orienteering to find.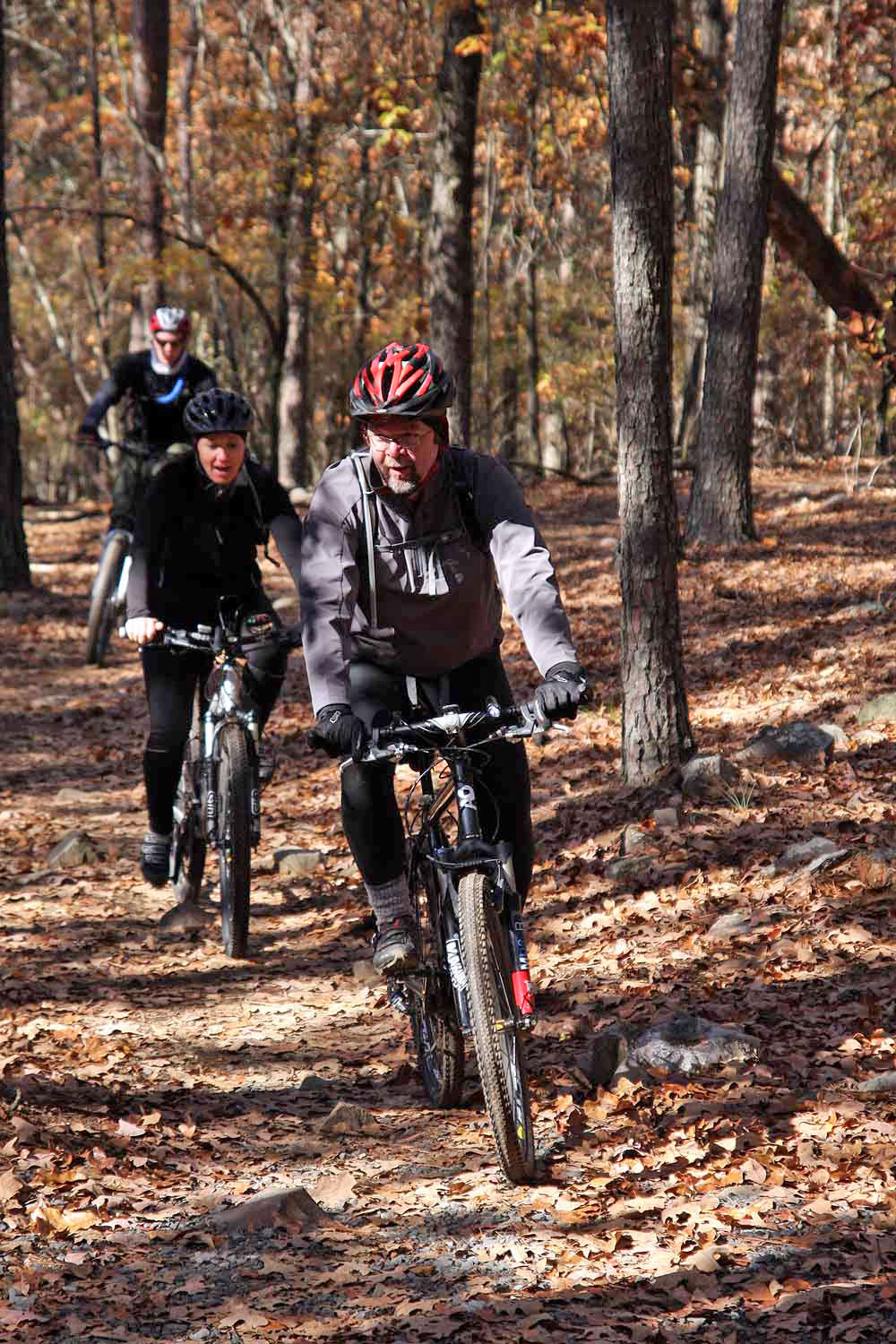 Most of the rest of the race would be on our bikes, which is probably our strength. We picked up points fairly quickly heading west along the Arkansas River Trail on the Little Rock side until we came to checkpoint 4 at the top of the Big Dam Bridge. We noticed water leaking out of David's pack so he handed our passport to Lisa to punch the card while he empty the pack to find the problem. The passport is a card with the checkpoint numbers on it. Each checkpoint has a unique hole punch attached that is used to prove your team found it. David readjusted his pack and we were soon back on the bikes and  headed to North Little Rock.
That time we messed up twice
Just as we were about to enter Burns Park Lisa realized she no longer had the passport. Lisa and David took off at a sprint back to CP 4 while I scanned the trail side for the passport. We had good karma that day, Lisa found the passport on the ground near the checkpoint. I would have bet that it had blown off the bridge by then. We were back on our way but now behind several teams. We made short work of CP 5 but the next one threw us. By my plot it was in an area familiar to me. The site of the canoe put in during Lisa's first ever adventure race. It was a tough hill climb to get there and we couldn't find the checkpoint. I re-plotted the point and realized we were on the wrong side of the nearby creek, we would have to ride back over the hill to get around to it. Grrrrr. Once on the other side it was pretty easy to find since many teams were coming out of the woods having found it.
Back in the race
I knew exactly where the next checkpoint was, we got it quickly and we moved on. I thought the next checkpoint was up the road but I was wrong again. This time it wasn't a bad plot, we had gotten off  the marked course. A turn in the course had caused several teams to get mixed up on the next checkpoint, a transition where we would drop our bikes and start the map and compass work. We suddenly came to our senses and went back to the last place that we knew was correct and suddenly saw our mistake. We headed down the trail with several teams in tow now.
At the transition we dropped the bikes, changed shoes, took a bearing and were off into the woods. Dead reckoning put us within about 20 feet of each checkpoint and we were soon passing teams and picking up points others were missing. About halfway through this section my knee started really hurting on the down hill trekking. The leaf hidden rocks were taking their toll. Soon we were back at the transition and on the bikes again. Finally a mountain biking section after having biked more than 15 miles on roads. David hung on as Lisa and I flew down the trail and we began to realize that the race directors had put more mountain biking in the race than we had expected. They put in one of the tougher climbs at Burns Park. We did it and passed some more racers on the way up.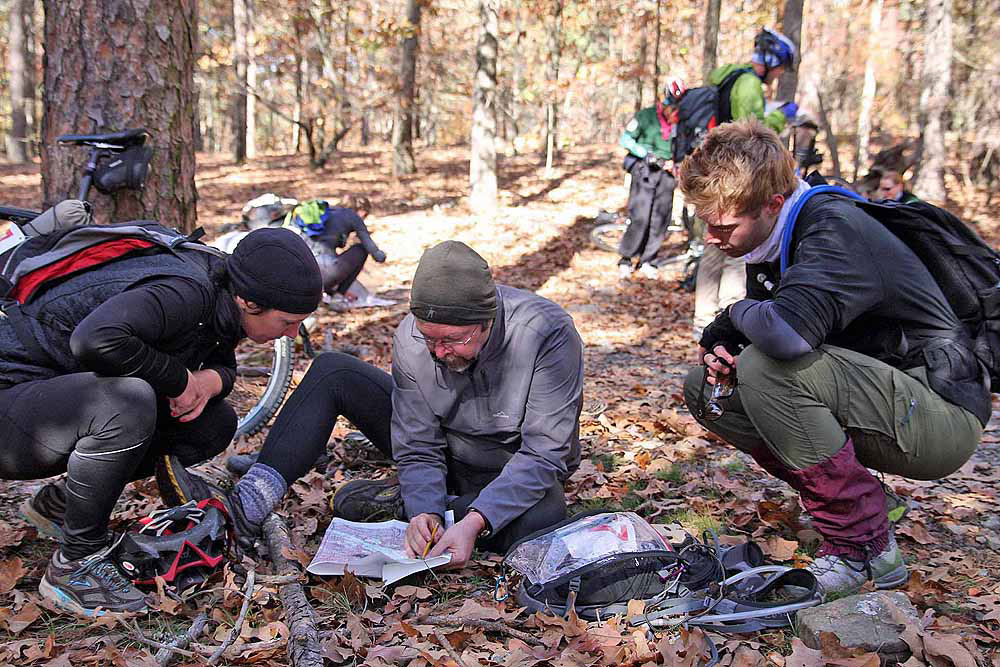 Is it a mistake if everyone does it?
We soon got to a checkpoint at the base of the Emerald Park trail. This is a trail that is a great workout and can really test your technical skills. It is nothing but switchbacks for almost a mile to the top of Fort Roots. The race instructions said to follow the marked mountain bike trail. It was marked. No checkpoint was listed for us at the top but we were told to always follow the instructions. This was going to hurt. At the top we followed more signs to a checkpoint that we finally found but realized it was for the long course race. We had no reason to be up there. We took the fastest way down Fort Roots and headed for one more checkpoint before the ropes section. We put our heads down and rode as a paceline as fast as we could.
Our climbing section for this race consisted of a rappel from the top of a five story parking deck. Rappelling always wakes me up and gives me a little extra energy during a race. This time was no different. In no time we were back on the bikes and headed for the finish. We got to the finish table at the boathouse 6 hours and 15 minutes after the start. We were the first 3 person coed team to arrive. Our team did well.
I hope that adventure races make a comeback, it's unlike any other sport. Adventure Racing involves teamwork, strength, endurance and being able to think when really tired. They are challenging and sometimes we could use a good challenge to know we are alive and we are capable of anything. So start getting ready to give it a try next year.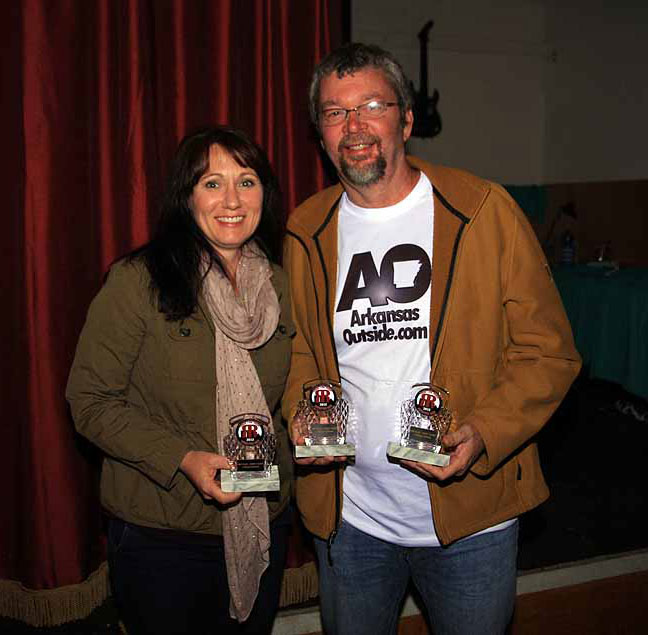 Thanks to the race organizers (Traci, Brandon and Nate) for keeping this race going. Thanks to the volunteers who really make it happen and thanks to Cliff Li for all the photos. Next year, Cliff gets to race again.
Photos are now posted on the Raid the Rock Facebook Page (six albums worth)