We had our annual Christmas hike on Christmas Day as usual and it was great. Another tradition that is a keeper. On to New Years. Of course we started off the year with black-eyed peas. Lisa made a wonderful black-eyed pea salsa and that along with some chips should help get us off to another lucky year.
As Christmas Day is normally reserved for a good hike, we used to have a cycling tradition on New Years Day. We found that tradition again this year. We opted for the 20 mile (19.8) loop starting at Lake Sylvia and riding through the Ouachita National Forest. This is a favorite training route and we saw several other mountain bikers out there as we rode the forest roads.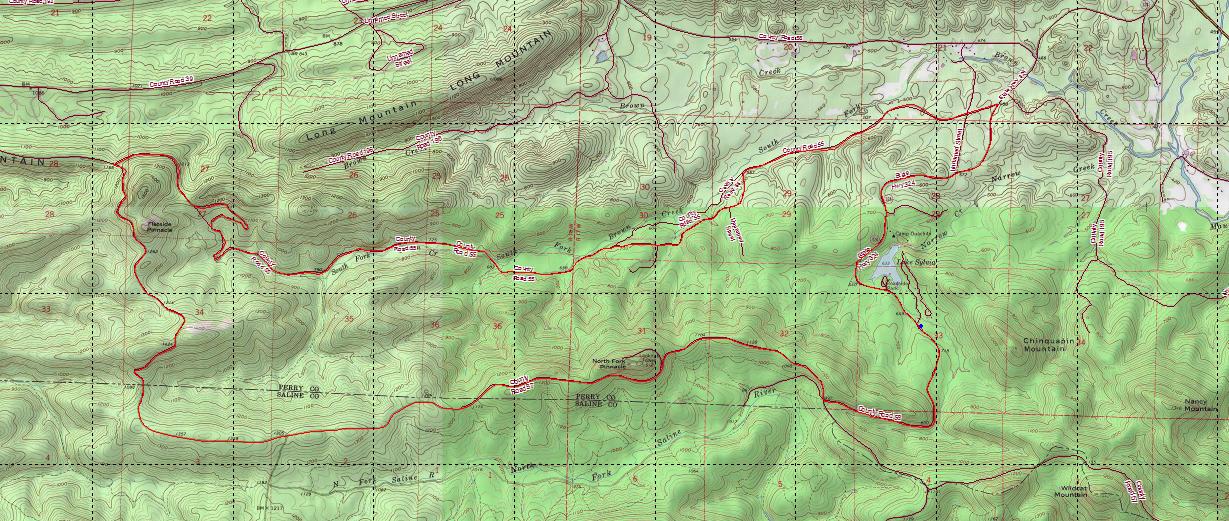 Oh, and it was cold! We were not wearing our best winter clothing for the ride so it was all about getting the heart rate up to stay warm. This meant the climbs where of a comfortable temperature and the downhills were brisk.
We prefer to do the ride counter-clockwise starting at Lake Sylvia. For you youngsters who don't know what a dial clock is, that means you turn right out of the parking lot. 🙂 The first couple of miles is paved road until you make a left turn on 805 (dirt road). You then get to follow this road for several miles of just rolling. I say rolling because on this day the road was a good hard-pack. I've been out here before when it is a bit dusty and gravel had been added to the road making it a bit more torturous. Finally we came to "the climb". About a mile of up, up, up. We were feeling warmed up at the top. We knew though that we had another tougher climb to the Flatside overlook  just ahead. The overlook is about the half-way point and is a beautiful place to stop and have a snack. This time we didn't stay long as the wind was getting to our bones. Back on the bikes.
Immediately after the overlook we get almost a mile of very nice downhill and then a sudden change to straight up. Probably one of the hardest hills on the ride. We found our granny gears and spun our way to the top. The next few miles are up and down, up and down along a ridge line until you finally get to North Fork Pinnacle and the last 2.5 miles of the ride. This is why we always go counter-clockwise. The road goes down. No ups, just down. All the way to the parking lot. It was cold but still fun to let go of the brakes and just roll.
Once back in the truck we got the heater cranked up and headed home. Another tradition LIVES!