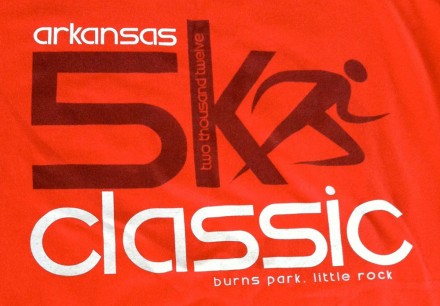 On a humid, muggy Labor Day weekend, the 31st Annual Arkansas 5k Classic took place at Burns Park.  The Arkansas Running Klub, lead by Captain Kirk Riley, hosts this race.  Proceeds benefit a place many of us love and train on, the River Trail.  Along with the Spa 10k, it has the distinction of being one of the longest serving races in the Arkansas Grand Prix Series.  Both joined in 1983.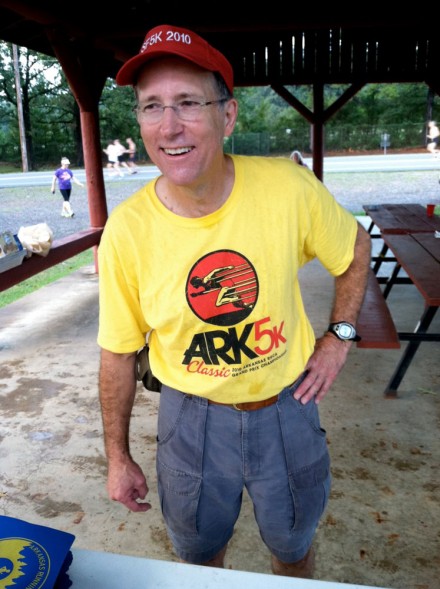 The course is an oval, but it's not a flat oval.  The inclines are subtle, but as runners know your legs can detect any changes.  The course is 2.5 laps around Fun Land, the baseball fields, and the tennis courts.  The rain from Sir Isaac made it unpleasant and sticky.
After handing out t-shirts to those that registered the day of the race, I headed to the finish line to pass out water.  I was greeted by the Go! Go! Girls, decked out in this year's fire red t-shirt, who were also volunteering.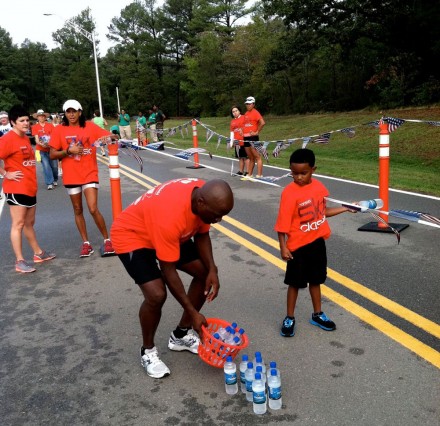 Greg Targoz, Brian Sieczkowski, and Brent Corbitt provided the Little Rock Roadrunner (LRRC) sweep taking the top 3 spots.  In the women's division, White River 4-Mile female winner, Aimee Larkin, captured another Grand Prix victory for the year, brining her total to 3.  Jenny Wilkes and Tina Coutu finished second and third, brining out the broom for the female sweep by the LRRC.  The teams capitalized on this being the Arkansas State Championship 5k race.
There was talk at the awards ceremony of possibly changing the race from Saturday to Monday and to change the course location.  The day change was not popular among those present, but many wouldn't mind the course change.  Some reminisced on the flatter and faster course in years before it moved back to Burns Park in 2010.
Linda House was among the 214 finishers.  Normally volunteering, she finished for the thirty-first time.  Last year, she was awarded a special award for running it 30 years.  In ARK Rundown September 2011, Capt. Kirk said, "I haven't even been running that long."  I'll do you one better Kirk.  I haven't even been living that long.
Next Grand Prix Series Race
The next race in the Grand Prix Series is the 6th Annual Sara Low Memorial 5k in Batesville.  It's the only race that wasn't part of the series last year.  The race honors Batesville resident Sara Elisabeth Low.  She was a flight attendant on the first plane to crash into the World Trade Center on September 11, 2001.  A special memorial service for Sara and others affected about 9/11 starts at 7:40 AM.
Race results provided by Mac's Race Timing Service 
You can usually find me lurking on Twitter @absolut_zer0 or reporting on races in the great state of Arkansas for Pace Per Mile.