The schedule for the 2013 Arkansas Mountain Bike Championship Series (AMBCS) and the Arkansas Mountain Bike Marathon Series (AMBMS) has been making the rounds on the internet for the last week or so. While not all information is available for the AMBCS at least we now have places and dates to place on our personal calendars.
The big news is that AMBCS & AMBMS now have a dedicated Facebook Page. Race Directors decided at the annual meeting last week that they needed a way for racers and race directors to interact and Facebook seemed the logical place.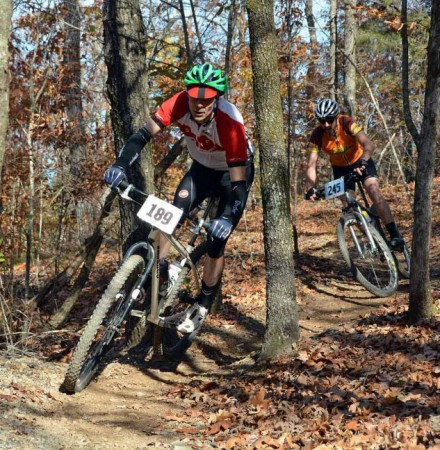 Nothing really new for the AMBMS this year. The Ouachita Challenge and Syllamo's Revenge have already sold out. The Spa City 6-Hour is on it's way to the same. Judging from the massive amount of hill repeats I witnessed on STRAVA last weekend, folks are getting prepped for series newcomer, The Slobberknocker, now in it's third year. After talking with a couple of race directors, I'd look for more long course races coming to the series in the future.
The AMBCS schedule had a couple of surprises. Starting off the series on May 11, will be Cane Creek Timberlands Race. This is the second year for this race held at Cane Creek State Park near Star City (just south of Pine Bluff). No long climbs in this race but some nice rollers, tight turns and lots of bridges will greet racers. Race organizers are creating some temporary trails to increase loop length for their debut in the series. Camping is available at the park along with a small gift shop. Restaurants and convenience stores are available in town.
The other new race is Rocking the Ridge in Jonesboro on October 20. Larry Yancey, race organizer and mountain bike legend, was very excited about bringing the series to Northeast Arkansas when I talked with him at the Phat Tire Cyclocross Race last year. The race will be held at Craighead Forest Park just south of town. There are a lot of overnight and eating opportunities in the area.
Look for some new sections of trail at Iron Mountain. Runners at last weekend's DeGray Trail Run got a chance to sample some of these trails and the word is, "Awesome!" Look for some direction changes in many of the other races as race organizers work to make each race unique.
Oh by the way, look for some higher purses at Devil's Den and Riverside this year. More on that later.
As always, when you stop in to spend money with the locals, let them know you are in town for the mountain bike race and mind your manners. It goes a long way to promoting the series and the sport.
Here is the whole schedule…
2013
Cross Country Event
May 11th, 2013
Cane Creek
Pine Bluff
June 2nd, 2013
Battle for Townsend's Ridge
Rogers, AR Hobbs State Park
More Info, Web Site
June 16th, 2013
3 Legged Dawg Mt. Bike Race
Arkadelphia, Arkansas
More Info, Web Site
June 29th, 2013
Riverside Classic
North Little Rock, Arkansas, Burns Park
More Info, Web Site
July 14th, 2013
Fat Tire Festival
Eureka Springs, Arkansas
More Info, Web Site
September 7th, 2013
Slaugheter Pen Jam
Bentonville, Arkansas
More Info, Web Site
September 14th, 2013
Northwest Arkansas Championship
West Fork, Arkansas, Devils Den State Park
More Info, Web Site
October 6th, 2013
Spring Hill Classic
Barling, AR
More Info, Web Site
October 20th, 2013
Rocking the Ridge
Jonesboro, AR
More Info, Web Site
November, 17th, 2013
Attila the Hun
Hot Springs, Arkansas, Cedar Glades Park
Web Site
2013
Marathon Series
March 16, 2013
Spa City 6 Hour
Hot Springs, Arkansas
Web Site
April 7, 2013
Ouachita Challenge
Oden, Arkansas
Web Site
April 20, 2013
The Slobberknocker
Lake Sylvia, Arkansas
Web Site
May 18, 2013
50 Miles of Syllamo
Mt. View, Arkansas
Web Site