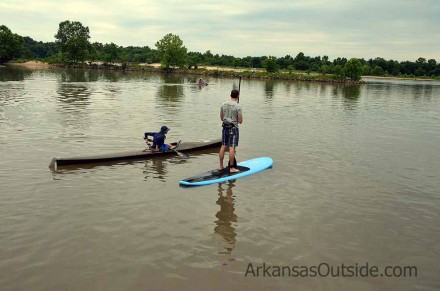 Things have changed. Several years ago my son and I entered the Arkansas River Canoe and Kayak Race starting at the boat ramp in Burns Park and finishing at the boat ramp under the I-30 bridge. It was a pretty quick trip we raced in the Old Town canoe we had at the time and although I don't remember winning anything we had a great time. Back then a couple of  "serious" racers showed up in nice fiberglass racing kayaks but they were not the norm. Most of the boats consisted of the recreational gems that are usually used for the leisurely floats on our many great rivers and streams.
Things have changed a little. The race now starts at Murray Park on the Little Rock side of the river but still ends at the I-30 bridge. This adds a little length to the course. Many of the same kind of boats that we saw in the past were there with the addition of paddleboards. Paddleboards look like surfboards but you stand the whole time with a long paddle. We tried these things in Florida a couple of years ago and have considered adding at least one to the Arkansas Outside armory of outdoor playthings. I was amazed at the number of high-end racing kayaks and canoes at the race. Sleek, fast looking boats with owners who looked like they spent a lot of time in them. The race also draws from as far away as Texas and Oklahoma.

Saturday's race started by spreading out across the Arkansas River poised for the downstream journey. This year the water was like glass without much flow. The overcast skies helped to keep things cooled off but by the end of the race we had a full on summer day.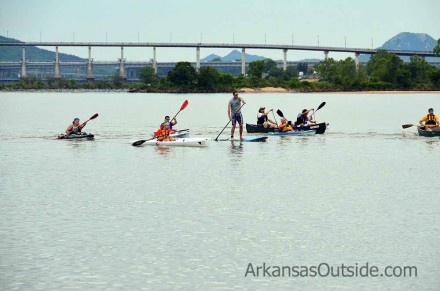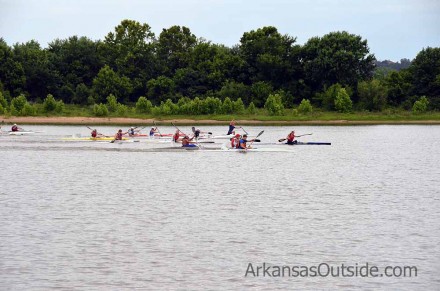 Racers paddled 5.5 miles past Burns Park, the cliffs of Fort Roots and Emerald Park, past golf courses and under 5 bridges. Near the end paddlers pass the USS Razorback (yes folks, we have a submarine).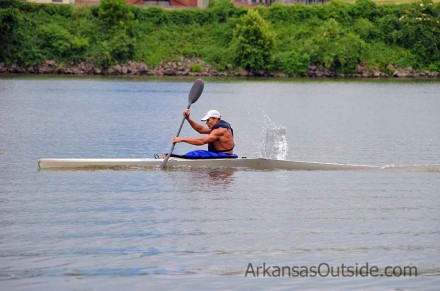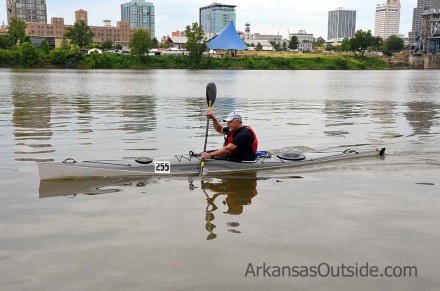 It really turned into a great day for the race. Fans had lined the river bank at Murray Park for the start and then headed downstream to the Arkansas Boathouse Club area for the finish.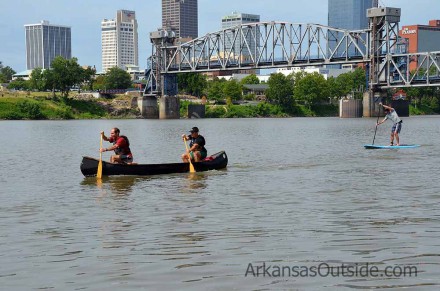 Many more photos available for free download on our Flickr site. The full results can be found on the race website.