The night was young, the dark of the woods was new as music blared from the speaker and laser lights strobed up into the trees leading runners on the Arkansas Traveller 100 Miler to the aid station at mile 87.2. Most of the food had been put away for safe keeping after the morning shift when runners passed the station at mile 28.6 of the course. We knew the first place runner would be coming in quickly; last year Wes Hunt finished the race in under 16 hours, but we were caught still a little off guard as he came flying down the hill to us barely slowing down long enough to take a drink before continuing down the road to a record breaking finish of 15:36. That's a 9:20 average pace over 100 miles in a race that boasts 12,000 feet of elevation gain. Let that sink in.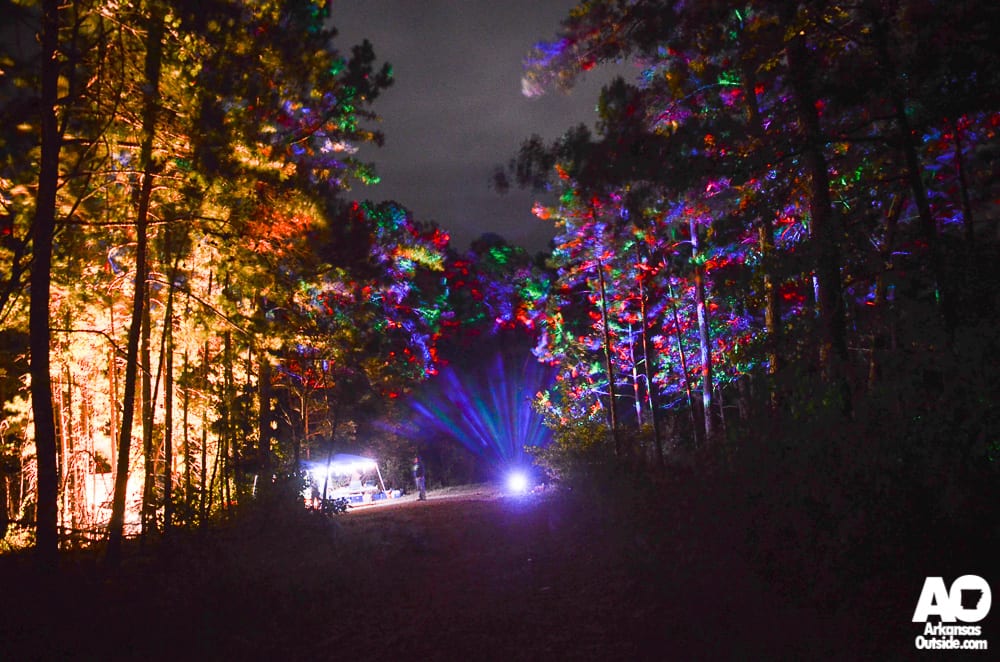 With motivating funk music on the sound system and a staff of incredible volunteers, some of whom had been in that remote spot since Friday evening, the station was soon fully stocked with all manner of sweet and salty snacks, ramen noodles, potato soup, coffee and the saving graces of tums, moleskin, and vaseline. Behind Wes came a stream of runners and their pacers, sometimes one at a time with several minutes in between, some arrived forming a line of bobbing lights coming down the road at us. There is no way to count the number of times one of us asked "what do you need?" or "what can I get you?", "do you want ____?"
As the night wore on into the morning hours, our questions were sometimes met with very specific responses, but more often we were met with the blank stares of the staggering sleep deprived zombies who came shuffling up to our tent.  Occasionally someone we know well would come in to a mass of cheers and hugs. If they arrived smiling, they left smiling bigger and if they arrived downtrodden, blank or as happens sometimes, in tears, they left with at least a grin. We can feed the belly, but more importantly our job is to feed the spirit as well and send them on their way with a little wind at their backs. A few of them, like Deb Baker, got a special send off of split jumps and cheers of GOOOOOO! Or like Chris Ho a shoulder to lean on, literally lean on, while he stretched out tired legs.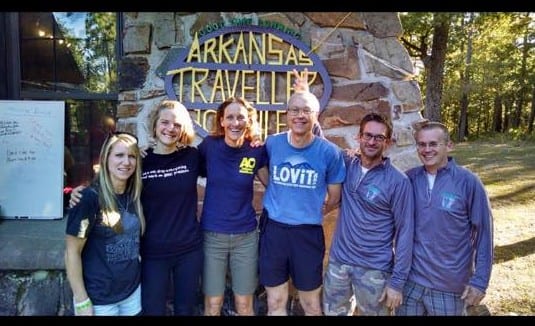 In between taking care of the runners who made it to mile 87, we listened in to the radio dispatches keeping an ear out for news of several friends still out on the course. All too often during the wee hours, we heard the distressing news that a runner was forced to drop from the race. There were a few minutes of real concern when we heard one of our own had a medical situation serious enough to call for an ambulance. Luckily he was okay and was well taken care of by the nurses on his crew, but it is comforting to know that help was readily available if needed.  Thanks to the Central Arkansas Radio Emergency Network who track runners' progress and pass news between the aid stations and home base, and the Williams Junction Volunteer Fire Department, help is never far away. The Williams Junction Fire Department helps with many of the endurance runs and cycling events that pass through their area, they deserve kudos as do the radio operators who stay up all night making sure everyone stays informed.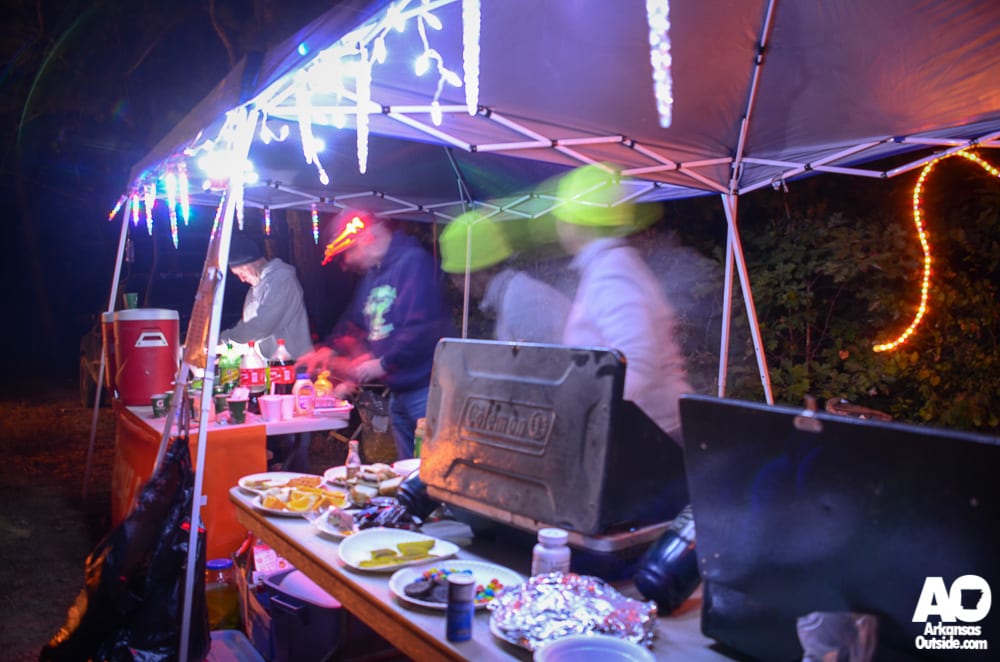 As daylight arrived and the number of runners left on the course dwindled, we waited for news of friends still on course, anxiously awaiting their arrival and flinching each time the radio brought news of another dropped runner who couldn't continue. Mini explosions of joy and exultation rang through our little camp as our buddies came and left. There may have been a few tears on my end when Andi Stracner arrived and left with 18 time AT100 finisher and Race Director Chrissy Ferguson. As they and their pacers Rebecca and Austin left us, we knew that Andi was going to make it after a disappointing drop last year. If you think running 100 miles one time sounds impossible, imagine the training that leads up to that one run – hour upon hour, mile upon mile, day after day of living, eating, drinking and sleeping preparation for the chance to finish one race. And Chrissy has done this 18 times on top of her duties as Race Director along with husband Stan and race committee David Cawein, Pat and Jerry Dixon, Carrie and Michael DuPriest, Linda House, Susy Phillips Chandler, Jim Schuler and 9 time finisher PoDog Vogler. Joining Chrissy in the "how can you do this year after year?" club are Katsuyuki (15 finishes) and Hiromi Hatta (14 finishes) who arrived at our station less than thirty minutes after Andi and Chrissy. The tenacity and mental endurance it takes to finish events like this is amazing. Runners come from all over the country to participate, earning another notch to add to their repertoire of 100 mile endurance events. This year it was an Arkansas Sweep of the top place Male and Female finishers with Wes's record breaking run and Alison Jumper's 19:16 finish. Congratulations to our friend Stacey Shaver on her second place female finish at 23:02.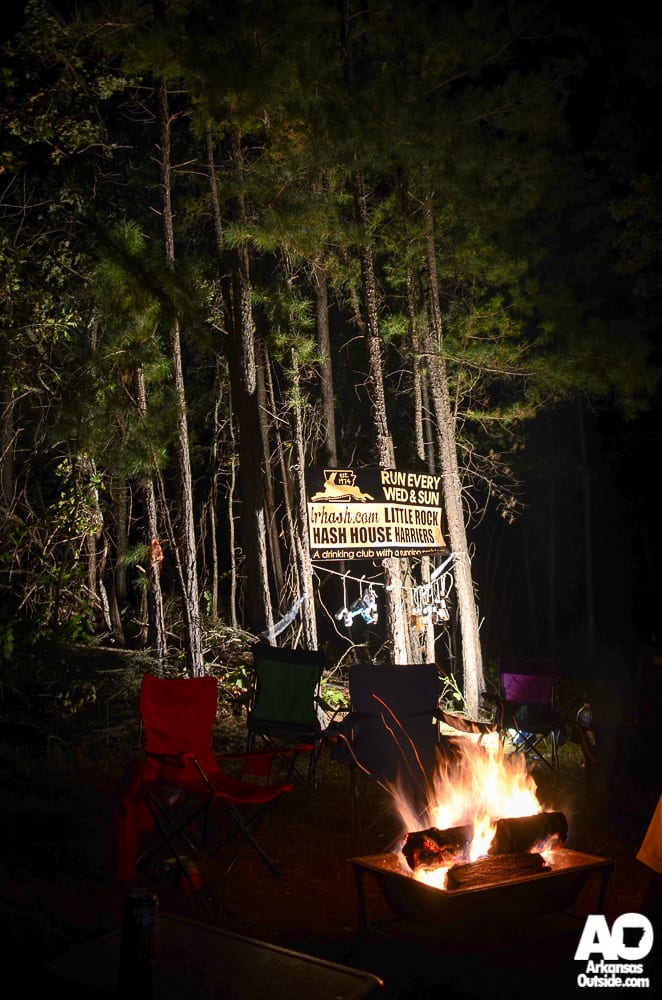 But as I always say, the story isn't just at the front of the pack. For years, Lisa Gunnoe has been the captain of the Pumpkin Patch aid station. Captaining an aid station takes preparation and a lot of hard work. This year, her crew took over so she could run. At 32 hours and 37 seconds, Lisa and fellow runner Heidi Seywerd ran under the finish arch together into the waiting arms of family, friends and race directors. First or last, it's the finish that matters.