Okay, so maybe it is a little cold but take some of Lisa's advice and you can still enjoy the outdoors in winter like the runners I saw on the Arkansas River Trail this morning. Many of the runners were participating in the Winter Race Series sponsored by the Arkansas Running Klub.  I talked to Kirk Riley, race director for the series,  to get more information. The series has been going on for about 30 years and takes place every Saturday in January. Four races, four different locations in Central Arkansas. The first race this year was January 7th and started in the Little Rock River Market. This series is more of a fun run than an actual race. Although time is kept it is generally up to the participant to keep up with distance. Today's race started at Cooks Landing in North Little Rock and followed the road through Northshore Business Park to the Arkansas River Trail and then on toward downtown. Race distances are advertised as 5K, 10K and 1/2 Marathon. Orange cones are placed every mile on the course so runners can figure out approximately where to turn around and head back. The runs have the usual features of running races like aid stations and food at the end, but there are no race numbers or anything else to signify that you are a participant.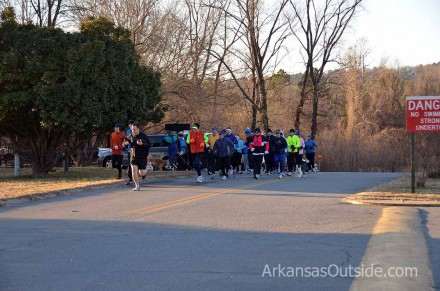 This series may be the most affordable I've seen. Participation in the entire series is only $15 or you can join the Klub for $15 and then pay $10 for the series. So it's still affordable if you can only make the last two runs. Next week it is in Maumelle at Lake Willastein and the final run on the 28th of January starts at the Big Dam Bridge Pavilion on the North Little Rock side of the bridge.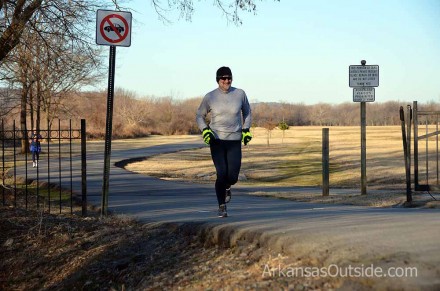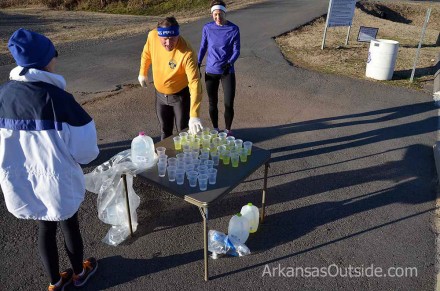 The series is a great way to get yourself out on these cold winter days and keep your training up. Run as far as you want, walk some if you want it's really more about getting outside with other like-minded people. See you on the trail.
More photos from the event on our Flickr Page. Download and share them!