The team that once conquered the Warrior Dash was back together to make an attempt at conquering the Gauntlet. These mud filled, obstacle course races seem to be multiplying rapidly across the country as people seek something beyond the 5K or 10K running race. People are looking for more. They want an event to inspire memories and tales of fantastic feats of strength.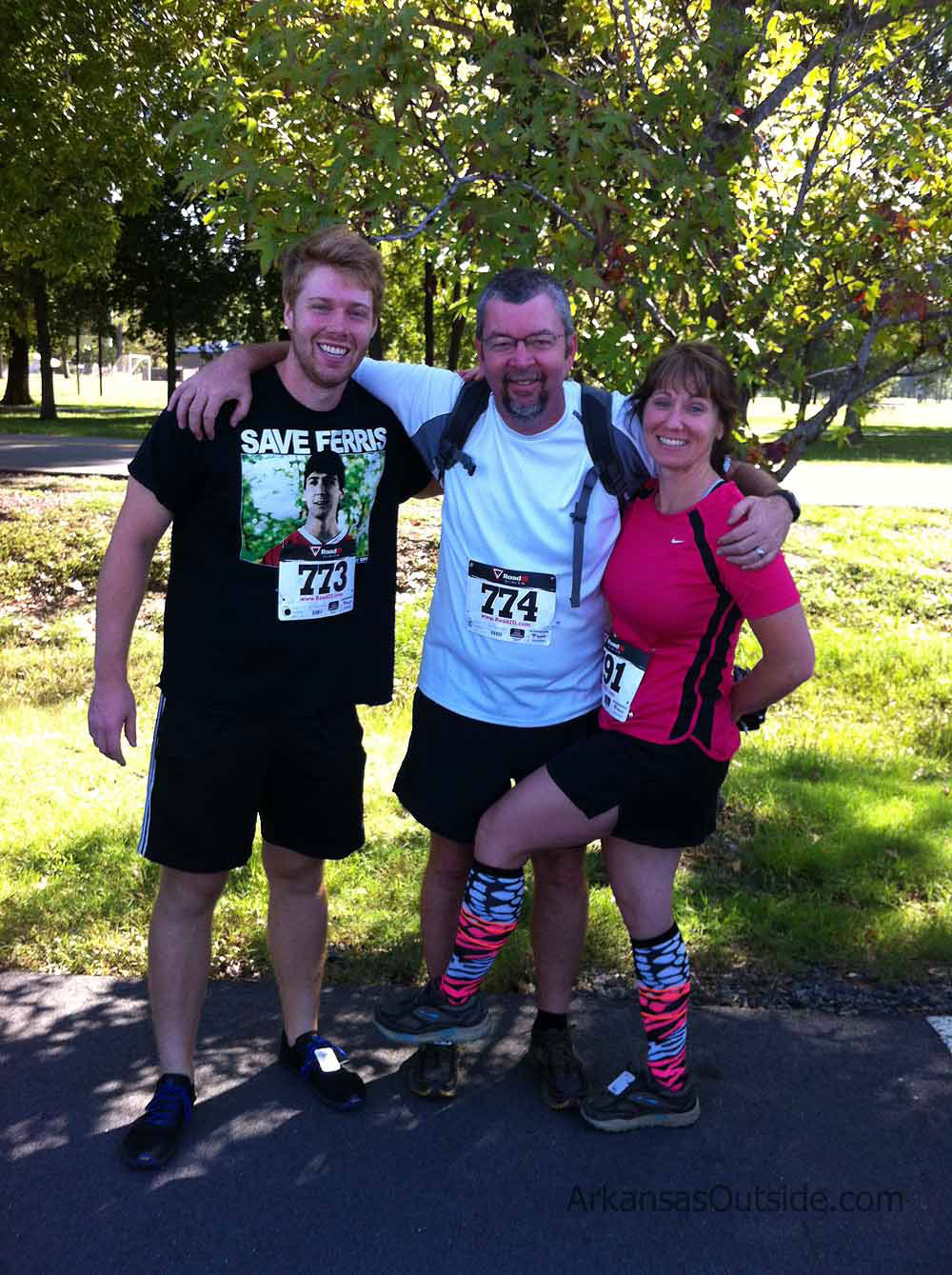 Little Rock has long been home to the Mud Run and I would recommend joining in those festivities this year. Wear a costume, it's important. These newer muddy races are something a little different. It's not just about getting dirty, it truly is a workout.
It would be impossible for me to do this race without making comparisons to the Warrior Dash. It's what happens when you attend similar but different events. Riverfest goers compare this year to last or concert goers compare the new Journey with the old Journey. It can't be helped.
From the start, Conquer the Gauntlet was different. The North Little Rock venue being only their second outing having started with a Tulsa race in August, was near a major population center instead of the very rural setting of the Warrior Dash. This changed some of the dynamics. We didn't have to plan our entire day around the event this time and most of the other participants wouldn't either. This race would be about racing and then moving on to other things that day.
We arrived at the Burns Park soccer fields for our 11 am start 45 minutes early and found a good parking spot quickly, got registration taken care of and put our stuff back in the vehicle all while sharing pre-race nervous banter with friends. As it got close to start time we realized we could use some water before the start and the only thing available was $1 a bottle but we had left our money in the truck. Brandon Butler, an old friend, was there helping with safety issues and was able to get a bottle from his command post to drink down before the start.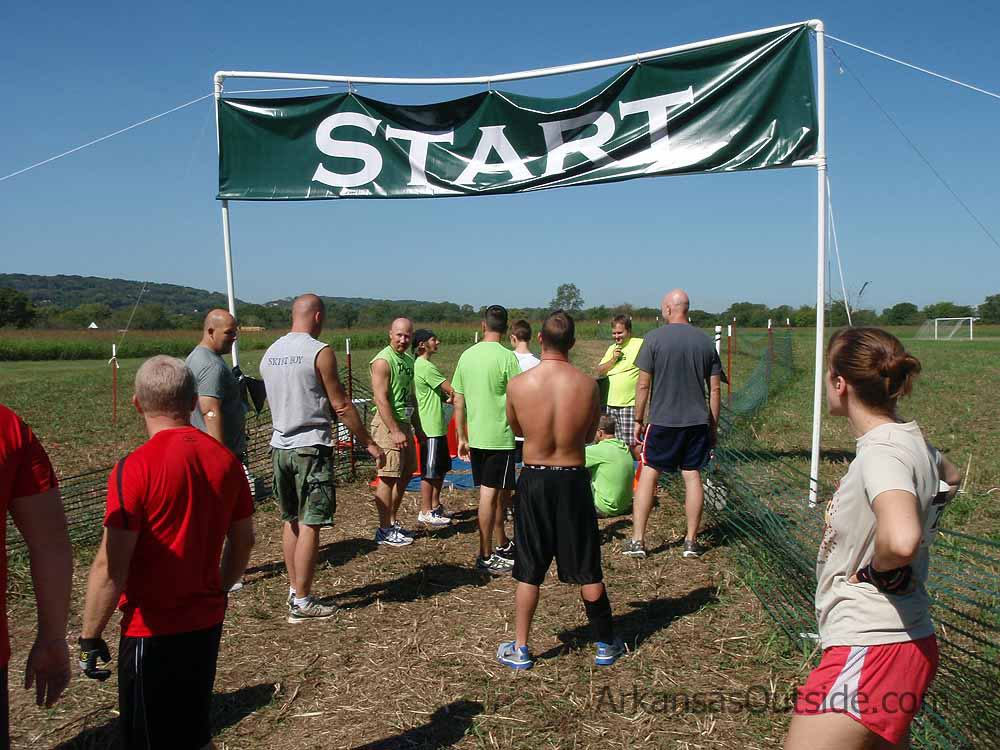 The race went off in waves every 15 minutes throughout the day. Our wave started with little fanfare and we soon found ourselves running through a field. The course zig-zagged through the vacant field between Burns Park and the Pfiefer Loop Trail in North Little Rock. There is a lot of diverse terrain in that field most people don't know about. Sand, short hills, water and some wooded gullys. The first section was one of the longer runs consisting of leaping over wood piles and sticks, maneuvering past thorns and running on a lot of uneven ground. Eventually we got to the first set of obstacles, a warm up of over and under walls with a little barbed-wire thrown in for good measure.
The next obstacle was a unique crawl through with a lot of rope and barbed-wire. Arkansas Outside contributor, Cliff Li was there volunteering and cheering everyone on. Since you could only go as fast as the person in front of you it was important with this and many of the challenges to get behind the right person or get out in front.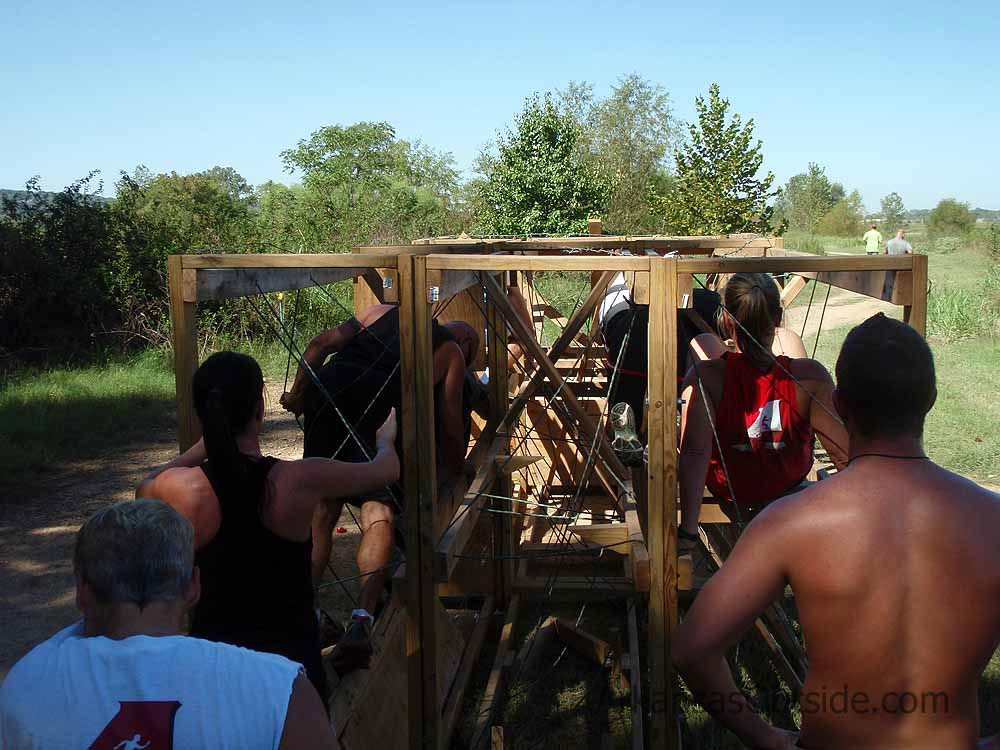 The race soon dropped into a low area in the field where we found mud, sand, steep hills and a lot of scrub brush. My shoes became heavy as they filled up with pounds of mud and dirt.
The obstacles began to multiply. Most run together in my head but a major theme was getting up and over stuff. The cargo net challenges are always fun and some of the walls were good but some were just a little too tall for the shorter people, even with help.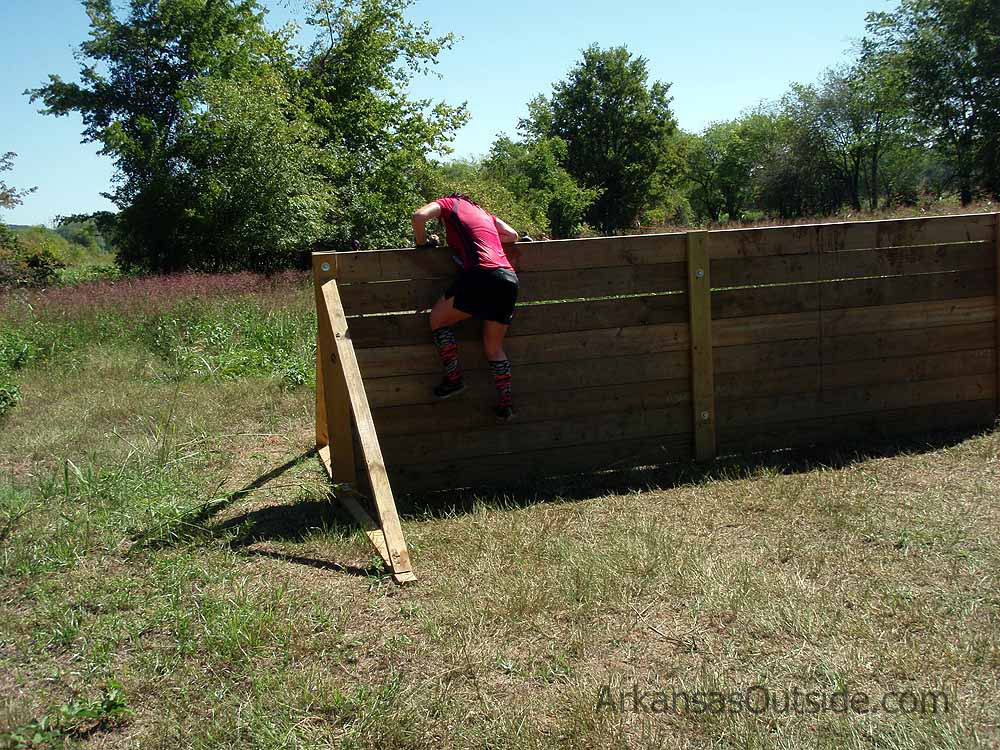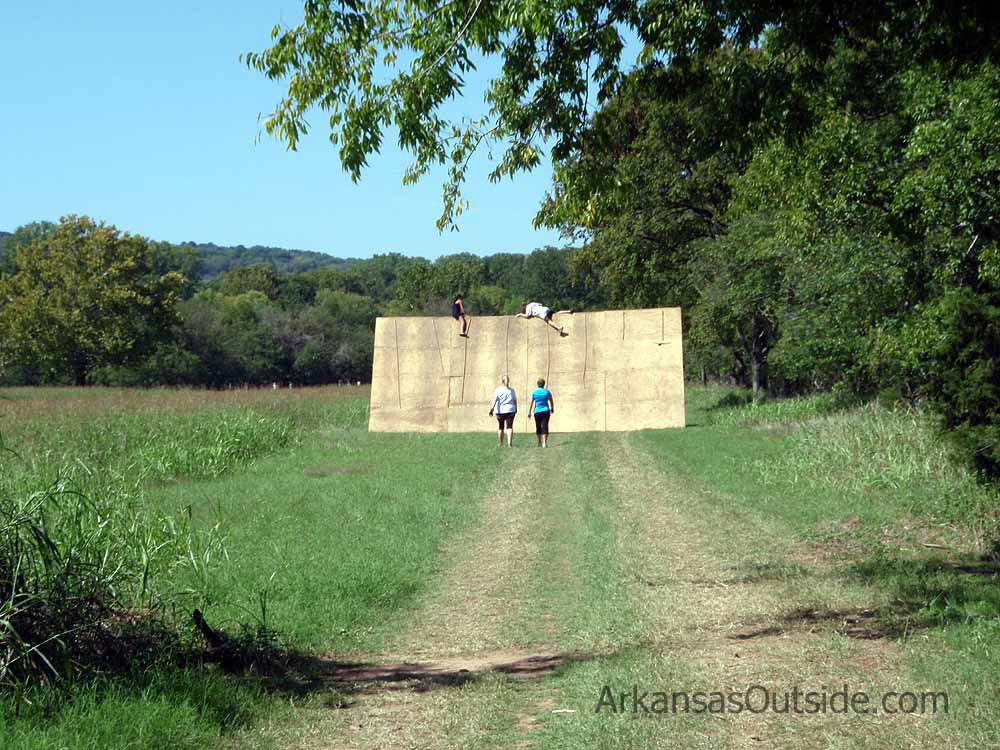 Having the race finish on a line parallel to the Arkansas River Trail was great. It really pushed you to run more when you have that audience cheering you on.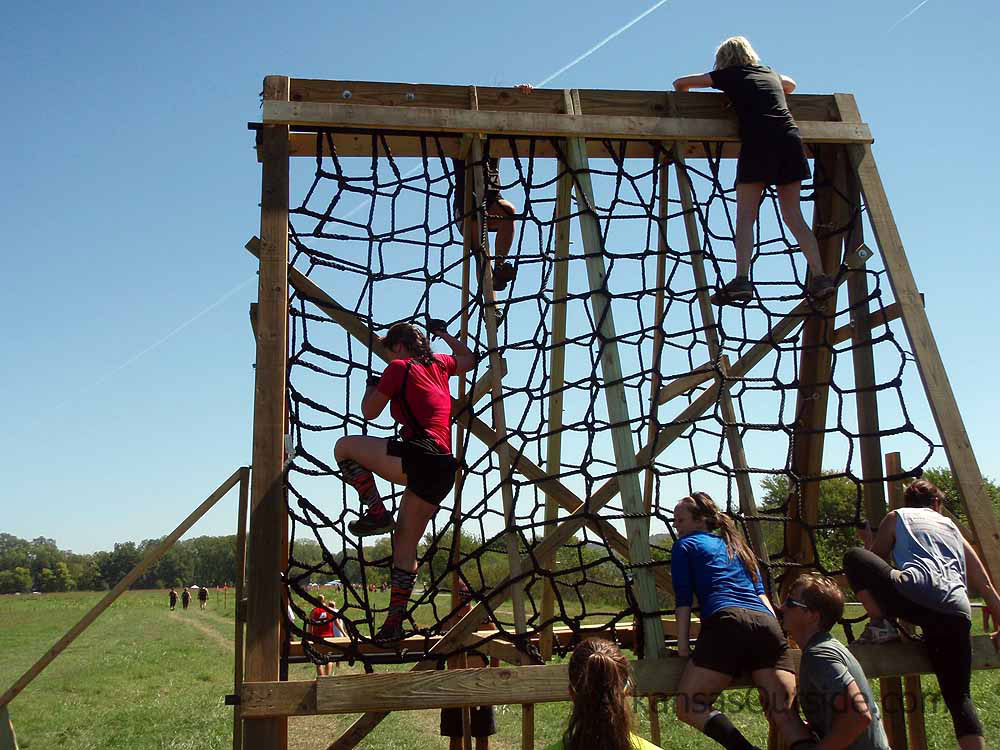 The race finally goes through the last obstacle, The Gauntlet. Swinging tires and other things designed to make you concentrate when you are at your weakest. We negotiated it without mishap and ran on to the finish. The Boy finished about 10 minutes ahead of Lisa and I (damn youth). It was fun but we were a bit disappointed that we weren't able to complete all the challenges.
Unlike the Warrior Dash, the party atmosphere was missing at the end of Conquer the Gauntlet. No band or music and being a city park, no beer. Also, since most people were close to home they were able to head out to other adventures and we did the same. If there had been more post race activity, we would have spent more time there.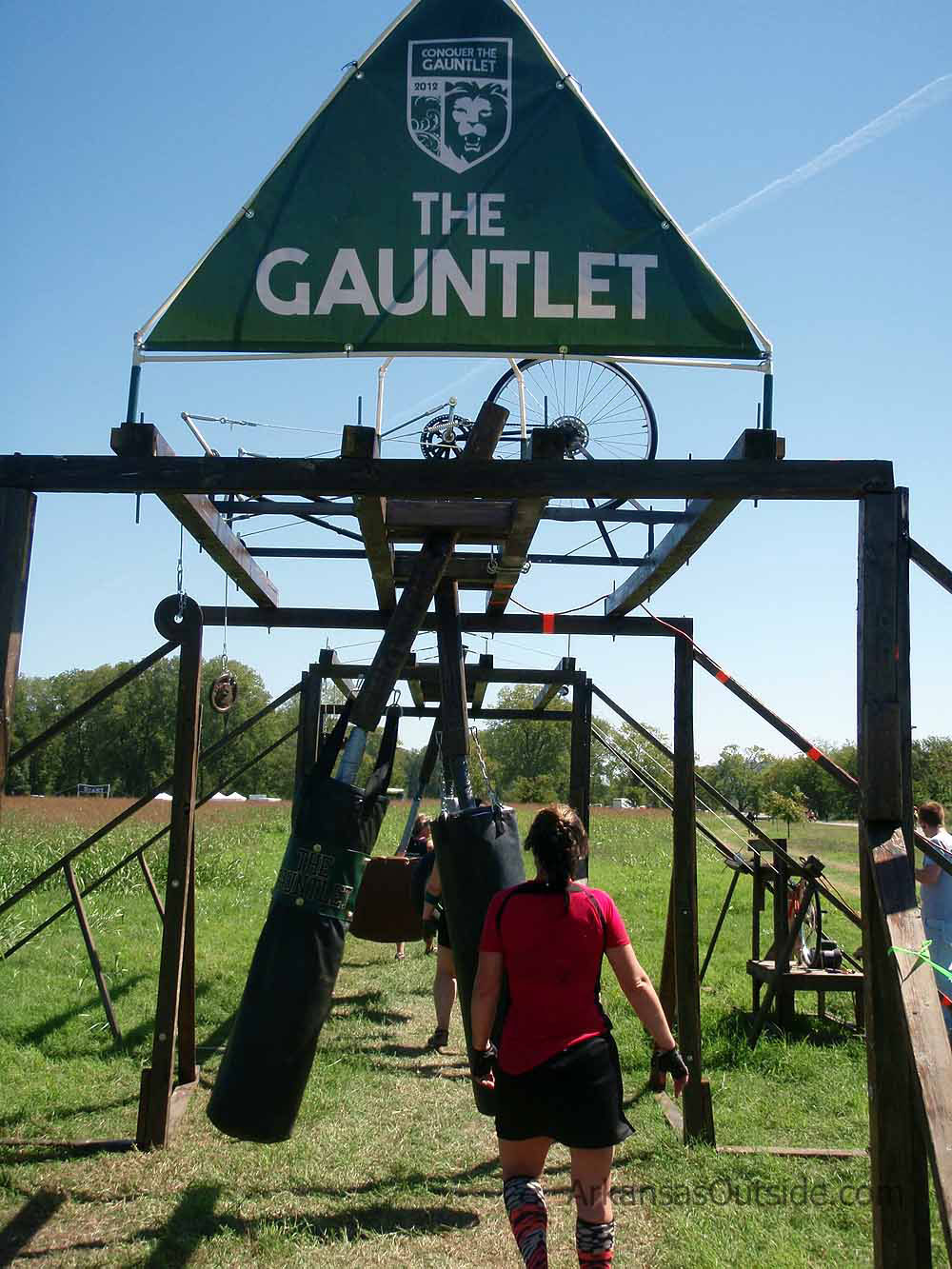 If you are interested in doing one of these types of races check out the Lizard Creek 5K on October 20th and make sure you are signed up for all the fun at the Little Rock Mud Run on October 27th.