Bike polo is one of the lesser known biking-related activities out there.  Chances are, you wouldn't even know it existed unless you know someone who actually plays it.  It's got sort of an underground hipster type vibe, but not the kind found in some dark back alley.  It's usually played on a court the size of a tennis court with hockey goals and sideboards.  Three person teams play each other on bikes, where each rider is armed with a mallet that's used to control, pass, and shoot a street hockey ball.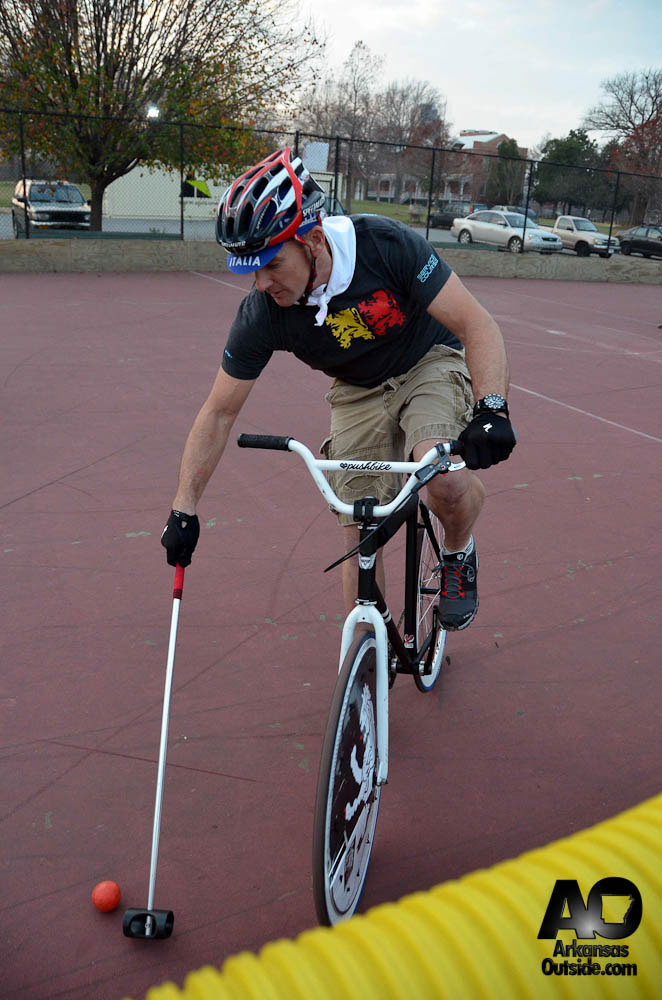 The rules are pretty simple – you can only score with a shot hit from the end of the mallet (one from the side is called a "shuffle" and doesn't count); if you put your foot/feet down (called a dab), you must remove yourself from play until you can tap in on either side at mid-court  you're not allowed to grab, push, or kick others, but you can use your bike to block, and mallet-on-mallet contact is allowed.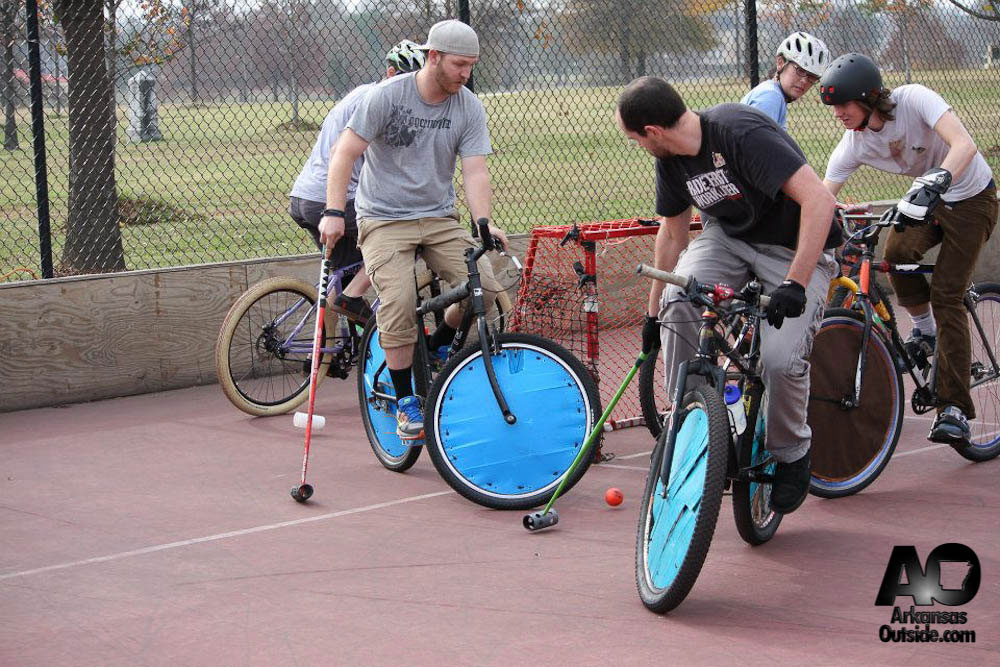 Seeing as how I love just about every aspect of cycling, when I first heard about bike polo over a year ago, I decided it was something I needed to check out.  I went and watched a couple of different times before getting up the guts to try it out myself.  This is one of those activities that's best learned by doing.  I had a blast my first time out.  I somehow even managed to score a goal which I attribute to beginner's luck.  It looked like fun to play, and it exceeded my expectations after I had a go at it. For the next year or so, I dropped in for pick-up games occasionally and eventually acquired my own mallet and a single speed bike dedicated for bike polo.  The Little Rock Bike Polo group is a eclectic and super nice group of people.  They are extremely friendly and encouraging, especially with newcomers.  It wasn't long before I became friends with some of the regulars.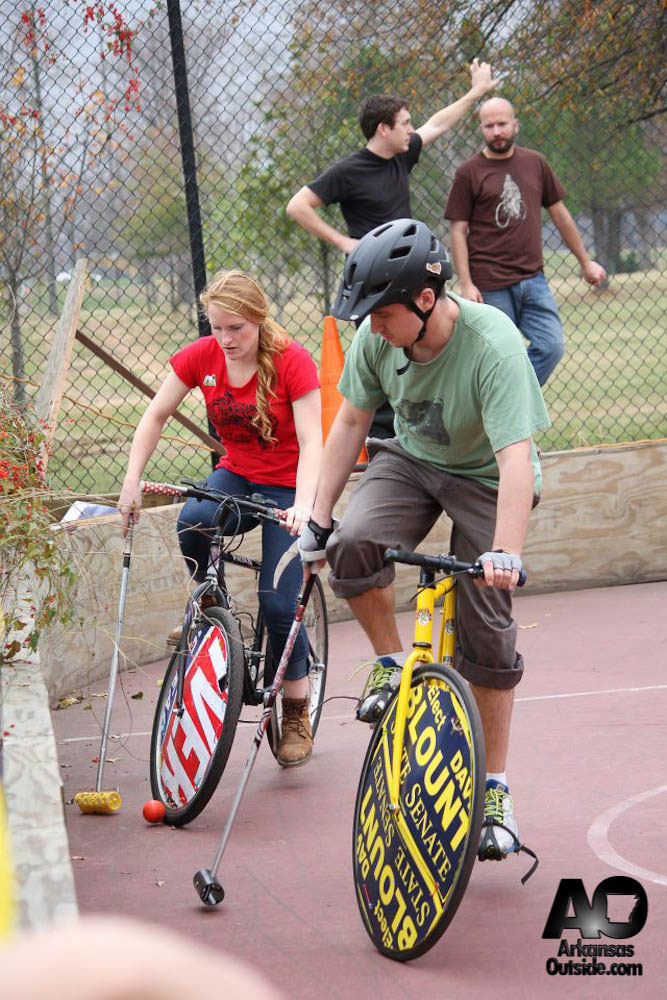 This past weekend, they held a friendly tournament dubbed the Little Rock Bike Polo Battle Royale.  As I understand it, a friendly tournament is one where it's all done for fun, for little or no cost.  This was going to be my first ever bike polo tourney and I was a bit nervous but excited.  I was told that people were going to be ranked by skill level so that eased my anxiety a bit.  At least I would be playing against people close to my skill level. However, that was a misunderstanding on my part.  After players ranked themselves, teams were formed randomly with an A, B, and C player on each team.  Duh.  That makes more sense of course.  I ended up getting paired with Nathan Vandiver, a LR bike polo veteran, and a guy named Jason who came all the way from Memphis to play.  There were a total of 9 3-person teams, consisting of players from the Little Rock area, Memphis, and Russellville, and they set up a double-elimination bracket.  At the very least, we would get to play two matches, but I hoped to win at least one to play more.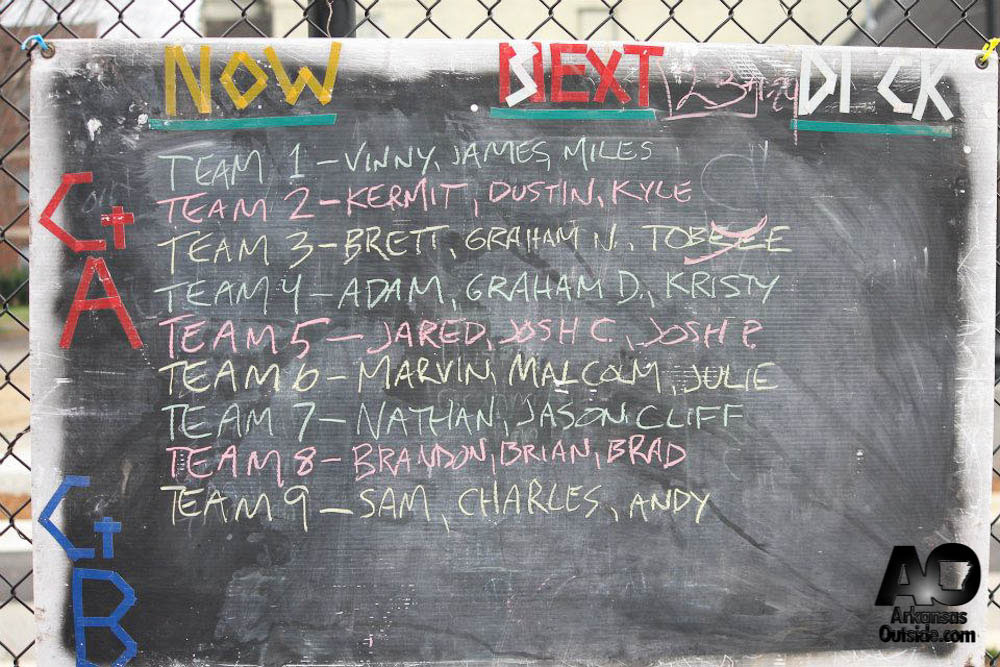 Our first match definitely showed my noobishness.  I was ineffective as goalie and even less useful on offense.  Yeah, can you say "Cliff IS the weakest link"?  We fell way behind early and basically had little to no chance to come back.  The format of forming random teams definitely hurt us in that we had never played together even remotely in the past.  I still had fun, but we promised to try harder in our 2nd possible elimination match.
What the bike sees:
While waiting for our next match to start, I had a great time observing the other matches and watching the veteran players skillfully control and pass the ball.  Just trying to ride your bike while controlling the ball is difficult enough.  Add five other players to the mix, and trying to figure out tactics complicates things immensely.  While I understood and had the basics down, the intricacies of the game still eluded me.
Since we lost our first game, that moved our team to the loser's bracket, so the second match would be an elimination game for one of the teams.  We did much, much better, working hard to eke out a 2-2 tie at the end of the 10-minute regulation.  When a game is tied after 10 minutes, it goes into a sudden-death overtime period, where the next goal wins.  However, for this tourney, there was a special twist.  During sudden-death, any player who puts his foot down is out of the game.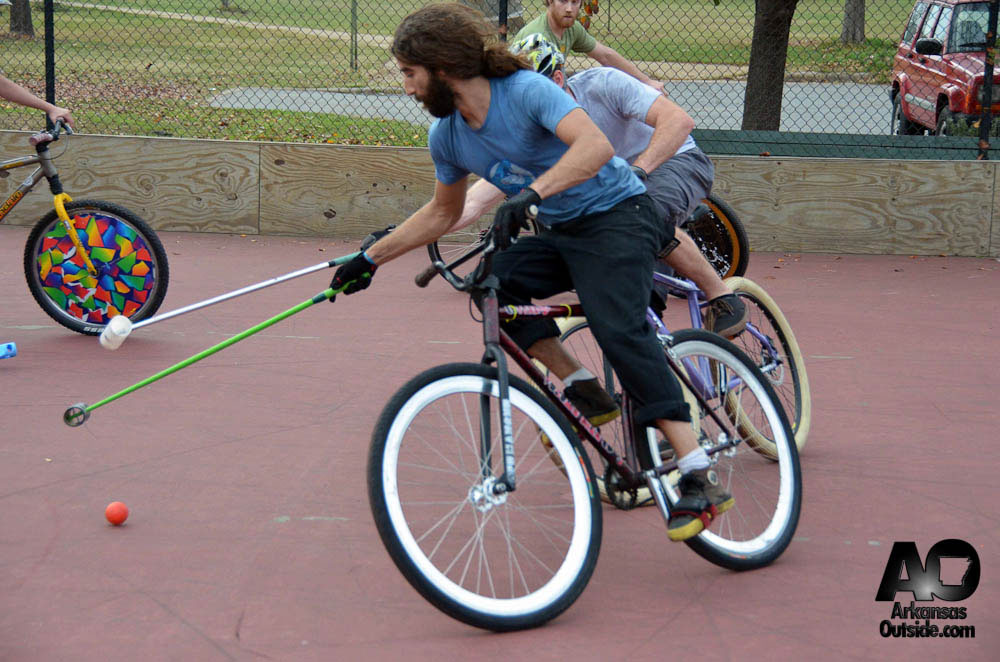 Before we started OT, Nathan told us that we needed to do our best to stay in the game and hope that the other team made some mistakes.  He also told us their veteran player was an accomplished trials rider so it was unlikely he would eliminate himself.  I started off playing as our goalie and watched the action from afar.  Nathan and Jason controlled the ball well and put some pressure on their side of the court.  One of our opponents lost his balance and was eliminated.  That gave us a "power play" advantage being up a player.  Not too long after that, their second player dabbed and now we had a 3-1 advantage, with only their veteran player remaining.  He came out of goal to pressure the ball and our Nathan challenged him, hoping to take him out, but due to a slight miscalculation, it was Nathan who dabbed.  Now it was only a 2-1 advantage, but we were facing their best player.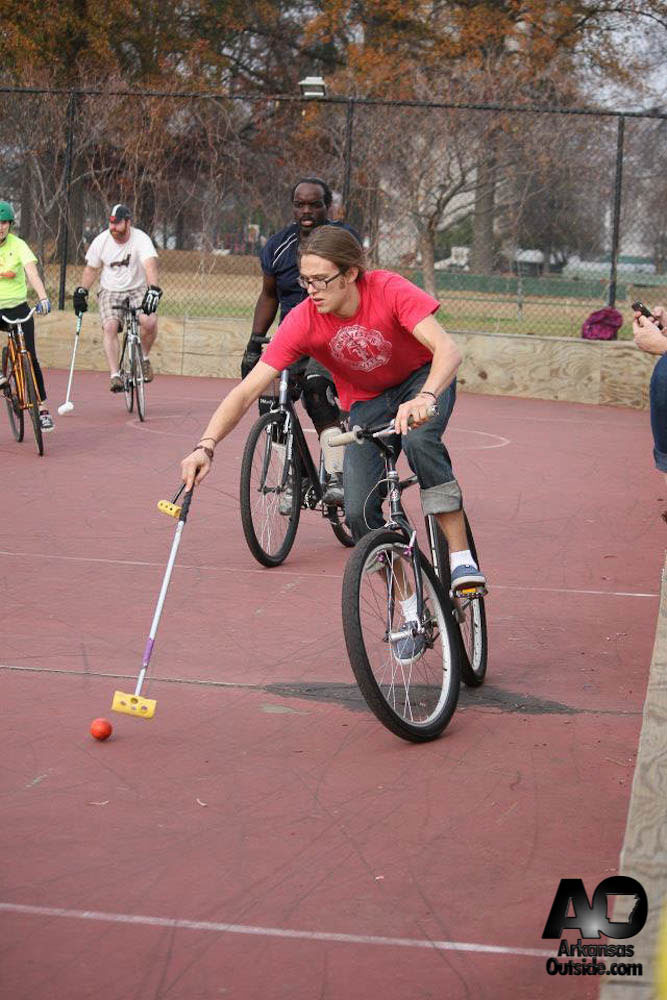 Now a moment of indecision for me and possibly a rookie mistake.  "Should I stay in the goal or should I leave the goal & try to help Jason outnumber their remaining player and hopefully get a good shot on their open goal?"  With their player seemingly contained, I decided the latter and made my way down the court.  Then somehow, he managed to get the ball past us, and broke through our defenses with the ball in the open.  He had a clear shot at our open goal and I raced as fast as I could to try to get in front of the goal in time, but it was too late.  I could not outride the ball and as the ball crossed the line, a huge roar erupted from the crowd.  We were done.  We put up a valiant fight, but it was not to be. I stuck around to socialize and watch the rest of the matches.  The championship match was pretty exciting. Being a double-elimination format, the team from the losers bracket had to win twice in order to secure the championship.  In the first game, they were down by a single goal and 30 seconds away from conceding the match when they made a near last second goal forcing sudden death overtime which they won.  The second and deciding match was tense and closely fought but in the end, the team from the winner's bracket (consisting of Brett, Graham, and Toby) prevailed.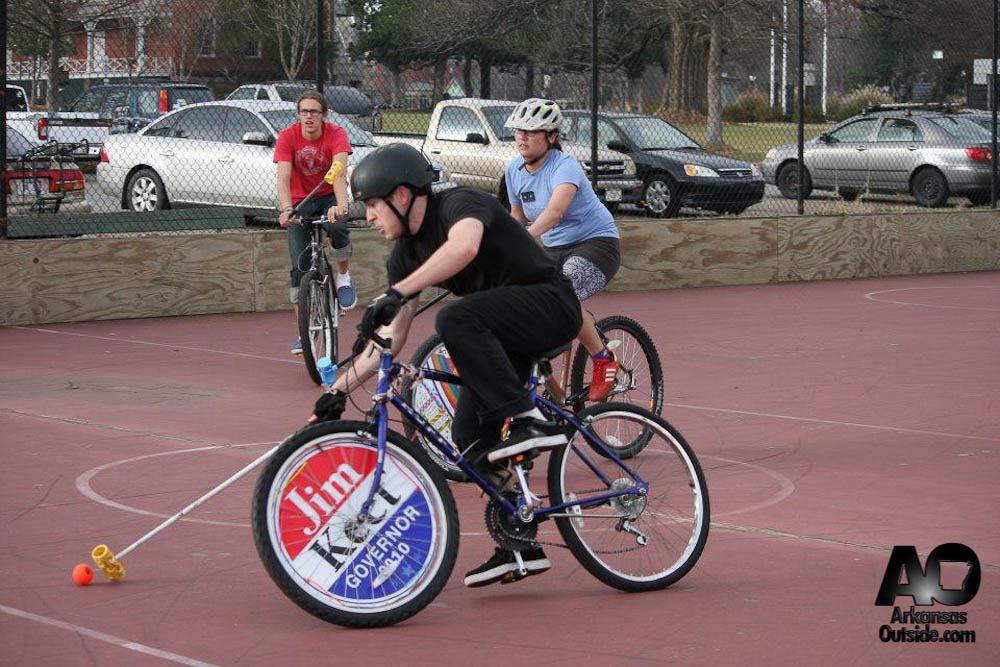 Awards were then given out to the winners, peer-voted MVPs (male & female), and the team that finished DFL (dead 'effin last).  There was talk about doing a bench tournament but I had to leave before that got started.  All in all, it was an enjoyable day and despite our losses, I still had a great time. If you or anyone you know is interested in checking out the bike polo scene, Little Rock Bike Polo meets at MacArthur Park (across from the Bowen School of Law) Tuesday nights starting anywhere between 7 and 8pm and Sunday afternoons at 2pm.  You don't even need a bike or mallet to play.  Just go on out & one of the regulars would be willing to let you borrow a bike and give you some tips and pointers!   Like I said earlier, they are a super cool group of people and newcomers are always welcome! To keep up with the Little Rock Polo group, LIKE them on Facebook.
(Photos by Cliff Li and Arkansas Outside)