The Bentonville Bike Festival promises a family-friendly weekend with the announcement of new events and sponsors
Bentonville, Ark. (March 21, 2022) – Bentonville Bike Fest, June17-19 2022, announces family-friendly events, world champion trials riders, and support from a local sponsor in anticipation of a weekend full of cycling fun. More on the Bentonville Bike Festival is available here.
Kids' Events
WHAT: Kids in attendance may participate in the kids enduro race, a type of mountain biking race in which the downhills are timed and the uphills, while mandatory, are not timed.
WHEN: Saturday, June 18, 2022
WHY: This is a great event for kids and families who are bike-curious, or who just want to get out there and enjoy a fun, active day.
HOW: Registration for the event will be available in April at www.bentonvillebikefest.com.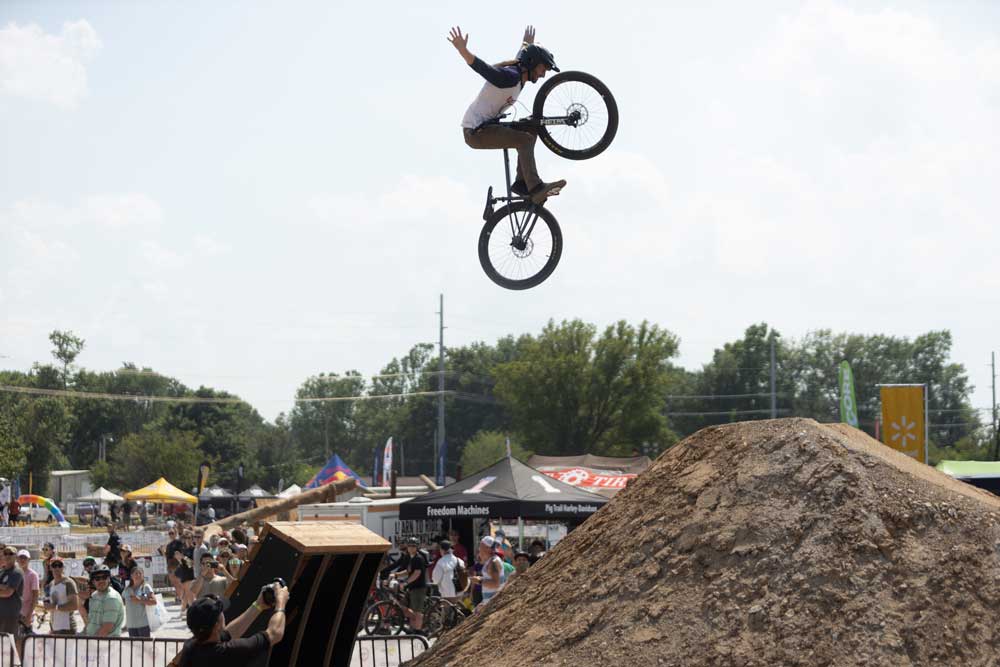 A World Record Attempt
The festival is attracting an impressive roster of elite, professional athletes. In attendance among them will be UK cyclist Jack Carthy, a specialist in the 26" category in trials cycling. At Bentonville Bike Fest, Carthy will battle against a handful of other top 3 world-class trials riders to attempt the world record for the highest forward jump.
WHO: Carthy is a nine-time UCI World Champion, in addition to 14 British titles, five European championships, and four World Cups.
WHAT: This record is based on height and is achieved by pedaling a short distance forward, jumping and using the front tire to hook onto the top of an obstacle and then jumping the back tire to the top as well. No ramps will be used, and the rubber of the tires is the only thing that can touch the obstacle in the process.​
HOW: The record will be broken if the athlete can jump higher than the current record, which is about 5.87 feet high (1.79 meters) and was established in London in 2017.
Additionally, Carthy will be competing in the trials competition at Bentonville Bike Fest, which will be sanctioned by the UCI for the first-ever UCI C1 competition. He will also join Bentonville Bike Fest founder Kenny Belaey to perform demos at the event.
New Sponsorship
This year, the festival has attracted a variety of sponsors, including the Ozark Outdoor Foundation. Ozark Outdoor Foundation is a Northwest Arkansas-based charitable organization dedicated to partnering with organizations to host, create and operate a variety of outdoor recreational events in Arkansas.
"This partnership is in perfect alignment with our mission of creating enriching outdoor experiences in Arkansas, and we can't wait to share this festival with the Northwest Arkansas community," Mike Spivey, President, and CEO of Ozark Outdoor Foundation said. "We welcome the opportunity to contribute to a healthy and entertaining experience for the entire community."
From world-class championship caliber races to fun outdoor family events, Ozark Outdoor Foundation focuses on positioning Arkansas as a premier outdoor recreation destination.
The event website is www.BentonvilleBikeFest.com.