Let's start with just a little background
Way back, in 1880, bicyclist formed the first advocacy group of its kind in the country. This group called themselves the League of American Wheelmen. Their goal was to improve the condition of the roads they used for transportation. Until the advent of the bicycle, roads were primarily used by horses, carriages and wagons, or pedestrians. A wheeled vehicle powered by a human was not yet the best mode of travel on the dirt and gravel roads of the time. Rutted byways and muddy streets slowed bicycle travel greatly. To address this, the wheelmen created the Good Roads Movement (not to be confused with today's Good Roads Foundation here in Arkansas which busies itself with vehicular transportation, mainly).
There is some great information on the Good Roads Movement and the partnership of bicyclists and farmers in an article in Smithsonian Magazine, a bit is excerpted here:
"Through the 1880s, spring and fall rains routinely turned dirt lanes into impassable mud pits that brought rural life to a standstill, stranding farmers at home with their produce and leaving grocers' shelves bare. In the summer, the roads bore deep, sunbaked ruts; in the winter, treacherous ice slicks. The nearby farmers who were responsible for maintaining these roads didn't have the means or desire to pave them, or even to post signs identifying them.

City streets weren't much better. Though many were paved with cobblestones or wood blocks, they were also slashed through with trolley tracks and scattered with trash and horse manure. In 1892, British novelist Rudyard Kipling savaged New York's "slatternly pavement" in a travel essay, calling the city's uneven, stinky streets "first cousins to a Zanzibar foreshore."

But the same ravaged paths that seemed primitive to foreigners like Kipling were normal for Americans. And they might have stayed that way if it hadn't been for bicycles, and cyclists who banded together to lobby for government funding of better roads." (more)
This movement also took root in Arkansas.
From the Encyclopedia of Arkansas:
"Toward the end of the nineteenth century, bicycling had become popular, and many bicyclists were unhappy over the condition of the roads they were attempting to travel. In 1892, bicyclists began the Good Roads Movement, which pushed for better roads and improved maintenance over the next ten years. While the Good Roads Movement started as a national movement, by 1896, Arkansas had developed a state branch of the movement supported by groups in most of the counties. By 1907, the state legislature had become involved in the funding debate. Act 144 (the Arnold Road Bill) passed by the Arkansas General Assembly in 1907 allowed the counties to set up road improvement districts at the request of a majority of landowners along a road…"(more)
Gaming Bicycle/Pedestrian Friendliness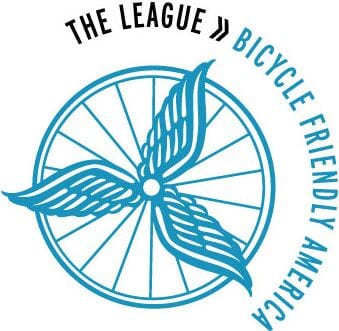 Over the years, the League of American Wheelmen morphed into the modern-day League of American Bicyclists (LAB) and remains very active in bicycle advocacy across the county. One of the major projects they undertake is a ranking report of all 50 states in bicycle friendliness. Over the years, this ranking has been the report card for states in their support for bicycle travel. Historically, Arkansas has not faired well on the report.
In 2008, Arkansas ranked 39th. Not bad, at least we weren't on the bottom, heck we really weren't close to the bottom. In 2009 we had moved to 38th. Yay! forward progress. Then, in 2010, we dropped to 45th and the following year, 48th (Thank you West Virginia and North Dakota, yes, we were getting beat by Mississippi). And then, in 2012, we hit rock bottom….50th.
It was a wake-up call for Arkansans and in particular Governor Mike Beebe's Chief of Staff, Morril Harriman, an avid cyclist. A government committee was formed to address the issues. The executive directors of (I'm using the department names of the time) Arkansas Department of Parks & Tourism (ADPT), Arkansas Highway and Transportation Department (AHTD), Arkansas State Police (ASP), Arkansas Department of Health and others met and it was quickly realized that the state had several things going for it if we could just get together on a few things. The following commitments were made:
In the following years, these remedies helped the state improve its bicycle friendliness ranking going from 50 to 37 in 2013, a dip to 38 in 2014, then to 36 in 2015 and 35 in 2017. Starting in 2015, the League began skipping a year. That brings us to 2019 and our best score ever, 32nd. It may not seem huge but moving up 3 points in a year is pretty good when you consider we aren't the only state trying to improve. As a matter of fact, it will continue to get tougher but I think we are up for it.
Please remember, the ranking is an interesting way to track how we are doing but the goal is to make all modes of transportation safe, accessible, convenient, functional, and enjoyable, whether you're walking, bicycling, using mass transit, or even driving.
How did we improve our score?
A couple of years ago, Governor Asa Hutchison formed the Governor's Advisory Council on Cycling* as a way to help the state improve bicycling infrastructure and encourage more bicycling by Arkansans and more bicyclists to visit the state. It's an unfunded council made up of representatives from several agencies such as Arkansas Department of Parks, Heritage and Tourism, Arkansas Department of Transportation, Arkansas Department of Health plus several members from the private sector representing tourism based companies, local advocacy groups, infrastructure design companies and more. In 2018, the council decided to recommend to the Governor that legislation be run to ad an Idaho Stop law in Arkansas. We would be only the second state in the country to have the complete law, the first being Idaho, of course. During the last legislative session, the bill passed and was signed by Governor Hutchinson in March. It would become Act 650 of 2019 and it went into effect in July of 2019 (details of ACT 650). This bit of legislation along with the 3-foot passing law has moved Arkansas up to 5th out of 50 in the Legislation & Enforcement portion of the rankings.
What can we do better?
Arkansas scored an 'F' in three subcategories on the ranking. This is the low hanging fruit. The interesting thing is, none of them will take construction money.
We score only 48th out of 50 in the area of Policies & Programs. Our 'F' in this area is our lack of a Statewide Complete Streets Policy. This would be up to ARDOT to create. Several cities in Arkansas have complete streets policies but a statewide policy is needed. The US Department of Transportation defines Complete Streets this way:
Complete Streets are streets designed and operated to enable safe use and support mobility for all users. Those include people of all ages and abilities, regardless of whether they are travelling as drivers, pedestrians, bicyclists, or public transportation riders. The concept of Complete Streets encompasses many approaches to planning, designing, and operating roadways and rights of way with all users in mind to make the transportation network safer and more efficient. Complete Street policies are set at the state, regional, and local levels and are frequently supported by roadway design guidelines. (more)
A complete streets policy would allow the state to Move forward with making streets safe for everyone in the future.
In the area of Evaluation & Planning, Arkansas scores 46th out of 50. We had two 'F's" in this area and I'll address them both. The first has to do with evaluating how cyclists use our roads and collecting data on cyclist and pedestrian behavior in the state. This would be a wonderful task for a university to take on. To go a step further, studies could be done locally in the economic and health benefits of cycling and walking as a form of transportation. Similar to the BBC Consulting study done in northwest Arkansas in 2017.
The third 'F' is something for advocates to take on. The state needs a statewide bicycle/pedestrian advocacy group. This has been attempted in the past but if you've ever been involved in an unfunded local advocacy group run by volunteers, you'll realize that doing that on the state level would be a tall order. It takes grant money to pay full-time staff to make this work and it takes a lot of volunteers to support the work. I believe it can be done, it will just take the right people to get the ball rolling.
Is there anything happening now?
The league report points out two things that are looking positive to raise our ranking in the future. These are currently being worked on by members of the Governor's Advisory Council on Cycling, Arkansas Department of Transportation, and Arkansas Department of Health.
United States Bicycle Route System (USBRS) – The United States Bicycle Route System is the national cycling route network of the United States. It consists of interstate long-distance cycling routes that use multiple types of bicycling infrastructure, including off-road paths, bicycle lanes, and low-traffic roads. The system does not currently have any routes through Arkansas but one is being developed from Memphis to Little Rock to Fort Smith to Bella Vista and on into Missouri.
HUB Communities – The same group working on the USBRS is also working on HUB Communities in the state. A program is currently being developed to assist towns throughout Arkansas to rank themselves for bicycle/pedestrian friendliness. Arkansas Tourism will host a web page allowing visitors to find these HUB Communities as they plan to stay in the state or make a bike trip across it.
What can you do to help?
As always, people have to pick their own level of involvement. Luckily, there are many different things you can do to move our rankings up and improve the safety, accessibility, convenience, functionality, and enjoyment of traveling The Natural State via foot, bike, bus, or car. Here are some things, do one, do several, do something.
Contact leaders – From your ward director/alderman/city council member to the mayor to the county judge to your state legislature to the governor, let these leaders know that safe streets are for everyone including pedestrians and cyclists. Letters to the executive director of ARDOT don't hurt either.
Join an advocacy group – go to a meeting and visit with a local advocacy group like Bicycle Advocacy of Central Arkansas, BikeNWA, Conway Advocates for Bicycling, or Northeast Arkansas Bicycle Coalition. Google them to find meet-ups and other information.
Ride your bike or walk more.
Teach your kids to ride bikes.
Go help out at Recycle Bikes for Kids
Become a member of the League of American Bicyclists – The League can show you how to apply your business or community to be Bicycle Friendly. The more bicycle-friendly businesses and communities we have in the state, the better we are doing. Your business may already be bicycle-friendly but just hasn't applied for the designation. Check it out.
You can download the League of American Bicyclists Report Card for Arkansas here. BFS Report Card_2019_Arkansas
*Full Disclosure: I serve as chair of the Governor's Advisory Council on Cycling.