Week three of our trip down memory lane to 1978 includes the first day of Spring. We couldn't think of a better time to introduce you to weather averages in Arkansas from over 40 years ago. We checked the US Climate Data website and found some slight changes.
The maximum average is up almost a full degree from back then while the minimum average is down only 1/10 of a degree. The mean average is up by about 1/2 a degree. It's interesting that the makers of the map included information on prevailing wind direction. Nice to have, particularly when touring the Delta by bicycle. Looks like the best bet is to always head Northwest.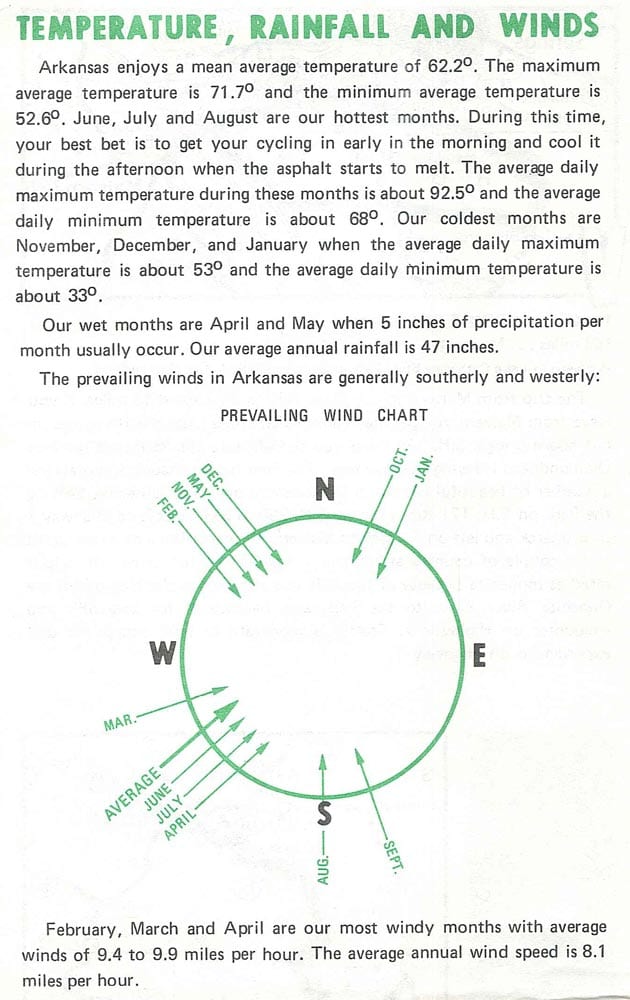 The next panel we wanted to share has information and tips on riding in Arkansas. The first paragraph mentions the lack of shoulders. we are happy to report that there are many more shoulders on state roads than we had back then. Of course, many of them came with a new feature, rubble-strips. Still, an overall improvement. A favorite part of this is the second paragraph, "Generally speaking, the typical Arkansas motorist is extremely courteous and helpful. However, bike touring and commuting are still comparatively new things in Arkansas and many motorists still don't know how to cope with a bike enthusiast." Well, "the more things change, the more they stay the same."
The safety rules are a good read and although not complete, offer sound advice.