(Part 5 of our #ThrowbackThursday Series on the 1978 Arkansas State Bike Tours Map. Links to parts 1-4 are at the end of the article.)
References, places to get a bike and places to enjoy them.
Bicycle Dealers and Repair Shops
Before the growth of local bike shops here and around the country, cyclists often got their bikes at early big box stores, auto part stores, and toy stores. As a kid, I remember Toys-R-Us had not only bicycles but also a bicycle service center. Walmart was not the powerhouse in retailing it later became. Otasco was a big player in those days. Otasco (Oklahoma Tire and Supply Company) was a retail chain specializing in auto parts and appliances based in Tulsa, Oklahoma. J.C. Penney, B.F. Goodrich, and Western Auto were players. I've always felt that the best way for smaller Arkansas towns that can't quite support a bike shop would be to teach local mechanics bicycle repair and have them carry a few parts to help make the town more bike friendly.
There are a few names that are still around on the list of Bicycle Dealers and Repair Shops. The Chainwheel, which was then on Geyer Springs Road in Little Rock and Highroller Cyclery which is still in the same spot on West Spring Street in Fayetteville. I didn't research the Memphis shops. Please share any history of any of the other shops on this list in the comments.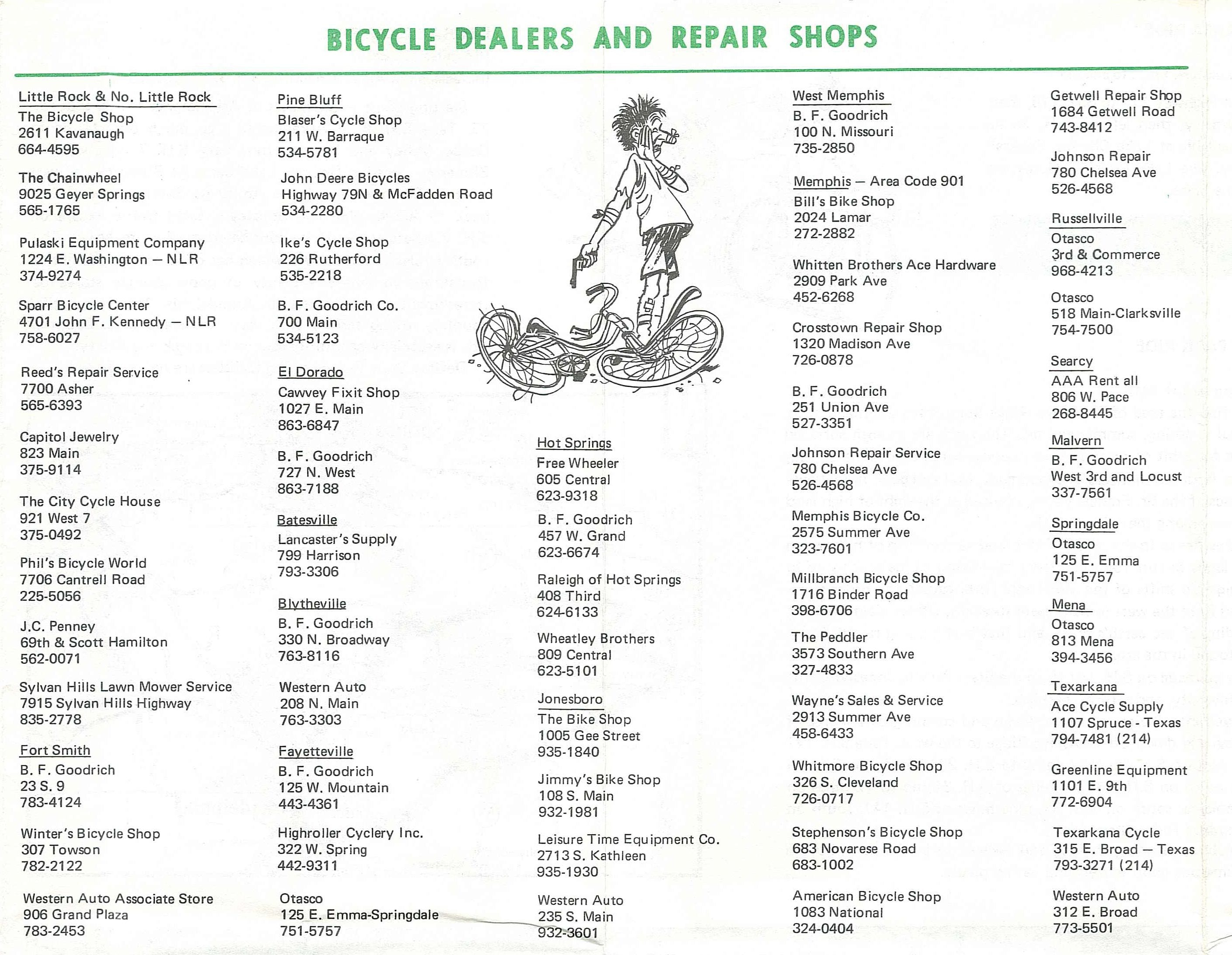 ---
Parks Make Great Cycling Destinations
One of the things the casual reader of the 1978 Arkansas  State  Bike  Tours Map is that it looks like there are only 22 Arkansas State Parks.  In fact, they split them up and 11 more are listed with the "Other Parks, Monuments and Battlegrounds" section. This brings the total number of State Parks in 1978 to 33. Today we have 52 Arkansas State Parks. Some of the big ones missing from the list are Pinnacle Mountain State Park, Mount Magazine State Park, Hobbs State Park-Conservation Area, Village Creek State Park, and Delta Heritage Trail State Park. The irony is that all of these parks now have mountain bike or bikepacking trails in them. It seems cycling has grown along with the park system.
You'll also see listings for both Ozark-St. Francis National Forest and Ouachita National Forest recreation areas. Due to cutbacks at the federal level, many of these facilities are no longer open. Some have actually become state parks.  As for the map coordinates, I assume that they reference the state highway map at the time since the map included does not have coordinate markers.