Get caught up with the first 6 parts of our #ThrowbackThursday #tbt series. Part 1, Part 2, Part 3, Part 4, Part 5, Part 6
In today's installment, the Arkansas State Bicycle Tour Map from 1978 continues taking us across the northern part of the state.  First, we visit the foothills of the Ozark Mountains near Lake Charles.  Today this area is known for three wonderful state parks. The starting point is in Powhatan, along the Black River. A beautiful area of rolling hills and history. If you're interested in this route, take time at the start to visit the restored courthouse and other buildings preserved by Arkansas State Parks. Of course, camping at Lake Charles would be Lake Charles State Park, a great place for fishing with a large swim beach, hiking trails and kayaks to rent. What is not on the map is Davidsonville Historic State Park, north of Black Rock and a personal favorite park. This park combines the history and the recreational opportunities of the other two parks at the home of the first post office in the state. A newly renovated campground and visitor center along with pedal boats on Trapper Lake. "Ghost Structures" help you see the layout of the original town. This is worth a side trip and not a bad bike ride.
The second tour is from the Jonesboro area and the original description has some interesting information on the formation of Crowley's Ridge. The route takes riders to Crowley's Ridge State Park but riders would be rewarded by also stopping by Lake Frierson State Park.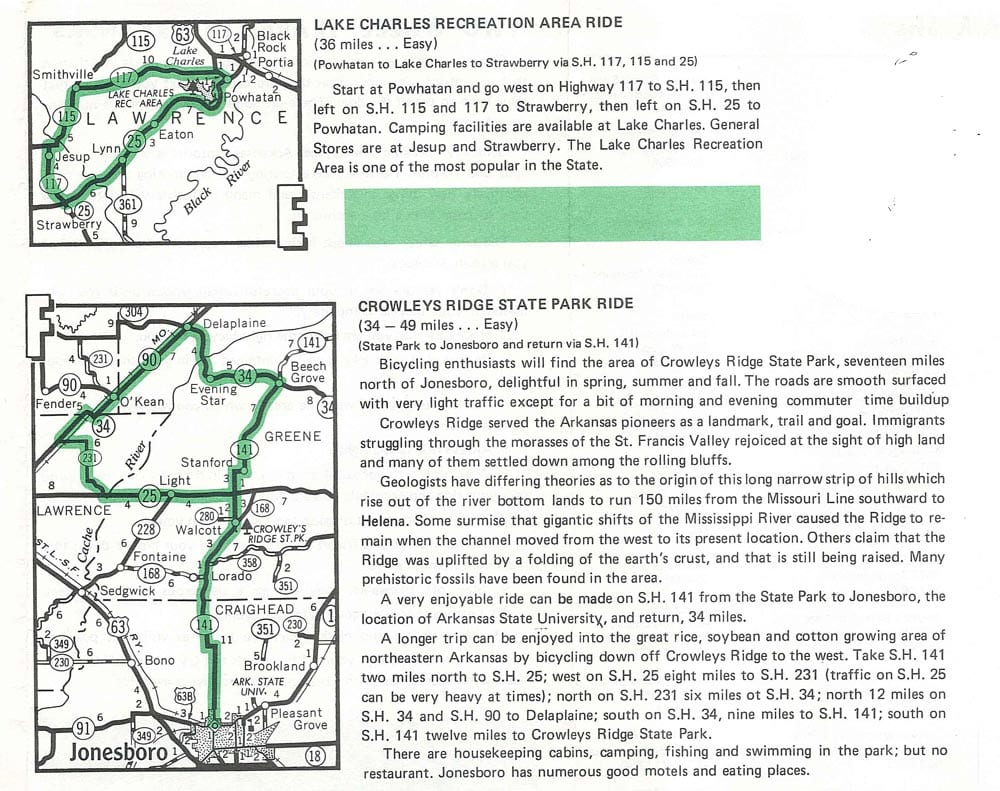 Moving down the Black River to the confluence with the White River, the next tour takes us to what is now known as Jacksonport State Park and another restored courthouse, this one with an incredible history of uses. A few months ago, a new state-of-the-art visitor center was opened. This is not to be missed as the exhibits tell the story of life along the river over 100 years ago. This is a fully interactive museum and not to be missed. Also, the views of the river from the visitor center are incredible.
Moving down into the Searcy area is a ride this writer is not familiar with but sounds like it worth a trip.
Finally, we shift gears and end up on a short ride at Petit Jean Mountain. Nowadays, this area is a major destination for cyclists coming out of Little Rock on long rides using Arkansas's first state park as a camping or lodging site. Take in a meal at the lodge restaurant and enjoy some of the most beautiful hiking trails in the state.

Here is a map to get your bearings on these 5 rides: