First, thanks for all those that entered the Slobberknocker Bike Tech Contest and the folks who donated prizes, DLTMultisport, Team CARVE and Fayettechill Clothing. Also Stephen Erickson for planting the idea.
Early on we realized that trying to pick winners based on the type and setup of their Slobberknocker bike was not going to work so we decided to let luck lend a hand and had a drawing. In the end we had twelve entries all with cool bikes and several unique set ups. I'll post photos of each entry along with the set up but first I wanted to share this entry from Cliff Li. Very creative and a darn good story.
So there I was, sitting in the showroom, day after day, while my brothers and sisters were slowly and steadily being taken from my side.  Some weren't gone very long, a couple of hours, only to return slightly dirtied up.  Others were gone forever, never to be seen again.

At first, I wondered where they went.  Were they being taken to visit exotic locations?  Were they being treated to some fine dining and entertainment?  No one showed me the least bit of interest.  I wondered if there was something wrong with me.  Was it my color?  Sure I wasn't a flashy glossy white, nor did I have easily, identifiable markings all over my 6061 T6 aluminum body, but I thought my burnt orange and grey was beautiful.  Was it my suspension?  I wasn't squishy like some of my brothers and sisters, but with a Rockshox Recon Silver Solo Air fork, I thought I was at least respectable.  Surely it couldn't have been because I had larger 29" wheels – because a lot of my similarly sized siblings had left for good.   And my internals – SRAM X5 shifters, Shimano Deore/SRAM X7 derailleurs – they work great and I've never had any problems.

Eventually, I learned what was going on.  Humans would come and take us out on a brief walk around the parking lot outside the showroom.  It was glorious to be out in the fresh air and feel the sun on my frame.  It was exhilarating to see the pavement speed by under my Bontrager Ranger wheels with tubes and 29-2 tires @40psi.  But the asphalt wasn't enough.  There was something missing.  There was something more that I longed for.  I wasn't made for riding around on the tarmac.  I longed for the dirt, the trees, the rocks and the roots.  That's where I felt truly at home.  These short walks weren't allowing me to live up to my full potential.

After quite some time without finding an owner, I was growing increasingly despondent and more and more depressed with each passing day.  My test rides were becoming more infrequent as my new big sister (all shiny & red) was introduced.  People seemed more interested in her than me.  She had better brakes than my own Promax Hornet hydraulic discs.  She had a 3×10 drivetrain compared to my lowly3x9.  But so what?  I could stop just as well as she did.  I could go just as fast or up the same steep hills that she did.  I just knew that if I had a chance to show off my potential, I would find someone who would want to keep me.

The song lyrics "I'm so ronery, so ronery, so ronery and sadry arone…" were all I could think about.

Then one day…

This handsome looking Asian gentleman started showing quite a lot of interest in me.  He was shown my sister but he dismissed her almost immediately.  My heart leapt in my butted & hydroformed downtube.  Could he be The One(TM)?  I tried not to get my hopes up but the more he looked at me, the more confident I got.

When he took me out for my "walk", not only did he ride around in the parking lot like everyone else, he actually took me out on grass, and rocks, and dirt!  I can't describe what an amazing feeling that was, feeling the earth for the first time.  It just felt "natural', a part of me.  This 5'8" gentleman and I (with my17.5" frame) fit perfectly, like we were made for each other.  He kept me out longer than the others.  He took me places that I have only dreamed of.  He must have sensed the loneliness I was feeling as he whispered, "oh yes, you're exactly what I've been looking for.  I'll be back for you." before he left.

He came back a few days later to take me home with him.  Hooray!  It was finally homecoming day for me!  My dream was finally a reality.  In the time since I've been with him, he's taken me to some pretty spectacular places.  He's gifted me some incredible Ergon grips, a Sigma cyclocomputer so I can see exactly how fast and how far I'm going, and some durable Speedplay Frog pedals.

Best of all, I finally got a name.  He named me Cobia.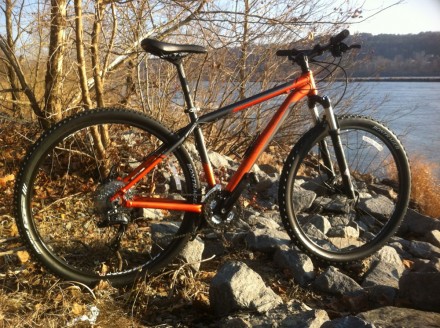 2011 17.5" Trek Cobia (HT aluminum 29er) stock
SRAM X5/X7, Shimano Deore 3×9 drivetrain
Promax Hornet hydraulic disc brakes
Rockshox Recon Silver Solo air fork w/lockout
Bontrager Ranger wheels w/Bontrager 29-2 tires & tubes
Ergon GX1 grips
Speedplay Frog clipless pedals
Weight: Not light
(Won some new tires from Team-CARVE)
Here are the other bikes, try not to drool:
Stephen Erickson: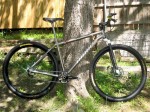 Niner EMD, singlespeed
thanks to Soulcraft Convert tensioner. Race-specific tweaks are:
1. Origin-8 rigid fork (thanks N8!)
2. Stan's Raven tires
3. 16t cog
As pictured, with pedals, sealant, blah blah, 21.6 lbs. I know that
Noah Singer won on a cross bike last year, but he's a fearless
descender. Me, not so much, so I decided to go with the fat tires.
The Ravens are very light, and I'm hoping the sidewalls survive.
(Won a t-shirt from Fayettechill Clothing)
Denny Hess: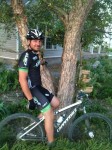 I think the secret to no flats is not to use to big of a tire! Cannondale hard tail with lockable lefty!
Zane Jeffers: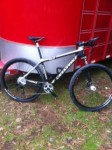 It's essentially a stock Cannondale Flash 29er which is the perfect bike for this course.  There MIGHT be a couple of upgrades such as front and rear flux capacitor's on the DT 240 hubs.  Also, there is a very slim chance that there is a Fabian mechanical assist motor hidden in the seat post… That's right,  Jeremiah at Chainwheel possibly installed the McGoober assist motor on this bike.  I suggest that DLT has an X-Ray machine on hand to inspect the bikes after the race.
Drew Moffitt: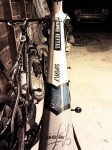 Rules be dammed!!!
I ditched my squishy 30lb+ monster for a 22lb Superfly Elite (hard-tail) from Chainwheel's rental fleet.
When asked by Scott Penrod what the insurance situation was, I replied, "Don't crash!"
I took a tape measure to my Fisher to make this Fisher exactly the same. Swapped saddle. Also note
the road pedals because yes, I am doing that.
(Won a new helmet from Team-CARVE)
Nick Siria:
2010 BMC SF02
26″ full suspension – aluminum frame
3×10 sram X7 front derailleur, X9 rear derailleur
Continental Race Kings 2.2″ tubeless w/ stans
Rock Shox Reba front shock
Fox RP2 rear shock
Avid elixir R disc brakes
That's it in a nutshell. Hope it survives the race.
Robert Hyde: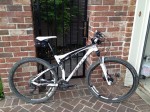 Scott 29'r with a full suspension.  I haven't switched to tubeless yet.  Looking forward to the race in the morning.
(Won a case of Vanilla Bean GU from DLT Multisport)
Damian Brandt: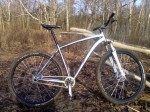 Specialized 29er Stumpjumper SS aluminum frame with split shell style EBB
Marzocchi TST Micro Titanium 29er 15mm thru axle
Stans Flow rims with Hope Pro II SS rear hub/Hope Pro EVO front hub laced with silver DT double butted spokes
2012 Shimano SLX crankset with Race Face ring (34T)
2012 Shimano SLX brakeset with Formula R1 rotors
Schwalbe Racing Ralph EVO 2.4/2.25 tires
Shimano Koryak PRO handlebar, stem, saddle
Cane Creek IS carbon headset
Salsa Lip-Lock seat collar
Niner rear cog 22T
Andrea Wilson:
Scott Addict CX
SRAM Red components
DuraAce Tubeless wheels
Hutchinson Bulldog/Piranha tubeless tires
motivational sticker
(Andrea sent in a couple of photos, this was my favorite.)
Gerald Drummond: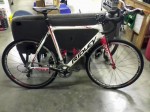 Ridley X-Fire Cross Bike, carbon, 2×10 Sram Force, Michelin Mud 2 tires. A dirt road machine!
Karen Holtmann:
Trek Superfly Hardtail
Set up- 1×9, Reba race fork, Avid Elixir CR brakes, Stans Rims, Chris King hubs, and XT derailleur. Of course, awesome Bar Mitts for the hands when it's cold! Oh yeah..I love GU!!
Todd Holtmann:
Niner Jet 9 RDO
Set up-SRAM XO 2×10, Stan's Rims,Hope Pro II hubs.