"Missed it by that much." Maxwell Smart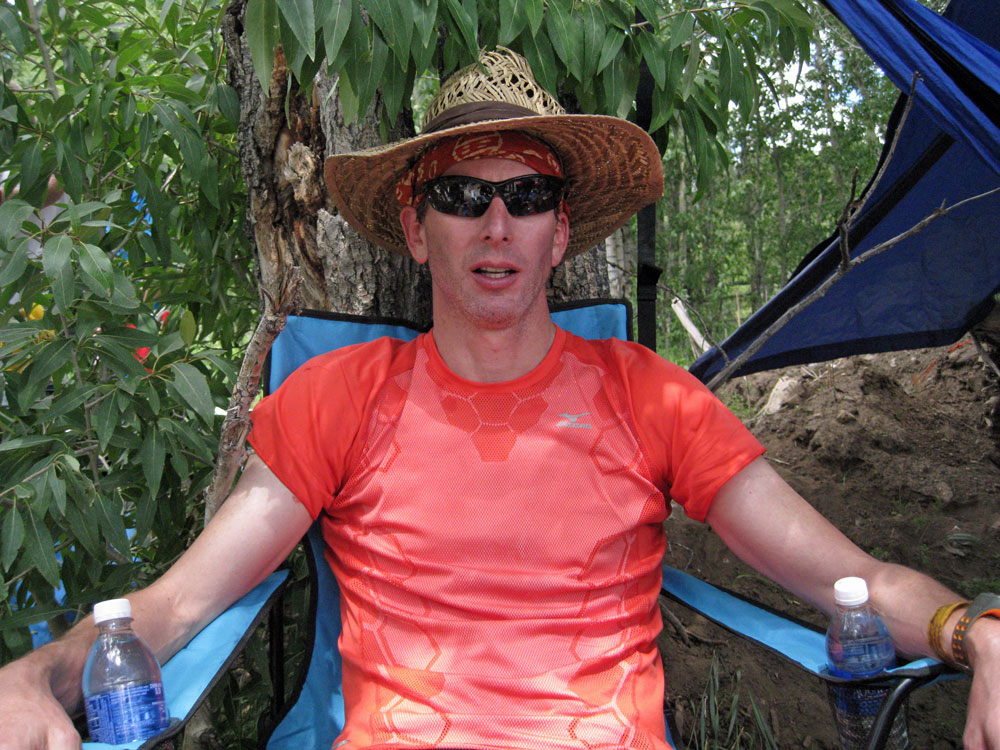 Well, it did not end well.  It was catastrophically beautiful, I ran like an ultra-runner, barfed, continued, went pale, stumbled, and bonked.  Let me share it with you in detail….
The Leadville 100 mile run started early on August 16th, 2014.  This was the last of 5 events to achieve Leadman status and followed the 100 mile bike race the previous weekend.  The first four events went well, not spectacular, but they were checked off with respectable finishes.  The kicker, the crux, the main event, the main attraction, the crucible, this 100 mile run event that involved a lot of running at an altitude of 10,000'+ and going over several mountain passes, started at 4am.  I lined up and tried to set my mind on the vision of returning to that start/finish in under 30 hours.  Starting at the front of the pack allowed me to drift back the first 7 miles of paved and gravel road into a group that was approximately my pace.  I watched runner after runner sprint by me in the early morning dark hours.  "Pace yourself slowly, you have 95 more miles to go" I would say to myself.  The headlamps bobbing down the endless dirt road were beautiful, inspiring, and comforting.  The single track started around Turquoise Lake and I was slowed by the narrow trail, not able to pass some folks who opted not to use a headlamp (WTF?) and those intimidated by the rocks, but I kept telling myself "Relax…go slower", but my legs kept saying "Dude…let's get this done!"  I saw some friends standing in the early morning light of the first aid station and felt strong, giving them the thumbs up but not wanting to break my stride and the strength that accommodated it.
Up Haggerman pass, alternating walking and running I felt like I was pacing myself well.  Several folks talking about less than 25 hour finish times made their way by me, confidently pulling away, and I let that dream go, but I was not discouraged.  I came across my buddy Donnacha at about the top of power line, we both felt good.  We were at 20 miles and exactly 4:00 hours into the event.  That seemed fast to me and I wanted to slow down, but power line at this point is downhill and I could not stand to waste the opportunity to let gravity work for me so I ran ahead.  I arrived at Outward Bound aid station feeling a little tired but wrote it off to being hot and shed my head lamp, extra shirt, arm warmers and refueled. Moving on I felt light and strong, but noted the fast start and tried to slow down.  I walked some and ran some trying to find a good pace.  I was mostly following my nutrition plan but something was not right.  Donnacha passed me, looking strong.  I found a group of runners and we shuffled back and forth through the beautiful rolling miles between Outward Bound and Twin Lakes.
I kept trying to go slower and slower, thinking I was saving myself for the many miles ahead but as I neared Twin Lakes aid station, mile 40, I felt more frazzled.  I tried to eat; I tried to drink and thought I was doing enough.  Coming into Twin Lakes I took a few moments, walked for maybe 15 minutes and tried to settle my body and my mind.  As I reached the station I realized I had hardly slowed at all.  8:17 into the race and I had gone 40 miles, way too fast.  I sat down in the voluminous Twin Lakes fire station and drank some raman noodles and a little water.  Observing the runners around me as they came and went….testosterone, dusty shoes and legs, 1,000 yard stares, relaxed like they just left their front porch…some big and burly, some small and petite.  It reminded me that ultra-runners do not fit into a classification, a mold, as a group they look like any average group of people.  Some looked confident, boisterous, others focused, some weak.  I felt like the later.  I wanted to look good for my crew who was waiting down the road about 100 yards for me so I went to the porta-potti, collected my thoughts and focused on my goals….get to Winfield, the 50 mile turnaround, regroup and be strong.  That was the plan.  I exited the porta-potti with confidence, stepped out of Twin Lakes VFD and met Gayle who escorted me to my amazing and wonderful support team.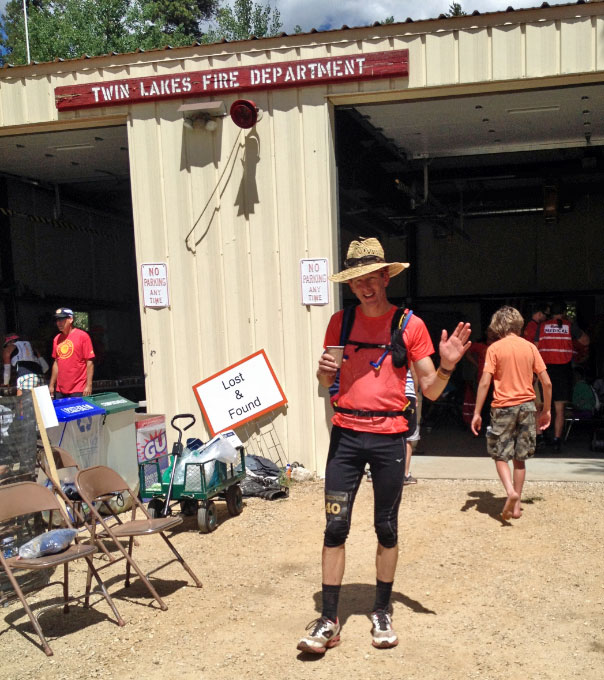 The energy from my support team was strong, I thought I had my act together.  I sat down to get my camel-bak filled.  We talked about progress…I was one of the first into the aid station right behind Donnacha but ahead of everyone else.  As I stood I got a little nauseous and said I think I am going to barf, and I did.  Naturally I felt better afterwards.  The Race doc pointed out in the pre-race meeting that it was OK to get sick and continue, just a bump in the road.  So I looked for some confidence, my team said "go get 'em" and I went.
I watched David drop me in the sun baked mud flat just past Twin Lakes.  I could not keep up with his strong gate.  The shade of trees at the base of Hope Pass was welcome relief and I began the ascent using my trekking poles.  But this was not going well.  With each step I slowed a little, started to lose the mental fortitude I had found in the porta-potti…maybe it was all crap (such an juvenile reference, had to take it).  The higher I went the more drained I felt, becoming dizzy and going slower and slower.  I ate, I drank, but it seemed to have no impact.  Joe and Jenn came up behind me.  Joe looked fresh and strong, "Dude, you want something to eat?  Come on, you gotta go, follow me, come on let's go" he said.  I made it another 30 yards and Joe disappeared ahead as I was unable to keep a pace.
This is what endurance athletes call a "bonk", when you have no more energy and can't properly function or safely continue.  I bonked.  I realized that if I continued I would be a medical emergency somewhere on hope pass where there is no easy access, just a trail up and a trail down with little oxygen on either side of the 12,540 foot summit.  It had taken me 2:30 to go 1.5 miles up Hope Pass from Twin lakes, I felt lighter headed the higher I went and was fighting dizziness and clear thinking.  At this point I made the decision to return to Twin Lakes aid station and have not regretted it once.  I DNF'ed, which means Did Not Finish.
I felt I owed the Arkansas Outside nation this article.  You have trudged with me through 9 other articles and months of blah blah blah.  Everyone needs…deserves… closure.  Was the Leadman journey, 5 events over 3 months in stunning Leadville, Colorado worth it?  Well….for me it was without a doubt an amazing and worthwhile journey.  Did I fail…yes! Did I make a bunch of awesome friends…yes!  Did I make many new friends….yes!  Was I challenged and rose to face more than I ever thought I could….yes.
The weekend after my DNF at the Leadville 100 I went back to Twin Lakes and ran the section up Hope Pass over to Winfield and back.  There was a drizzle in the air towards the top and the sun shimmered in the falling droplets.  The wind blew fiercely over the pass blocking my path and trying to hold me back.  There was no way I would not complete this run.  The 21 miles took me 7:05.  I wanted some satisfaction back from Hope Pass.  I only got a portion of what I was looking for.
It felt like fate, I ran into Ken Chlouder, founder of the Leadville race series on the way up Hope Pass.  We talked about my bonk and he admitted to once doing the same.  Little consolation for me at that moment, but it helped me appreciate the difficulty and challenge the Leadville Trail 100 run truly represents.  It's not an easy 100 mile ultra.  I now have the respect for it that it deserves.  Thanks Ken for being there for me, for sharing, for helping me realize life is not always easy and that….
"You are better than you think you are.  You can do more than you think you can."…
"Never give up."…
"Dig Deep"…  – Ken Chlouber, founder of the Leadville Race Series
I've always heard Ken say these things, now I know what they mean, what those phrases feel like.  That is priceless.
Donnacha is an amazing young man from Ireland. He demonstrated maturity, determination, and focus completing the run in 29:10 and in 248th place out of 361 finishers.  Truly amazing for his first 100 mile run.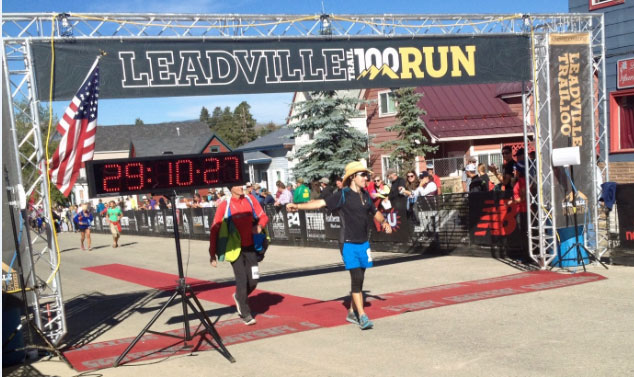 In the end only one of the five athletes attempting Leadman based out of the Leadville Hostel completed the gauntlet.  We all made it to the 100 mile run, but that run took its toll.  I bonked (see above), David unknowingly fractured his toe and had to drop out at mile 75 (so close!).  Jennifer had knee pain and came out around mile 62.
Joe Kraxner was the one we all least expected to finish the 100 mile run as he is (was?) not a natural runner.  We ran a 10 mile training run early in the season and he struggled to stay in sight of Jennifer and me.  I hardly ever saw him practicing running.  But he definitely has grit, as demonstrated by finishing the 100 mile bike in under 9 hours, completing the Breck Epic and many other mountain bike endurance events.  We are all so proud of his 29:42 time, 322nd place finish.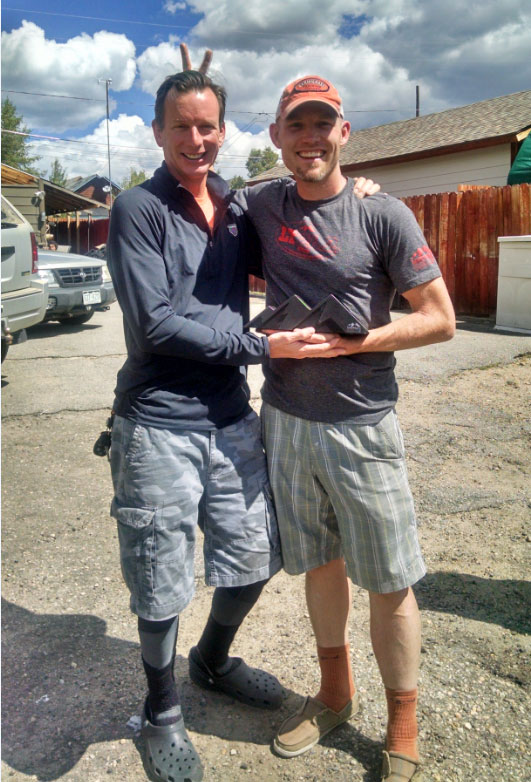 What an amazing and life changing experience.  Meeting so many wonderful people, strengthening so many friendships, suffering, smiling and enjoying the outdoors together.  The journey was a success.  To think I could have sat on the couch and eaten several large bags of Cheetos and watched TV for hours as an alternative seems ludicrous.  I am proud to have been a part of the 2014 Leadman class even though I did not make it to the final finish line.  Should I try again….?  Well, I have a message for you, the Arkansas Outside reader…."You are better than you think you are.  You can do more than you think you can."
Good luck out there.
James
https://www.facebook.com/jeg920
See the other articles in the Road to Leadman Series at….