Several days ago, an announcement of one of many athletic events scheduled for a Spring weekend that is also the time for the CALS sponsored Literary Festival had me commenting on how I hate being forced to choose between brains and brawn. A midweek opportunity to travel to Bentonville, Arkansas gave me a chance to improve both aspects of my life and provided more than one surprise for this outdoor space lover. The first surprise came in the form of the Crystal Bridges Museum of American Art. Pages, chapters could be written here about the beautiful architecture of Moshe Safdie and about the collection itself, with Norman Rockwell's Rosie the Riveter, Durand's Kindred Spirits and some of my personal favorites: landscape artist Martin Johnson Heade's hummingbirds. The most telling commentary though came from a woman standing next to me during my guided tour who said to her husband "It really is as though they brought the outside, inside. Isn't it?"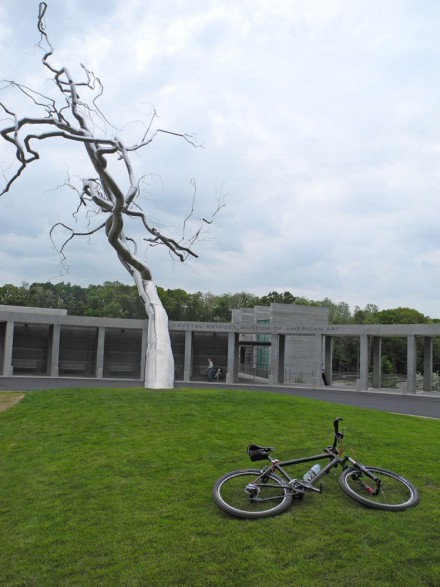 Museums and galleries are supposed to be enclosed and stuffy. But this museum is full of light and space and air and for me, peace. I had whiled away 2 1/2 hours of an afternoon inside the museum, staring lovingly at Rosie and finding a new love for Janet Sobel and spending a great deal of time looking outside through the walls of glass before I found a side door to the grounds and my second surprise: the absolute beauty surrounding the museum. I only had a half hour or so before I would have to leave for the day. It took me 20 seconds to know that I'd have to come back because I was certain to see more beauty like this stone bridge.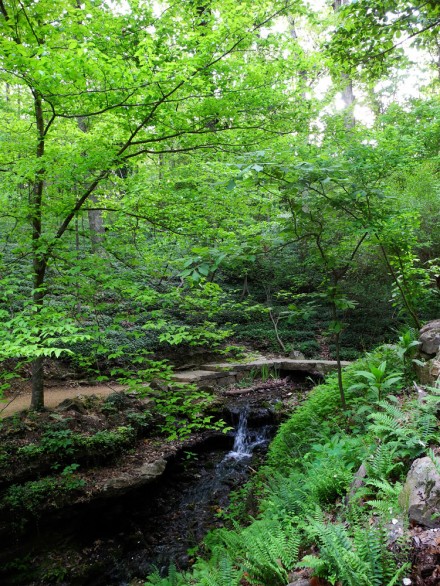 The following morning Joe had a meeting at the museum scheduled to begin at 8:30 a.m. The library does not open until 11. That gave me 2 1/2 hours to explore the grounds. I came prepared with my running clothes and a camelback that would hold my camera. And I took off running. For about 20 feet when I came to a beautiful old gnarly tree that stopped me in my tracks. I thought perhaps it was just my love of cool trees but later in the morning on my 3rd or 4th lap around the museum I found another couple standing in that spot, loving that tree. And then I found this small waterfall. So many reasons to stop and stare that the first lap I felt like a wind up toy that had to be wound every 50 yards. Some of the trails have had a bit more time to allow the landscaping to fill in but all of them are beautifully maintained and with all the connectors, it is possible to make routes of several miles without ever leaving the museum grounds if you choose not to. I stopped several times at an installation on the Art Trail, just off the paved pathway, entitled A Place Where They Cried. Pat Musick and Jerry Carr's tribute to the ordeals suffered by those traveling the Trail of Tears. The beautiful stone figures, shown gathered to cross a creek, could possibly be one of the most moving things I've ever seen.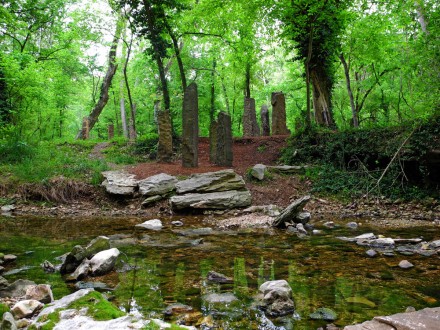 But we knew we would want to see more, I was also on a reconnaissance mission. Bentonville has a great pedestrian/bike trail system that connects the town across several miles. It is part of the planned Northwest Arkansas Razorback Regional Greenway that is well on its way to connecting six NWA municipalities by bike and pedestrian paths. Bike Bentonville, with the mountain bike trails friends group FAST  and other local groups are taking care of Bentonville's system and they work with regional groups like the Bicycle Coalition of the Ozarks  to see these projects through. Even in the middle of town we saw people riding bikes for transportation. Some had backpacks, some had shopping bags, some had nothing more than a big smile but they were all out getting things done or enjoying the day, scooting past those of us stuck in our cars in the heavy traffic.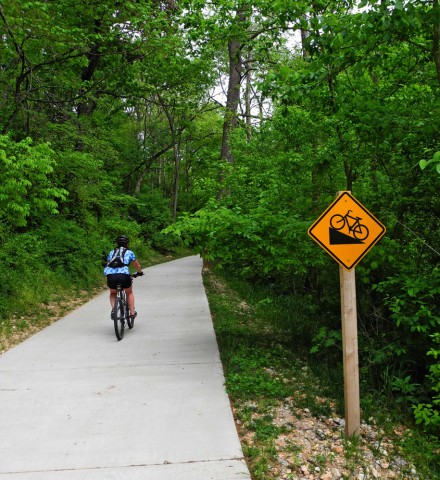 Our bikes were on the back of the Arkansas Outside mobile office which was parked at the museum. We unloaded and took off to explore those trails that are bike friendly. On the museum grounds, some are and some aren't but it is very easy to connect, even from the parking lot. On my morning mission I found that just across the street from the north lawn of the museum, the Slaughter Pen mountain bike trail system had built Phase III. We rode over to check it  out. There isn't a lot of mileage here but it is packed with climbs and turns and good obstacles, even a few whoop-de-doos. Heed the signage, most of the trail is intermediate but there are a couple of interior connectors that might be considered advanced. After a bit of that fun, we headed south on the paved trail back to the intersection of the Art Trail and the south entrance to the museum where Progressive Trail Design has built a flow track that runs alongside the paved trail, complete with stone and fallen tree skinnies. I admit it: I whooped. And laughed. Giggled really. The best fun on two wheels are trails like this one. Then we took the short ride up the path to the other sections of the Slaughter Pen trails, checked out the pump track and rode the Urban Trail at Slaughter Pen Phase II . A multi-mile run, a 10 mile bike ride, a great lunch at Eleven, a visit to a museum of beautiful art by American masters and the car never moved from our original morning parking space.
To get an idea of some of the singletrack trails in the area, here is a video showing the flow trail that runs along side the Crystal Bridges Trail and then a bit of the Slaughter Pen Hollow II Urban Trail.
So if you are planning a visit to see the museum, make sure to bring your bike. You won't regret it.