The 'Trails are Common Ground' ambassador and renowned mountain biking coach promotes community activism through cycling               
BENTONVILLE, Ark. (AUG. 30, 2022) – With just two weeks until the inaugural Women of OZ Sunset Summit, the group announced today that Brooke Goudy, community advocate and Colorado-based mountain biking professional, will deliver the keynote speech, "Community Activism and How We Can Choose to Invest in Each Other." The ticketed Sunset Summit takes place Sept. 16 and 17 in Bentonville, Ark., "The Mountain Biking Capital of the World."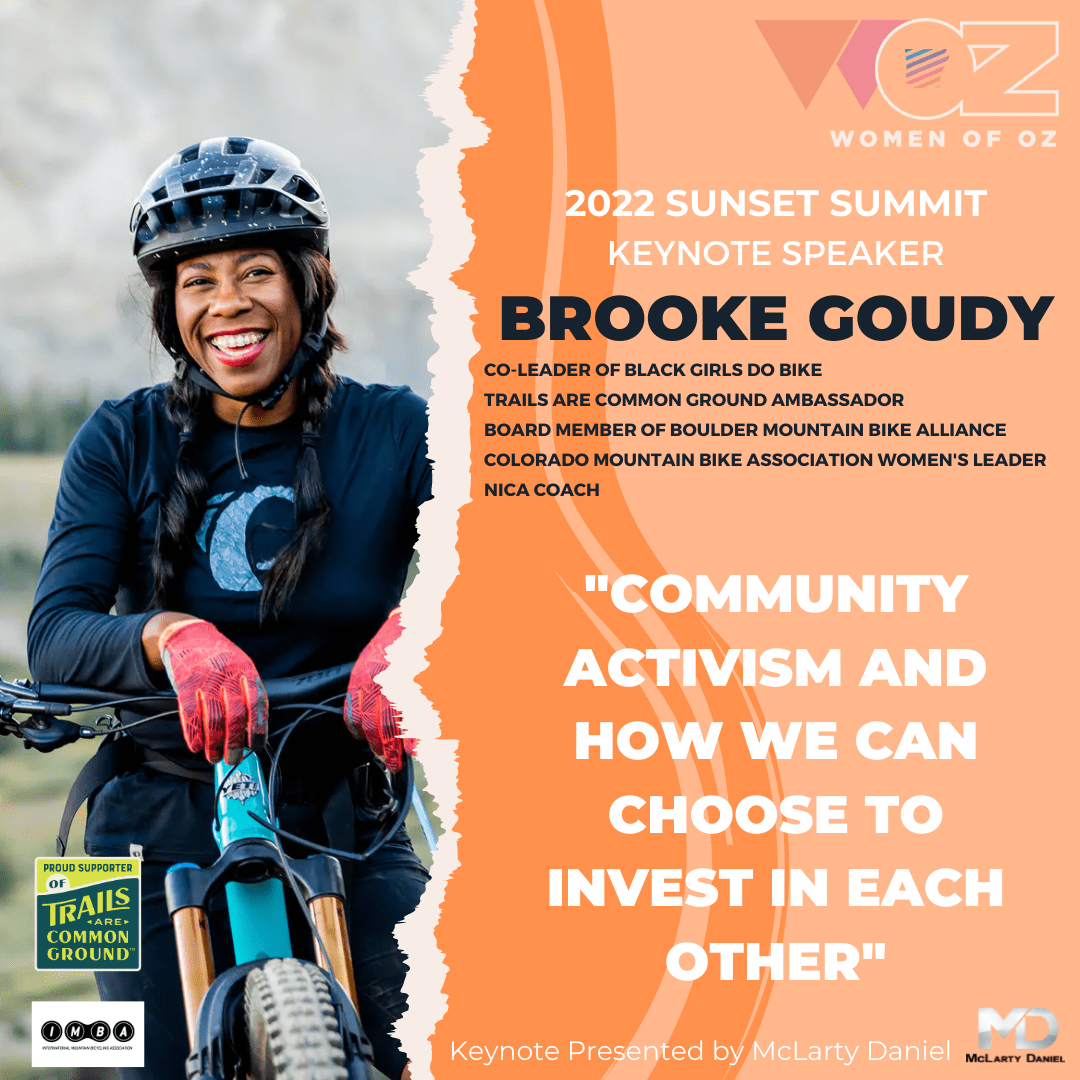 Co-leader of Black Girls Do Bike, Goudy is also community events manager for the VIDA MTB Series, and an ambassador for Trails are Common Ground. She also serves as a board member of the Boulder Mountainbike Alliance, the Colorado Mountain Bike Association women's leader, and a NICA (National Interscholastic Cycling Association) coach. She also leads BIPOC (Black Indigenous People of Color) Community Rides in Colorado.
Goudy joins a sterling lineup of more than 75 of the nation's top mountain biking industry leaders and coaches for a weekend of OZ Trails rides, workshops for riders of all levels, Grammy-worthy entertainment, and cultural adventures found only in Northwest Arkansas. Experiences include a guided bike-and-art tour led by OZ Art NWA, a Women of OZ documentary screening with Bentonville Film Foundation, and VIP access to Japanese Breakfast at the Momentary. Limited tickets to the Sunset Summit are selling quickly and may be purchased at wozsunsetsummit.com.
Top-tier mountain biking associations will also be represented at the summit: All In Mountain Biking, Arkansas Latinas En Bici, Bike School Bentonville, Biking with Brittany, Dirt Series, Flownetic Mountain Bike Skills, Girls AllRide, PST Coaching, School of Dirt, Star Mountain Biking Guides, Vida Mountain Biking, Women of OZ, and World Ride.
Attendees are welcome to come alone or in groups, but they must bring their own bike and related equipment. For ticket information and additional details about the summit, visit www.wozsunsetsummit.com.