A few years ago I posted about a trail work day on the Jackfork Mountain Bike Trail at Pinnacle Mountain State Park. It was an invitation to anyone who wanted to come help me out. I got one taker, Bruce Alt, it was the first time I met Bruce. Bruce is a personable guy and soon he became a regular part of trail work days. Bruce was building something and I was only one cog in the machine he was bringing together. One day Bruce invited me to a meeting where other mountain bikers planned to discuss creating a mountain bike trail that would circle Lake Maumelle. When I walked into the room I looked around for the usual group of mountain bikers that I had been associating with for years, only a few were there. I was surprised to meet a large group of mountain biking advocates that I didn't know existed. How had I missed all these folks while promoting ArkansasOutside.com, participating in virtually every mountain bike race in the state, and spending thousands of hours hanging out in bike shops? Bruce found them; the avid riders who didn't necessarily race, but had a significant interest in building and maintaining great trails to ride in Arkansas. From this group, the Central Arkansas Trail Alliance, CATA, began.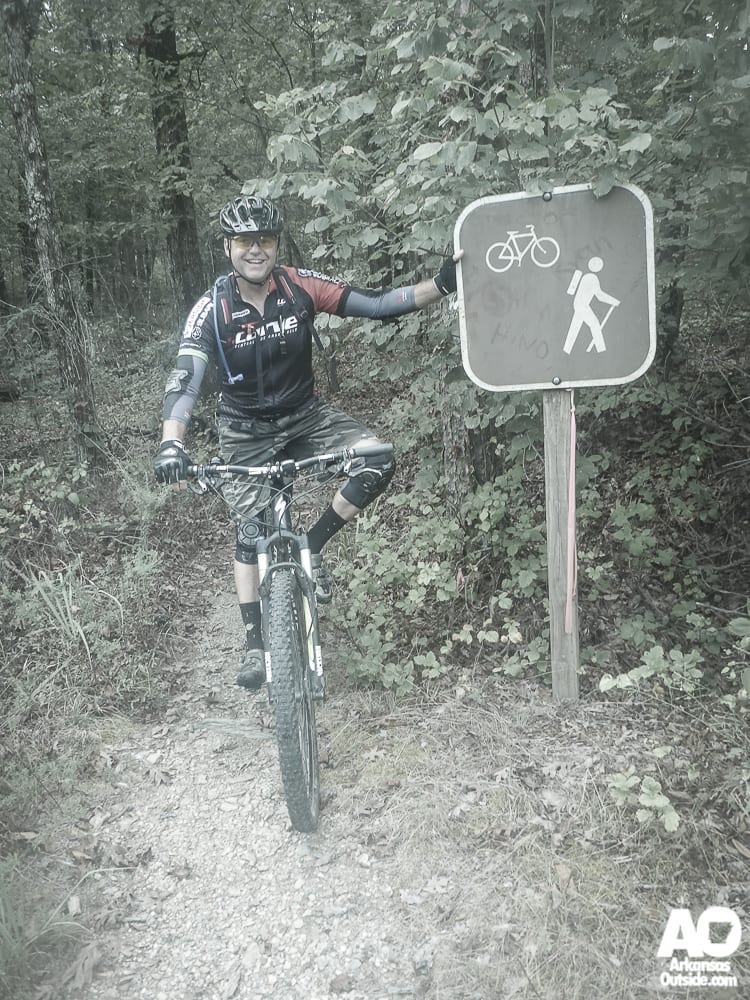 Since then I've ridden with Bruce many times and shared quite a few beers with him, what he usually refers to as "fellowship". He has worked hard to advocate mountain biking in Arkansas by meeting with State Park leadership, the Governor's office and professionally representing CATA with land owners, stakeholders, other trail advocacy groups and national advocacy leadership. A person this talented and dedicated is going to get noticed. Bruce was noticed and recently accepted a position with the International Mountain Bicycling Association. Here is the announcement from IMBA.
Bruce C. Alt has accepted the position of vice president of Government Relations with IMBA. "It's exciting to welcome Bruce to our senior management team," said Mike Van Abel, IMBA's executive director. "He brings a wealth of knowledge and experience, including professional lobbying work, that will strongly benefit IMBA in the political realm. Plus, he has served as president and as a board member of an IMBA chapter, so he appreciates the importance and effectiveness of our grassroots network."

Alt's background includes experience with a variety of nonprofit organizations in the professional association management and government relations communities, including the Arkansas Society of Certified Public Accountants, Mississippi Forestry Association, The Nature Conservancy and the Forest Resources Association. Earlier in his career, he held a variety of business management and forestry positions with Westvaco Corporation's Timberlands and Fine Papers Divisions in Mississippi, Kentucky, Tennessee and Maryland. He has also served in leadership roles with the Central Arkansas Trail Alliance, an IMBA chapter.

Alt earned a Masters degree in Business Administration from the University of Mississippi and a Bachelor of Science degree in Forest Resources Management from West Virginia University. He is a graduate of the Center for Leadership Development's Institute for Organization Management, a six-year professional development program for association professionals sponsored by the U.S. Chamber of Commerce. He is also a Certified Association Executive (CAE); a professional credential from the American Society of Association Executives based on demonstrated skill in leadership, activity in community affairs and expertise in association management.

Alt is an Ironman triathlete and active mountain biker. He has worked at Mississippi College on the adjunct faculty in the Kinesiology department, and with the Clinton MS fitness community as a strength training, spinning and Pilates instructor.

He resides in Little Rock with his wife Dianne and their two rescue dogs. After a full teaching career in Mississippi with special needs and developmentally disabled children, Dianne is currently teaching special needs children at Easter Seals of Arkansas.
Congratulations to Bruce, we look forward to riding with you soon. I'll buy the beer.