"Nobody ever drowned in his own sweat." That has been quoted so many times, from Ann Landers to Lou Holtz, I have no idea whom to credit. But I think it's appropriate for the story of a late summer camping trip at the lake.
With temperatures in the upper 90s to triple digits and high humidity, it's a perfect time to go camping for a family reunion. Right? While July is always a "hot" month in Arkansas, it's not always as hot and dry as this July has been. The forest is wilting. Several months ago we made reservations and plans to stay in the Rent a Yurts at DeGray Lake Resort State Park late in July, and the heat was not going to stop us. We packed fans, coolers and lots of water and headed out, all 14 of us.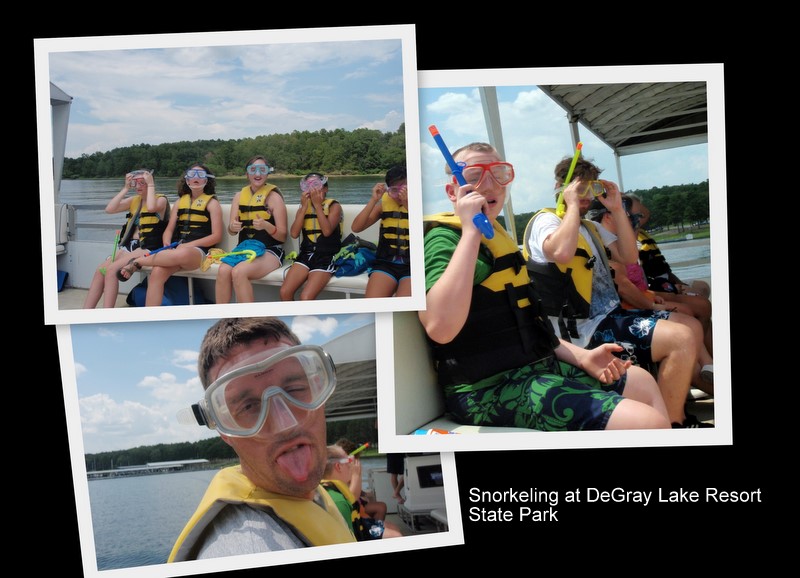 The park was having a snorkeling adventure on the day we arrived and many of our contingent of cousins decided that would be a great way to spend a hot afternoon-a trip to the cooler depths of the lake. While they were swimming with the fishes, the adults who didn't go (to let more kids and other park patrons who stumbled upon this uber cool program at the last minute to go) checked into the yurts and started settling in. The Grandparents, who would be celebrating their 52nd wedding anniversary at the end of the weekend trip, were staying in an air-conditioned lodge room. There was a discussion of the possibility of them waking to find bodies piled on the floor around the bed just to get the air conditioning. Could we take the heat in the yurts? We've done it before but I had doubts about our first-time-camping cousins. By the time everyone was done snorkeling or unloading the cars, dinner time was closing in and we set up a kabob assembly line. Next time I will know that kabobs are hard to identify after you get 6 or 8 on the grill and no one can remember what they put on theirs. Kabob name tags? Color coded skewers? Since we had the entire yurt peninsula to ourselves, it gave us ample beach area to play in and the kids took advantage of it by swimming or kayaking into the evening hours. Hot? Yes. Especially working at the grill. Bearable? Yes. Until I made the mistake of sitting down. Then the heat and excitement of the day pounced on my soul all at once and I turned into a zombie-like creature, mumbling incoherent things about dutch oven cobbler and chair snatchers.
The next morning I woke early and decided that I would take advantage of the peace and quiet in my kayak. Out on the water, I went. It was just me, the morning birds, and the fishermen. And the air outside was slightly cooler than inside the Yurt. I have no idea how long I was out there or how far I paddled. I admit I tried very hard not to keep up with time while we were there, I wanted to let the day unfold unscheduled. I returned, slightly sweaty, very thirsty, and ready to tackle the day. Even if that meant dealing with 100-degree temps. It helped some that one of our group had just earned a much coveted and envied Learner's Permit and was anxious to drive anyone and everyone on any short errand. "Do you need to go to the bathhouse?" and "Do we need more ice?" were heard often. We still aren't sure if it was the driving part or the air conditioner for a few minutes that demanded such frequent jaunts.
I suppose we could or should have taken more advantage of the night time park programs. There was an Owl Prowl (which we normally LOVE to do) and a night hike and even a sunset cruise but with so many people, we would have taken over any program we tried to join. And the reality was, by the time evening rolled around we were exhausted and nothing sounded better than a cold drink and a chair, especially if that chair was inflatable and floated in the cool water.
The oppressive night air brought some unwanted excitement to the yurts. I was awake in the pre-dawn hours with a stomach ache, made worse by my intense fear that my cooking gave everyone food poisoning. I know, it's probably an irrational fear but when you're living out of coolers, it's tough not to worry. Suddenly my sister-in-law bursts through our door with a flashlight, I just knew she was going to tell me all the kids were over the railing of the decks, yakking up cheese dip but no. One of the young ones thought she had a bug in her ear. We rounded up a good penlight, tick tweezers and some betadine (there wasn't any alcohol in the first aid kit) and while the parental units of said young one searched for ear mites, I tried in vain to go back to sleep. The morning came much too early. The sluggish kids crawled for breakfast. So did my brother in law. He could smell the pancakes. It was going to be another scorcher and most of us were walking the dead eye walk of the insomniac. The kids finally woke up enough to have more water gun fights and swim time. Mid-day it looked as though a storm was brewing and that brought wind and cooler temps. We quickly rushed about getting the tarp from the beach and moving it over the kitchen area in our yurt yard. Because we prepared for rain, we never got a drop. I'm thinking maybe we should have just let it go in hopes that we got soaked.
The evening breeze picked up quickly and it brought much-wanted relief. As the storm skirted by us and blew away, a fresh feeling settled into the camp. The kids got happier, the adults relaxed, the heaviness of the day lifted and the games began. It started with snow cones made by a cool little ice shaver my sweet talkin' sister in law was kind enough to bring with her. Then out came the board games. And as the sky darkened, out came the sacks full of glow sticks procured from the Dollar Store. Is it a coincidence or divine providence that J chose that time to ride his bike to the bathhouse?  I won't name names but someone decided that it would be a good idea to give his bike the glow stick treatment while he was occupied. All the girls crammed into my car for the short trip to the bathhouse and they hurriedly attached as many glow sticks to his bike as they could. Then, the toilet flushed. "RUN!" And they scattered like roaches at the flick of a light switch. And giggled. A lot. We drove back to the yurts knowing we had only seconds before the glow stick bike would appear out of the darkness on the gravel road, and we were not disappointed. The glow stick bike graffiti was followed by glow stick hula hoop, glow stick dance party and reading by glow stick. Until they started screaming for s'more. "S'mores!"  They said. "We've been waiting for 2 nights and we want em this instant!" Did you know s'mores are just as tasty when you have to roast the mallows over a gas flame due to a burn ban? As much as we all love a good campfire, it isn't worth the risk. I was amazed at what a slight drop in temperature and a little breeze did to improve the whole aura of our expedition. At this point, I'd like to take suggestions as to how to use leftover graham crackers and marshmallows. Who doesn't have leftover marshmallows after s'mores?  We used ours playing chubby bunny. Don't know that one? Each player puts a marshmallow in their mouth, no chewing allowed, and says "Chubby Bunny". Each player takes a turn putting a marshmallow in their cheeks and saying "Chubby Bunny" until someone either can't say "chubby bunny" anymore, or totally looses it and squishes marshmallow out of her mouth like one of those cookie presses your mom used to have. And yes, I AM going to leave it with that picture.