Our calendar of events lists outdoor participatory sports throughout Arkansas. Feel free to search through the categories or tags. There is a lot happening so make your plans today.
Feb
1
Sat
Freezin for a Reason 5K 10K

@ John McConnell Stadium
Feb 1 @ 9:00 am – 11:00 am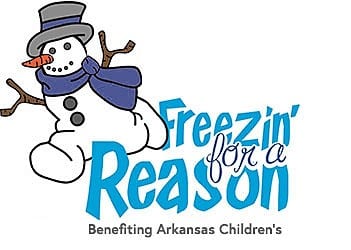 Freezin' for a Reason is for runners and walkers of all abilities. We offer a 10K, 5K, and the Lap for life for families and their children to take one lap around the track to honor past and present patients of Arkansas Children's Hospital. Children and strollers are welcome at all events.All participants registered by January 18, 2020 will receive a t-shirt. Event attendees can also enjoy free food and lots of free fun kids activities like bounce houses, face painting, games, and. more.
The Freezin' for a Reason will take place February 1, 2020. The race will begin and end at the Conway High School West Campus, located at 2300 Prince Street in Conway, Arkansas. The 5k/10k will begin at 9 a.m.The Lap for Life will begin at approximately 10:45 a.m.
River Trail 15K

@ Burns Park Soccer Complex
Feb 1 @ 9:00 am – 11:00 am
Race Info:
Date: February 1, 2020
Time: 9 am
Fee: $20
Arkansas' fastest and most scenic 15K! 100% paved course travels along the Arkansas River, Old Rock Quarry, Burns Park and more.
Race hosted by the Arkansas RRCA
USATF Course Certification #AR15002DLP
2018 Winners were Brent Corbitt and Tia Stone
Chip Timing provided by Mac's Race Timing Service
Proceeds benefit the Arkansas RRCA Grand Prix Series
No T-shirt option allows you to cut $5 off the entry fee
Packet pickup will be Friday,Jan. 31, 2020 at Go! Running, 1819 Grant Street, Little Rock, from Noon – 6 PM.
Walk with a Doc

@ War Memorial Stadium North Lawn
Feb 1 @ 9:00 am – 10:00 am
Walk with a Doc is a FREE community event that takes place the first Saturday of every month at 9 a.m. on the North Lawn of War Memorial. Each month, we feature a UAMS doctor and a future doc at the event in the first 5-10 minutes. They will talk about a health topic and then we will all walk and mingle until 10 a.m. Please join us!
Dates currently scheduled are:
Feb. 1
Mar. 7
Apr. 4
May 2
Jun. 6
White Rock Classic 50K
Feb 1 @ 9:00 am – 5:00 pm
Race Information: White Rock Classic 50K

No Fees, No frills, No WIMPS!
Race begins on Road 1003 (White Rock Mountain Road) just off Highway 23, about a mile north of the Mulberry River (near Cass).
Part of the 2016 – 2017 AURA Ultra Trail Series
There is no entry fee but a small donation to help cover costs would be appreciated.
Refreshments will be near the finish line starting at 1:00 pm
If doing the 50K and not confident of a 5:00PM finish you are welcome to start early. (study the map, you will be unsupported till the aid station volunteers get set up).
Please keep your own time and sign in at the top (past the aid station at the lookout) and at the finish to be included in the results.
You must sign out before leaving or you will be charges for search and rescue.
The 50K course runs to the top of White Rock Mountain, then retraces back to the start.
The course is run on well maintained forest road.
Aid is set up approximately every 5 – 6 miles.
PLEASE NOTE: If for some reason you plan to NOT to run back, you MUST plan ahead to arrange your own ride back to the start. No shuttling will be available.
Course Elevation Profile, compliments of Jeff Genova – Thanks Jeff!
Approximate cumulative elevation changes:
Out/up: 3500′ total climb, 1900′ total descent
Back/Down: 1900′ total climb and 3500′ total descent
This 50K is very challenging and not recommended for those who have not at least completed a marathon (or run 26 miles) recently. It is guaranteed to help work off those Christmas holiday pounds before the Valentine Candy arrives.
Cancellation Policy: We reserve the right to cancel the race due to inclement weather or unsafe road conditions. Both the condition/width of the roads and the snow height and ice will be taken into consideration when making the final decision. In other words, don't go if the weather is bad! Remember this is for fun, fellowship and recreation. This race has been cancelled in the past due to bad weather.
Course closes by 5 pm. Early starts are accepted if you anticipate not completing the 50K under 8 hours. Note: There will be a few awards given–early starters are not eligible for awards.
Brought to you by Lisa Gunnoe, PoDog Vogler, and the Arkansas Ultra Running Association (AURA)
Questions: e-mail Lisa
Parking:
Parking at the start is limited.
If you can, park at the Turner Bend store–at the Mulberry River bridge on Highway 23 and carpool to the start.
If you park at the start pull over to the right as much as you possibly can. An ambulance must be able to get by you and they are wide.
All cars must park on same side of road, left/South.
Restrooms:
Please use the restrooms at the Turner Bend Store (please show gratitude by purchasing something).
There are no restrooms in the campground at the start. If you need to go, walk up the road, away from the campground, and leave no trace.
This has been a problem in the past and we may loose our permit so – LEAVE NO TRACE!!!
Course Records:
Male: Brian Hurley, 3:53:06 (2014)
Female: Chrissy Ferguson, 4:44:25 (1999)
Male (Brannon Cemetery start/finish): Cole Crosby, 3:53:55 (2012)
Female (Brannon Cemetery start/finish): Katie Helms, 5:14 (2012)
Feb
8
Sat
Run Bentonville Valentines 4K/8K

@ Bentonville Square
Feb 8 @ 7:30 am – 10:00 am
Grab your sweetie or come looking for love at the 5th race of the Run Bentonville Race Series. The race gives participants the opportunity to test themselves at the unique 4k or 8k distance. The event begins on the Downtown Square, winds through Memorial Park and finishes back on the Downtown Square near Walton's 5-10. The race is also designed to be run with your sweetheart. Couples that register for the race together receive a discounted rate. In addition, every woman that crosses the finish line gets a carnation!
When: Saturday, February 8, 2020. Race starts at 7:30am
Where: Downtown Bentonville Square
*There will be NO race day registration*
Cost: $25 for individual and $40 per couple.  Couples are considered significant others. Couples must run the same race distance to receive discount and couple scoring.
All participants will receive a commemorative long sleeve shirt and age category winners will be awarded medals.
Packet pickup for the Valentines 4k/8K will be at the Downtown Activity Center on 215 SW A, Bentonville, AR 72712 on Feb 6th from 8am-8pm and Friday, Feb 7th from 8am-4:30pm.
***Race Series points awarded to 8k finishers ONLY***