Our calendar of events lists outdoor participatory sports throughout Arkansas. Feel free to search through the categories or tags. There is a lot happening so make your plans today.
Jan
4
Sat
Athens Big Fork Marathon

@ Big Fork Community Center
Jan 4 @ 8:00 am – 4:00 pm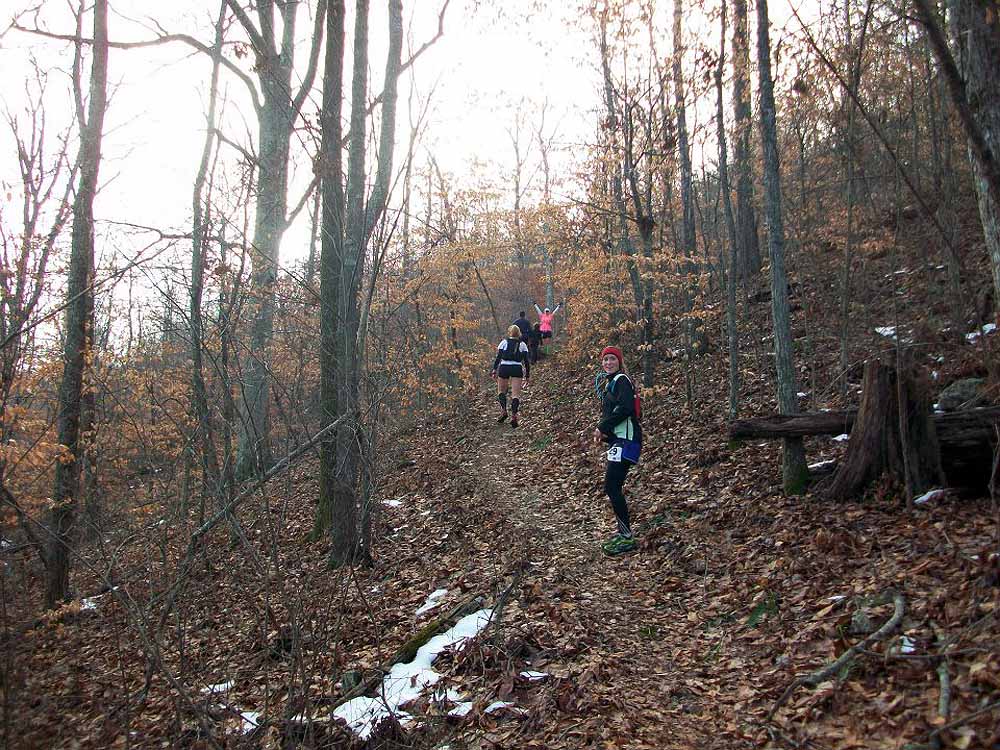 NOTE: This event is NOT for trail-newbies.
If you are not an experienced trail- or ultra-runner (or adventure racer), we happily invite you to one of the other UTS runs, BUT NOT THIS ONE. This is a difficult event on a difficult trail that presents many opportunities for one to get lost, injured, exhausted, or incapacitated–with sparse access for rescue.
The Athens-Big Fork Trail Marathon and Blaylock Creek 17 Mile Fun Run take place on the Athens-Big Fork Trail. This is actually > 100 year old horse postal trail. After running this, you will wish you had a horse!
The course is an out and back course. You first run almost 3 miles on roads – paved and gravel up to the start of the trail. Then you enter the Athens-Big Fork Trail – White Blazes. Follow the trail over 8 mountains. The 8 mountain crossings on the trail are:
Missouri
Hurricane Knob
McKinley
Brier Creek
Leader
Brushheap
Brushy
Big Tom
You pop out of the trail and need to go about a half mile down the gravel road to get your full 13.1. Then you turn around and go back. It's that easy!
The 17 Mile Blaylock Creek Fun Run only gets to run half of the hills. You will turn around at the Aid Station just across Blaylock Creek.
What this means to you the runner. Here are some statistics for you to consider – this is the "out" of the out and back:
Max Elevation: 2028
Min Elevation: 1023
Climbing Elevation Gain: 4600 feet
Climbing Distance: 7.10 miles
Average Grade: 12%
The
Athens Big Fork Trail Marathon
and 17 Mile Fun Run will be held
Saturday, January 4th, 2020
.
Registration will open Monday, Aug 12th and capped at 200.
We can use an aid station captain for the Little Missouri aid. If you are available and interested, please contact me at mverunnergirl@gmail.com
Big Thanks to our absolutely amazing volunteers! I am happy to announce that the Blaylock Creek and Turn Around aid stations will be sponsored by the same fun, caring, and capable people/organizations. SO go show them some love and visit their business.
Fleet Feet Little Rock – not only do they have a large selection of running apparel, shoes, and hydration options but they also host weekly runs. In fact, they are hosting an event with Oofos at Flyway Brewing this Tuesday at 6pm. Come Join The FUN!!!
Team Jackass out of Texarkana will also be back at the FULL Turn Around ready to send you back to the finish in a happy state of mind.
Ouachita Amateur Radio Association Inc. will be there tracking you and helping to ensure your safety!!
Polk County Sheriff's Department will be there to see you off to a safe start with an escort along the pavement section.
The
Big Fork Community Center
and all of the big-hearted folks of Big Fork plan to open their doors for another year with all of the warm hospitality that makes this place Extremely Special.
AS ALWAYS, ALL PROFITS WILL GO TO THEM IN ORDER TO HELP ENSURE THE LONGEVITY OF THE COMMUNITY CENTER.
We look forward to seeing who has what it takes to run from Big Fork to Athens, crossing 8 mountains TWICE!
Feb
1
Sat
White Rock Classic 50K
Feb 1 @ 9:00 am – 5:00 pm
Race Information: White Rock Classic 50K

No Fees, No frills, No WIMPS!
Race begins on Road 1003 (White Rock Mountain Road) just off Highway 23, about a mile north of the Mulberry River (near Cass).
Part of the 2016 – 2017 AURA Ultra Trail Series
There is no entry fee but a small donation to help cover costs would be appreciated.
Refreshments will be near the finish line starting at 1:00 pm
If doing the 50K and not confident of a 5:00PM finish you are welcome to start early. (study the map, you will be unsupported till the aid station volunteers get set up).
Please keep your own time and sign in at the top (past the aid station at the lookout) and at the finish to be included in the results.
You must sign out before leaving or you will be charges for search and rescue.
The 50K course runs to the top of White Rock Mountain, then retraces back to the start.
The course is run on well maintained forest road.
Aid is set up approximately every 5 – 6 miles.
PLEASE NOTE: If for some reason you plan to NOT to run back, you MUST plan ahead to arrange your own ride back to the start. No shuttling will be available.
Course Elevation Profile, compliments of Jeff Genova – Thanks Jeff!
Approximate cumulative elevation changes:
Out/up: 3500′ total climb, 1900′ total descent
Back/Down: 1900′ total climb and 3500′ total descent
This 50K is very challenging and not recommended for those who have not at least completed a marathon (or run 26 miles) recently. It is guaranteed to help work off those Christmas holiday pounds before the Valentine Candy arrives.
Cancellation Policy: We reserve the right to cancel the race due to inclement weather or unsafe road conditions. Both the condition/width of the roads and the snow height and ice will be taken into consideration when making the final decision. In other words, don't go if the weather is bad! Remember this is for fun, fellowship and recreation. This race has been cancelled in the past due to bad weather.
Course closes by 5 pm. Early starts are accepted if you anticipate not completing the 50K under 8 hours. Note: There will be a few awards given–early starters are not eligible for awards.
Brought to you by Lisa Gunnoe, PoDog Vogler, and the Arkansas Ultra Running Association (AURA)
Questions: e-mail Lisa
Parking:
Parking at the start is limited.
If you can, park at the Turner Bend store–at the Mulberry River bridge on Highway 23 and carpool to the start.
If you park at the start pull over to the right as much as you possibly can. An ambulance must be able to get by you and they are wide.
All cars must park on same side of road, left/South.
Restrooms:
Please use the restrooms at the Turner Bend Store (please show gratitude by purchasing something).
There are no restrooms in the campground at the start. If you need to go, walk up the road, away from the campground, and leave no trace.
This has been a problem in the past and we may loose our permit so – LEAVE NO TRACE!!!
Course Records:
Male: Brian Hurley, 3:53:06 (2014)
Female: Chrissy Ferguson, 4:44:25 (1999)
Male (Brannon Cemetery start/finish): Cole Crosby, 3:53:55 (2012)
Female (Brannon Cemetery start/finish): Katie Helms, 5:14 (2012)
Apr
18
Sat
Ouachita Trail 50 Endurance Run

@ Maumelle Park Pavilion 8
Apr 18 @ 6:00 am – 6:00 pm
Ouachita Trail 50 Endurance Run
50 Mile and 50K Information
Date: April 18, 2020
Location: Maumelle Park, Little Rock, Arkansas, Pavilion # 8 (see map and directions)
Starting Time: 6:00 AM (Prompt) for both races. Runners must check in at the pavilion between 5:00 and 5:45 AM.
Packets: Race packets may be picked up at Pavilion #8 from 4:00 to 7:00 PM on Friday, April 12th, or between 5:00 and 5:45 AM race morning.
Course: A picturesque climb over Pinnacle Mountain followed by an out-and-back along the shore of Lake Maumelle. Course includes six miles of asphalt and the remainder on scenic, rocky, single-track trail. Pinnacle Mountain trails will be utilized on the "out" portion only. Several highway crossings will be involved. There will be no traffic control. Please be responsible and be careful!
Trail: The Ouachita Trail is a single track foot path on which no bikes or motorized vehicles are allowed. The trail is permanently marked with blue blazes. Turns are marked with two blue blazes. Additional markers (blue ribbons) will be out.
Aid: Eleven staffed aid stations for 50-mile; seven for 50Km. (See mileage/aid station chart.) Carrying at least one fluid bottle is HIGHLY advised.
Crew access: Crews can meet runners at East Pinnacle Parking Lot, West Summit Trailhead, Northshore, and the Hwy 10 turnaround only.
Drop Bags: Drop bags will be taken to the 16 and 36-mile aid station (Northshore), and to the turnaround point for the 50 mile (Highway 10). Please label dropbags with your name and "Northshore" or "Hwy 10" to avoid confusion. Bring all bags to the race check-in between 5:00 and 5:45 AM. Bags will be returned to the finish area after the race.
Cut-off Times: There is a 13-hour time limit for both races. Runners registered in the 50 Mile have the option to change to the 50Km during the race. To continue in the 50 Mile race, a runner must exit the Northshore aid station by 10:15 AM (out-bound) and 3:30 PM (returning), and the Hwy 10 Turnaround aid station by 12:50 PM. These cut-off times will be strictly enforced.
Awards: Finishing awards to each 50K and 50 Mile finisher. Overall awards to first male and female finisher in the 50K and 50 Mile. Awards will be presented as you finish.. Technical shirts to all entrants. Food will be provided at the finish – hamburgers, hot dogs, etc.
Race Director: Chrissy Ferguson, e-mail (Preferred) OT50@RunArkansas.com ; phone 501-803-9411