Our calendar of events lists outdoor participatory sports throughout Arkansas. Feel free to search through the categories or tags. There is a lot happening so make your plans today.
Jul
19
Fri
Eureka Springs Multisport Festival

@ Eureka Springs Area
WHAT IS THE EUREKA SPRINGS MULTISPORT FESTIVAL?
A three-day multisport festival consisting of a sprint-distance triathlon on Friday afternoon, Gran Fondos (road bike rides) on Saturday morning and running races on Sunday.  Participants can enter individual events or take one of two "Eurekan" challenges.
WHAT IS "THE EUREKAN"?
The name not only is the moniker of the event, but also refers to participants who complete the ultimate challenge! Any participant who enters the "Full Eurekan" who can complete the triathlon, 100 mile ride and 10K run will be known as "The Eurekan"! There is also a Half Eurekan competition which is the triathlon, 62 mile bike ride and 5K run.

EVENT HIGHLIGHTS
The triathlon is located on Holiday Island, just a few minutes from downtown Eureka Springs. The finish line for the biking and running events are the same place each day which is located in the heart of Eureka Springs on historic Main Street in front of the Eureka Springs City Courthouse.
Aug
24
Sat
Run with the Flock
Aug 24 @ 7:30 am – 9:00 am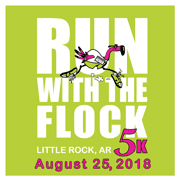 The Annual Run with the Flock is a race event for which all the proceeds will be donated in support of The Leukemia & Lymphoma Society (LLS).
Did you know approximately every 3 minutes one person in the U.S. is diagnosed with a blood cancer? The LLS mission is to cure leukemia, lymphoma, Hodgkin's disease, and myeloma and to improve the quality of life for patients and their families. LLS has invested more than $1 billion in research to find cures for blood cancer patients.
Awards for Top Male & Female and Age Division Awards. 5K participants will receive a t-shirt and a medal when they complete the race. 1 Mile Fun Run/Walk participants will also receive a t-shirt and a special medal! To be guaranteed a t-shirt, you must register by August 1.
Packet Pick Up will be Friday, August 23 at Rock City Running on Rodney Parham Road from 10 a.m. to 6 p.m.
Ainsley's Angels will be participating in our race.  If you would like to sign up to be an Angel Runner for our race or any other race they participate in, please go to www.ainsleysangels.org and sign up by selecting Arkansas/NW Fort Smith. There is no fee for signing up to be an Angel Runner.  Please note: Angel Runners pay their own race entry for all races.