***Special Notice***
Due to the need for social distancing surrounding the COVID-19 situation, many of the events listed on our calendar have been canceled or had the dates changed. We are not currently taking down events as we haven't received any definitives from most event organizers. WE RECOMMEND that you contact the race director or organizer before registering for any event in the next couple of months. We will attempt to keep you informed as we get more information. Thanks.
Our calendar of events lists outdoor participatory sports throughout Arkansas. Feel free to search through the categories or tags. There is a lot happening so make your plans today. Please remember, these are not our events but a listing of Arkansas events that we share through Arkansas Outside.
Feb
1
Sat
Freezin for a Reason 5K 10K

@ John McConnell Stadium
Feb 1 @ 9:00 am – 11:00 am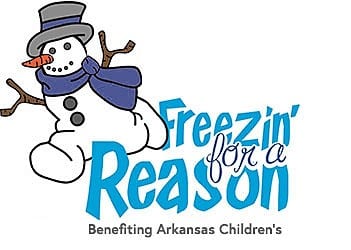 Freezin' for a Reason is for runners and walkers of all abilities. We offer a 10K, 5K, and the Lap for life for families and their children to take one lap around the track to honor past and present patients of Arkansas Children's Hospital. Children and strollers are welcome at all events.All participants registered by January 18, 2020 will receive a t-shirt. Event attendees can also enjoy free food and lots of free fun kids activities like bounce houses, face painting, games, and. more.
The Freezin' for a Reason will take place February 1, 2020. The race will begin and end at the Conway High School West Campus, located at 2300 Prince Street in Conway, Arkansas. The 5k/10k will begin at 9 a.m.The Lap for Life will begin at approximately 10:45 a.m.