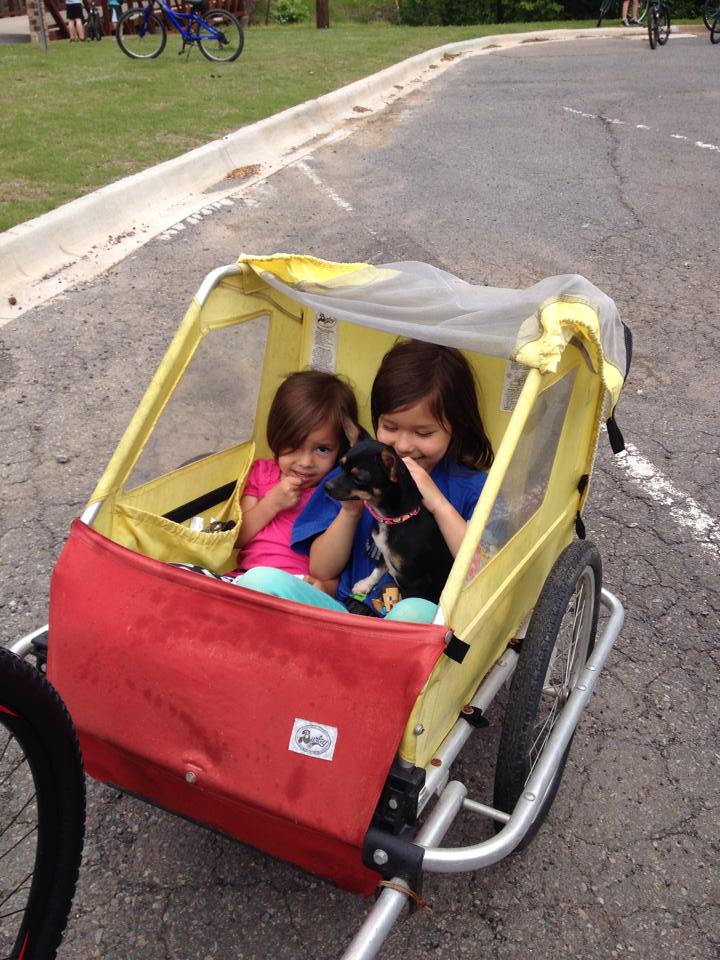 April 26th marked the first of what is hoped to be many bike rides for the new group- The Central Arkansas Family Fun n Fit Rides. The group rides are sponsored by Specialized Bikes and Specialized Central Arkansas dealers. Rides are led by myself, Missy Vail, as one of the leaders of Arkansas Heels on Wheels, and James Whited, the local Specialized representative.  Specialized's motivation behind forming the rides is to promote family cycling as a healthy and fun form of exercise and recreation. All rides will be kid-friendly and family-oriented slow rolls. No particular bicycle type, brand, or equipment is required to ride. Just bring a bike, a helmet, and a smile! My personal motivation behind becoming involved in the family rides is two-fold. First and foremost, I credit cycling with completely transforming my health. Two years ago, my health was in shambles. I was severely overweight and on two high dose blood pressure medications, cholesterol medication, and had a host of other medical issues as well. Suffice it to say that I had an epiphany one day on top of Pinnacle Mountain after hiking and climbing to its summit with my family. It was a brutal day. I continually had to stop and rest and had serious doubts about whether I could make it to the top. I decided that day in February 2013, to take my health back. I could no longer rationalize and make excuses. I had to start moving my body on a regular and recurring basis or I was going to end up in an early grave due to heart disease. I am a pharmacist by profession and had long known what the repercussions of a sedentary lifestyle were. It was time to take the bull by the horns. My husband and children were very supportive as I began taking time for myself to start riding a bicycle. I started with 5 miles and after a few months was regularly riding 15-20 miles several times per week. Pounds began to fall away and my health began to markedly improve. Today, I ride several times per week with the ladies in my cycling club, Arkansas Heels on Wheels, with my family, and occasionally alone although that's rare these days. I routinely ride 40-50 miles on Saturdays and Sunday's most weekends and no longer take ANY blood pressure or cholesterol medications. Cycling has absolutely transformed my health and literally saved my life. My greatest hope is that this type of slow-roll family ride will encourage families to get outdoors and use cycling as a tool to get and stay healthy. Secondly, one of the biggest barriers to getting women on bicycles is having to spend time away from their children and families or finding childcare in order to ride. Family Fun n Fit Rides offers a solution to that problem. Just bring the kids along for the ride!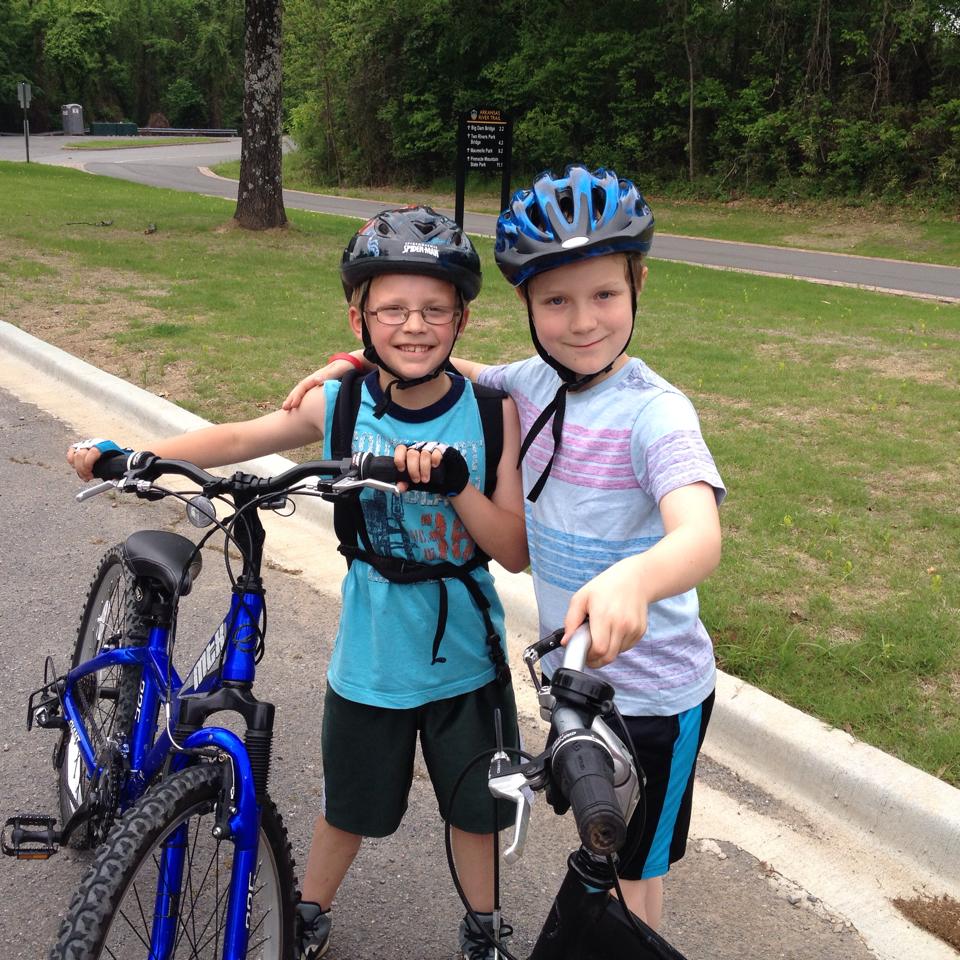 I have long felt that an organized family ride would greatly benefit our cycling community in Central Arkansas. So when James Whited with Specialized Bikes approached me about helping to start a group family ride in the Little Rock area, I could not say "yes" fast enough! The turnout for our first Central Arkansas Family Fun n Fit Ride confirmed that this type of ride is exactly what families are looking for as a healthy, fun activity together. The first ride was a great success. The group hosted close to 40 riders for a 9-mile ride down the River Trail.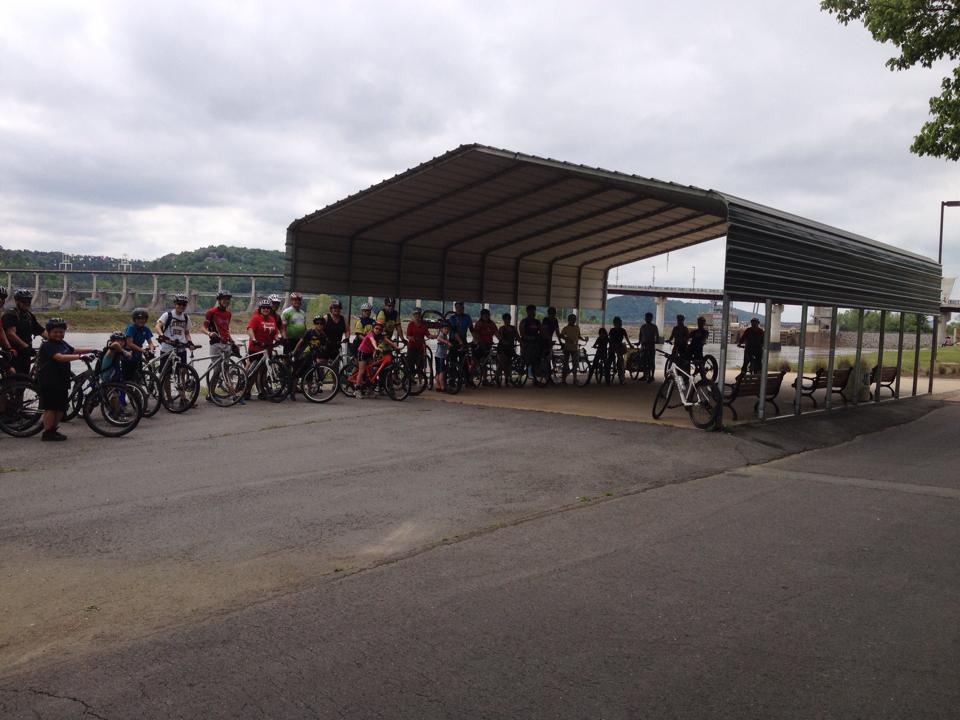 The caravan began at the base of the Big Dam Bridge on the North Little Rock side and headed to the Skate Park just outside of Burns Park. It was a perfect spot to stop and let the smaller kids rest a little, enjoy a snack provided by Arkansas Cycling and Fitness, and play on the playground.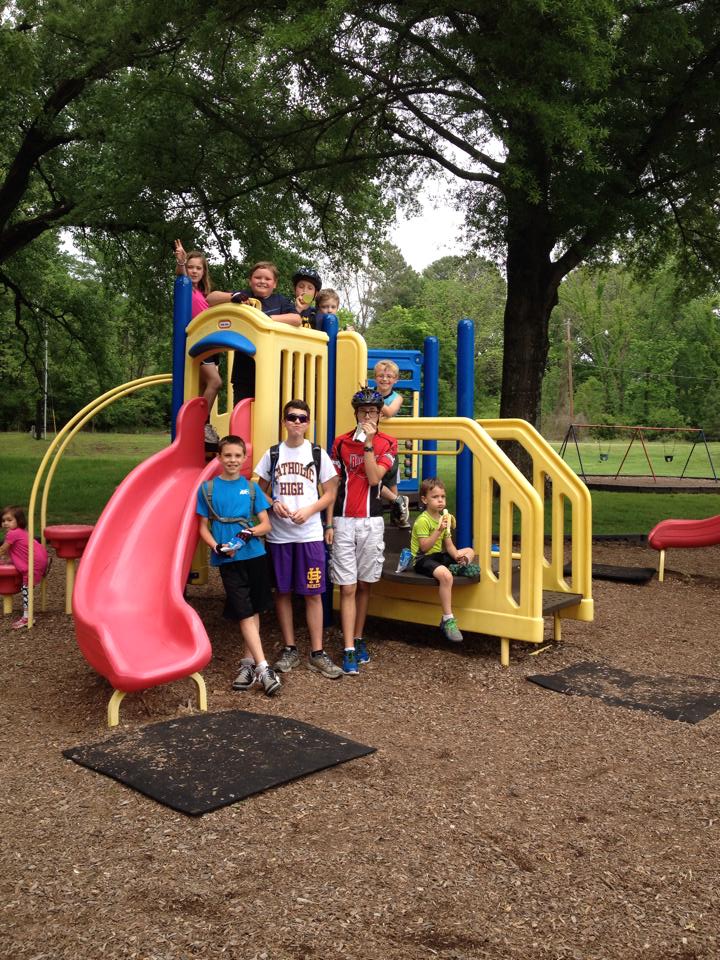 The caravan then turned around and made the return trip together back to the Big Dam Bridge, where the Specialized trailer waited with more refreshments for the riders. A number of the kids and parents who were riding mountain bikes dropped into Pfeiffer Loop on the way back toward the BDB to shred a little single track together too. The response and support for the ride was overwhelmingly positive and we already have two more rides planned for May 3rd and 17th at 2pm. We will again meet at the base of the Big Dam Bridge NLR side and use the same route for the ride. We want to invite everyone to join us and bring their families and friends for a great time on two wheels. Check out our group on Facebook at The Central Arkansas Family Fun n Fit Rides. Join the open group and stay informed of rides and events coming up. We have some fun and exciting plans in the make and hope to see you there!