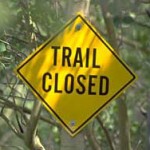 Update! The prescribed burn scheduled for Pinnacle Mountain State Park has been CANCELLED due to the fog and expected rain. It will be rescheduled for a later date.
Prescribed Burn at Pinnacle Mountain State Park –
The trails near the visitor center of the park will be closed for a prescribed burn for December 14 & 15, 2011. (If they have rain it may be rescheduled.) This includes the following trails:
All other trails within the park remain open and these trails will be reopened by the weekend. Here is more information on prescribed burns.
Camp Robinson Mountain Bike Trails –
The trails at Camp Robinson will be closed the following dates for training exercises:
December 15 & 16
December 19, 20, 21, 22, 23, 24
January 1, 2, 3, 4, 5, 6
Don't forget to get your sportsman pass for those dates you can ride at Camp.