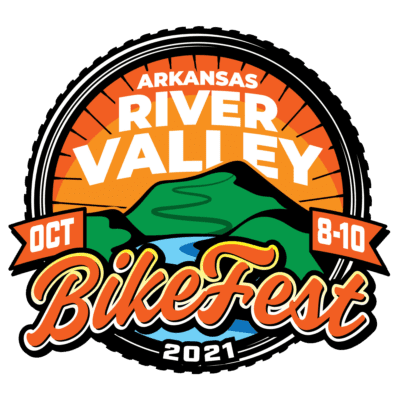 RUSSELLVILLE, ARKANSAS – March 2021. The Cities of Russellville and Dardanelle are proud to co-host the inaugural Arkansas River Valley Bike Festival on Mount Nebo's recently developed Monument Trails system on October 8 – 10, 2021.
This three-day event benefiting the Friends of Nebo will include:
Beginner through advanced races on Mount Nebo
Youth Strider events
Leisure riding trails
Family bike activities
Live music in downtown Russellville and Dardanelle
Food trucks
Bike demonstrations by the river in Dardanelle
Movie night in Russellville
Evening family-friendly activities
And more
"The City of Russellville is excited by the opportunity to co-host the inaugural Arkansas River Valley Bike Festival. We hope that it's the beginning of a fun, family-friendly annual event that will allow visitors to explore and experience what the River Valley has to offer," said Mayor Richard Harris of Russellville.
Dardanelle Mayor Jimmy Witt continued, "it's a chance for other people to experience all the things we are so blessed to have here in the River Valley."
"Mount Nebo State Park and park staff are looking forward to hosting the Arkansas River Valley Bike Festival," said Scott Waniewski, Park Superintendent of Mount Nebo State Park. "This festival will allow event patrons to experience the scenic views, hiking trails, and the new Monument Trails on Mount Nebo, as well as enjoy the hospitality of the cities of Dardanelle and Russellville."
Friends of Nebo is a 501(c)(3) in partnership with Mount Nebo State Park to enhance the historic, natural, and cultural resources of the park for present and future generations, to preserve and protect the scenic beauty of the park, and to educate visitors on the importance of environmental, wildlife, and cultural conservation and the legacy that endures from those actions.
Registration will open in April. For more information on the festival, please visit us at www.russellvillearkansas.org/575/arkansas-river-valley-bike-fest.
To get more information on the trails, visit www.arkansasstateparks.com/trails/monument-trails.
Please visit www.russellvillearkansas.org and www.dardanelle.com for more information on our hosting cities.
If you are interested in becoming a Festival Sponsor, please contact Greg Hines at 479.264.7404 or greghines@friendsofnebo.com